Friendship Day Message
The occasion of friendship day wishes or friendship day quotes are celebrated as a mark of friendship. It is the best day when friends show respect and love towards each other by tying a friendship band, which is a symbol of friendship and bonding.
When we talk about the history of this day is that friendship day is a vital festival of Asian countries and Latin America. The world friendship day was proposed on (30 July 1958) in Paraguay, and after that, it was marked as an Internation Friendship Day.
Also, this is the best time to share your feelings with special ones on this special occasion. However, finding the right messages for your special ones sometimes become hard.
Most of the time you will find old published posts, they don't update for a long time. But we have brought some of the most amazing, cool, and wonderful friendship day wishes and messages for a best friend with various wishes.
Now, get ready to share these wonderful wishes on WhatsApp, Facebook, and Twitter to make the most of it.
Happy Friendship Day Wishes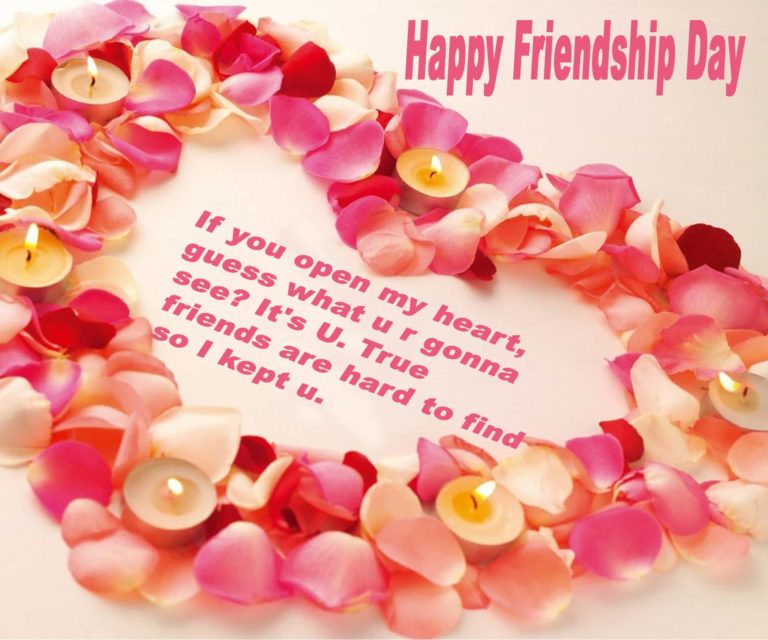 Friendship is the purest of all relations. If you ever find a friend who is honest and true, always be thankful and don't ever let him go from your life. Happy Friendship Day to all!🤗
I will never be lonely because I have such a beautiful and wonderful like you. Happy Friendship Day!
May our friendship last till the last breath. I wish our friendship will set a new benchmark. Have the best friendship day!😘
You the best thing in life is having a friend who loves, respect, cares and motivates you without any condition. Happy Friendship Day 2 all the wonderful people whom we call friends!
Friendship is one of the greatest gifts that life has to offer, and I am very fortunate enough to have received it.
They are very lucky who have found a soulmate in their friend. You are more than a friend to me. You mean a lot. Wishing you a very happy friendship day (2022).
A real friend doesn't walk before you so you can follow, he/she always walks beside you so he/she can catch you before you fall. Many happy friendship days!😊
A single candle can light up an entire room, but a true friend lights up an entire lifetime. Thanks for making the bright lights of our friendship! Happy Friendship Day!
Advertisement
Many thanks for helping out when I needed the most. Wishing you a very happy friendship day!🤗
Dear, friend, there are so many people around me but only one person that allows me to be myself is only you. Have a wonderful friendship day!
It is difficult to find someone who will stay forever with you in your difficult times, someone will help you rise up again after you fall. But I am lucky enough that person is you. You are a rare gem, dear friend! Happy Friendship Day!
True friendship is more expensive than anything in the world as it doesn't have any price tag. Happy Friendship Day to you!
No need to count material wealth when they have a friend like you. You are the coolest and wonderful friend I could ever wish for.
On this very special day, I wanna let you know that you are the most favorite person in this world. I enjoy your company more than I enjoy myself. Have a great friendship day, lovely friend!
When you open my heart, guess what you are gonna see? It's you because true friends are hard to find so I kept you. Happy Friendship Day! 😍
God has been so kind to me by giving me such a great friend like you. So, this friendship day is not only a day to celebrate our friendship but also a day to be grateful to God for the gift. Happy Friendship Day!
It's been a long time we've not seen each other. Let's meet & celebrate this special moment with our unique style. I wish you the best day on the friendship day! 😘
Read More Lovely Wishes Here
Best Birthday wishes
Rakhi Messages
Teacher's day
Congratulation Messages
Birthday Wishes For Bestie
Friendship Day Messages For Best Friend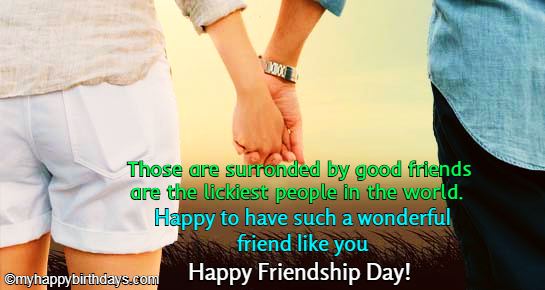 I want to let you know that a best friend like you always stay in the heart forever and their memories never fade away. Wishing you a happy friendship day, dear friend. Missing you a lot on this day!
For your all the happiness and love ln life, for all the things you have got to strive, I know you are always there for me, for that, I really appreciate you. Thanks to my honey bunny cure friend. Happy Friendship day! 😘
The greatest gift of being a true friend who understands the real you. I feel thankful to live because it gave me a best friend like you! Happy Friendship day!
No one really makes me feel comfortable as you do. I have everything in life as I have a best and cool friend like you. Have an outstanding friendship day!
A friend like you is light in the darkness of the night, A friend like you is rare to get, A friend like you sitting close to you always feels alright and bright. Happy Friendship Day, my lovely friend!
You always bring out the best in me. I am at my best when I am with you, and I always do my best when I am with you. Thanks for your love and support. Have a blessed happy friendship day!
Funny Friendship Day Messages
A good friend will always motivate you to move on ln life. But a best friend will always help you move a dead body and then motivate you to move on in life. Happy Friendship Day, buddy! 😛
Many thanks for never letting me do the foolish things alone. This just shows what great friend you are for me. Have a lovely friendship day!
I've all the quality of a great friend and more, and you must feel really lucky everyday for having a friend like me in your life.🤣
It's been many years that I've reminded a friend with you. I wish you knew how difficult was for me to tolerate your stupidity all these years!
It's a friendship day today and you are still alive to celebrate this moment with me. How lucky you are! 😂 I really hope I will not kill you before the next friendship day.
Because I made friends with you, I have realized that life is more enjoyable with a living cartoon around you. Happy Friendship Day!😎😅
Happy Friendship Messages For Her | Friendship Day Wishes For Girlfriend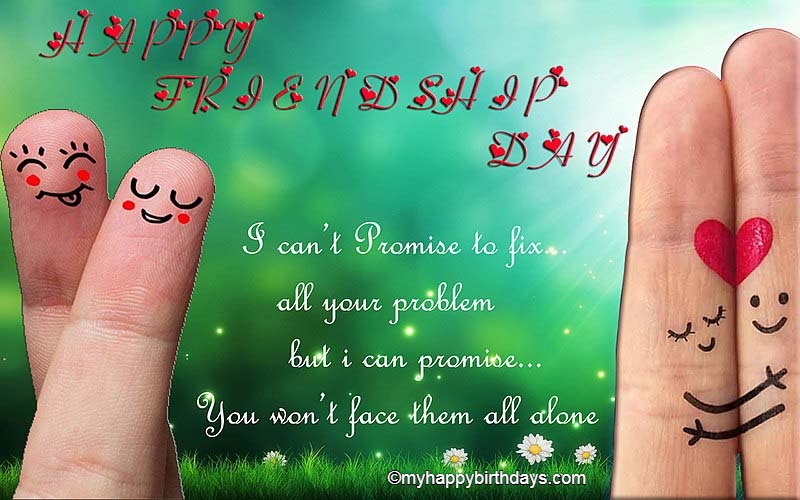 If you have a female friend whom you wanna tell that you always consider her as your special friend, then never hesitate to share your feelings.
Select below any messages and share what you feel about your relationship. Our friendship day messages will surely help your relationship present in a good and best manner.
I have indeed no words to describe how I feel to have a friend like you. Many thanks for being a part of my life. Happy Friendship Day! 😎
A friend like you is a precious gem that only the fortunate ones can find in life. I always want our friendship to last forever and ever! Have a blast! Happy Friendship Day, sweet friend!
You look like an angel sent directly from God to guide me in my difficult times. You are the sweetest, loveliest, and coolest female friend I have ever had. Happy Friendship Day, dear!
In fact, friendship doesn't have Sunday and Monday but with you, my friend every day is a fun day. Have a spectacular friendship day!
The best thing in the world is perhaps having a girl as a best friend that is you. It feels so much easy to express myself to you. I dedicate this special day only for you! Have an awesome friendship day!😘
One and only person in this world that understands me more than myself that is you. I never thought entire life I will find my bestie in a girl. Have a long live our friendship!
You are so caring, loving, and supportive that helps me in every step of my life. Thanks for everything. Happy Friendship Day!
Sweet & Cute Friendship Day Messages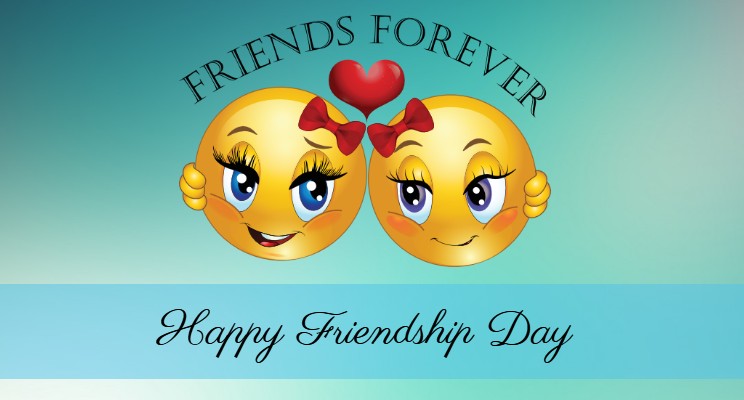 In fact, friendship day messages could be cute, sweet, emotional, serious, and funny. This is because this relation itself has all kinds of shades.
The cute and sweet friendship messages are those who share a special bonding and these wishes written with sweet words of likeness, which would make them feel good and special.
Find below some sweet and cute friendship messages and share your inner feelings towards your buddy!
Friendship is the day of reminder our happy and sad moments spent together. It is the day to remind us we are very fortunate to have each other in our lives.
When I found you, I found smiles, happiness, hope, and life. You are one of the most special friends and I wish you the happiest and coolest Friendship Day ever. Love you a lot! ❤
You've always been my lucky charm when I feel unlucky. You are my strength when I feel weak, you are my smile when I sad, and you are the best example of friendship. Happy Friendship Day, dear! 🎁
Life has become more change than ever since I met you. You are the bright star of my life that I never want to lose you. Happy Friendship Day, buddy!
For my sweetest friend, I am so pleased to have a friend like you. You are so caring and understanding nature instead of the fights is what makes me feel fortunate to have you as my cute friend. Have the coolest friends day!
Ever since the day we met, we always had a strong and beautiful connection between us. You are my sweet and best friend I really treasure our friendship bond. Have an amazing friendship day!
I am indeed proud to have you as my best buddy. You are always there for me whenever I need you the most, and I like the way you support me. I want to really thank you for all that you do for me. Happy Friendship Day, my sweet friend! ❤