Birthday Message For Daughter
Having a sweet and lovely daughter is one of the greatest happiness you can have ever in life. But sometimes it becomes difficult to wish for her birthday. If you are looking for the best birthday wishes for daughter, get beautiful birthday wishes for your daughter and make your daughter feel amazing.
Also, periodically, we all need to send happy birthday messages to our daughter by expressing our feelings on the auspicious day of your daughter. There is no way we can skip wishing our lovely daughters a happy birthday once a year.
If you are struggling to find some inspiration, cool, and beautiful wishes for how to tell your daughter, then look no further. We have a collection of the best birthday wishes for your daughter to help you with the most heart-warming and mind-blowing birthday wording ideas for your sweet and lovely daughter.
Let's get started
Heartwarming Birthday Wishes For Daughter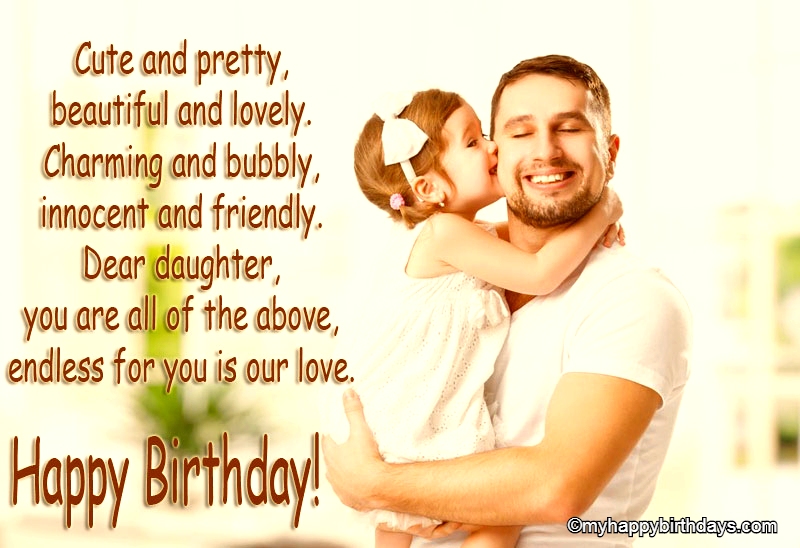 1. Dear daughter, may your day be as radiant as your smile and as lovely as you. Happiest birthday daughter! ❤🎂
2. We always pray for you that you get everything in your life you desire. You just cannot imagine how much we are thrilled to have you in our life. Happy birthday to our sweet daughter!
3. The day you were born was one of the greatest feelings and moments of my life. I am so thankful that I have a daughter as beautiful, intelligent, honest as you. Happy birthday to my baby girl! 😘🎊
4. May you forever shine and sparkle like the star that you are. Happy birthday to my princess!
5. It is really an honor and a privilege to be your mother or father. I am very proud of you my dearest daughter. Have an awesome birthday!❤
Ending Soon. Check on Amazon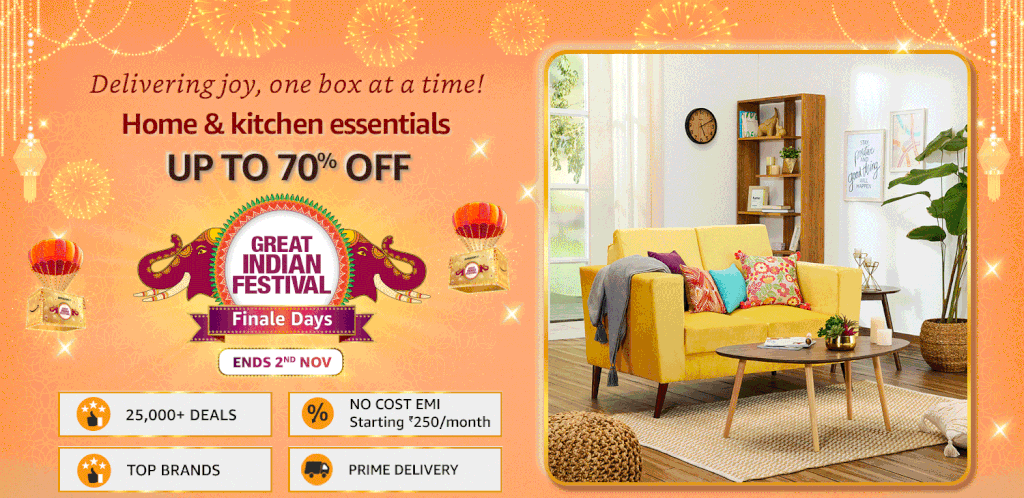 6. It was great watching you grow up to be a fine young lady. Thanks a million for making us proud every day. I wish you a very joyous birthday!
7. Dear daughter, when you came to this world I fell in love, and you always loved sweetheart. Happy birthday to a lovely daughter!
8. Have a great birthday to my darling daughter! You are incredibly precious to me, and I hope you get all the love, peace, and happiness in your coming years. Have an amazing birthday, sweet daughter! 😘🎂
9. Happy birthday to our little angel! May your birthday be filled with a lot of cake and presents!
10. We are indeed fortunate to have you as our daughter. You've brought every best moment in our lives that we ever dreamed of. Have a great birthday my princess!
11. I am indeed grateful to God for giving me an incredible child. I am really proud of you. Have the best birthday wishes for a lovely daughter!
12. For my wonderful daughter, have an awesome birthday! Enjoy all the beauty this day brings and surround yourself with your lovely things.
13. May this day be as beautiful as you are. Happy birthday dear daughter!
14. We pray and hope you have a wonderful birthday and journey lovely daughter and your coming year are full of many blessings!🎈🎂
15. May this year bring for you plenty of reasons to smile and continuous opportunities to make you happier. My baby, you were born to be a star! Happy Birthday!
16. Dear, daughter, whatever I did in my previous life must have been really wonderful to have someone as beautiful as you as my daughter in this life. Happy birthdays, my lovely baby! I will always love you and be there for you.
17. To our little bundle of happiness, happy birthday, sweetie! Keep chasing your dreams and spreading happiness all around!
18. Have a best happy birthday to you, our little angel! 🎂Our wish is for you to love life and to never stop dreaming.
19. We feel very proud and happy to see how much our little girl has grown to become such a great young lady. On your birthday, we wish that more blessings and love will come on your way. Have an amazing birthday, princes!
20. Happy birthday, sweetie pie! We have really made many beautiful memories together and cannot wait to create even more in the coming years. We love you infinitely!
Related – Beautiful Birthday Wishes for Mom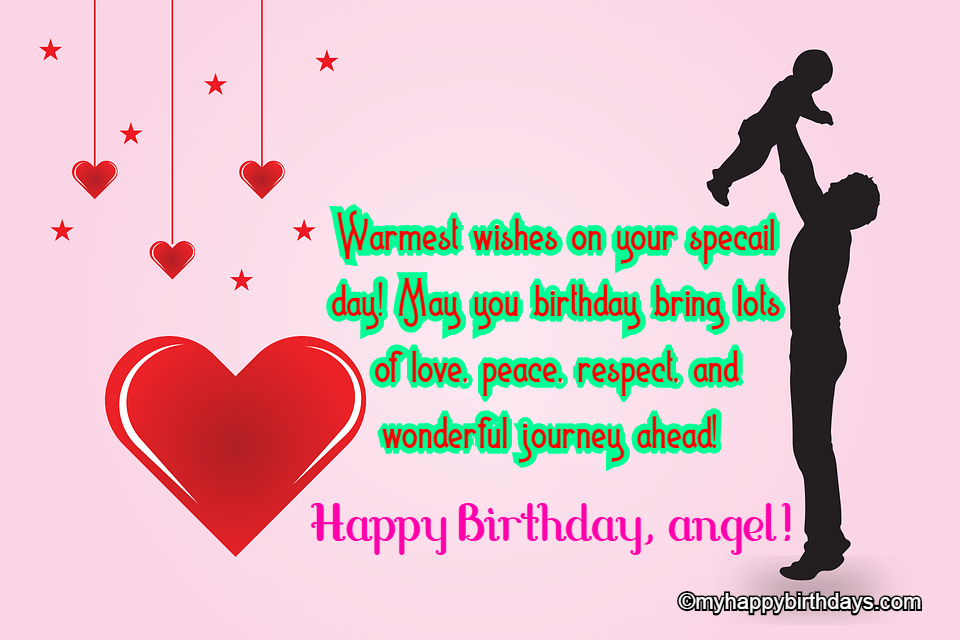 21. Have an awesome birthday to our precious daughter! You are loved today, tomorrow, and always!
22. Happy birthday to our fun, kind, and crazy girl! We are so thankful you came into our lives!
23. Hey, cutie pie, you make our hearts sing with joy. May your birthday and every day bring a song of love, joy, and beauty. Happy birthday, sweetie!
24. Dear daughter, have n incredible and wonderful birthday! We love you more than we could ever express.
25. Your birthday is really the most wonderful and special day of the year, simply because it's the day you came into our lives.
26. Happy birthday, darling girl! You've brought our hearts more sunshine, joy, and beauty than we ever could've imagined.
27. Hey, my angel! Having you as my daughter is my greatest achievement and I didn't even do a thing. You did it all. Happy birthday, angel!
28. I wish you only the best for you in life. May you overcome every problem life throws your way, and may you forever be confident in the face of adversity. Have a wonderful birthday, little angel!
29. You are a very valuable gem in the family. We will ensure that you never have anything to anxious about in life. Wishing you the best of best birthday, love!
30. You've given us something that nobody else could ever do. Your beauty, your love, your humor, your devotion, and your intelligence cannot be replaced. Lots of love princes. Happy Birthday! ❤🎂
Related – Birthday Wishes For Dad
Birthday Wishes For Daughter From Dad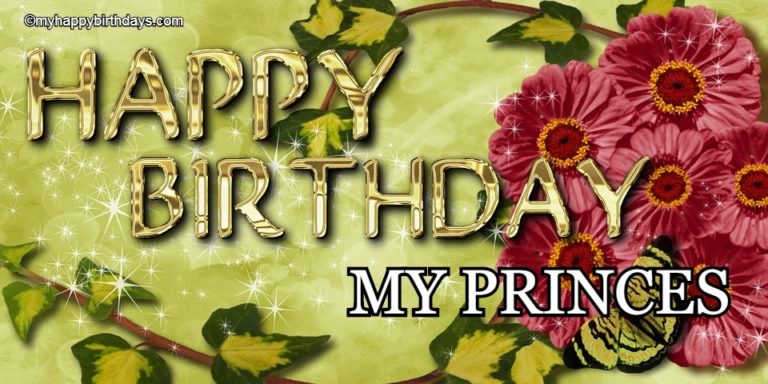 They always say daddy's little girl for a dad (papa), no matter how old their little girl could be, they will forever be their little girl. As you know that dads and daughters have a very special bond unknown to many.
Also, they are each other's first best friends. So, if you are a dad, you will always have to put in an extra effort to make the day special for your little girl.
Here are some beautiful and heartwarming birthday wishes and messages for your little girl.
31. Happy birthday to the most valuable daughter who is worth celebrating not just only on her birthday but every day. May your life be blessed and happy and may you live long.🎂
32. As a father, I really cannot imagine my life without a daughter like you. Many-many thanks for making my life so bright. Happy birthday my love! 🎂❤
33. My heartwarming birthday wishes to my sweet daughter. The gift of a million-dollar would not be enough to admire your effect on our lives. We want to celebrate your special day today. Enjoy your special day with love and joy!
34. You know one of the best moments of my life was when you said Dad to me. Those words really shot straight to my heart and melted it. I wish you eternal bliss in life. Love so much my lovely, daughter. Have a great journey ahead! Happy birthday! ❤🎉
35. Many congratulations and best wishes to my stylish and beautiful youngest daughter whose birthday is today. May you forever be as happy as you are right now!
36. Dear daughter, you are like a tiny little flower- small, beautiful, and with so much potential. There is nothing in life other than watching you blossom into a spectacular person. Wishing you the best happy birthday to my little rose! 🌹🎈
37. Daughter, you remind me of your cake, you fill my life with sweetness and love. I wish your special day is as sweet as you are. Happy birthday, daughter!
38. On this special day, we want to tell you are the best daughter could ever ask for. You will always be my little's girl. Happy birthday to little baby!❤🎂
39. Many many happy returns of the day to my beloved daughter who deserves only the best on her special. I promise I will dedicate the rest of my life to providing you with unlimited affection and love.🎉😘
40. Whenever I'm feeling down in life, I just think of you since your smile lights up my life. Have an outstanding birthday to my princess!
Birthday Wishes For Daughter From Mom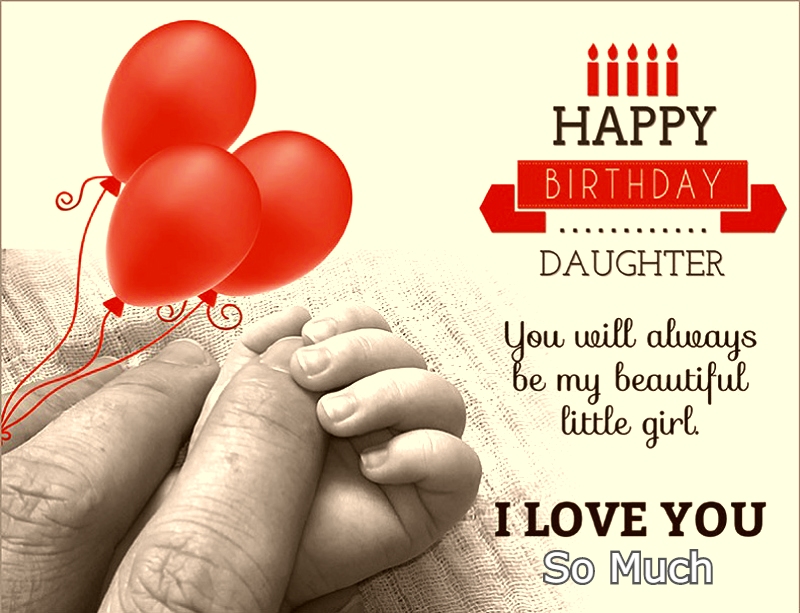 As we know that mothers are an integral part of our existence because we had to live in their wombs for around nine months. In spite of the numerous challenges of being pregnant, they also think about our fundamental ways of doing things.
Also, we cannot replace the mothers' place with anyone that is why mothers top the list of the most caring, loving, and supporting to mention a few other fantastic accomplishments they share with one another.
41. A caring and loving daughter like you makes life worthwhile. You do a lot of things for me. Happy birthday my lovely little daughter.🎈🎁
42. Today, I am going to bake a beautiful cake of your life. Tell me, what else do you want since today you're going to get it all! Happy birthday,
43. Every birthday of you gives me immense happiness when I first time heard the news that I am going to be a mother (mom). Happy birthday to my love! ❤🎂
44. Hey, princes, on this special day I want to remind you how blessed I am today to have you in my life. May God your all dreams come true. Happy birthday my angel!
45. People often say that you and I look almost the same. But I think you are much more beautiful and way too charming than me. Wishing you a fantastic birthday, my lovely daughter!
46. Dear loving, daughter, since you were born, my life began to change. From being a single person to becoming a loving and caring mother. Many thanks, sweetie for all the lesson you taught me in all these years. Have a wonderful birthday and a journey! 🤗😍
47. Hey, my angel, I thank god for you are here. On this special day, I will pray that may God fill your life with happiness, love, peace, and blessings whenever you are far or near.
48. To my dearest daughter, amazing birthday. Not really matter what other people say, but you will always be the most gorgeous daughter in my eyes. Happy birthday and I love you so much!
49. You are strong in my darkest time. You are light in my darkest night. I hope and pray to God to give you all the courage and strength you will need to fight with all the bad situations. Happy birthday, sweetie! 🎂🎊
50. You are more than my daughter, you've always been my best friend. Thank you for being my amazing daughter. Have a spectacular birthday! ❤🎂
Funny Birthday Wishes for Daughter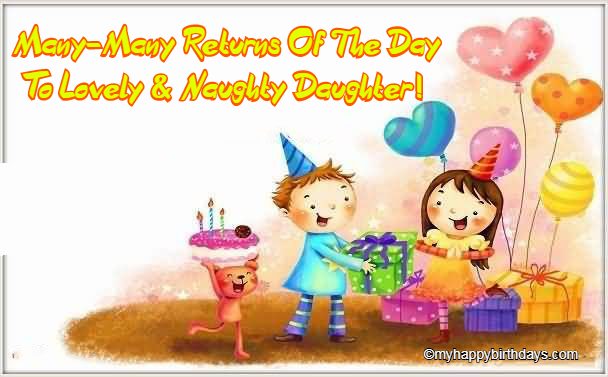 Here is the collection of funny birthday wishes for your daughters so that you can bring some fun and joy on this special occasion.
51. I smile as you are my daughter. I laugh because there is nothing you can do about it! Happy birthday!😁
52. Getting for a perfect gift was not that hard when you were a kid. Now, it is really tough to impress you. But we really enjoy the adventure. Have a great birthday ever! 😀
53. On this special day, forget about the past as you can't change it. Forget about the future as you can't predict it. Forget about the present, we didn't get you today.😅
54. Wishing you an amazing birthday! Today you look a little bit older than before. Happy birthday, daughter! 🤩
55. Today, I was thinking of buying you a gift but then I thought the best gift for you would be to watch all your favorite movies with you and not give any funny statements on your favorite character. Happy birthday and lots of love.
56. Many congratulations, you are finally an adult. So now, pack your bags because we've rented out your room.🤣Happy birthday to princes!
57. I really regret to inform you, but your childhood has expired. Happy 18th birthday dear, daughter!
58. Today I thought about you that I should pamper you for no reason but it seems like the old man is past his age.😛 Though many happy returns of the day.
59. Thee is no way I'm going to accept that you are grown up unless you admit that soccer is more enjoyable than those worst tv shows you watch. Happy Birthday, angel!
60. Birthdays are good for your health. However, studies have shown that people who have more of them live longer but you don't.😅 Have a great birthday ever!
Birthday Daughter Wishes From Parent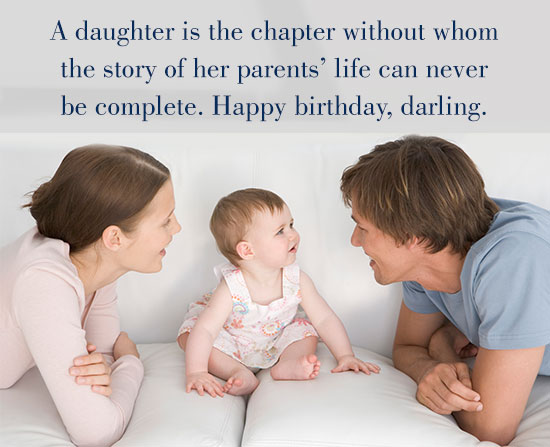 61. Many happy birthdays to our favorite girl in the world, we love you infinite! Your birthday is indeed special to us because that day we met our greatest pride and joy for the very first time!😘
62. Wishing you an amazing birthday to our lovely and naughty daughter! True joy and love entered our hearts on the day when you came into this world! May this day bring you nothing but love, peace, and joy, and the most beautiful memories!
63. You are definitely the most amazing and beautiful gift that we have received in our lifetime. Happy birthday to the most stylish and wonderful daughter!
64. Hello, my dear daughter, another year has passed and we are extremely happy to see you grow even wiser and beautiful each year. Our little girl and our sweet daughter, we love you so much. Happy birthday to our cure princes!
65. This day for us is truly a special day since this is the day when we had a glimpse of our angle! have a spectacular birthday our loving daughter! ❤🎂
66. Like a cherished memory, you become even much lovelier precious with time! Have a great birthday, my sweet darling!
67. Dear daughter today, we celebrate the birthday of our happiness and true blessings of life. Many many happy returns of the day, sweetie! May your big day be as amazing and adorable as you are! 😘
68. Happiest birthday to our gorgeous daughter! Being parents we wish that you will bring the same joy, love, and care into many people's lives as you are bringing into ours.
69. You know the biggest happiness for parents is to share their love with their own children. We love you so much, angel, and we wish you all the best on this auspicious day. Have a fantastic birthday to the most adorable girl in your life!
70. We have only one word for you. Incredible. I think it says it all. You're really incredible in all ways that matter. And you're my incredible daughter as always!
Final Thoughts
This is another special and beautiful occasion of your lovely daughter's birthday is here. This is a very special moment as a parent, you have always the privilege of forming a deep familial bond with your beautiful girl. Apart from this, you have always tried to give your best to make her feel appreciated and loved. Although from the beginning of this year, you should empower your daughter with a few cute and heartfelt words as birthday messages for daughter. On her special day, let her know that how important you are and show your little princess the love you carry inside your heart. Share the right and beautiful words of happy birthday wishes for your daughter. We hope you love this collection of best birthday wishes for daughter and share it with your wonderful girl. Happy Wishes!