Happy Birthday Message
If you are looking for Happy First Birthday wishes for baby boys and girls for the 1-year-old baby, you are in the right place. As you know birthdays are very special occasions for parents that call for a celebration, and when it comes to first birthday wishes, happiness makes double.
The first birthday is a spectacular occasion for a baby girl or baby boy and his/her whole family as well. However, nobody really remembers his/her 1st birthday but it's a unique and special celebration for the relatives and family.
Even if your baby may not remember the 1st celebration, but they can definitely read all the wishes you've written for them after they grow up. So, it is your duty to shower as many birthday wishes as you can on your cute and lovely baby so that you can preserve this day in your memory for the rest of your life.
Happy 1st Birthday Wishes for Baby Boy
1. Today we are going to celebrate the very first birthday of our precious little son. Thanks for giving us 365 days of immense and boundless love, joy, and smile! Happy 1st birthday little star!😘
2. It's been a year since you were born, but you have given us so many wonderful memories to cherish forever. Have a great 1st birthday, lovely baby!
3. Wishing you the best birthday to our little prince! You are an awesome, beautiful kid, and you derve every best in your life. Enjoy your day with wonderful moments!
4. It is the biggest day today little baby. We wish you all the happiness, love, respect, and peace in your entire life. Happy 1st birthday! 🍰🎈
5. May your innocence in your eyes and the purity of your face stay always remain with you. A very warm wish on a special occasion. Happy first birthday our superstar!
6. Still, you are too young to realize how happy we are today. But images of your 1st birthday will always speak of our happiness for having you! The happiest birthday to you!🎁🎉
7. We wish you grow up to be smart, wise, and tough enough, but we also hope that you always have the same innocence in your eyes as it is now. Happy first birthday, baby!
8. Happy1st birthday! We wish you an awesome day and hope you receive many more wishes and presents
9. As you grow up day by day, your joy and smiles grow bigger and bigger. We pray the first of your life is full of sweet memories. Have a splendid birthday, our kiddo.
10. Unwrapping gifts, playing games, eating cake, and having fun together. There are so many works to do so, and you are just one. Happy 1st birthday to a superstar of the house! 😘😍
Advertisement
Also Read – Daughter Birthday Wishes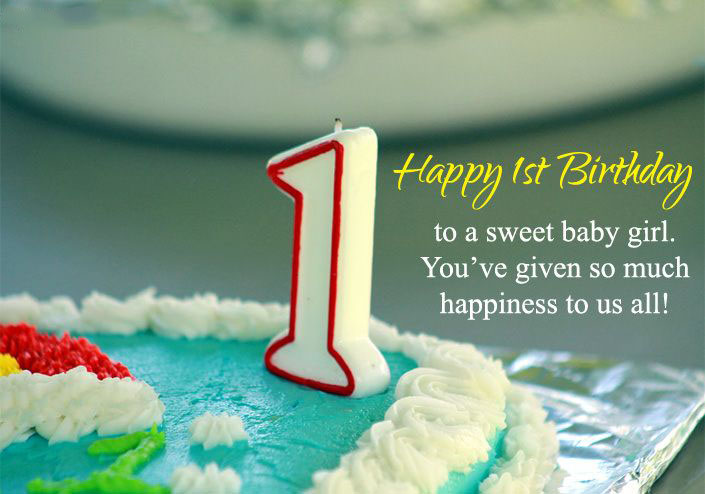 11. Do not take a nap while your first birthday party is going on. Else, the most important birthday of your life will be gone. Wishing you the best 1st birthday ever dear, baby!
12. No one can explain how proud we are of you and how blessed we are to have you in our life. Have a great 1st birthday lovely, son!
13. In 12 more years, you will become young and intelligent who will not like being kisses and hugs. Till then, let me cuddle you with my heart. I wish you a very happy 1st birthday. Stay blessed!
14. You are the cutest baby in our town alone since you look so adorable even when you frown😊, Happy first birthday, lovely prince!
15. Hurray! You are turning one! It's high time to cut the cake and have some fun. Happy first birthday!
16. Many congratulations on living life for 1 whole year. Wishing you an outstanding 1st birthday to my heart and soul, you will be forever near and dear. Happy 1st birthday, cutie pie!
17. Happy 1st birthday to the best boy ever. You are loved by everyone around you, and you are going to celebrate an awesome day today!
18. It's a great privilege for us to be here today. The cute little baby I know has spent the super first year of life. Wishing you an amazing first birthday to a lovely boy! ❤🎂
19. Wishing you many great wishes on your first birthday ever. You are a great, awesome son, and you are the only one! We eagerly look forward to celebrating your birthday today.
20. Dear, birthday boy, when you came into this world. you made really everyone happier around you. You are such a cute boy. We wish and pray you to get everything you want after you grow up. Have a fantastic birthday! 🎈😘
Read More Interesting Here
18th Happy Birthday
Belated Birthday Wishes
Best Birthday Wishes
1st Birthday Wishes For Daughter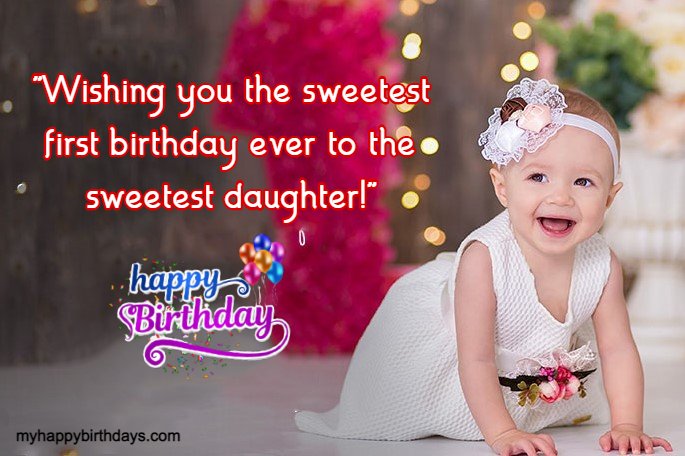 It is a very happy moment to have a baby girl in a family and to see changes in your perspective on life. It brings a lot of sweet moments and joys every passing day, as such being kissed by your baby or seeing walk.
Here are some beautiful written first birthday wishes for your daughter will cherish after she grows up to understand their inner value.
21. Your pink lips, bright eyes, and beautiful hair. you already look like a barbie doll. Finally, you are going to grow up into a star. Happy 1st birthday, princes! ❤🍰
22. Your smiles bring a lot of joy to every heart. May the same joy follow whatever you do in life and wherever you go. Happy 1st birthday to you!
23. Maybe you don't remember the flavor of your 1st birthday cake, but you will always feel the love and warmth that your parents put into making it more extra special. The best 1st birthday! 😘
24. We wish you a fantastic 1st birthday to a 1-year-baby doll! We love you soo much and wish to stay blessed forever.
25. A year goes by too fast, and we hope we gave you everything to make you happy. Have the best 1st birthday, little lady. Love you always!
26. You are such an amazing and charming baby girl that every in the house is very thrilled to see you. It's a very special day in our life. Congratulations on your first birthday! Happy birthday!
27. A sweet little baby girl like you is a blessing for every parent. Wishing you all the happiness and best for your 1st birthday ever!
28. Reall, I have never seen more beautiful one-year-old baby girls like you. You are really one in a million. Have a super-duper 1st birthday!
29. You always give us a gift every day. Spending 1 year with you has meant 365 special gifts for us. Each day and moment with you in our lives is a valuable and irreplaceable present!
30. Your beautiful smile is simply the best thing anyone can wish to see after a long time. Happy 1st birthday dear, little girl!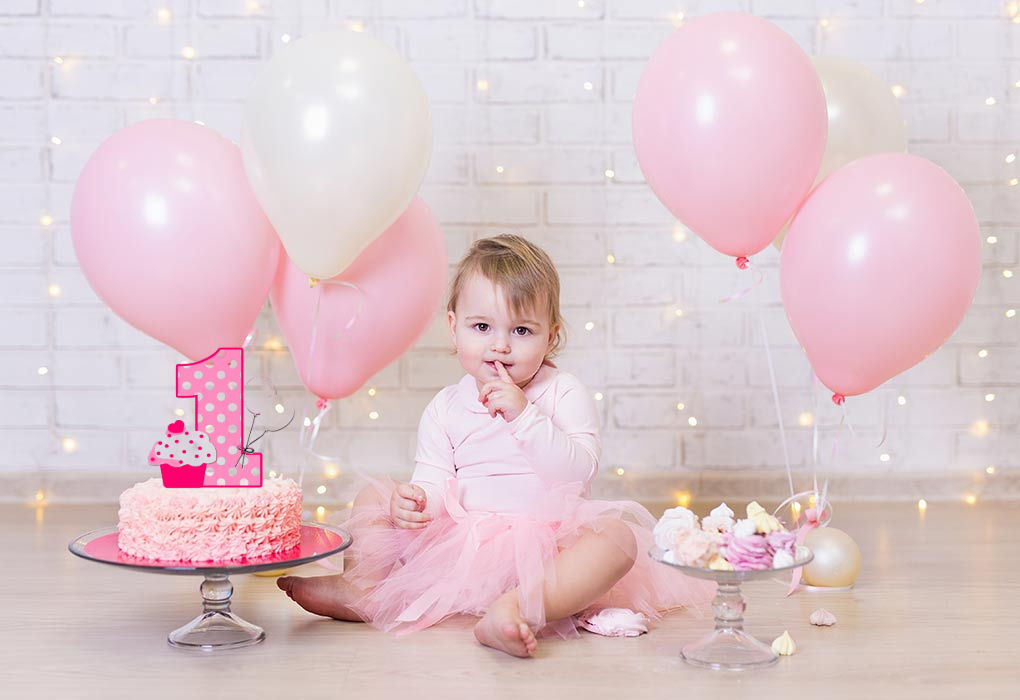 31. At this time, you will learn that you cannot wipe off the cake from your mouth and dress. But, today is the day to enjoy being a sweet baby girl turning 1. We wish you the best of best 1st birthday, angel!
32. It's been a whole year since you were blessed with a cute and beautiful baby girl. We are sending your daughter our best wishes on her 1-year completion. Happy 1st birthday! 🎂😘🎈
33. Our little princess, you are now one year old already. Where did those wonderful days fly? we pray and hope you celebrate many more birthdays over the coming years. Happy birthday, darling!
34. You are such a beautiful little princess that every parent would love to have you. No wonder why your parents are so thrilled. Many congratulations on passing 1-year. Have a stupendous 1st birthday, darling!
35. The happiest moment of your life was when you saw your baby girl for the 1st time and took you into your arms, and this is a time when you forgot all the pain and cried with joy. Many happy returns of the day to your cute daughter!
36. Congratulations to your barbie doll for successfully completing one year! Thanks to God for coming into your life such a captivating baby. We wish your baby always be happy in her life. Happy first birthday! 🎈🍰
37. May you grow up to be your daddy's princess and mommy's sweet girl. Anyone could see the love and happiness of your parents for having you. Have a lovely birthday, kiddo!
38. We always pray that your daughter's life continues to be a blessing to you and your family with lots of love, peace, and happiness. Have an amazing 1st birthday to you Lil baby!
39. The warmest birthday greeting to your cute little princess. May this carefree joy, love, and happiness of your first birthday continue for many more years.
40. Little darling, your angelic smile, and your innocent eyes support my belief that it is surely worth living despite all the troubles and obstacles. Wishing you a phenomenal 1st birthday!
1st Birthday Wishes For A Niece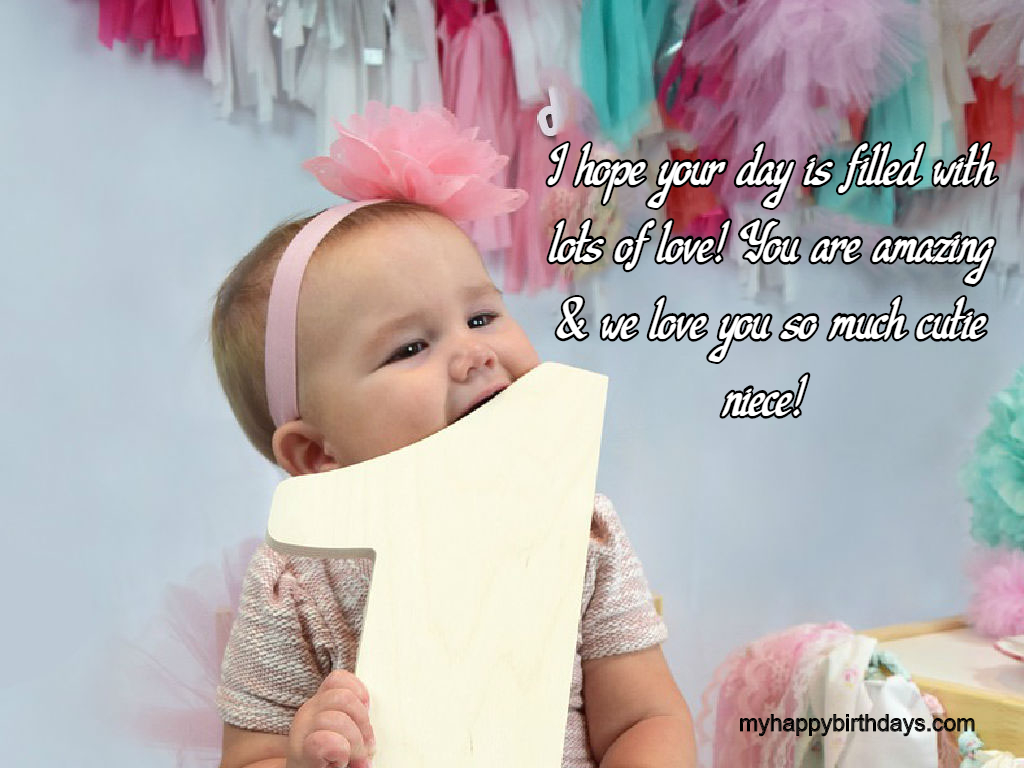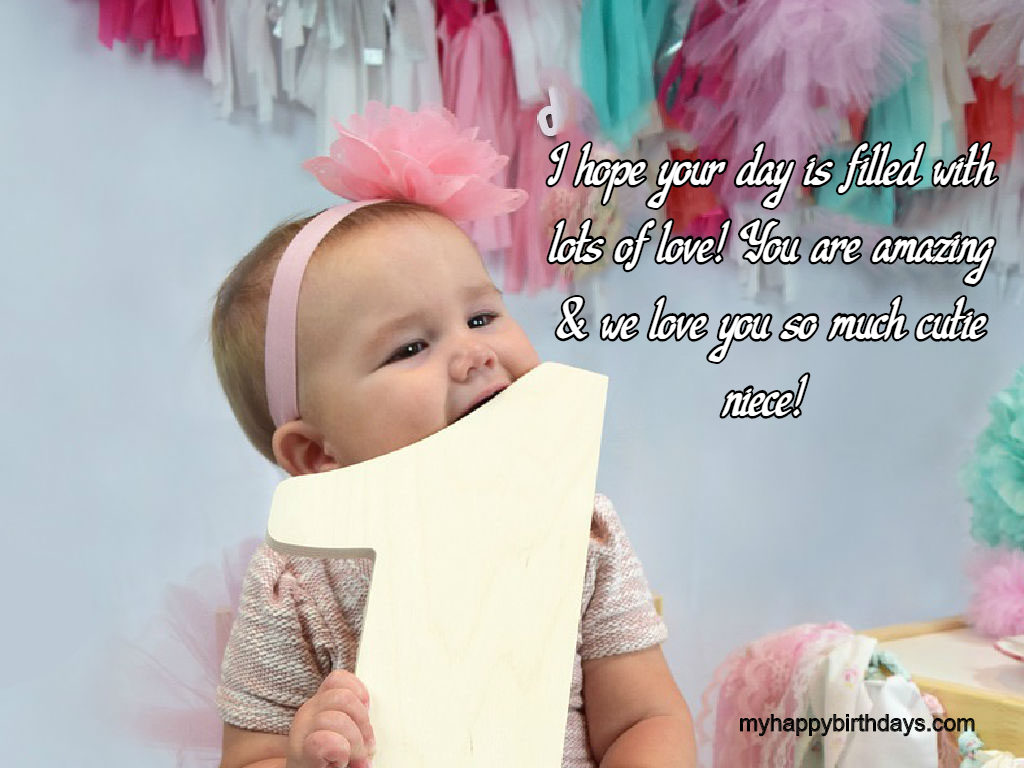 In fact, nieces hold a very special and unique place in their uncles and aunts, they love very much with their nieces. Your niece's first birthday gives you yet another chance to shower all your affection and love. Find out below some first birthday wishes to show your deep love.
41. Each one says you gone by my looks but the reality is that you are indeed so beautiful my angel girl. Happy birthday to my beautiful niece!❤🎂
42. Hey, one year ago our sweet little girl came into our lives and bought a lot of colors and joy, happy 1st birthday to a cutie niece!
43. You have the sweetest cry and laugh. I cannot stop loving you no matter how much I try to stop myself. Happy birthday pretty niece!
44. Our 1st 365 days with you have been the most amazing and wonderful time of our lives. You have changed everything, but we are the happiest uncle/aunt now. Hope you feel the same, darling baby. We love you so much and we wish you the sweetest 1st birthday ever!🎉🎈
45. Wishing you a very happy 1st birthday to our little super actress! The cutest selfies ever are the ones taken with you, and we wish you get all the success every step of your life.
Related – Happy Birthday To Niece
46. Happy 1st birthday to the sweetest niece! You are our biggest love and no one can take up more space in our heart than you. We love you immensely!
47. Our little niece, may your special day and every single day bring as much happiness as you are bringing to all of us! Happiest 1st birthday, dear love!
48. You are the gift of God and I feel so grateful. I'll do everything that would be the happiest in the world. Love from your uncle and aunt. Happy 1st birthday!
49. Our dear angel, you are the most adorable baby girl I have ever seen. May God bless you with health, wealth, and prosperity! Happy 1st birthday!
50. On your special day, we wish you the best future, and we hope that it fills with love, care, happiness, and respect. Have a spectacular birthday, our super actress!💖🎈
1st Birthday Wishes For A Nephew
51. Happy first birthday to a lovely nephew! You are indeed a gift for the family. Stay blessed! 🍰🎊
52. Hey our lovely, nephew, you are going to melt my heart and empty pockets since I cannot control to pamper you with gifts over and over again. Have an awesome and cool first birthday, superstar!
53. We have no idea how we lived without you before. But you so rapidly joined our family, as if you were forever with us. We are really so thrilled to have you in our family. May God bless you with everything. Happy 1st birthday little and cute, nephew!
54. Thanks to God you are my nephew and hope you will have a blessed today. Have a great day and a 1st birthday!
55. We wish you a happy magical birthday! Your cute smile always hypnotizes yet. we cannot resist seeing you again and again. Love you so much, nephew! 🎈💖
56. You are just 1-year old, but you already know how to steal each and every single person's heart that you doing perfectly. Have a perfect 1st birthday, cutie!
57. Congratulations on your first birthday! I know you won't be able to respond to my congratulations. But I am sure you understand with your cute smile. Happy 1st birthday!
58. Dear nephew, you're really a gift from God, baby. Your parents are so fortunate because you are the incarnation of their pure and sincere love. Have an awesome birthday and future!
59. The happiest 1st birthday to the most charming little angel! Have a yummy and definitely messy day. Today, you have permission to destroy your birthday cake and do crazy activities.
60. We are very fortunate to have as a nephew, and we want to say happy amazing first birthday. hurray! 🤗🎂
Funny 1st Birthday Wishes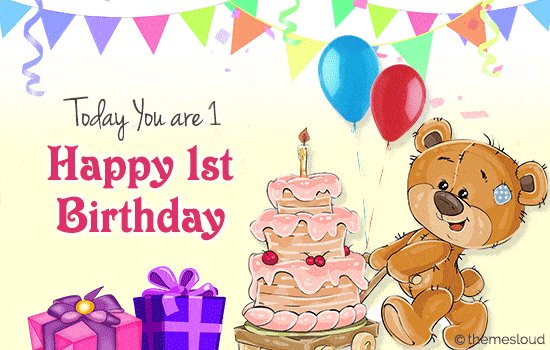 Birthdays are incomplete without fun. In fact, birthdays are meant to be fun, dalliance, and food. Get some funny birthday wishes below that can tickle you.
61. On your first birthday, we want to celebrate your new life and birth with zeal by stuffing our faces with cake in front of you. Hmmm, [email protected] Happy 1st birthday! 🤗🍰
62. Never try to underestimate the power that a 1-year old possess. From continuing shouting to dirty nappies, they make everyone dance on their tiny fingers. The happiest 1s birthday!
63. Dear, don't be upset if you cannot blow out the candles in one go. It only means that you still have to grow a lot. Happy and awesome 1st birthday!
64. I have not bought any cake for you. Because I know you still the bottle of milk more. Have a cool first birthday!😅
65. Turning one means never having to say you are sorry. You can just cry and only stop when your mom and dad have forgiven you. Enjoy your good moments and times. Happiest birthday to our little start!
66. Fist birthday always is special because it's the only time when you can eat your birthday cake with your feet, hands, and face! Happy First Birthday! 🎉🎂
67. Let's toast to a year of sleepless nights and countless joy! You turned one!"
68. Playing games, eating cake, blowing candles, unwrapping gifts, and having too much fun. There is not much work to do, and you are just only one. Have the perfect and lovely 1st birthday!
69. Wishing you a momentous is birthday! Hoping you snake, rattle, and roll every second of your life!
70. Let's get ready for the party until the last slice of cake is eaten. Have an outstanding first birthday!
Related – Happy 2nd Birthday
Happy First Birthday Wishes For Baby Girl | Birthday Wishes To Baby Girl
71. Wishing you the happiest 1st birthday to my cute darling! Your presence has made our life extraordinary and beautiful. Sending you a lot of hugs, kisses, and love on your special day.
72. I feel on cloud nine today because today is my baby girl's first birthday. This is an undying feeling which is completely unconditional just like my love your you. Happy first birthday baby, girl!
73. You are my lovely and cutest baby of the year. I thank God that you have come into my home and been a part of this family. We love you so much. Happy 1st birthday to you, baby!
74. Have the best 1st birthday ever to my cute and little angel! Now, you are growing too fast, your lips are moving, your feet are running, and you are laughing very loud as today is your special day. May God bless you with everything!
75. Sending you so much love and kisses to our dearest baby doll of all times. May you achieve all the best things in your life you wish for. May you always smile and shine the way you are today. Happy birthday!
76. Wishing you a very happy first birthday to the soul of my heart! Since you have come into our home, brought happiness and fun. May you fill our home with your laughter and smile. Happy 1st birthday, dearest baby angel!
77. You are the gem of our home and wishing you lifetime happiness on the biggest day of your first birthday celebration. I hope you enjoy every bit of the moment. Happy birthday baby girl!
78. You are the most special baby girl, so you really deserve such special treatment. I hope we are giving you exactly as you want. Happy birthday to you!
79. May God bless you with the right direction, great knowledge, and great success. You are the queen of our home. Happiest first birthday for little baby!
80. There is no other prettiest gift than you I have ever found in my life. Enjoy this special moment with great enthusiasm. Happy birthday to the sweetest one-year-old baby girl.
81. Let's celebrate our baby girl's first birthday together. Our best wishes to your little angel on her special day. May she touch the sky.
83. We are sending the heartiest birthday wishes with countless cuddles, love, hugs, and happiness. Happy 1st birthday to a baby girl.
84. It's been 1 year passed since we were blessed with a stunning baby girl. We never forget those blessings. Happy first birthday, cutie!
85. This first year has been the most amazing and special year of our lives. We continue to love you more and more with every passing year.