Last updated on June 24th, 2020 at 12:14 pm
Happy Birthday Message For Boss
Happy Birthday Wishes for Boss – If you want to express your gratitude to your boss, want to send them the best happy birthday wishes for the boss and the birthday of your Boss is around the corner, so this is that perfect day to make them feel so amazed and special.
However, everybody wants to keep a better l relationship with their boss and it's best to maintain such kind of understanding which is crucial for professional life. This is an appropriate time to do so.
Even if your Boss is the best Boss in the world or you keep a formal relationship with your Boss or consider him/her as a friend, it is tough sometimes to choose the right words to geet your boss.
Below you will find the best birthday wishes for Boss in order to make their Boss day memorable. Also, you can share these wishes and messages directly on WhatsApp, Facebook, Twitter, Pinterest, etc.
Happy Birthday Wishes For Boss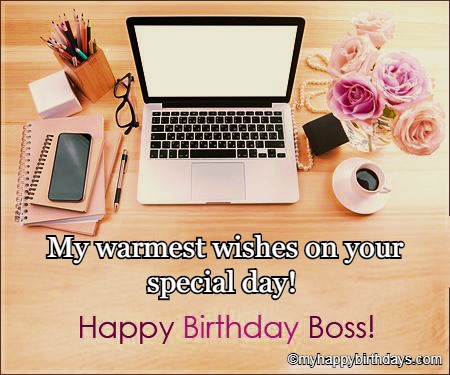 1. Dear boss, you are responsible for all our success and progress. Without your help, we never would have reached where we are right now. We are really fortunate to work with you. Happy birthday, boss! Have a happy life! 🤗🎊
2. We wish you an amazing happy birthday to you and hope that you have a healthy, great and blessed life ahead! Happy birthday, dear, boss!
3. Your motivation means a lot to me. Wishing you all the love and happiness on your birthday. Happy birthday to a great boss!
4. Dear boss, may all your desires come true on your special day! Wish you the best birthday ever!
5. I wish you many years of happiness. May you obtain further success in the future. Have a great happy birthday to a lovely boss!
6. You've always been so motivating to us and it is our pride and pleasure to work with a boss like you. Many happy birthdays, dear boss!
7. Happy birthday, dear boss! Today we want you to know that you are a great and wonderful friend, boss, and a perfect guide. You've always been there with us like a good friend. Love you, sir. You deserve to have the best of everything. Happy birthday!🎉👏
8. You are really a source of inspiration to us. You've have guided us every step of work. Thank you so much for everything. Happy birthday, lovely boss!

9. I wish you a very happy birthday to a really cool and amazing boss. May your as amazing as you. The best birthday! Have a blessed life ahead!
10. I am so blessed and proud to tell you that it's been always amazing working with you. You are one of the great leaders and you really deserve a warm greeting on your special day. Happy birthday, boss!🎂🎉
Read More Interesting
Thank You Messages
Birthday Wishes For Brother
Farewell Messages
Congratulation Messages
Good Luck Messages
Birthday Wishes For Wife
Best Happy Birthday Wishes For Female Boss
You birthday wishes for female boss should be full of love, respect, and expression. Your message or wish must be worth remembering. So, if you boss a female, show your affection and kindness on an auspicious day by sending these cool wishes for your female boss.
11. Beauty and knowledge hardly mix comes with hand in hand. But this is not true in your case at all. You are such a great knowledgeable boss who has many more great qualities to be admired for. Happy birthday dear, boss! 🎈🎉
12. Wishing you a happy birthday to my role model and boss. Your honesty and gentleness have always motivated us and I hope you keep on motivating us in future as well. Have a great success and journey!🎂🎂
13. Dear boss, women empowerment has blessed us with 2 gits. One is freedom of women and another is a far-sighted boss like you in our company! Have many more candles to blow. Happy Birthday!
14. Dear boss, your words of encouragement and wisdom has invariably guided us in every problem. On this special day, I say really thank you for everything. Happy Birthday!
15. This is one of the great pleasure to be a part of your team. Sending you the warmest greetings on your birthday. You are indeed the inspiration for all. Have a spectacular birthday, lovely, boss! 🤩🎈
16. Anyone can be a dominating and rough boss. But it is difficult to be able to guide the employees with care and love like they are in a family. You are very good at that. Many happy birthdays to the most exciting and amazing boss ever!
17. Dear boss, working with you has been an amazing joyride. I take lots of pride having a boss like you.
18. Wishing you all the very best on your birthday! It is a lifetime achievement for us to be able to work in your team. You have a bright, inspiring personality, and a great mind for business strategies. Have a great life ahead!
19. Dear boss, may this year bring much more happiness and success in your life and you achieve great heights. Happy birthday to the lovely boss!
20. Wishing you the happiest birthday to the greatest boss ever! We pray for your better health and massive growth in all aspects of life.
Formal Birthday Wishes For Boss
21. You are not just a regular boss but you are the person I can trust. You inspire us every day to keep on pushing for success. Happy birthday to the most perfect p[erson I've seen!
22. You are the best person who always tends to support and encourage me on a daily basis. May you face the most wonderful moments in life. Wishing you an amazing birthday! 🎂🍦
23. You really showed us how to lead from the front. You are a talented and good human being. I wish you many more birthdays to come. Happy birthday dear, boss!
24. I have many reasons to be happy on this day because it is an occasion that reminds the day the world was gifted with an outstanding human being. Happy birthday, boss!
25. You are a mentor & a teacher who has inspired thousands of employees with your personality and work. You'll always be appreciated by thousands of employees who have achieved great success in life. I wish you all the love, joy, and happiness on your birthday! 🎂🎉
26. Every day I am extremely honored and humbled to get the unique opportunities to work under such a unique boss like you. Happy birthday, lovely, boss!
27. It feels really amazing and magical to be under your guidance. I have hardly come in contact with a man of such experience and knowledge in my life. Have an outstanding birthday ever!
28. Wishing you a very happy birthday to a truly great boss! I hope and wish you may have many more years of good accomplishment and health.🙌
29. To the confident, true leader, and visionary of our department and your support each day makes us very confident. Many happy birthdays!
30. Thank for guiding me spectacularly through my career. You are not only a boss but also a true mentor and my hero. Have a wonderful birthday and life ahead! 🎂🤩🎊
Birthday Wishes For Ex-Boss
No matters whether you start your own business or job, you must have the same respect for your ex-boss in your heart. It is good to have a relation with your ex-boss who has taught you many tactics under their supervision.
Send them and wish them the most suitable wishes to your ex-boss and make them realize how fortunate to have an opportunity to work under their guidance.
31. As you are going to start another milestone today. I pray may God provides strength and opportunities. Have a stunning birthday and thank you for your service! 🤗🎂
32. I was an immense pleasure I got a chance to work with you. Thank God for giving me such a wonderful opportunity and thank you for being the best boss. Happy birthday to a great boss!
33. May this new era gives you long life, intelligence and the capacity to lead well as you've always done. I would like to wish the best in your future. Have an awesome birthday!
34. My warm wishes to an amazing ex-boss who helped me every step of my life. Many many happy returns of the day, dear boss!
35. Wishing you great birthday wishes for a great leader! Thank you so much for providing outstanding leadership qualities, you are indeed the best mentor that is worthy of emulation. I want to wish you long life and sound health. 🎈🎂
35. Dear ex-boss, you are a shining example of this company. Each day, I see you making many decisions that benefit both the company and our clients. You're a big and great role model for all of us. Happy birthday to a wonderful boss!
36. A good boss is just like a treat. A great boss is just like a blessing! Thank you for being a great support in so many lives. Happy birthday dear, boss!
37. Have a great happy birthday to the best boss in the world! Enjoy this moment with zeal.
38. Dear boss thanks a million for your amazing support, care, and guidance. We really don't know what we would do without a great and wonderful boss like you. Keep supporting always. Happy Birthday!
39. Thanks for your wonderful advice and flourishing my professional life. I will always extol your priceless contribution to my success. Happy birthday to a lovely boss! 🎂🎉
40. Right now, the entire staff is celebrating your greatness since you have done amazing things for this company and employees as a whole.
Funny Birthday Wishes For Boss
41. Dear boss, it is difficult to find a boss without a fat belly & a shouting problem. We are indeed fortunate to have you as our boss. Happy birthday! 😅
42. You're undoubtedly the best at managing this company but it's a good time you give a little attention to managing your weight at the same time as we want to see fine and fit for another 100 years. Happy birthday!
43. We all are waiting for another great birthday treat from your side so we can forget that you are the guy that keeps on shouting on us the entire year. Happy birthday to the dear boss! 🎉🤗
44. Every year your birthday comes on the same day and time. It really seems to be extremely punctual just like you. Have a great and best journey ahead!
45. This is the only day when you can officially expect us to stop hating for only 1 day just because it's your birthday today.😂 Happy Birthday! 🎂
46. Dear boss, your birthday is always special to us not only you are the best boss but also because this is the day when we can drink and party as much as we want without getting fired. Happy birthday! 🎈😎
47. This birthday gives you a promotion to a new year in life without any extra rights and benefits. We want to say welcome to our work because that's exactly how we feel when we do extra work without getting a promotion. Have a marvelous birthday!
48. If you are thinking that we are a bunch of incapable employees, keep in mind one thing that we've never ever failed to bring the best cake for you. Happy birthday to the lovely boss!
49. A great boss is someone who is never bored and tired of giving you orders just like you.😅 Have a superb birthday!
50. Today is your birthday today. Therefore, we will not behave as annoying subordinates. We wish you a stress-free happy birthday, dear boss! 🎂💥