If you are looking for energetic, powerful good morning prayers for him and her, you have landed in the right place.
Good Morning Prayer Messages For Him and Her
If you want your friend, husband, wife, girlfriend, or boyfriend to start their day with powerful good morning prayers. These good morning prayer messages will make sure that your beloved gets up with the right and positive thoughts in his mind.
Short and accurate good morning prayers would be more effective than sending a simple message. There is nothing better than seeing your dear and near ones with an amazing and positive day.
Here are the 55 powerful good morning prayer messages for your loved ones that will help you to take initiative to make their lives better and full of energy.
Good Morning Prayers For Him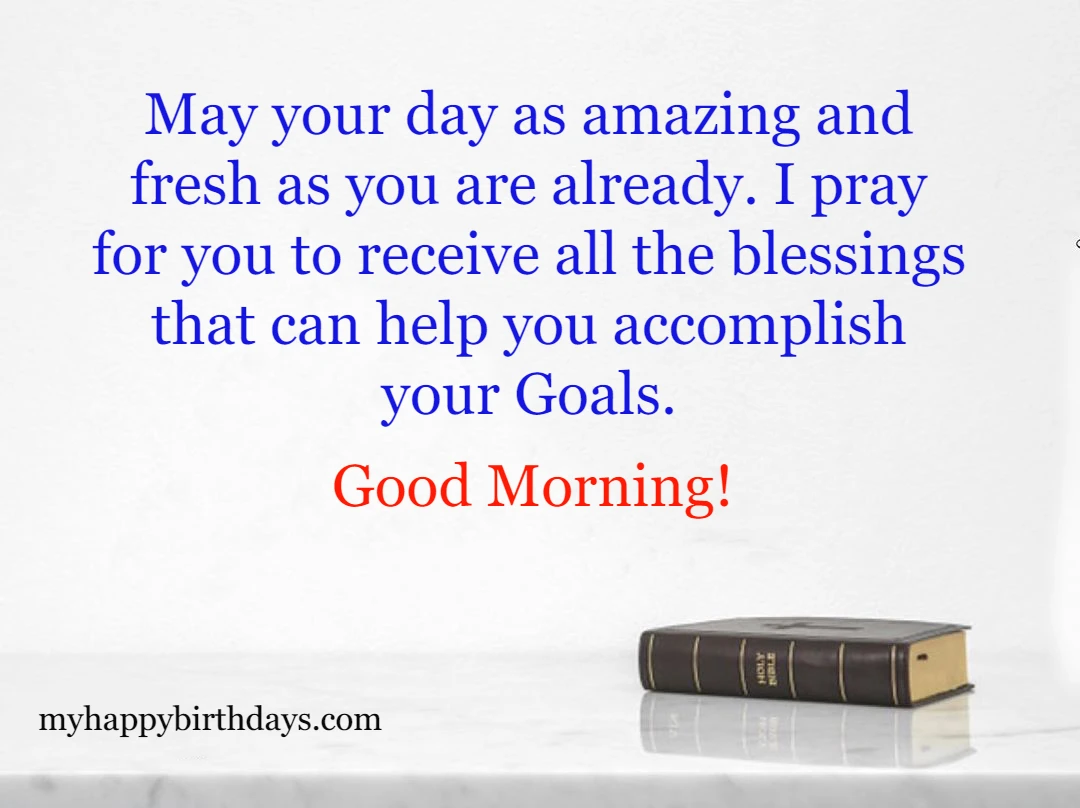 1. In Jesus' name, I deeply pray that today is as beautiful as you are. After yesterday, you deserve many things and fulfill all your dreams. Have a blessed day, dear.
2. Whatever war you are fighting at this moment is bound to be settled and won. You have victory near you. May God bless beyond measure. Amen. My love!
3. May you conquer any demonic schemes that are set to infuse you. May Jesus always helps you walk in Good paths and find power and strength to get rid of all the problems in life. Good morning, love!
4. We may not be getting up on the same bed right now, but as I open my eyes in order to see another beautiful day I always tend to pray that your eyes are open too. Have a spectacular day!
5. I hope you had a restful night love. As you prepare to encounter this day, proceed in boldness knowing you have all it takes to overcome your enemy. Have a wonderful and productive day today!
6. May the light of God shine on your path today. May God helps direct your steps into the right places for the achievement of your purpose. Have a great day and enjoy it!
7. I would like to dedicate my morning to you as you deserve it, my love! All of my days and nights are better because of you. May Jesus bless you & keep you in the palm of his hand.
8. Hello dear, it is a new day, and it will be a wonderful beginning for you today and tomorrow. May the lords make everything easy peasy for you today. Good morning, love!
9. As you open your eyes today to meet the gleam of this day, I pray that they see only positivity and goodness unless and until the end of this new day. Have a beautiful day ahead!
Advertisement
10. I want to pray to the lord that today will be the day you progress all of your dreams and hopes. May God support you every step of your way today and always. Have a spending day, my dear!
Related- Good Morning Wishes Messages
11. Always begin your day with excitement because it is the day that God has made for you to enjoy thoroughly.
12. Today, I pray to Jesus that your every desire will be answered. No lapse will be experienced or permitted in your life. Have an awesome day, darling!
13. I am thrilled you have made this so far. This journey isn't for the weak, but for the brave-hearted and bold. May you treat the best in the land. I proclaim and pray that your day will be full of celebration and laughter. Happy morning, baby!
14. I am eagerly waiting for a wonderful day today, good morning, and I wish you God's mercy and protection.
15. I will never stop admiring God for everything that he has created in you. You have grown into a flawless spouse and are a reminder of the greatness of God's works.
16. I pray to God today, that you will never be stranded in your life. Even in bizarre places, God will always make a way out. Amen. Good morning!
17. I pray for you today that you will get all the answers to your secret requests. Heaven has heard you. Good morning my bestie!
18. Beyond our wildest requests & dreams, God has almost everything given us. May Jesus help you face all the challenges in life. Good morning, my love!
19. I admire God for you today, rise and shine dear, it is going to be a fantastic day full of love, compassion, and respect.
20. Baby, my love for you forces me to raise you in my prayers. You are divinely hidden and covered under the wings of God. Good morning!
Also read: Good Morning Messages For Lovely Friend
Good Morning Prayers For Her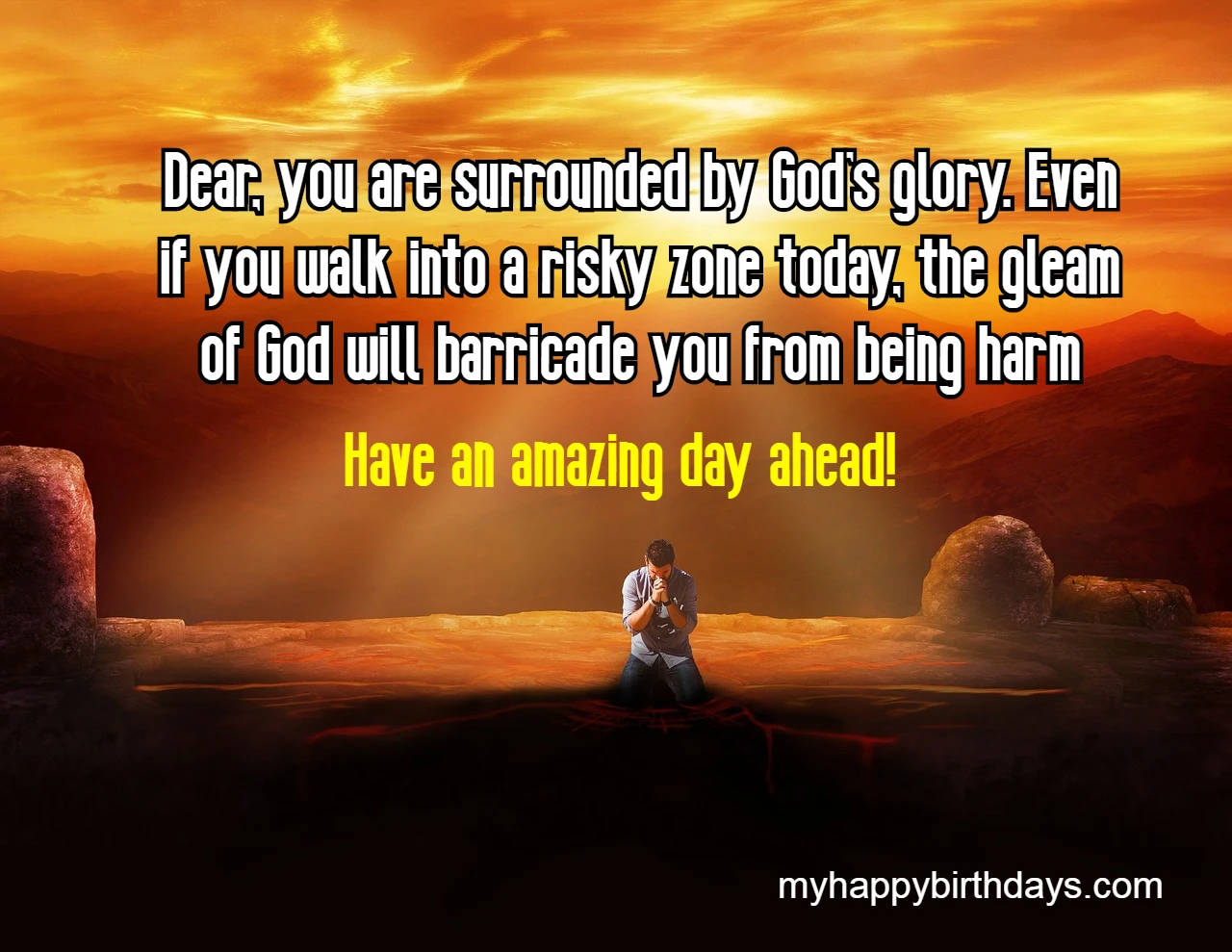 21. You have entered my life as a blessing in disguise. Because of you, I've realized the full power of God in my life. Have an outstanding day ahead, knowing someone cares and loves you. My best wishes in all your efforts, baby girl!
22. I pray that as you open your eyes to see another lovely day today, all your problems and worries will vanish and a new beautiful beautiful chapter opens in your life. Have a splendid day, darling!
23. My love, as you rise early & go about your busy activities, bear in mind that God always fights for you, and brings peace in life. Let the joy of the Lord be your power and strength in all situations. Have a good day!
24. The mighty hand of the Lord will get rid of you from every form of evil planned against you today. You are a woman of excellence and no demon can that away from you. Good morning, Jaanu!
25. Good morning my queen, welcome to a beautiful day where everything would be a piece of cake for you today by the special grace of God.
26. I pray to Jesus that you receive help wherever you go today, you will prosper in everything that you lay your hands upon. Have a spectacular morning, my love.
27. May God every word that you say today be proved. May each soul you talk to find immense happiness through him. Good morning, dear!
28. Dearest, God has made many solutions for you. You will touch lives positively. None will regret meeting you today. Have a blessed morning ahead, my love!
29. No matter the kind of challenge or problem you are facing today. I deeply pray to the Lord that will give you the strength and power to encounter. Good morning, darling!
30. Your love is so much to me in my heart, which is why I pray for you every day and minute, may the Lord make your day extraordinary, joyful, and peaceful. Wishing you the best day!
Read – Good Morning Bible Verses
31. Good morning my love, look through your window at the beautiful sky, it's peaceful. May your heart find love and peace everywhere you go today. I love to the moon and back!
32. May Jesus' every power and person that hinders your progress will be overcome today. I pray, that you walk in God's strength today and always, baby girl!
33. In the presence of God, there is bountiful joy. May you always walk in God's presence and allow the happiness that comes from him to seize your life. Good morning, Jaan
34. Above all, I wish you the best of health, love yourself, and stay satisfied because God loves you. You are the best. Good morning, dear!
35. The sweet chirping birds and light morning are like the sweet fragrance but waking up next to you is my daily dose of paradise. I would never complain to God for a better partner. Have a sweet and full-of-energy morning!
36. Even if you get up unmotivated to begin your day but the strength that is coming from above is available for you. No worry, today will turn out better than your expectations.
37. May God makes your ways smooth and easy for you today, in your going and coming you will receive God's protection and factors. Good morning, love! Have an outstanding day ahead!
38. Finally, a new day has arrived, may the Lord fill up your energy and bless you with the intelligence to sail your ship today. Good morning to my queen of life.
39. Have a great morning to the love of my life! Your Indescribable advancement and good works have been unnoticed. I declare that Jesus opens up new opportunities and doors for you today as you have kept the faith.
40. Baby, wake up early on another beautiful day and receive your bountiful joy and blessings from the Lord. I keep you in the safe hand of God. Good morning, my sunshine.
41. You are kind of my dream to come true. I am so glad to be a part of your life, and thank God we made it into a new day. It's going to be a day of joy and happiness for us.
42. Get up dear and take the front seat today, God has made it a wonderful day for you. Have a splendid day, my Jaan!
Romantic Good Morning Prayers For My love/Girlfriend
If you love someone deeply, top up your game with romantic good-morning prayer messages for your love/girlfriend. With these wonderful love text messages, you can win your love hearts.
43. When I look into your eyes, I see a bright light as you gaze at me. It feels like the light looking at the rising of the sun. Good Morning, love!
44. This beautiful journey of our love has been amazing so far. We are sharing and living every moment of it which makes me feel so grateful to God. I hope you have a wonderful good morning!
45. Outstanding encounters, great happenings, beautiful experiences, wonderful surprises, and amazing joy will be your portion day and forever. Good morning, baby love!
46. May Jesus fills your life with all fulfillment and happiness. May your morning be as stupendous as you are. Have a blessed morning, love!
47. I feel very blessed to have you in my life as a lover. Good morning, dear! I pray for you that you have an outstanding!
48. Happiest Morning Darling! May the brightest morning make your dreams come true. May the brightness of the sun bring you glory in all walks of life. I love you so much, Jaanu!
49. To be honest, every night, I keep thinking of you from the time we part, and I dream of you all throughout the night. You are such a beautiful lady I have ever found. I can't wait to see you soon. Good morning, my soul!
50. You are my heart and you are my world. You were the last thought in my mind yesterday and the first in the morning. Good morning to my heart-to-heart love.
Also, see – Cute Good Morning Paragraphs With Images
Romantic Good Morning Prayers For My Boyfriend
51. Dear BF, may your day be full of beautiful moments and pleasant happenings because you deserve every bit of it, my love. Sending you this best good morning prayer. Have a great day ahead!
52. May Jesus bless you with all the best things in life. It is my prayer that the Angel of God goes before you today to prepare everything for you. Good morning, dear!
You May Also Like – Heart Touching Good Morning Love Messages
53. When I wake up in the morning, your face comes to my mind first and that makes my whole day ecstatic. Good morning!
54. May every day of your life God will profusely bless you with everything you desire for. Good morning, my love!
55. Wishing you the most beautiful creation of God to have the best day. And that is only you, baby! Good morning, dear!