Raksha Bandhan Messages
This is the best day for sisters and brothers when sisters tie a rakhi, a sacred thread, on their brother's wrist & pray for her property and happiness.
Whereas brothers promise to their sisters for protection and long life. In fact, the bonding between a brother and sister is simply unique and beyond the description of words.
The relationship between siblings is remarkable and given importance in every part of the world. Although when it comes to India, so, its importance becomes more important since there is a festival called Raksha Bandhan, which is dedicated to sibling love.
But there are siblings who stay apart due to geographical reasons, but there are some unique Raksha Bandhan messages that you can pick any as per your choice and send on WhatsApp, Facebook, Twitter to express your feelings toward your lovely and naughty sisters.
Happy Raksha Bandhan Messages For Sister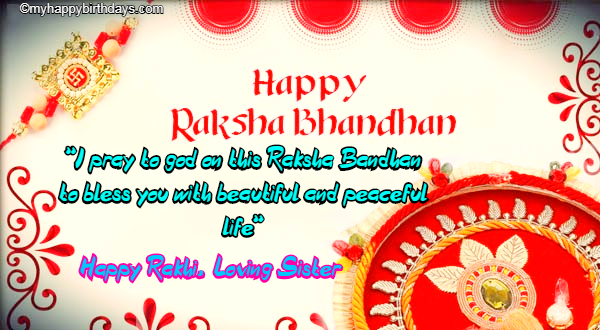 1. "Dear, sister, the more we fight, the more we love each other. This pure love and bond we share last forever, and I promise you we will remain the best sibling forever. Happy Raksha Bandhan!"❤
2. "On this very auspicious occasion of Raksha Bandhan let's remind those lovely moments we spent together, sharing each other's secrets, joys, and sorrows. Thank you much for spreading love and for making my life wonderful. Happy Raksha Bandhan, my lovely sister"😘
3. "You always hold my hand in my bad times, you dance with me in my happiness. I can't recollect even a single day when you weren't present in my life. Thanks for making your presence in my life. Happy Raksha Bandhan!"
4. "You are not only my sister but also a best friend, and I know whatever I do, you will always be there. Have an outstanding Raksha Bandhan, my sweet sis!" 💕
5. "It is only you who have hidden all my secrets and given me the freedom to do everything in life. Love you, my sister. Happy Raksha Bandhan!"
6. 'Hey, lovely sister, you get all the success you desired, may you be happy forever. Wishing you Happy Raksha Bandhan to my naughty, loving, and caring sister!"
7. "God has given me one of the most precious gifts by giving a loving and caring sister like you. Have a great Happy Raksha Bandhan!"😍
8. "On this Raksha Bandhan occasion, I want to promise my loving sister that I will always stand by you in every good and bad moment. Lots of hugs and love to my loving sister on this Raksha Bandhan!"
9. "May this Raksha Bandhan bring all the happiness, prosperity, and success in your whole life. Happy Raksha Bandhan, dear sister!"
Advertisement
10. "Dear, sister, you are someone more special than words, your love, and a million everlasting favorite memories, you give me a feeling that makes me wonder what I would ever do without you, and no one is loved so dearly like you. Happy Raksha Bandhan to my beautiful sister!"❤😘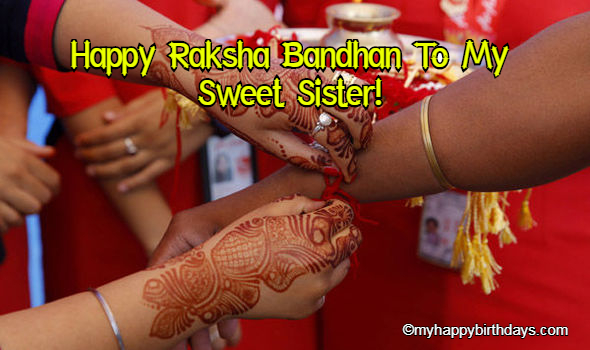 11. "Hey, lovely, your love makes me feel very proud, and on this day I want to shout it out loud. Happy Raksha Bandhan!"😎
12. "Today, as a brother I pray to God take all of your sorrows away and fills your life with a lot of happiness. Have an amazing Happy Raksha Bandhan! Love you always!" ❤
13. "Even if I am no poet but my emotions are pure and I love you so much my loving and caring sister. I will forever be there to protect and help you. Your dear, brother. Happy Rakhi sweet sister!"
14. "Hey, my lovely, sister, I wish you a very Happy Raksha Bandhan, let's celebrate this festival of love again with the same enthusiasm and zeal"
15. "My warm wishes for Raksha Bandhan sweet sister. You have always been the best sister in my life" 😘
16. "My lovely, sister, you are the most beautiful sister, and I know I am fortunate to have you in my life. Wishing you a Happy Raksha Bandhan!"
17. "You know that there is no better friend than a sister, and there is no better sister than you. Have a spectacular Happy Raksha Bandhan!"💖
18. "Hey, sis, you are just an amazing person who inspires and loves everyone. Wishing you the best of best Happy Raksha Bandhan!"
19. "You mean the world to me. I would like to thank God for giving me such a lovely sister who cares, loves, and respects me all the time. Thank you for everything, my loving sister. Happy Raksha Bandhan!"😘
20. "Even if the memories may fade away over time but our special bond of love will grow stronger over time"
Read More Interesting Event Wishes
Teacher's day
Happy Diwali
Dussehra Messages

Raksha Bandhan Wishes For Brother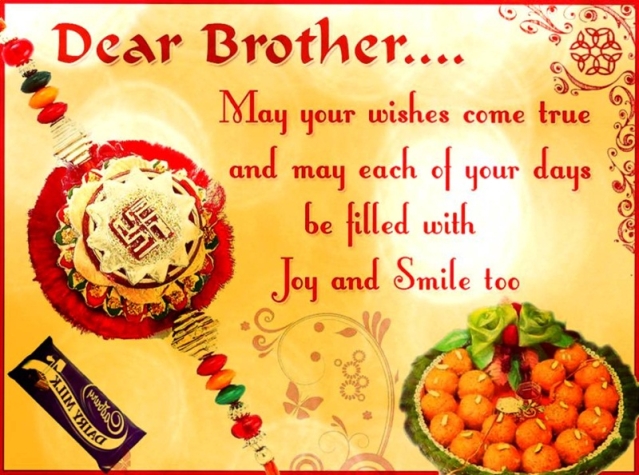 21. "Wishing you a very happy Raksha Bandhan for the best brother in the world!"❤
22. "Cherishing the memorable time we spent in childhood and trying to make new memories this year. Happy Raksha Bandhan, dear brother!"❤
23. "With every passing year, we've forgotten the charm of Rakshabandhan. But this time, no excuse. Let's celebrate the festival and make it memorable forever. Happy Raksha Bandhan, my hero!"
24. "Hey, lovely brother, the Rakhi can be cut readily, but our bond is built on the strong foundation of history. that no one can take from us. Have an awesome Raksha Bandhan!"
25. "I am very lucky to have you such a lovely and talented brother. I love you so much and hope that God showers you with his blessings. Happy Raksha Bandhan, dear brother!"
26. "This is the festival of commitment. So, dear brother, you committed to protecting me always. I commit to respecting you always"
27. "Each and every Raksha Bandhan recalls me your love and care for me. Wishing you a very happy Raksha Bandhan!" 😍
28. "You don't have to be upset if I am not around you, my wishes will always be there for you. Happy Raksha Bandhan!"
29. "Another year has gone by and Rakhi has arrived. Dear, brother on this auspicious day, I wish you immense success and happiness in every part of your life. Happy Raksha Bandhan, my superheroes!"
30. "You've always been the father figure for me. I hope that you get all the happiness and may your life is full of fun. Happy Raksha Bandhan to my hero, my lovely brother!"😘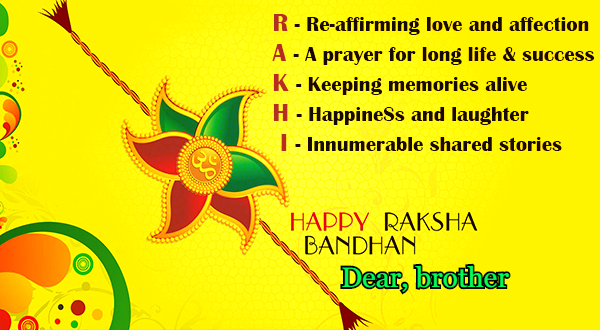 31. "Rakhi is the symbol of the strong bond shared between sisters and brothers. I wish this thread strength our relation, dear brother. Happy Raksha Bandhan"
32. "Wishing you a very happy Raksha Bandhan. Every year, the celebration of Raksha Bandhan brings more blessing and love to our relationship"
33. "Even if I may not be there to tie rakhi on your wrist but I know I am always in your heart, brother. Sending you lots of and blessings. Happy Raksha Bandhan!"
34. "Rakhi has bought a lot of happiness in our lives, my brother. it is time to celebrate Rakhi together and relive our childhood memories"
35. "May you get all the happiness and brighter future guided by the light of a star. Dear, brother happy Raksha Bandhan!"
36. "Dear, brother, I want to remind you that I will always be beside you. So, never be afraid of sharing your problem. I love you always. Happy Raksha Bandhan!"
37. "On the occasion of Raksha Bandhan, I commit to my lovely brother I will always love, care, and protect you more than anything. Have the best Raksha Bandhan!"
38. "I don't wanna big gifts on Rakhi. All I want is your presence on this day so that we celebrate this rakhi together and make it memorable once for all"
39. "When we see each other we fight and tease but it just makes our bond much stronger. So, cheers sweet brother to many more years of loving and fighting each other. Happy Raksha Bandhan!"
40. "Wishing you many happy Raksha Bandhan to my daring brother. Have a great day every and enjoy my Rakhi!"
Rakhi Messages In Hindi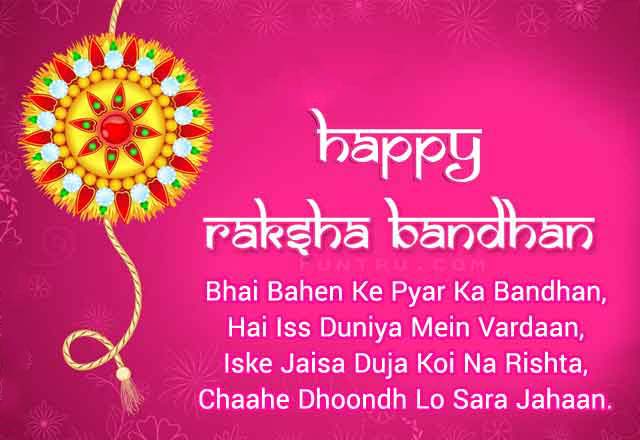 As you know that Raksha Bandhan is the festival of Hindus and it is most popular and celebrated in India and South Asia because most people speak Hindi
So, it is very important that we share some Raksha Bandhan wishes and messages in the Hindi language with which we have grown up
If you are struggling with finding Hindi wishes for your sister or brother on this occasion, send these Rakshan Bandhan wishes, messages in Hindi and wish them by heart!
41. "Rakhi ke najuk dhangon mein, hai chupa bandan vishwash aur pyar ka, khusiyon ke dular ka, yah rista hai bhai aur bhen ke aseem pyar ka. Apko Raksha Bandhan ki bhut bhut shubhkamnayein!"❤
42. "Aj ka din bhut khash hai, meri bhena ke liue kch mere pass hai, uske sukun ki khaatir O meri bhena..tera bhaiya hmesha tere sath hai. Happy Rakhi"
43. "Asman se utari koi raajkumari hai mere bhen dulari! Meri aankhon ki raaj dulari hai meri behan! Happy Raksha bandhan!"
44. "Yeh rista bhai behan ka sbse alg, sbse anokha rista hai pyar ka, kabi khatta, khabhi meetha, kabhi ruthana, kabhi manana, kabhi dosti, kabhi jhagda, kabhi hasana, aur kabhi rulana. Rakhi ki hardik subhkamnayein!"
45. "Chandan Ka teeka resham ka dhagga, sawan ki sugandh barish ki fuhaar, bahi ki umeed behan ka pyar; mubarak ho apko ye Raksha Bandhan ka tyohaar!"
46. "Khusiyon ka tohar, mithaiyon ki barsat, har behn ko is pal me apne bhai ka intezar kynki ye hai Raksha Bandhan ka yoha. Happy Raksha Bandhan"
47. "Ham sath pale hai saht bade hue hai, khoob mila bachpan mein pyar, bhai behan ka pyar badane aya rakhi ka tyohar. Rakhi ki dhero sari shubkamnayein!"🤗
48. "Behano ka pyar kisi dua se kam ni hota, wo chahe door bhi wo to gum ni hota, aksar rishte duriyon se feeke pd jate hai par sirf bhai-behan ka pyar hi hai jo kabhi kam ni hota. Happy Raksha Bandhan!"
49. "Ye chawal ki khushbo aur kesar ka shringar. Rakhi, tilak, mithai aur khushiyon ki bochaar behano ka saath aur besumaar pyar mubarak ho apko ye Rakhi ka tyohar!"
50. "Yaad aata hai aksar wo gujara hua jamana, teri meethi si awaaz me bhaiya kehakar bulana, vo school ke liye subha mujhko jagana aai hai rakhi lekar bhai-behan ke pyar ka tarana. The best Rakhsha Bandhan!"
Funny Rakhi Messages In Hindi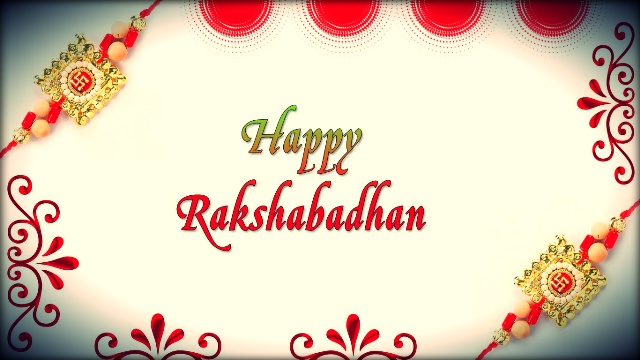 51. "Har gali phoolon se saza rakhi hai, har chok par ladkiyan bitha rakhi hai, jane kis gali se guzerenge aap, har ladki ke hath me rakhi thama rakhi hai"
52. "Do kilo pyaaz, ek liter petrol, ek kilo tamatar, shagaun ke ek dollar. Happy Raksha Bandhan!"😂
53. "Na top se na talvaar se, banda darta hai to sirf rakhi ke tyohar se. Happy Rakhi!"
54. "Laal gulabi rakhi se rang raha sansar, suraj ki kirane khushiyon ki bahaar, chand ki chandani apno ka pyaar mubark ho apko yeh rakhi ka tyohar!"
55. "Sabse alag hai meri behna, sbse dulaari hai meri behna, mere liye to khusiyon se bhi anmol hai behna meri lekin kya kre badi chor and natkhat hai meri behna"😁😂
56. "Har ladki tere liye bekarar hai, har ladki ko tera intezaar hai, ye tera koi kamal nahi bas ane wala Rakhi ka tyohar. Happy Raksha Bandhan"
57. "Rakhi ka tyohar hai, Rakhi bandhwane ko bhaiya teyar hai, bhai bola behna mere ab to rakhi bandh do, behna boli kalai piche kro phle rupay hazaar do! The best Rakhsha Bandhan!"😅
58. "Na papa ki maar se, na ladki ke inkaar se, na chapplo ki bochaar se, ashiq sudhrenge to sirl Raksha bandhan ke tyohar se!"😂
59. "Kya btaon yaroo meri kismat ki kuch kahani is tarah likhi gai, jin hatho se gulab dena chahta tha unhi hatho mein wo Rakhi bandhkar chali gai"
60. "Bhai, bhagwan kre tujhe bahut pyar mile, sabhi ladkiyan tujhe rakhi bandhe aur tjhe hamesha ke liye unka sath mile😛Haapy Rakhi!"
Raksha Bandhan Memes
On this occasion, you can also share some hilarious moments that are created, there are some hilarious memes to convey your feelings for your sister and brother.