Are you looking for good morning quotes for him or boyfriend? You have landed in the right place. Here you can find the best good morning messages for him that you can share with your lover.
Morning is a great way to express your love and feeling to your boyfriend or lover by sending your boyfriend a sweet good morning message for him. He will surely love to see your good morning text messages on his mobile as soon as he wakes up in the morning.
Send these romantic good morning quotes for him and messages to make your boyfriend full of love and extra special. What are you waiting for now? Let's explore below.
Good Morning Quotes For Him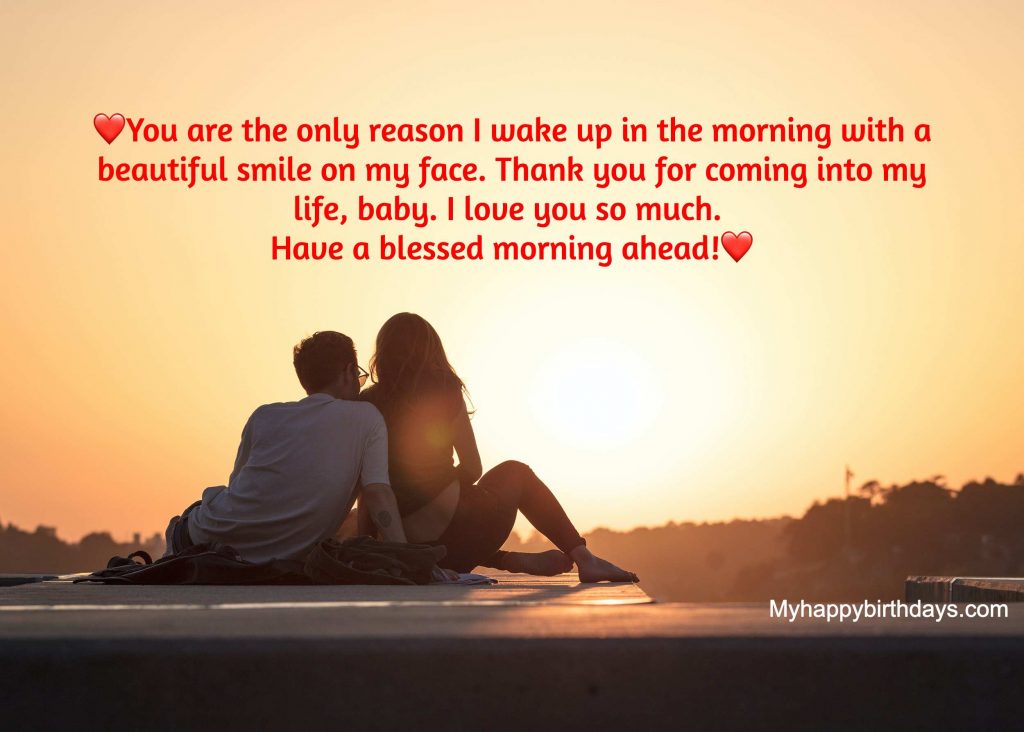 When I wake up every morning feels amazing when I see your good morning message because I know that I am in love with someone who loves me more than herself. Have a beautiful morning love.❤️

When I wake up and see you next to me smiling, my day will be good because it started with you. Good morning, baby!

Good morning, my love and life! I just wanted to let you know that loving you is one of the most beautiful things that has ever happened to me. Now, all I need is you.

You are the only reason I wake up in the morning with a beautiful smile on my face. Thank you for coming into my life, baby. I love you so much. Have a blessed morning ahead!

Do you know love, there are many girls who dream to be with a guy who is intelligent, polite, and handsome enough like you, but I am fortunate of them all as I live my dream every day. I love you to the moon and back. Good morning!

You are my polar stars on the darkest nights and the sunshine that warms me on the coldest days. May God bless you with all your dreams come true. Have an amazing morning, sweetheart.🥰

Everything seems boring without you here. When the sun rises without you, the light doesn't as bright as you. I am incomplete without you. Good morning, Jaanu!

Each sunrise gives me the strength and energy to start a new day with a bang. It becomes more productive when you are with me. Always be with me, my sweetheart!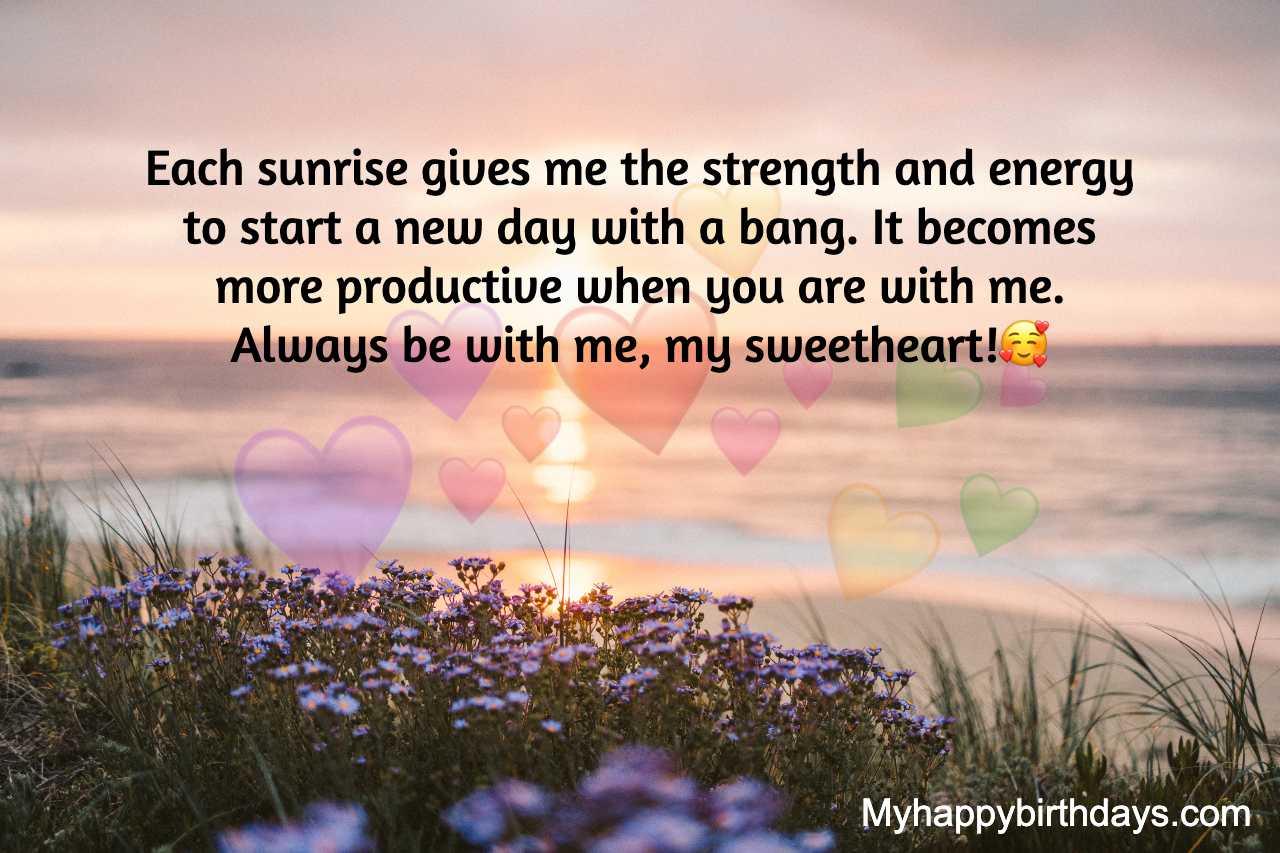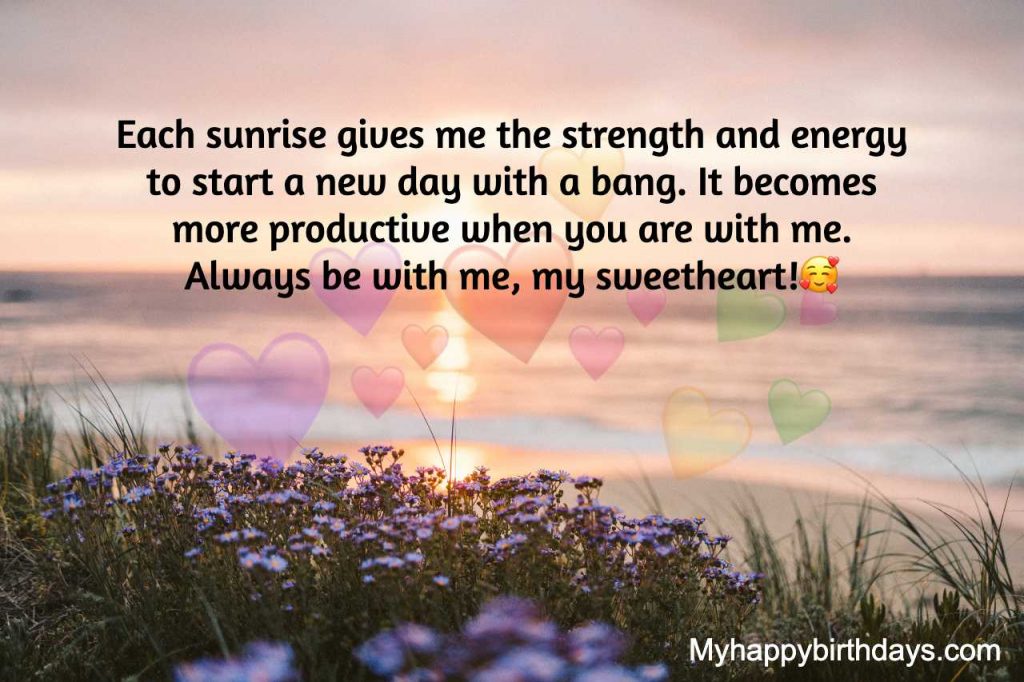 On this beautiful and soothing morning, just know that my heartiest good morning prayers are with you. I wish you enjoy the morning breeze and have an outstanding day ahead. I love you so much!

Hey baby, since you've entered my life, you have replaced my worries with happiness, fears with love, and nightmares with dreams. Have a peaceful good morning!
Advertisement

Have a beautiful morning to the sweetest guy I have ever met. You fill my heart with love, compassion, and happiness.

My love, may your day bring many opportunities and happiness to you. I wish you a lovely morning with warm hugs.

Have a cool morning, honey! It is another great weekend. Enjoy this weekend to the fullest and don't forget me to call. I love you to the moon and back, handsome!

I would like to let you know that you are one of the biggest gifts of my life I have ever received. Thank you for all the support and love you have given me all this year.

"Morning without you is a dwindled dawn." – Emily Dickinson

"I carry your heart with me I carry it in my heart." – E.E. Cummings

"There are no goodbyes for us. Wherever you are, you will always be in my heart." – Mahatma Gandhi

"Close together or far apart; you're forever in my heart." – Harry Styles

"Close together or far apart; you're forever in my heart." – Harry Styles

"I love you not only for what you are but for what I am when I am with you." – Elizabeth Barrett Browning

"I think about you constantly, whether it's with my mind or my heart." – Terri Guillemets

"My heart is your home, wherever in the world you are – you will always have a place to stay." – K.A. Hill

"My dear, I think of you always and at night I build myself a warm nest of things I remember and float in your sweetness till morning." – Zelda Fitzgerald

"Meeting you was not the first day of the rest of my life; it was the first day of the BEST of my life." – Steve Maraboli


Morning Quotes For Him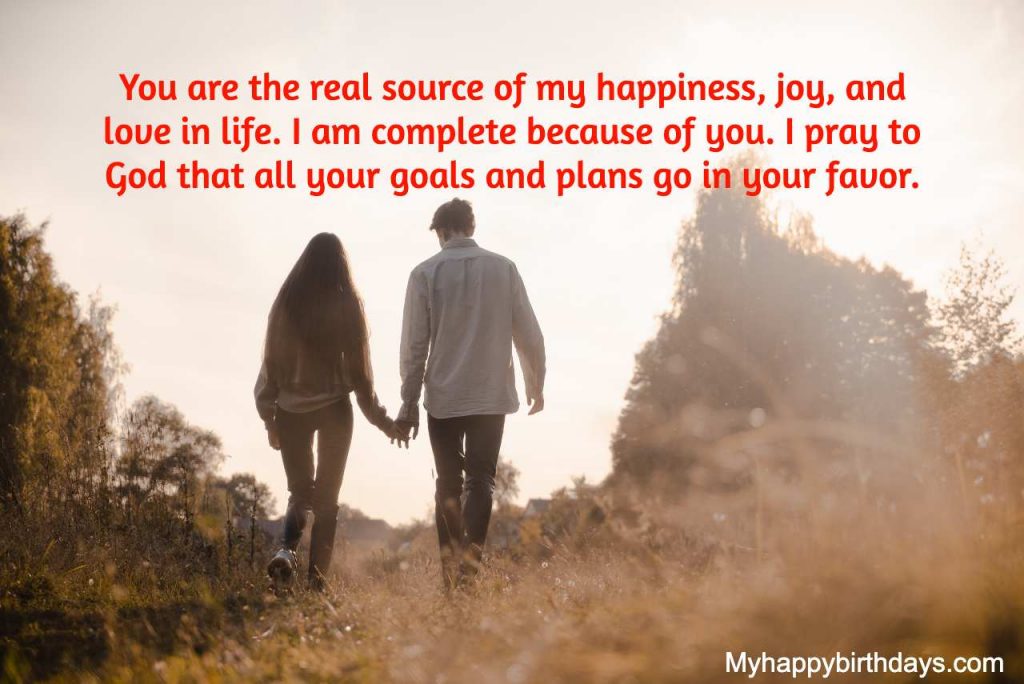 I got up dreaming about you on this lovely morning. I need your sweet kisses and warm hugs to start a day with a bang. Good morning! I love you so much.😘

I don't need all the pricy goods in the world because I have you, and there is no one as beautiful as you. I am blessed enough to wake up every morning. Good morning, my sunshine!

Hey honey, you are the powerhouse in my life. Without you, life would be monotonous. I wish you have a wonderful morning. Thanks for always standing with me.

Thank you love for entering my dream last night! By the grace of god, you accomplish your all dreams you desired for. Good morning!🥰

Read – Good Morning Paragraphs For Her
You are the real source of my happiness, joy, and love in life. I am complete because of you. I pray to God that all your goals and plans go in your favor.

No matter how far you are away from me, but still, you are the first thing that comes to my mind every morning, love. I miss you infinitely. Sending you my warm hugs, and kisses to you. Good morning!

Good Morning Messages For Him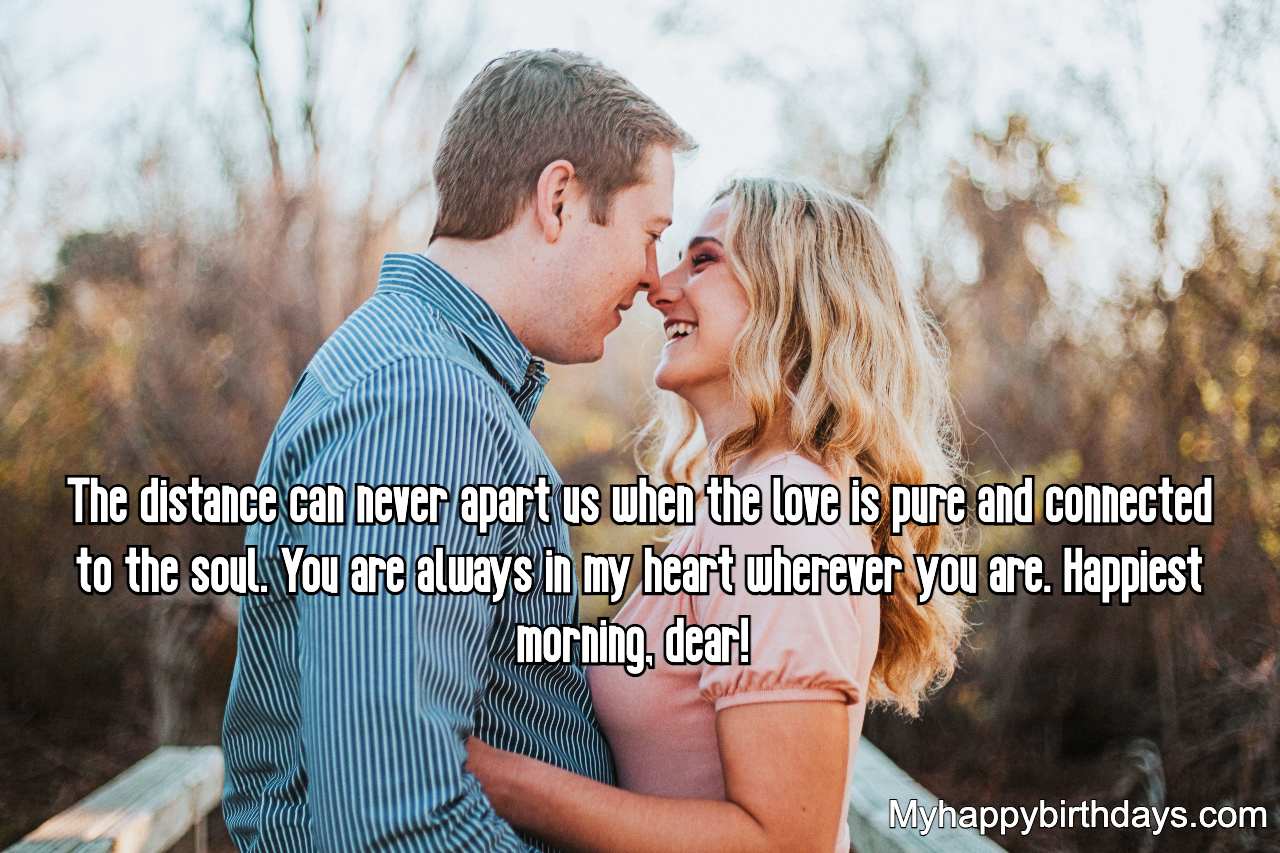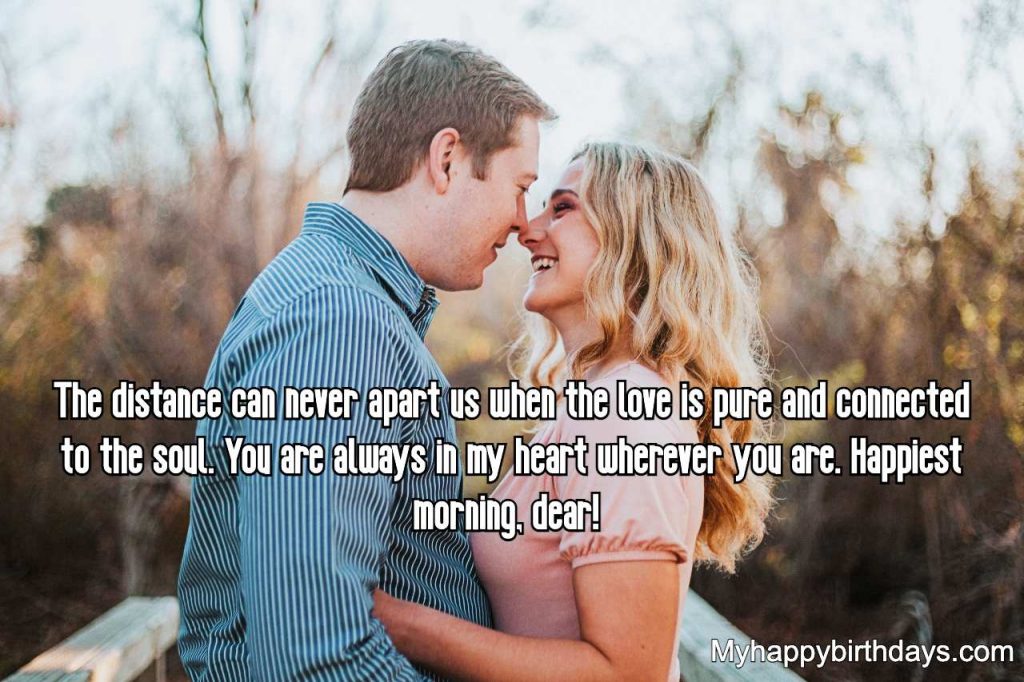 Hey, sweetheart! I want to start every morning with your smiling at me as no morning completes me without your presence.

My sweetest dreams have come true to have you in my life. Good morning, love!

You are the true reason for my beautiful smile every morning when I wake up, I love you, my angel!❤️

Good morning, Shona! I want to thank god for giving me eyes to see your charming face and to love the most handsome person in my life. Have a great morning ahead!

Also, Read – Good Morning Prayer For Her/Him
The distance can never apart us when the love is pure and connected to the soul. You are always in my heart wherever you are. Happiest morning, dear!

Sending you a lovely good morning message to thank you for being caring, loving, and generous. Good morning, my life!

Today is another wonderful day with peace and harmony because you are in my life. May God always shower his blessings upon you today, tomorrow, and always. Happy morning! Enjoy it to the fullest.

I have known many intelligent people, and I have seen many amazing things, but I have never known a more beautiful soul that loves me so deeply. Good morning!

I wish you enjoy this beautiful sunny morning to the fullest. May every morning bring positivity and a bright smile to your life. Happiest morning, sweetheart!😘

Wake up my sweetheart to feel this lovely breeze that takes you to the magical world where the birds sing for you. Have a colorful morning, love!

May every day bring the best moment in your life, like the happiness I get from loving you. Happiest morning, darling!

Good Morning Love Messages For Him/Boyfriend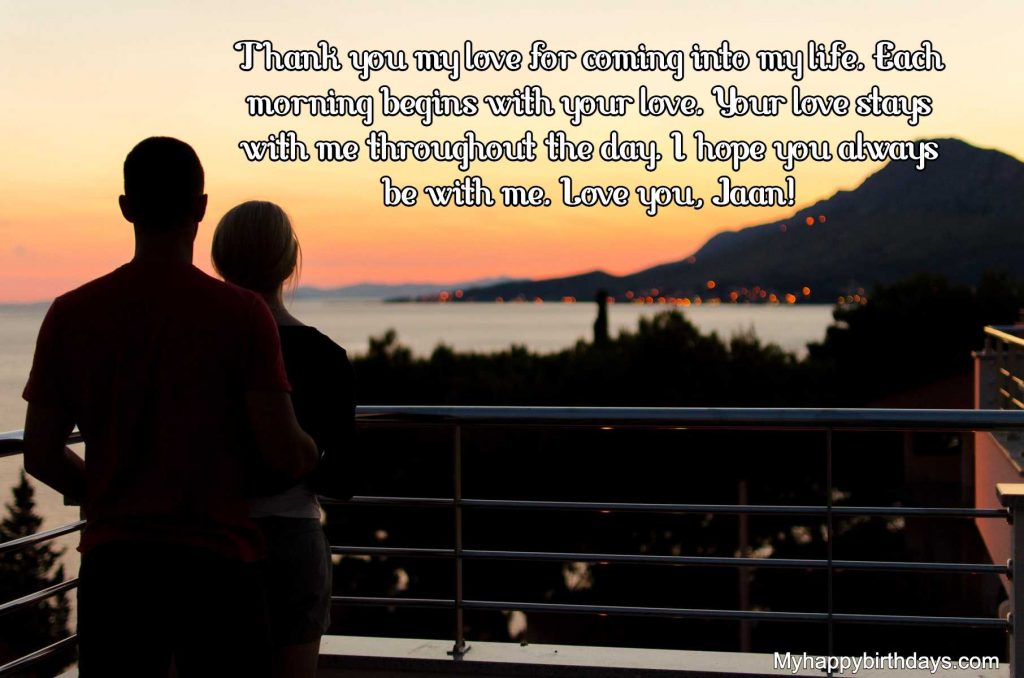 Good morning my prince! The sun is shining and the air is warm. Take my love with you today to make it beautiful. Enjoy your day!

Good morning, dear. I just want to tell you that you have no idea how fortunate I always feel when I wake up and see you beside me. You are the most crucial person in my life. I love you so much.❤️

Hello, darling, you motivate me in every way and make my days as amazing as you are. Good morning, baby I hope you have a productive and wonderful day ahead!

There is nothing better than a warm hug and sweet kiss. So, I am sending you my love on this beautiful morning. Have a productive morning with lots of love!🥰

Thank you my love for coming into my life. Each morning begins with your love. Your love stays with me throughout the day. I hope you always be with me. Love you, Jaan!

Thank you baby for maintaining your presence in my life. Maybe you don't know how you mean the world to me. Good morning to the most captivating boy in the world. Have a great day ahead!

When I start my day with you, it fills me with the energy to do my best. I don't know what I would do without you. Good morning!

There is no moment I can imagine without your presence. When I see you smiling in the morning, my heart skips a beat. You are the essence of my life, bae. Good morning, dear!😘

Good morning my Sunshine! Waking up next to you means the world to me and I get to see you before anyone else. Even if we are far from each other, you are always in my soul and thoughts. Have an awesome day ahead!

Funny Good morning Messages For Him
Today, I forgot to text you a morning message because you appeared in my mind, and I started daydreaming. It's too difficult to stop thinking about you.

Hey, sending you my beautiful good morning wish to the one who just earned one day to have the chance of spending time with me.😅

Good morning to the most talented boy I've ever known. You are sweet, loyal, and humble. Please, don't take it seriously, it is just sayings.😝

Love, do you know how to make a tasty cup of coffee? Just a spoonful of a few of my kisses, hugs, and love. And, it's ready.

I always love to text you in the morning as it keeps me away from work stress. Morning is not going to be good until it's not a holiday. I hope you have a wonderful day.

Have a great morning, sweetheart! Begin your day with a fart just like any other day!

Each morning is like a blessing only if you don't have an alarm clock by your bed. If you have an alarm clock, it is a sheer curse.

Final Words
It's another beautiful day to wish your charming boyfriend a good morning text message. Send your baby a lovely message to make his day extra special. He will be loved to see your morning text as soon as he wakes up. We have compiled good morning messages for your boyfriend that you find and hill his day with love and happiness. Enjoy!