Sweet Happy Birthday Message For Dad
A father holds an exceptional place in our lives. A man who gives his all the best efforts to build up his family and never tries less to make his children successful and happy. This time don't forget to send the best birthday wishes for father.
And, a dad has always been your protector, caretaker, the hardcore supporter, and beyond that. He carried you around on his shoulders, tucked you in your bed, and always ensured that you had the best in life.
So, we should also care about him on his special day to repay his contribution, love, and show gratitude toward him.
Although a father's contribution to one's life is irreplaceable. But don't worry we have decorated this post with a lot of happy birthday wishes for fathers (dad).
Choose any wish and send it on WhatsApp, Facebook, Twitter, and take some time out for your father and tell him how much you love him and how crucial he is for your entire life.
Heart Touching

Birthday Wishes For Father | Happy Birthday Dad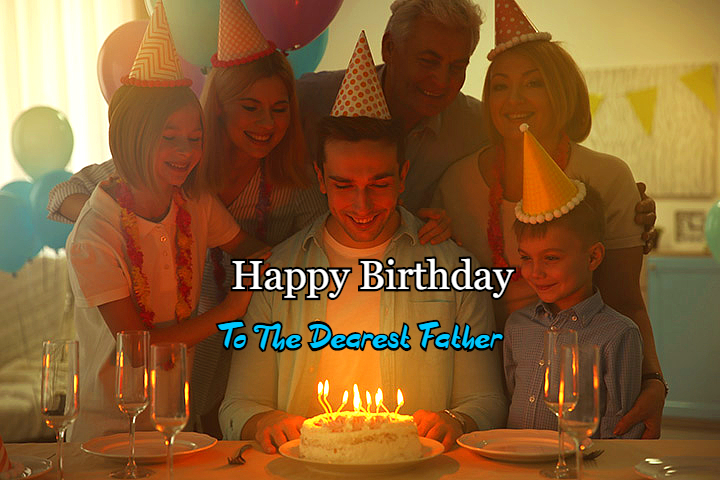 1. I feel so fortunate to have a such caring, loving, and encouraging father. I wish you an entirely peaceful day, full of happiness and joyful moments. Happy birthday, papa.🎉🎂
2. Dad, my life has a treasure of memories, the ones we have shared together are the ones I miss the most. Happy birthday Papa!
4. Dad, I know even if I wasn't always the perfect child, but you have always been the cool and perfect dad. Thanks for fixing the little-little things I broke and showing me how to rectify my own mistakes as I grew. Have the best happy birthday dad. I❤ you.😎
3. Wishing you a very happy birthday to the dearest father! I hope this year brings new avenues and the most exciting adventure in your life. Celebrate today & always.❤
Ending Soon. Check on Amazon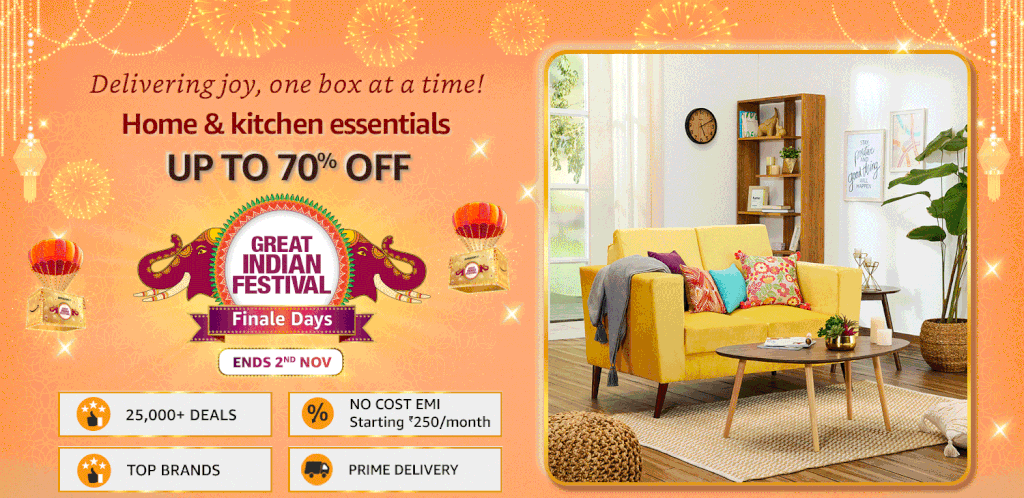 5. Dear, dad, you have truly been the driving force and best example to follow. Wishing you many happy returns of the day.
6. Daddy, on your birthday, I want you to know that you are really an inspiration, a teacher, and a friend to all of us. Happy Birthday!
7. Love and laughter are the best thing that you've given to me, my father! Thank you for everything & I wish you an amazing birthday.
8. My dear, father, you taught me how beautiful this world is and how to encounter challenges and difficult times in life. Thanks for your support and love. Many happy birthdays, dad!
9. Whenever I need some support, you are always there for me. Whenever I need some guidance, you always come. You are one of the best dads in this world. Happy Birthday!🎂🎁
10. From the beginning, I always wanted to grow up to be just like you, and I still have not changed my mind at all. Since you are my perfect example of love and strength, and I wish to be the same type of dad to my kids that you've been for me always. Have a fantastic day!💖
Also Read- Thank You Birthday Messages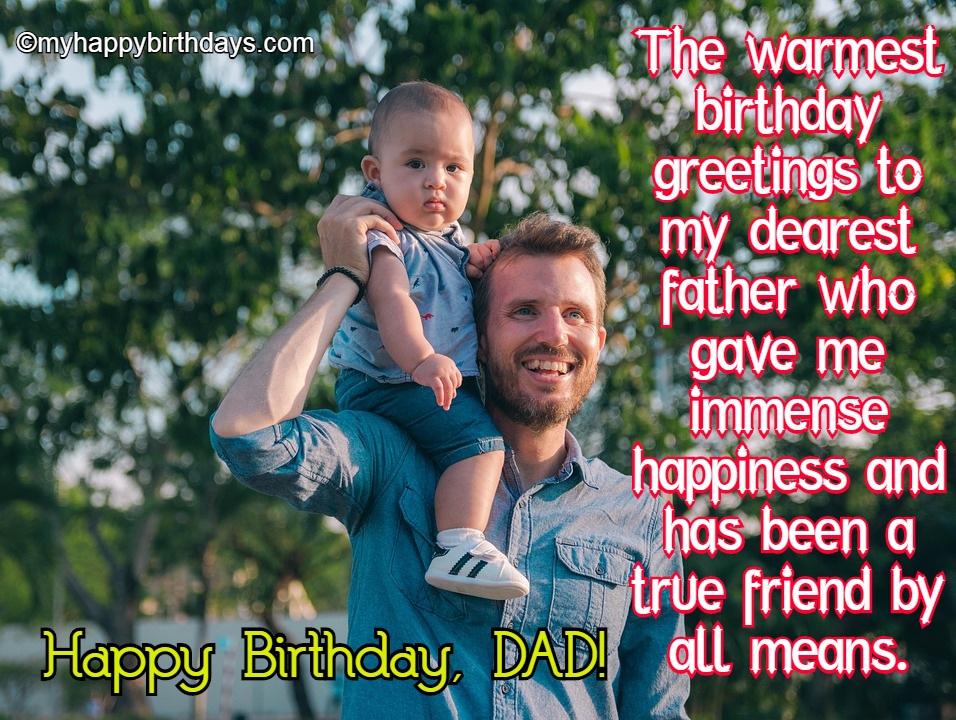 11. Dad, you are my inspiration, friend, and best teacher. You are more than great. Happy birthday to the dearest father!
12. Many thanks for all those times you didn't tell mom. Just you have a lot of favors on me, dad. Happy Birthday!🎂🎉
13. No matter how difficult I try, no matter what I do, I would never be able to thank you enough for all your support, care, and love you've filled my life with. You are my icon, hero, and above all superhero. Wishing you the best birthday ever!
14. You always try to make me smile even when I am at my lowest. Thank you for bringing so much joy and laughter to the world. Happy birthday, papa (father)
15. I am very blessed and extremely happy because I've gotten the best father in this world. You have been a real father who loves me truly with all your heart. Have a spectacular year, dad!
16. Father, you were there for me from the day I was born, always having my best interests in mind. You are one of the most crucial people in my life and I love you wholeheartedly. Happy birthday, dad! 🎂🎉
17. Wishing you an awesome birthday of the year! Daddy, you made my future brighter than a billion lights, and I can never thank you enough for that. Happy birthday, dear dad!

18. Happy birthday to the cool and stylish dad that I've ever had, and perhaps the best dad that anyone has ever had. Have a great birthday full of joy and good memories!
19. Dad, you've been my compass all the time, you always show me the right path and the right guidance whenever I go wrong. Have a wonderful birthday, daddy cool!
20. Dearest, dad your soul is pure, and your, your heart is priceless, and your intelligence is stunning. Happy goring. many happy birthdays!
Related– Birthday Wishes For Mom
Birthday Wishes For Father From Daughter
For a daughter, her father is the most trustworthy friend, a hero, guide. Dads are the best men in any girl's life, they listen and care about their little girls, no matter the age, your dad will always be there for you in every way.
To all the girls out there let's wish your dads on their special day to make them feel so-so special.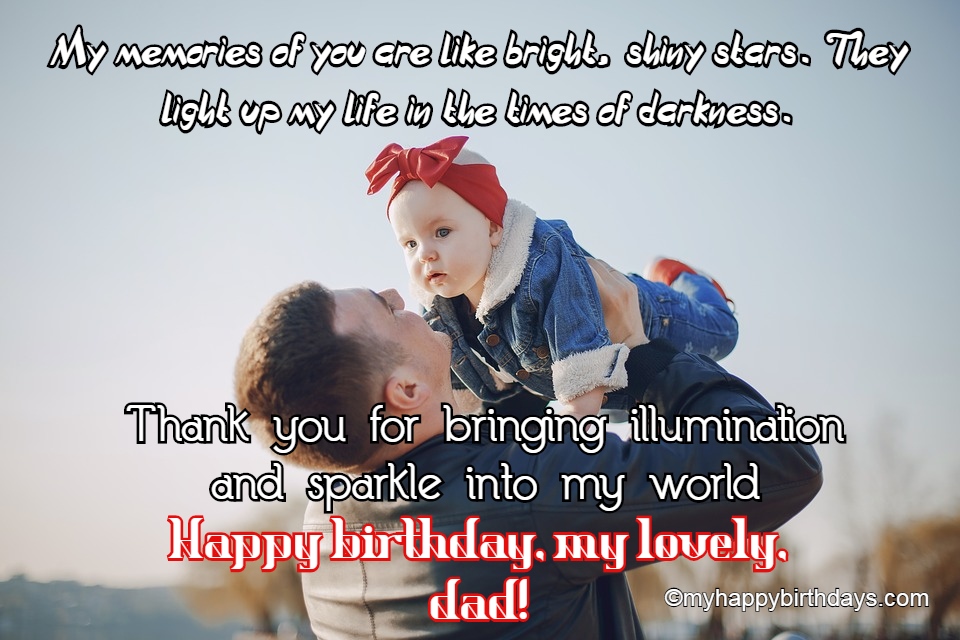 21. To my lovely papa (dad), you are my best friend that I have had in my life. You care for me, guide me, and love me like no other. Love you, and happiest birthday, dad your little (Name).
22. Happy glorious birthday to a dad in every way, your kind of care and love would definitely elevate any family. Happy birthday, dad🎂😘
23. Daddy, your unconditional love has helped me to feel secure and safe Thank you for everything you've done for me. Happy birthdays, my dear daddy!
24. From a little girl, the warmest birthday wishes to the wisest and kindest dad. You are the man that I have always respected. May your day be blessed with a lot of joyful moments and love. Happy birthday!🎂🎉
25. My beloved dad, you are the only person that I know who is perfectly flawless. Thank you for being an outstanding mentor and hero to me. I will never stop looking up to you.
26. Dad, every girl's dream is to have an intelligent and kind father. That's why I am very much blessed to have you. Have a lovely birthday, papa!
27. When I fail to achieve my goal. You are the only one who has taught me to never give up. I give credit to my success to you, and can't wait to take you out for a birthday. Happy birthday to my lovely father!
28. Wishing you a very happy birthday full of lovely and good memories! Dad, no matter how much I've grown, I will always be your little and sweet girl.❤
29. I am fortunate that I love my father with all my heart, I am really lucky to have a father that loves me with all of his heart. Many happy birthdays, dearest, dad.
30. For my sweet dad, happy birthday. Thanks for always being there to hold my hand like a God. You are the best dad I've ever had.
Must Read – Best Happy Birthday Wishes Collection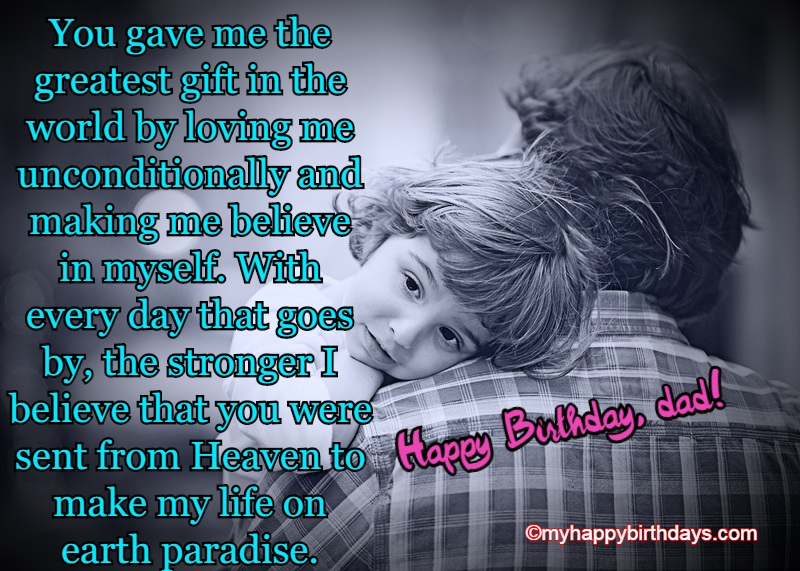 31. Dad, you are one of the great heroes. It's not just because you are there for me through good and bad times. It's also because you always make the bad times good with your amazing love & support. Happy birthday, cool father!🎂🤗
32. Dad, you are one in million. No, but one in a billion. In fact, one in a trillion. In other words, you are one of a kind. The best, most loving father. Happy birthday to the most loving father! I love you so much!❤😘🎉
33. A complete man is who you are, a complete dad is what you've been, no girl or lady can be luckier than I have been. Happy birthday, dear, papa. May you be blessed with sound health.
34. Thanks for telling me about every one of the funny things I did while I was a little girl, although I can't remember them. I wish you the happiest and best birthday day forever!
35. You are my king, you always made me like a princess. A wonderful and beautiful birthday to my wonderful dad (papa).
36. People always want to tell their fathers. But superheroes tend to disappear, and you have always been there for me for good. So, my dad is not a superhero, he is my super dad! Happy birthday!🎂🎁
37. I actually know that the job of parenting isn't easy, but thanks to God and you for your all efforts in bringing us up. Your daughter loves you a lot. Happy birthday, dad!❤😘
38. There is not an appropriate throne for a king like you. Happy B-day to you!
39. Thank you, Dad, for being the rock I can stand on whenever I feel like I am falling apart. You've always been there for me when I need you. Have a very warm birthday, daddy cool!
40. A loving and caring father like you deserve to have nothing but all the joy and happiness and beauty in this world. May God bless you with good health, a beautiful heart, and soul.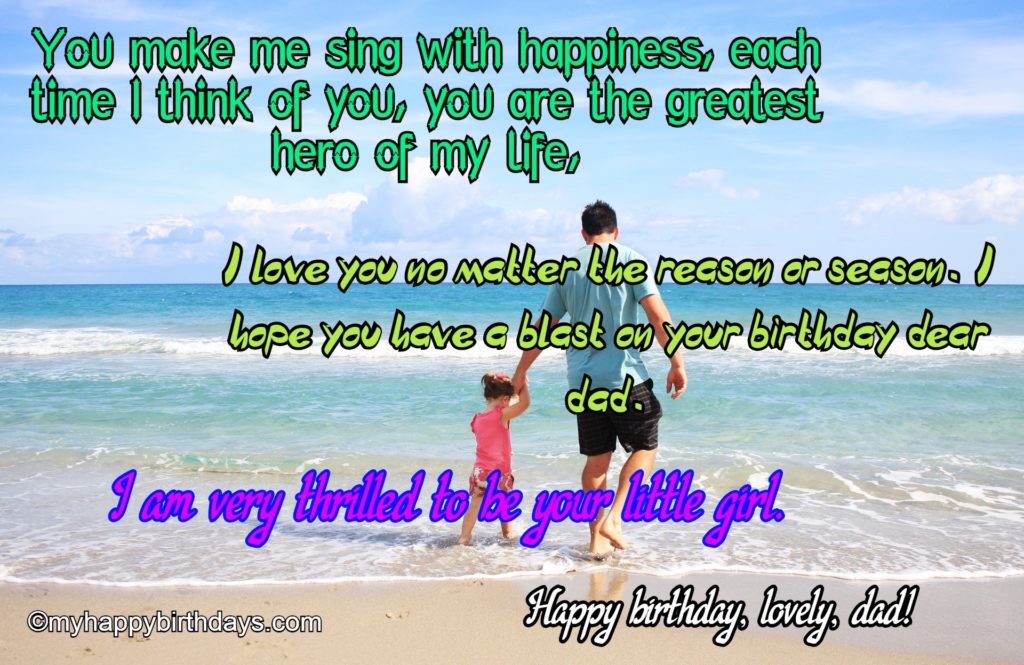 Birthday Wishes For Father From A Son
Fathers and sons have a unique equation. Even if it is more formal but full of love and zeal. Here are some great birthday wishes for fathers that a son can send to his father to bring a smile to his face.
41. Happiest birthday to the greatest man on earth, my dad! He has taught me everything in life even beyond my imagination. I am so honored to have you as my father.
42. I may have been tough, but you have always been tougher, dad. daddy. Just be you. I love you! Happy birthday!🎂🎁
43. Dad, no matter how old you become you will still be my best friend, dad, eventually, with whom am I going to watch the game on Sunday night if it is not with my beloved dad?
44. Many happy birthdays to the most caring dad, who loves me more than anything in this world. May your day be filled with so many magical moments and love, and I wish you all the best things this life could bring.🤗
45. Dad, you worked so hard to make sure I could have a better life. Also, you did so much for us to make sure that we had everything we needed as a family.
46. It is a reality that you are miles away from me, dad but it is also a fact that despite everything, you are continuously in my heart and mind. I wish you all the best birthday ahead. Love you, papa.❤🎂
47. My dearest father, I am wishing you a very wonderful and outstanding birthday. May you shine as sun all the time.😘
48. Daddy, I don't really know how you do it, but you make everything look very easy. Thanks for being an awesome dad in life. Happy Birthday!
49. Due to your care and inspiration, I learned to love life and truly believe in myself. You are my best guide and teacher. Stay always the best dad. Heartiest birthday, have a spectacular day!
50. When every birthday comes, means another year you made our lives so wonderful and special like a king. Thank you for that. Happy birthday to the coolest, dad!
51. Dad, people always say that we learn from those who have loved us the most, and I truly agree with that. Thank you so much, daddy, for your love and support as It has really helped to become the person that I am today. Have a wonderful birthday to you and I wish you all the success and happiness in this world.🎂🎁
52. Daddy, your birthday is just another day of the year, but this is the day when I get to celebrate your birthday, how lucky I am to have such an amazing father. Have a wonderful year with loads of love!💖
53. The older I become, the more I've realized that a dad like you is as rare as the desert rose and just as wonderful as well. On this special day of yours, let me tell you that I am forever thankful to have you as my dad. Many happy birthdays to the dearest dad!🎉🎂
54. Wishing you the best birthday to the most amazing dad, who is hotter than lighted candles shining bright on his cake. L😘ve you so much, dad. Happy birthday!❤
55. I am so fortunate to have a wonderful father like you & I will forever cherish all the priceless lessons that you have given me. Have a fantastic birthday, dad!
56. To the person who is always at my side, my dad! special and best wishes to you and may you have a spectacular night. Happy birthday, daddy!🎂
57. A dad never will never forget how to be a great and successful man, to show his kids how to be a great human being. Best birthday, dad!
58. Daddy, from fishing to barbecues, computers, sports. There is nothing you can't do! You are like a super father! And, that is why I appreciate you. Happy birthday, dear, daddy!
59. This day reminds us that a man like you was born to look after a family, love them unconditionally, be able to forgive, and be a shield to his household. Wishing you an amazing birthday and many more years to come, dad!🎂🎁
60. Many happy birthdays to the most important person in my life, my cool dad. Thank you for all the great and outstanding things you've done for me. I love you so much!❤🎂
Funny Birthday Wishes For Father
As you know fathers are always cool and stylish, and their jokes always brighten up all day. Why you miss out on this opportunity to make him laugh at his special dad?
Let's have a look at our funny collection and send your father to make him a little laugh
61. Don't worry, dad. After a few drinks, you score won't than matter.😎
62. Daddy, happy birthday! I hope today is a day full of relaxation and love. You deserve it. Eventually, you are a real catch.
63. Wishing you a wonderful bday, dad! Get ready to go crazy and party all night, or at least until your bedtime.😎🤗
64. I will always respect you, even when I become taller than you. Happy birthday!
65. Hey, daddy cool, you taught me to grill a perfect steak, and that is what I am going to do the weekend for you. Looking forward to seeing you at your big party birthday!🤗
66. Happy birthday, dad! It's the best time to party, so loosen up your tie and let loose as much as you can at your age.😁🤣
67. Happy birthday to the best man who always had my best interest at heart, even if I was too dumb to realize it. I love you!❤
68. With age comes intelligence, that's why I am always bugging you with questions! Happy birthday to the most helpful daddy!
69. Wishing you a very happy birthday, dad! You will always be my favorite drinking buddy. 😂🤣
70. Hey, dad, you may have your own idea of fun, but it's your best day, so spend it however you want. Happy birthday!
71. Happy birthday, daddy! you may be an old dog, but still, you know how to party with zeal.
72. Your birthday only comes around once a year, but fortunately, your amazing dad skills are 24/7. Happy birthday, dad!
73. Have a cool birthday, dad! You may have a lot of candles on your cake, but at least you still have your sense of humor.
74. Happy birthday to the world's greatest farter, I mean, father!🤣
75. Wear your gray hairs proudly dad. They are full of memories all of our time. Thank you for bearing it all. Happy birthday!😁🤣
76. My dear Dad, I wish nothing but smiles for you as long you still have some teeth remaining. Happy birthday to you, daddy, star.
77. I learned a lot from your dad. And yet I have never been arrested. Happy birthday!
78. Many happy birthdays to the puniest dad in the world! Thank you for all the groans and laughs. Happy birthday, dear father!😎
79. As you get older you will start forgetting a lot of things. Just never forget how much I love you. Happiest birthday to the funniest dad!🤗🎂
80. Happy birthday, dad! By the way thanks for the genes that gave me these rocking good looks.😉
81. I wish you a wonderful and happy birthday, dear, dad! May all your fish be big, your beets cold, and your teams win.😁
Birthday Quotes For Father
82. Many happy birthdays to my adorable dad who is always ready to loosen his pocket & tighten his hugs for me with a small tug. Love you dad!
83. Dear daddy, my college life would have been too dull if a father like you didn't splash the colors of happiness on it. Have a great birthday, daddy!
84. My lovely dad, you are my real hero, my man, and my role model who always motivates me to become a big man in life. Happy birthday my lovely, father!
85. Your unconditional love has really help me to feel safe and warm all the time. Wishing you the best birthday ever, dad! 🍰
86. Love and laughter these two of the best things you've given me. Thanks for everything. Happy birthday!
87. Wishing you a spectacular birthday to the no.1 dad in the world! All these years have been really fun and awesome with you. Happy birthday to your sweetest dad!
88. You've taught me so many amazing things and still, you continue to teach me more and more through your humble and vast knowledge. I am indeed blessed to have a father like you. Happy birthday my dear, papa! Love you so much! 😘
89. Have a wonderful birthday, dad! You've educated me and given me the intelligence to face life's bad situations smartly. Happy birthday to the world's handsome and intelligent father!
90. I wish I can see the real diamonds since I've seen a diamond that is only my dad. He does everything that will help me grow and enjoy. Happy birthday to the greatest day. I love you so much!
Final Thoughts
Fathers are the most important and valuable persons in our life. We always want to show love, respect for them, and we should never miss this opportunity by all means. Dad's birthday is a perfect type of occasion to let him know how valuable he is to us and how thankful we are to have him as our brave dad.
They deserve all the love and adoration from their children and should never feel being left out. Even before you came to this earth, your father or dad was quite busy making all kinds of sacrifices just to provide you a better and comfortable life.
So, now your turn that you never forget your dad's scarifies and make him realize how much you care and love regardless of how old you are and how might be. Make this day of your father extraordinary and wish your dad some tempting wishes, saying words, and let him feel the warmth of your respect and love.
Say, heartfelt thank you to your hero and wish him wishes and messages we have mentioned above and listed with some of the most charming words that never fail to express our compassion and deep love towards fathers. It is high time to make your feel the warmth of your love for him with these amazing happy birthday wishes, messages, and quotes for your father on his auspicious day of his birthday.