Last updated on June 24th, 2020 at 12:15 pm
To all the sisters who are reading this, if you love your brothers and looking for the best happy birthday wishes for brother, Keep reading this.
Happy Birthday Message For Brother
Sending birthday wishes for brother is high time to send your wishes with lovely brother. As you know brothers are always the best friend from family and a lifetime companion to grow up together.
They take care of their sisters immensely and share all the childhood memories spent together.
Also, a brother is also the one who protects you like a hero, birthday wishes for brother is one of the most exceptional ways to express your respect and love for your brother.
On this very special day of your brother's birthday, you should not leave any stone unturned to make your brother feel really special, show care, and gratitude to him whether he is your elder or younger brother.
Once a year, this day comes, and it could be the best day to wish him a soulful birthday wishes and make this day memorable once for all.
If you are struggling to find the perfect choice of your brothers as a birthday wish, here we have the collection of 80 heartwarming birthday wishes, messages, and quotes for brother.
Choose some best birthday wishes for brother from here, and share it directly on WhatsApp, Facebook Twitter, Pinterest and keep showering your love with each other always.
So, what are you waiting for? Send these happy birthday wishes for brother some beautiful wishes straight away to show your love, care, and respect towered him.
Common Wishes For Bro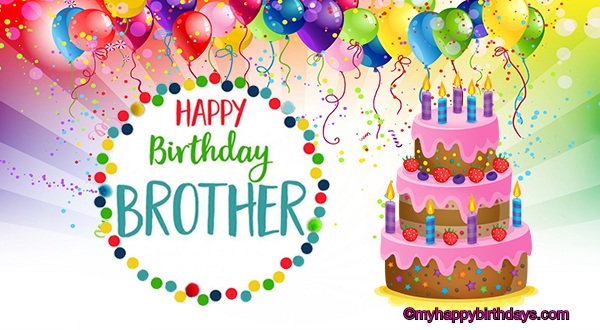 1. My dear brother, I wish you a fantastic and joyful birthday. May God care and love you as you did for me. May you live a beautiful and long life.
2. This is the best day of the year has arrived. Let's celebrate your birthday with loads of joy. Happy birthday, lovely bro!🎂
3. The warmest wishes on your special day, bro! The moments that we shared are so valuable to me. I hope we will have a lot of them in the future too!

4. A brother like you means a lot to me. No one can replace you. Not ever best friend. Have a wonderful birthday, bro!🎉❤
5. You are one of the greatest brothers in the world, you are like Google to me because when I had a problem, you were always there for me to resolve it. Happy Birthday, dear bro, and love you.🎂
6. I am so blessed to have such a great brother like you. You are my inspiration, pride, and I thank you for everything you have done for me. You are a special brother to me. May you have many more special days always. Have a wonderful year ahead, bro!
7. Thanks for all the love, support, and guidance that you have given me all these years. Wishing you a very happy & lovely birthday, dear brother!
8. On a special day, May God give you peace, happiness, and wisdom. Wishing you the best birthday, sweet bro!
9. Whenever I need a good friend, I get you because you protect me from all the troubles. Thanks for being such a caring brother. I love you so much and wish you a happy birthday full of love and joy!🎂🎉
10. You are my best friend ever with whom I can share all those problems I have and who can solve my all problems. You've always been a problem solver. Happy birthday, lovely bro!
Read More Lovely Wishes
Best Birthday Wishes
Birthday Wishes For Sister
Birthday Messages For Mom
Congratulation Messages
Belated Birthday Wishes
11. Happy birthday, my lovely brother! May this year bring the most beautiful and wonderful things into your life, you truly deserve it.
12. Whenever I feel sad you were always there for me to make me laugh & happy. Just be you. Happy birthday bhai!
13. Bro, you are not just my life's support, but also my life's pride. If you hadn't been there for me through the year, I would have crumbled from inside. Have a wonderful birthday.🎂
14. I've been following your footsteps since my childhood and you never put me the wrong track. I am so fortunate to have a brother like you. May you enjoy each and every moment of your special day. Happy Birthday, lover bro!
15. Wishing you many happy birthdays, brother! I want to see you grow better than me. Happy birthday!
16. I am very grateful to God that he has chosen you as my brother. You were not a choice for me, but I must say, I had not a better choice than you.
17. Have a magnificent year, sweet bro! You are the most supportive person in my life ever found and you always supported me to stand straight in front of my small, big problems and helped me in solving them out. I love you so much.❤🤗
18. On your special day, dear bro, I wish you that Almighty blesses you with love, peace, happiness, good luck, success, and good health in every walk of your life. Wishing you an awesome birthday.🎂🎁
19. I really don't care how old you've become. All I know is you are a loving brother. Happy birthday, dear!
20. Hey, lovely, brother! You are my biggest asset & I want to have you beside me till the end of my life. You're one of the best examples of how a perfect brother is like. May God bless you with more birthdays to come. Have a super birthday!🎉💥
21. You are a hero, a wise adviser, a night shining armor. I am so proud to be your sibling. The best year for my brother!
22. Wishing you a lovely birthday, bro! Your devotion to his family is out of this world. You are so charming, selfless, and my best friend. Happy birthday, dearest bro!
23. You always turn my tears into smiles, and when I had problems you gave me advice. All I want to say on your special day that I am very blessed to have a brother like you. Have a super awesome birthday!
24. May God bless each and moment of life with a ray of sun, a touch of hope, a glimpse of joy and a drop of love. Happy birthday, brother! Love you.😘
25. Have a blessed birthday to the cool brother that I will cherish forever.
26. I may not always show you that I care, I may not tell you I love you a lot, but having as my brother is the best in the world. Many happy birthdays!
27. It is true that your one of the best brother I've ever found because you made me smile when was blue, gave me advice when I needed it. made me laugh when I felt down. Have a brilliant birthday, my dearest brother.
28. Hey, my lovely bro, Even if I cannot give you any gift on your birthday, but I wish you all dreams become reality. Happy special birthday!
29. I am very grateful to God that he has given me such a loving and caring brother. I hope you keep loving and caring for me throughout life. Happy birthday, dearest bro!
30. Instead of counting your candles on your cake, count all the happy memories, love, our bonding. Have a great year today, tomorrow. and forever. Happy birthday, dear! 🎂🤗
Birthday Wishes For Younger Brother
Younger brothers are always considered as the apples of eyes. Younger brothers are very cheerful, playful, and make you feel more responsible.
On your younger brother's birthday, give him a beautiful gift by sending wishes or organizing a party, and make it memorable once for all. 🤗
Here are some birthday wishes for younger brothers. Choose any and share with lovely brother by adding your love to it.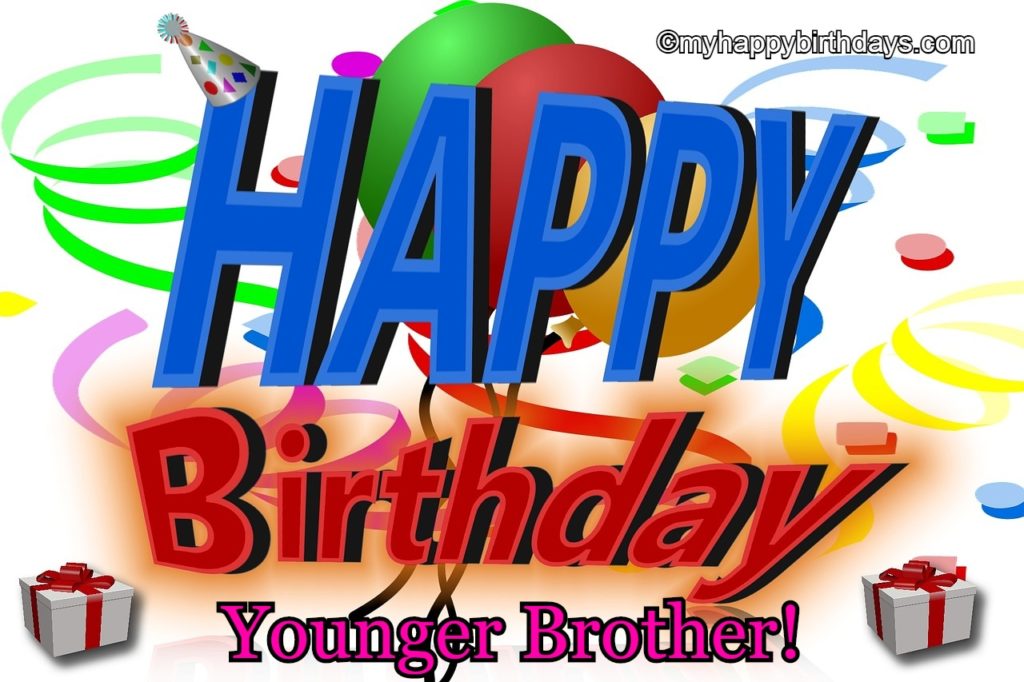 31. God gives us gifts every day, but no gift has been as honest and precise as my younger brother. Happy birthday, lovely bro!
32. Wishing you the best birthday, my dear younger, bro. On this special day, I want to say you stay blessed and happy always. May your future will be filled with property and joy.🎂
33. I want to tell you on this day, there is no better brother than you. Of course, you are the only brother I have. Happy birthday, sweet bro!
34. Dear brother, as a little kid you always used to annoy me by doing some crazy things, and I still remember those lovely days I spent with you. Have a spectacular year, brother!🎉
35. Happy birthday to our parent's second favorite child! I am just joking bro! I want to wish you the best on your special day.
36. Many happy birthdays to my sweet brother. May God bless you with all his warmth & care. May your birthday brings a lot of love, peace, joy, and fun to your world.
37. Dear, younger brother, I make a wish that we remain together like fish and water. Happy birthday & I love you so much!❤😘
38. Thank God for making me a sister of you. You are my idol. Thanks for being such a stupendous brother. May God make your all dreams come true you desired for. Wishing you a fantastic birthday!
39. Hey, dude, you are a supporter and mentor in every sphere of life. I am obliged to you beyond repayment and I wish you the best on a special day. Happy birthday, dear lovely bro!🤗
40. You are the best role model for every brother in the world because you are so supportive, caring, loving, and protective. Always be like this cute bro! Happy birthday!
Birthday Wishes For Elder Brother
If you have a lovely elder brother, then you are indeed lucky. Elder brothers are like a best friend who cares for you and loves you.
Also, an elder brother is a mentor and guide as he always helps lead you in the right way and takes care of everything. Why not you share some wonderful wishes on your lovely elders birthday
Here are some wishes that you can choose and easily share all around where your brother can see your lovely wishes in no time.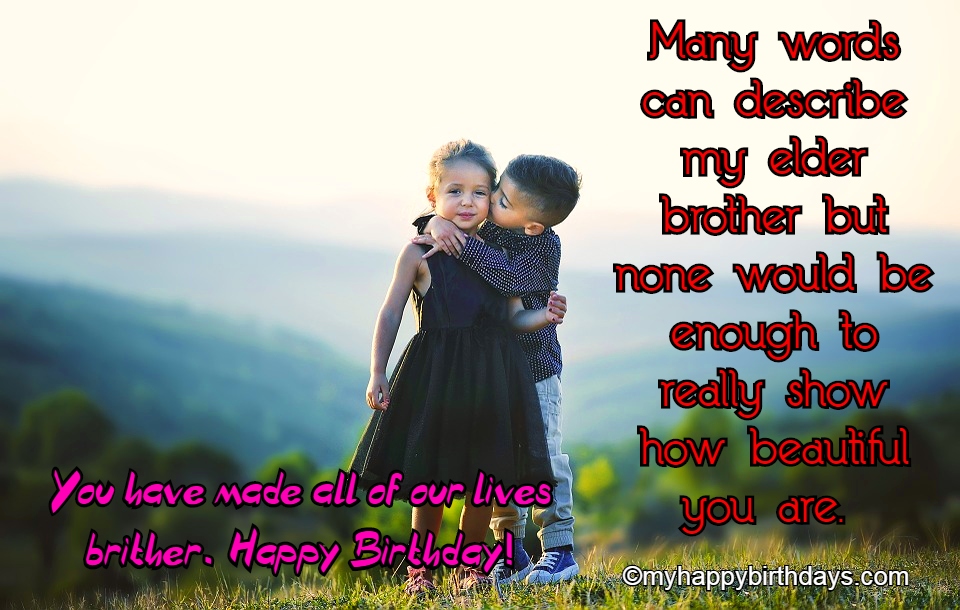 41. You are the most vital part of the family. Without you, it was just impossible to complete our family, and you are the most important support for me and our parents. We love you infinitely. Happy birthday, dearest bro!
42. Dear, elder bro! Your optimistic sentiment and cheerful words always motivate me. Thanks for being such an amazing brother, and there is no other. Happy birthday!🎂🎉
43. You have always been a pillar of support all my life. I really respect you, dear brother. Wishing you a wonderful happy birthday!
44. Many thanks for supporting me in times of trouble and shielding me from mom and dad's scolding. Have a blast on this day!
45. Happy birthday to my superhero. Thank you for carrying me on your shoulder to lift me up and immense support me all the way. Thank you, big brother. Happy birthday!
46. I am so blessed to have the most wonderful brother on the planet. It was an unforgettable experience to grow up with you. Have the warmest happy birthday, lovely elder brother!
47. Hey, lovely, bro, thanks for teaching me the ropes of life and how to tie them. I am utterly sure that I can survive anything that comes my way I can handle because of you. Thanks for being my master. Happy birthday, brother!
48. Today is the special day of your life. You are a year older. I hope you have not become too old to remember my naughty things and to keep the cake for me. Have an awesome birthday, my elder brother!
49. Another year has gone, a little less hair on your head, but still, I have a lot of love in my heart for you. Wishing you the coolest birthday, big bro!❤🎉
50. Many happy birthdays to the leader of our parent's little gang, I will forever follow you. A wonderful birthday, big bro!🎂
Birthday Messages For Brother From Sister
Between brother and sister have a very special bond. It doesn't really matter how many pillow fights we fought, but actually, your brother who is your mentor, best friends, and protector.
Apart from it, brothers are not just friends but also a guide in order to show the right way. So, it is high to make your brother's birthday special by sending these wonderful wishes below.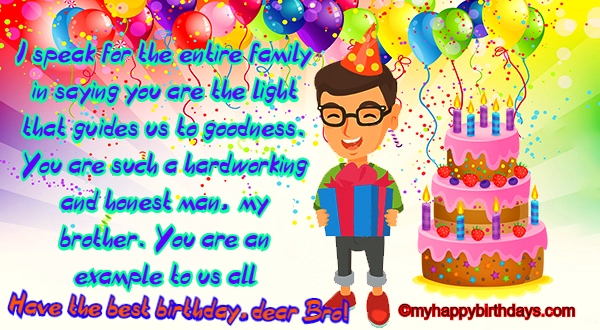 51. Every brother is a priceless asset to his sister. On this special day, I want to say how much I love you and respect you. Have a great year brother from your sister!
52. Dear Brother, we have fought and pulled each other's hair and leg. Despite all of this our love became much stronger and still continues. Thanks for everything. Have the best birthday ever!
53. If your guidance had not, my life would have taken a very different turn. Thanks for always being there. Happy birthday, brother!
54. It doesn't matter how much the distance between us but my love for you will always be strong. Wishing you many wonderful birthdays, my sweet bro!
55. Whenever I cry, you make me always laugh. Whenever I am depressed, you put a smile on my face. I am one of the luckiest sisters in the world to have a brother like you. Happy birthday!🤗😘
56. Thanks for picking me up every time when I felt as a kid and as an adult. We've grown up so much but you're still my avenging older brother. Happy birthday!
57. As of your sister, your birthday has always been special to me. It's the day you got into my life. It's the day I learned everything about life. Happy birthday, bro! Just be you!
58. Hey, naughty bro, I still remember your pranks, I haven't told anybody, how you used to hit me hard, but that was a part of growing up fun. Happy birthday, bro!
59. As a sister of you, you've driven me crazy more times than I can count, but you've always been my proctor and leader. I love you so much. Happy birthday, brother!
60. I always try to make you laugh. You make me cry. This is the cycle of life, but on this special day, I hope that we both smile and remember how unique and special to each other. Have a fantastic birthday🎂🤗
Funny Birthday Wishes For Brother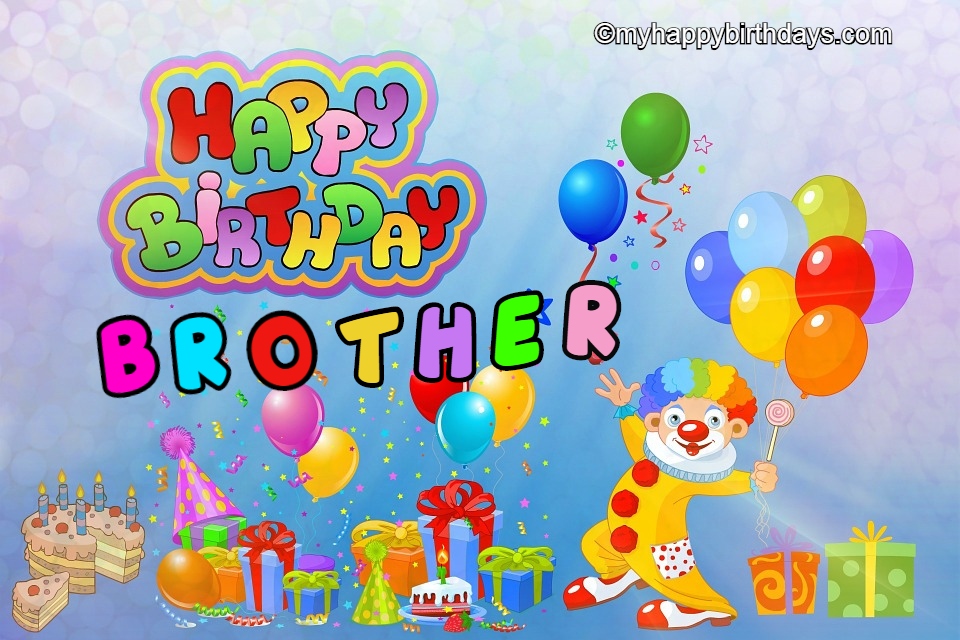 61. Listen, Bro! Our parents love me more than you because they didn't have a baby boy, so patents bought you from a shop.😛But I love so much, eventually, you are my only brother. Happy birthday dearest brother!
62. I wish you all the happiness, good health, and yes I forgot to say happy birthday.😁
63. On this birthday, the gift I am going to give you which are really priceless. These are my hearty wishes and blessings for yours. Although cakes need money to be bought and money is not needed for them.
64. Have a fantastic day, bro. However, you are such a great brother that I trust you with my life but not a plate of chocolate chip cookies.
65. Happy birthday my lovely, bro! Don't be sad you're a year older. Keep your chip up if you can. Well, you really know what I mean.🤣
66. It was fantastic the way I grew up. I cried with you, I laughed with you, I fought with you, and I kicked your ass too.😛 I just wanted to remind you. Happy brother!
67. I should call you Broggle🤣 because you help me solve all the problems to which I cannot find an answer in Google. Wishing you the best brother, bro!
68. Have a brilliant birthday! May your day be more wonderful than a unicorn farting rainbows!😂
69. I wish you love, peace happiness, and good health on this special day, They say the older you get, the smarter you become. But as we keep on doing the stupid things we did as kids, but I think we are the exception to that rule.😀
70. A wise man once said, "forget about your past since you can't change it," I would like to add "forget about your present, I didn't get you one.
71. You know, I spent almost 3 hours searching the internet for the perfect birthday messages for you and finally I gave up. Happy birthday!🤣
72. You forget your age, if you can still manage to blow out your birthday candles, then everything is fine. Happy birthday, bro!
73. Have an amazing birthday, my sweet bro! ask me the gift you want on your next born day, remember that, I will definitely give you.🤣😂
Long Distance Birthday Messages For Brother
If you are a sister and your brother living apart from you, these messages can be beneficial to you for staying in touch with your sister. Share with your lovely brother who cares, love and protects you from every deadly situation.
74. Hey lovely bro, enjoy your birthday with enthusiasm but always keep in mind that sharing brings us much closer to each other. So, share your best gifts with me. I miss you a lot! Happy birthday, sweetu! 🍰
75. Even if you are far away on this special day from my sight but you are never away from my mind, my prayers, my thoughts, my love, and my prayers will always find you wherever you are. Good bless you! Have a sweet birthday with my sweet love!
76. However, I cannot be there on your special day today but you already know you are always in my heart. I hope your birthday is as fantastic as you've always been to me. Have fun and stay healthy. Happy birthday!
77. Today, I am really missing all the silly moments that we shared together. Always be together with your lovely sister. Please soon come back home. Wishing you a day full of fun. Happy birthday! 🥰
78. May God bless you with health, wealth, prosperity, bring a lot of fun and joy to your world. I am missing you so much today. I can't wait for the reunite with you. Love you loads! Happy birthday, boy!
79. No matter how far we are today from each other. I would like to tell you that you are always in my mind and heart and will be. Happy birthday to my sweetest brother!
80. On this special occasion, I am going to give a big shout loud to my handsome bro from distance. I hope you're having the very best time of the year. Don't be disappointed because you will get you due when you're back home. Happy birthday! 🎈
Birthday Quotes For Brother
81. My life cannot be completed if you are not in my life. Happy birthday, dear bro!🍰
82. I am really fortunate to get blessed with an outstanding brother. May you fulfill every dream of yours. Happiest birthday, dear.
83. Have a brilliant brother like you in not only luck but it the best of luck. Happy birthday, bro!
84. Great thank you for always bringing love and joy into my life. I hope your a big celebration day brings you everything you wish for. I love you a lot. Happy birthday!
85. my warmest wishes and blessings are coming your way on this spectacular occasion of your birthday. I will pray for you that you receive more happiness and hope that you wished. Have a lovely birthday, lovely brother!
86. Dear bro! may you find love, peace, and happiness in everything you do. May your life be a garden of flowers. Happy birthday to the loveliest Bhai!
87. Wishing you a fantastic happy birthday! Let God beautify each golden ray of the sun reaching you with wishes of property and success.
88. May your life be filled with uncountable success, happy smiles, and sweet moments. All the good things you've given to me may return to you on a large scale. Happy birthday, sweetest bro!
89. When it comes to a little bit of fun and laughter, you are always the number one, you are the best, my little brother. Today, I want you to know, stay blessed always that is my wish for you. Happy birthday!
90. Have a great birthday ever, bro! I love you so much. I hope your special and wonderful day is filled with love and immense happiness. 🎂
FAQ
How can I say happy birthday to my brother?
You can say wishing you a very special and best happy birthday, bro! May God give you peace, wisdom, happiness, and wealtlh in your life.
How do you wish your younger brother a happy birthday?
Happy birthday birthday to the most amazing younger brother! My this special day in your life be filled with love, joy, and happiness.
What is the best message for birthday?
• Wishing you a very speicla birthdya and an amazing year ahead!
• Many congratulations on your speical day! Wishing you a truly outstanding day. Happy birthday!
• Warmest birthday wishes to you! May all your dreams come true