Independence Day Message
Independence Day Wishes – It is celebrated on 15 August, and is the greatest and most significant day of history for any nation in the world. The day is declared a national holiday for all Indians and it is a common festival for all Indians. Upcoming Independence is being celebrated this Thursday. Get ready to share.
Before we get into the Independence Day Quotes, if I talk about the history of 15th August, the republic received its independence from the rule of the British on 15 August 1947. Ever since every year, the 15th of August is celebrated as Independence Day In India to remind us of its freedom from the 200-year-old British government.
Also, An Independent Day is a great occasion to celebrate freedom fighters and their supreme contribution to the nation, and it is a great day to show your patriotism by sending wishes, texts, messages, and posts.
If you want to show your patriotism, looking for Independence day messages, and wish to express your joy of freedom, check out the Happy Independence messages and wishes and send them everywhere like WhatsApp, Facebook, Twitter, etc.
Happy Independence Day Wishes

|

Happy 75 Independence Day Wishes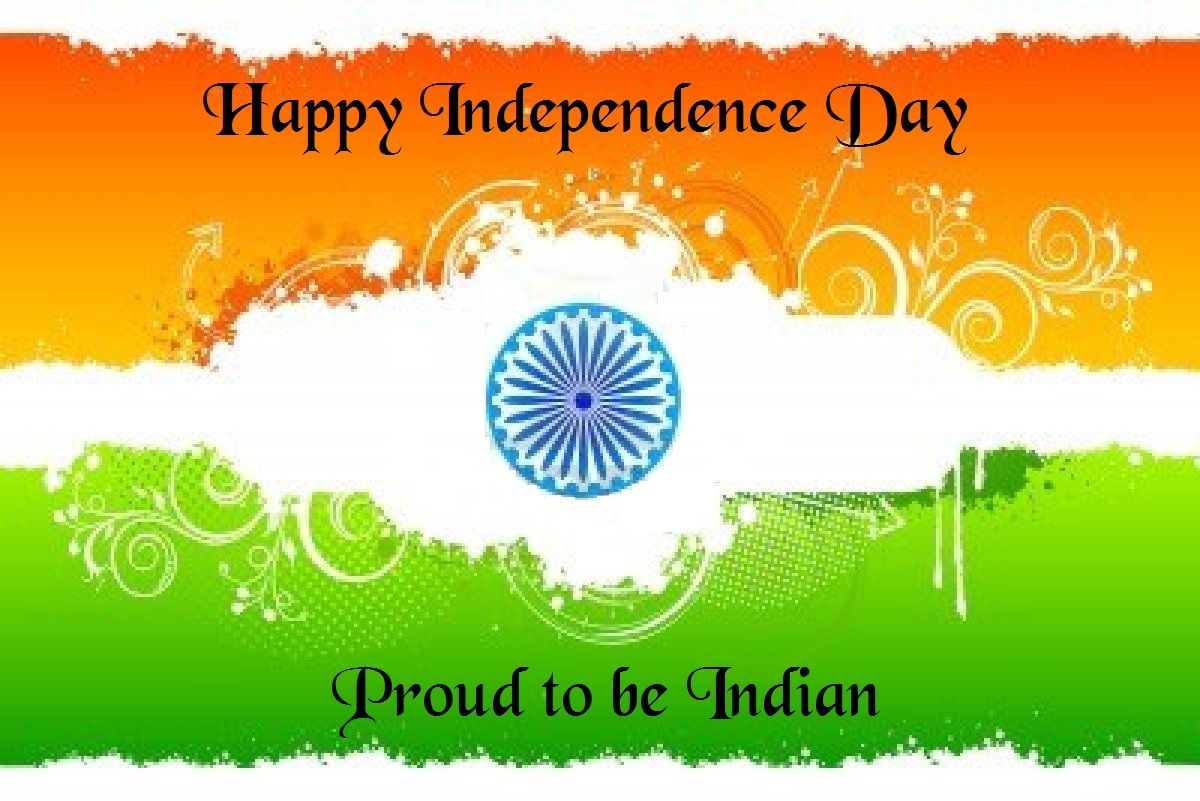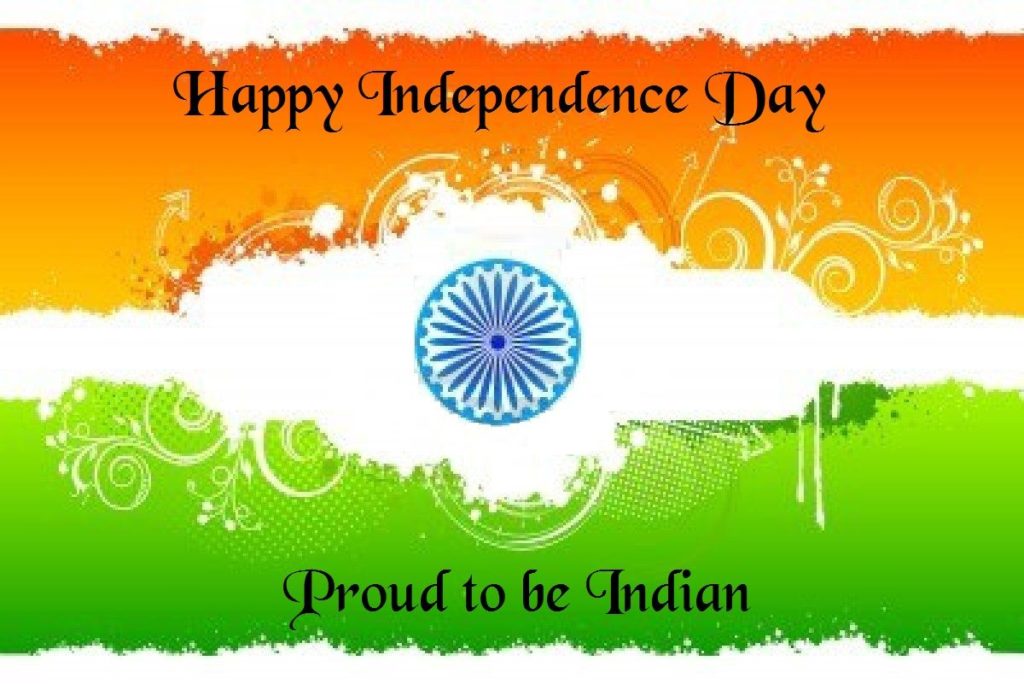 1. We salute our martyrs who laid their lives for us. Happy Independence Day to you and your family! Jai Hind and Jai Bharat! 🇮🇳 🇮🇳
2. Happy Independence Day to you. Today is the day to celebrate those who shed their blood for your freedom and protection. May our country see more progress in the upcoming year. Bharat Mata Ki Jai!
3. I hope this Independence day brings harmony between all the communities. Happy Independence Day! 🇮🇳 🇮🇳
4. Let's honor the brave heroes who made us the proudest of all mightiest and human of all nations. I hope may the glory of this day be your motivation for tomorrow. Happy Independence Day! 🇮🇳 🇮🇳
5. May this Independence day bring happiness, fortune, and success for each and every one of us. Happy Independence Day!
6. Happy Independence Day To All! Feel the pride of being a part of such a beautiful and outstanding nation. I am sending you my warm patriotic wishes to make this day memorable forever😎
7. There are thousands of soldiers who laid down their lives so that our country can celebrate this day. Never ever forget the sacrifices you made for us. Have a fantastic Independence Day!
8. Always stand for what is right, stand for what you desire, and stand for what you believe. True freedom always lies where the mind is without fear. Happy Independence Day to all!
9. We know that slavery is the worst form of evil. Thank you so much to our valiant freedom fighters who fought for only our independence and gave us freedom from this slavery.
Advertisement
10. We need more people like you who are honest and loyal to this country. Happy Independence Day to the most motivating person I have ever met!
11. We will always preserve the freedom for which our fighters sacrificed their lives. Happy Independence Day! Jai Hind, Jai Bharat! 🇮🇳 🇮🇳
12. May the glory of this Independence Day be the motivation for you to attain greatness in life. May you get glory and success wherever you go. Have a spectacular Independence Day!
13. Today is the greatest day to feel proud of being a part of this great nation. May this spirit of freedom leads to success. Happy Independence Day!🤗
14. In fact, our freedom fighters have given us a great lesson not to lose hope no matter how tough the situation is in front of us.
15. May you enjoy this freedom of choice, freedom of thought, and freedom of speech for the rest of your life.
16. On this Independence Day, I wish your dreams of a new tomorrow come true and enjoy every moment with zeal. Have a great Independence Day!
17. The life we are living today is only because of our brave heroes who sacrificed their lives for the sake of our country. Salute to the great souls. Happy Independence Day! 🇮🇳 🇮🇳
18. I hope the Indian tricolor always flies high. My warm wishes on the grand occasion of Independence Day! Bharat Mata Ki Jai!
19. We are always grateful to our national heroes who lost their lives in the batter for freedom. Jai Hind!
20. It makes my heart beat with pride as I am a citizen of such a great country. Happy Independence Day!
You May Also Read – Veteran's Day Messages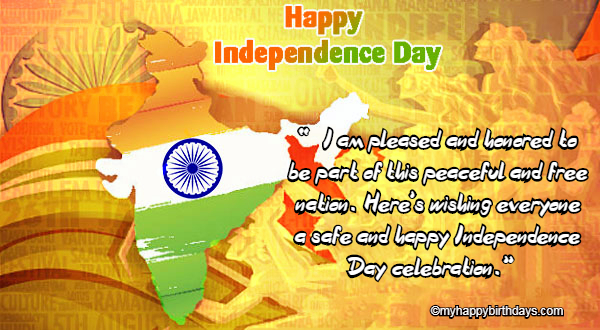 21. The sacrifice our ancestors made to win the right for us to live in a free country is completely beyond imagination.
22. Wishing you a Happy Independence Day. May our country progress by leaps and bounds everywhere in everything.
23. Freedom doesn't come without a price. We should never forget the bloodshed and brutality that this great nation has tolerated in the past. Happy Independence Day!
24. Many thanks to all the valiant fighters who laid down their lives to make us one of the greatest and proudest nations in the world. Have a special Independence day! 🤗
25. On this Independence Day, may the spirit of this day give you the courage to chase your dreams successfully. You are among the brightest and bravest of all because you belong to the best nation in the world! Happy Independence Day!
26. Freedom is one of the greatest gifts to mankind. Always cherish it. Have the best Independence Day!
27. We are so blessed to be here today. Blessed to have a right to speak & to be heard. A right that no one can take away from us. Let's celebrate a future full of gratitude, appreciation, and understanding.
28. Freedom is the most valuable thing in every human's life. No one has a right to take it away, and we have to do everything to protect our nation from violence and brutality.
29. On this day, I wish you enjoy every moment of your life with zeal and passion as you are a free man living in a free country. Happy Independence Day! 🇮🇳 🇮🇳
30. There are not so many nations in the world that have a bloodier history of Independence than ours. Our nation is of bravery, high spirit, and courage. Have the greatest Independence Day!
31. Life is full of harmony and positivity, only if you have the heart to feel it. Have a spectacular Independence Day. Keep the spirit of freedom high always!
32. Let's celebrate the glory of free Indians with enthusiasm and uphold the pride and honor of being an Indian. Happy Independence Day!😎
33. I do not really matter who we are, what matters is our contribution to the country's improvement. Have the best Independence Day each one of you!
34. It is time to honor every patriotic because, without them, freedom wouldn't have existed. Whatever they did, we can never ever repay. Happy Independence Day! Bharat Mata Ki Jai, Vande Mataram! 🇮🇳 🇮🇳
35. My love for my nation is worthy. My love for my people is countless. All I want to desire for my country is happiness. Let me be the first person to wish you a very special Happy Independence Day!
Happy Independence Day Quotes
"This nation will remain the land of the free only so long as it is the home of the brave." – Elmer Davis
"We must be free not because we claim freedom, but because we practice it." – William Faulkner
"The only way to deal with an unfree world is to become so absolutely free that your very existence is an act of rebellion." – Albert Camus
"If the freedom of speech is taken away then dumb and silent we may be led, like sheep to the slaughter." – George Washington
"Enjoy the peace your valor won. Let independence be our boast, Ever mindful what it cost; Ever grateful for the prize, Let its altar reach the skies!" – Joseph Hopkinson
"In the truest sense, freedom cannot be bestowed; it must be achieved." – Franklin D. Roosevelt
"Better to die fighting for freedom than be a prisoner all the days of your life." – Bob Marley
"Freedom is never dear at any price. It is the breath of life. What would a man not pay for living?" – Mahatma Gandhi
"Liberty has never come from the government. Liberty has always come from its subjects of it. The history of liberty is a history of resistance." – Woodrow Wilson
"Better to die fighting for freedom than be a prisoner all the days of your life." – Bob Marley
Independence Day In Hindi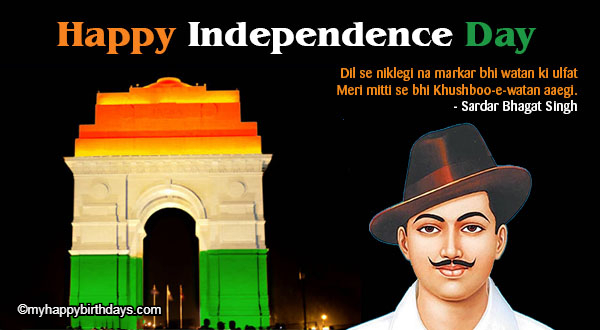 36. Tiranga hamara hai shaan ye jindagi, vatan parasti hai vafa ye jami, desh ke liye mar mitana kabul hai hame. Swatantrta diwash ki hardik shubkamnayein!
37. Jab Aankh khule to dharti hindustan ki ho, jab aankh band ho to yaade hindustaan ki ho, ham mar bhi jaye to koi gam ni lekin marte waqt mitti hindustan ki ho. Bhart Mata Ki Jai! 🇮🇳 🇮🇳
38 Aj don hai un sabhi ke balidaan ko yad kr unhein dhanyavad dene ka, jinki himmat aur josh se humein azadi naseep hui, aaj din hai ek aur nayi shuruaat ka. Sabhi ko swatantrta diwash ki hardik shubkamnayein! Vande Mataram!
39. Chalo aaj fir se veha nazaara yad kar le, shahido ke dil me thi vo jwala yaad krle, jisme behakar azaadi pahunchi thi kinare pe deshbhakto ke khoon ki wo dhaara yad karle. Jai Hindi, Jai Bharat!
40. Mein muslim hun, tu hindu hai, hai dono insan, laa mein teri geeta pad lun, tu pad le kuran, is swatantrta diwas k paavan bela par hai mera bas ek hi armaan ek thaali mein kahan khaye sara hindustan. Swatantrta!
41. Khool se khelenge holi agar watan mushkil mein hain, sarfaroshi ki tamnna ab hamare dil me hai. Aao milkar kare desh ko slam aur bole mera bharat mahan.
42. Ishq to karta hai har koi, mehboob pe marta hai har koi, kbhi vatan ko mehboob bna kr dekho tujh par marega har koi. 15th August ki hardik shubhkamnayein!
43. Ye baat hawaon ko bataye rakhna, roshni hogi chirago ko jalaye rakhna, lahu dekar jiski hifajat hamne ki, aise tirange ko sada dil me basaye rakhna. Swatantrta diwash ki hardik shubkamnayein! Vande Matram!
44. Gonj raha hai duniya me bharat ka nagada, chamak raha hai aasman me desh ka sitaara, ajaadi ke din aao milke kre dua ki bulandi par lehrata rahe tiranga hamara. Jain Hindi, Jai Bharat!
45. Kuch nasha tringe ki aan ka hai, kuch nasha matrabhumi ki shaan ka hai, hum lehrayenge har jagha ye tiranga, nasha ye hindustan ki shaan ka hai. Sabhi watantrta diwash ki hardik shubkamnayein! 🇮🇳 🇮🇳
46. Na maro sanam bewafa ke liye do gaj jameen nahi milegi dafan hone ke liye, marna hai to maro vatan ke liye, haseena bhi dupatta utar degi tere kafan ke liye. Sbi ko dil se swatantrta diwash ki hardik shubkamnayein!
47. Jamane bhar mein milte hai aashiq kai, magar vatan se khubsurat koi sanam nahi hota, noto par bhi lipat kar aur sone me simatkar mare hai kai magar triange se khubsurat koi kafan nahi hota. Swatantrta diwash ki bhut-bhut shubkamnayein!
48. Ek senik ne kya khub kaha hai ki kisi gajare ki khushbu ko mehakta chod aya hun, meri nanni se chidiya ko chehkta chod aya hun, mujhe chaati se apni tu laga lena ae bharat maa, mein apni maa ki bahon ko tarasta chod aya hun. Jain Hind, Vande Mataram!
49. Vatatan hamara aise na chod paye koi, rishta hamara aise na tod paye koi, dil hamare ek hai ek hai hmari jaan, hindustan hamara hai hum iski shaan. Vante Mataram, Bharat Mata Ki Jai!
50. Sada hi lehrata rahe ye tiranga hamara sare jaha se achha hindu sita hamara, goonj utha hai jahan mein charo aur logo ki jubaan se vande mataram ka naara, vatan ki sar bulandi ke liye ye dil kya khusi khusi mit jaye ye jism bhi hmara, jo sheed ho gye wo amar kehlayenge aksar unki kurbaniyon ke aage sada naman hamara, us desh ke vasi bakhubi ye jante hai ki sone ki chidiya kehlata pyara desh hamra. Jain Hind! 🇮🇳 🇮🇳
Happy Independence Day Images