Last updated on July 9th, 2020 at 04:28 am
Birthday Message For Mom (Mother)
When it comes to birthday wishes for mom or birthday wishes for mother, we are nothing to speak about the mother. Because there is no way to repay a mother's contribution, love, and care for their children.
Mothers hold an exceptional place not only in our lives but in our hearts as well. They are a gift to us directly from God, and they dedicate their lives to our happiness and success.
We believe that their love and affection are pure and unconditional that can never be repaid at all no matter how big you are in terms of position.
However, every mom deserves to feel appreciated and loved on her special day to send the best birthday wishes for mom So, on their special day, like a birthday, you can make some efforts and make her feel so special and joyful.
Your mothers deserve the best birthday wishes from you and that is the only a great chance to make her a little contribution for all her sacrifices made for you.
From her endless support to boundless patience, there are so many things to be grateful to your mom for.
If you struggling to find just the right way to convey the depth of your gratitude and love click here.
Now, it is time to send the best 80+ best birthday wishes for your mom, which is full of best wishes along with cute, funny. and emotional words for mothers.
Happy Birthday Wishes for Mother (Mom)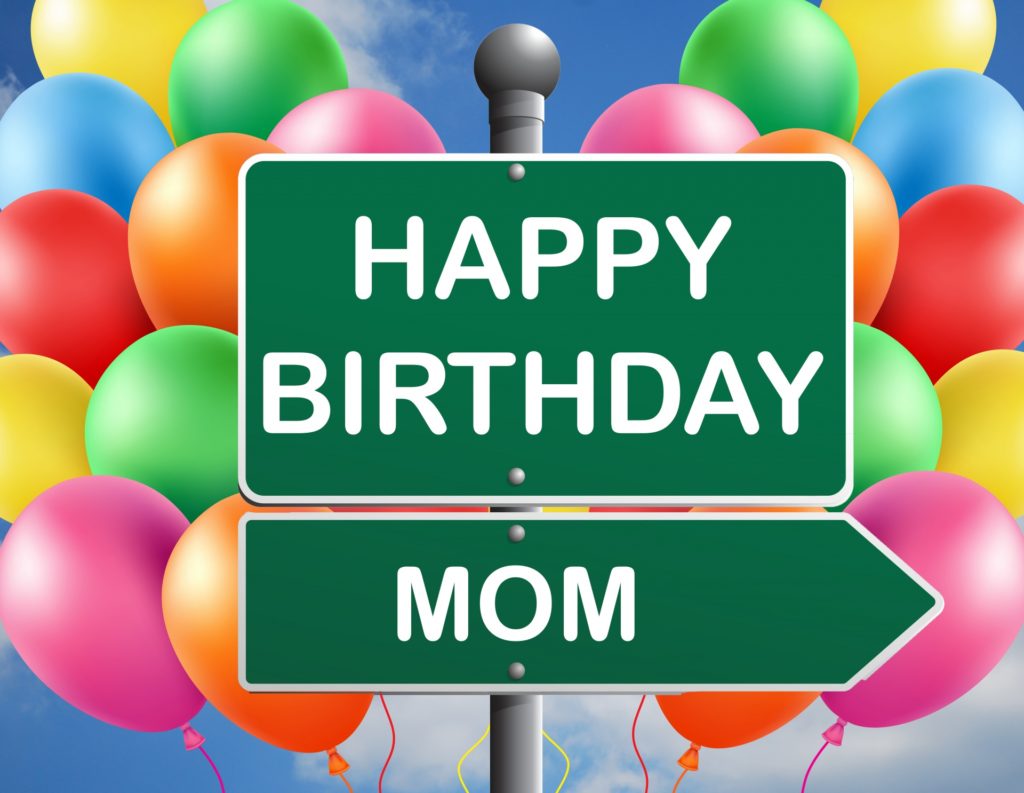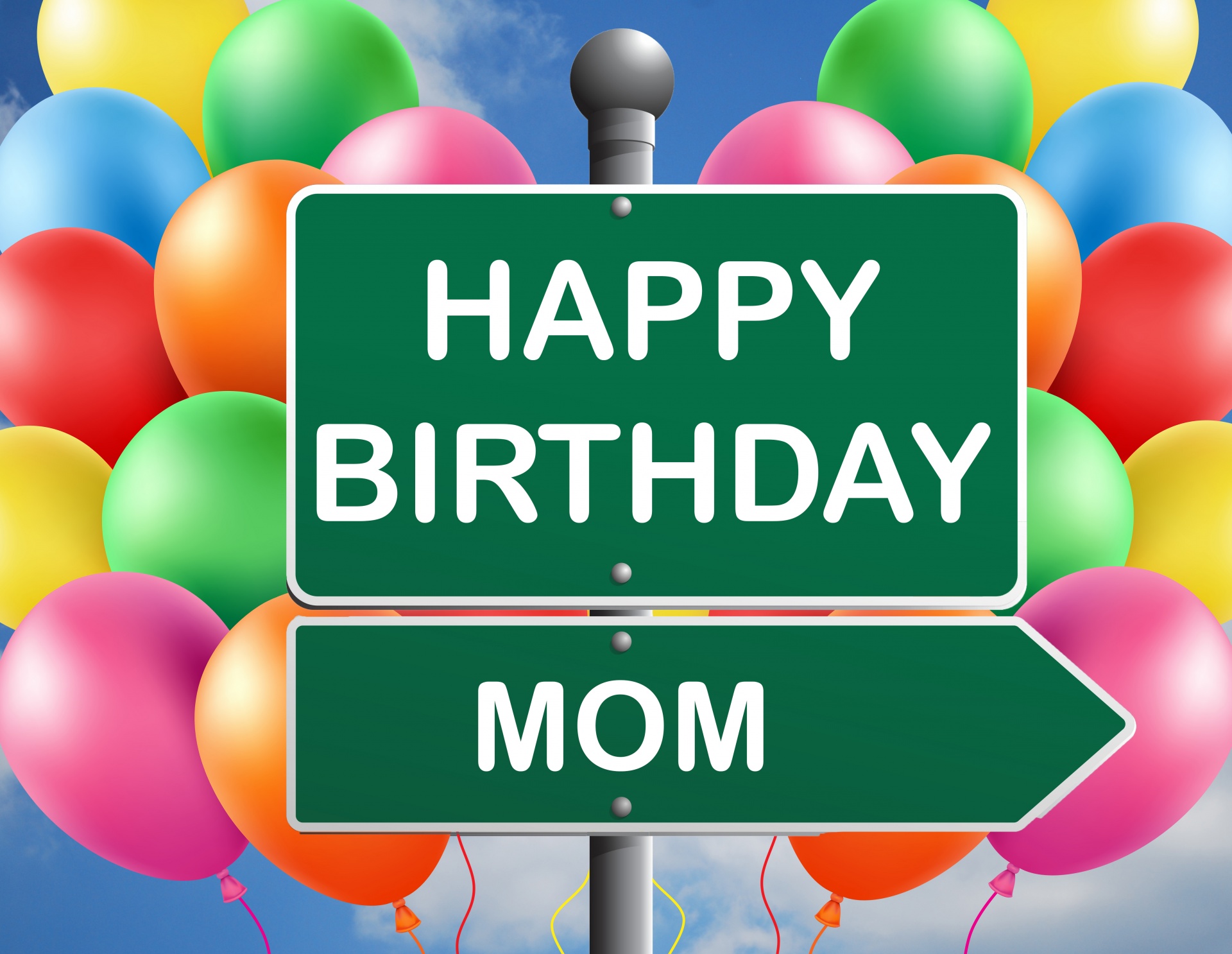 1. Happy Birthday to the most cutest and lovable mother in the world. May God let your life filled with countless joy!❤🎂
2. Wishing you a best happy birthday, Mom! I want to tell you I am nothing without you. Be always with me. Love you!
3. How amazingly you keep a smile on your face ever at the toughest situation and moments! May this spirit be always there for you! Happy Birthday, Mom!
4. I don't know how many women I meet in this lifetime, but you are the only one who will know and have a place in my heart. Have a wonderful birthday!
5. Hello, Mom, each and every birthday memory I have included lighting the candles on my cake. Thanks for everything you've done for me. Happy Birthday, Mother, Love you!
6. Whenever I think of all that you've given me, I feel that whatever I do won't be quite enough, I know you will love me despite it all. Happy Birthday, enjoy the day!
7. You don't look like anyone's mother, but you are mine and that's really special for me in this world. Best wishes from your son/daughter!
8. There are so many unsaid sacrifices you've done for us without a litter sigh exceptionally, Oh mom. May God give you a hundred years t live! Happy Birthday to the best mother!😘🎉
9. Every day I wake up, I always thank you. I have your warmth, guidance, heart, and your guidance. Someone who loves me unconditionally right or wrong, you are the only one. Many Happy Birthdays!
10. Her smile keeps everyone strong, her spirit lifts us up, her words keep everyone grounded when the worlds get low. Happy Birthday to the most wonderful Mom!
11. Hey, my beautiful Mom! You are better than all TV moms combined because you are my superstar. I wish you an amazing birthday!🎉🎂
12. The wonderful memories of my childhood have become my shadow. She follows me whenever I go, and I hope it never stops being so. Happy Birthday, Mom!
13. Thanks for all the tough love, honest advice, unconditional support over the years. Mom, I admire everything you've given me and done for me. I hope that your year full of love, respect, and blessings. Have a wonderful birthday ahead!
14. Many happy birthdays to the most impressive woman in my life, my beloved mom. You were my everything when I was a kid, you still are. May your special and auspicious day be just as phenomenal as you are.
15. The world would be a dimmer place without your beautiful and bright presence that inspires everyone around you. Happy Birthday, Mom!
16. No advice is as beautiful as yours. Mom, your words are much-needed wisdom to my life. Have a blessed birthday ahead!
17. Wishing you have a very happy birthday! My lovely mom, every year I wait for this day because you are so special to me, and your presence in my life is bigger than anything else.
18. You are the only one who made my childhood special and blessed, and I remember every minute of it. Thank you so much, Mom. I wish you the warmest and heartiest happy birthday. May God pour all the warmth and love on you.
19. No matter how old you are, but you will always be the same amazing and beautiful lady in my eyes. Happy birthday to the beautiful mom!🎁❤
20. Mom, I am very fortunate to have a mother like you. You are my best friend. Happy Birthday, mummy!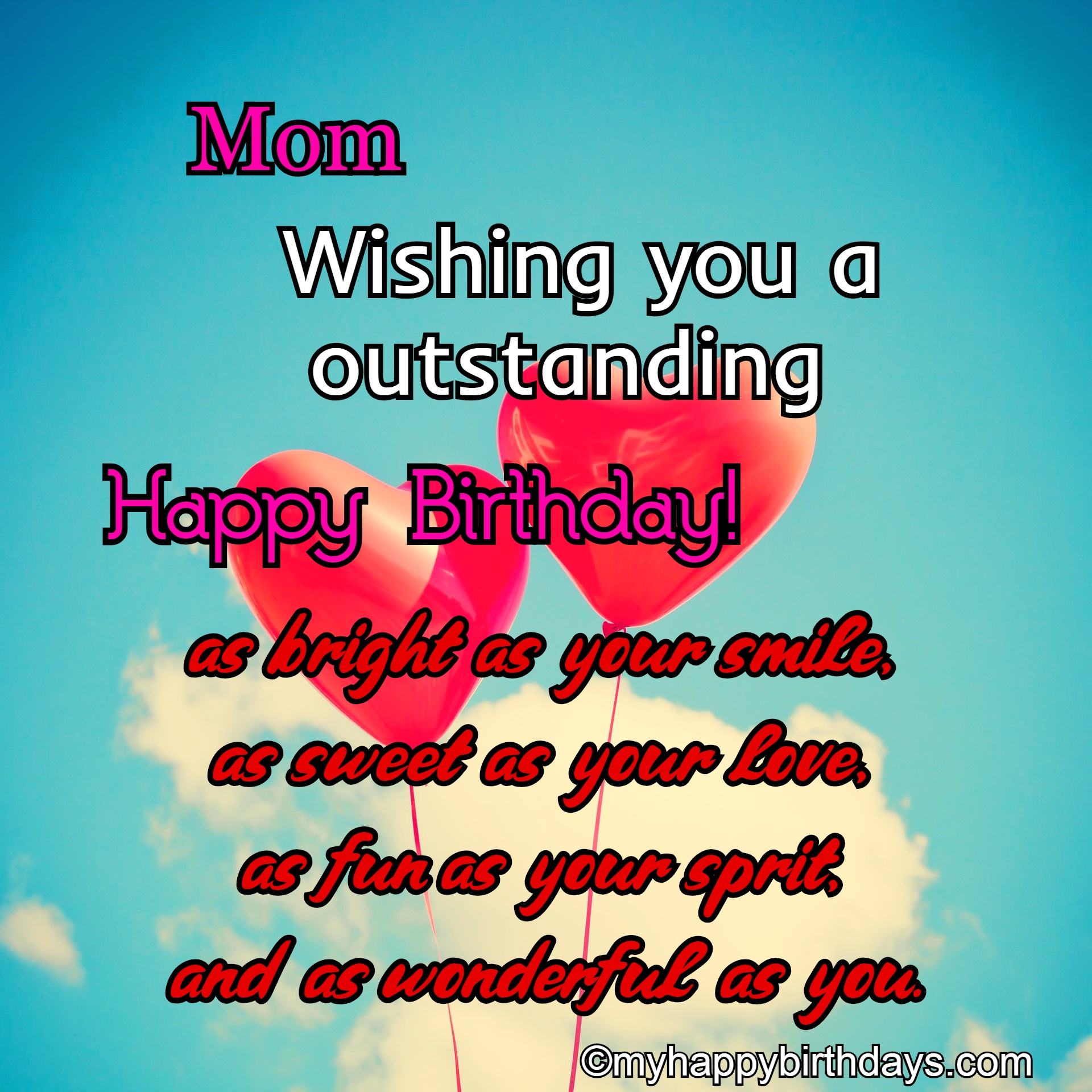 21. Happy Birthday to my dearest mom! May you special be just as amazing as you are. Have an awesome day!
22. You are the most successful and cool person I know, having done all that you have and making it look effortless.
23. Your blessing and support are so precious to me and I am thankful to you for your sacrifices which are absolutely countless. Warm and best birthday wishes for the great lady!
24. Hey, my lovely mom, you gave me the best life and you are the best gift from God. Life without you seems like impossible for me. May God keep you happy and healthy in your entire life. Happy Birthday!
25. I feel the luckiest son that has a mother who supports and guide me always even if I'm hurting you. Mom, you are so generous and humble. Love you so much!❤
26. The moon would be joyful to appear today. The sun is glad to shine brighter today. The start will keep shining and rejoicing in the sky when they are out. All because they are celebrating my mother birthday. Love you and happy birthday!🎂
27. I know mom I have hurt you with my unpleasant behaviors many at times. But never expressed my love. Take all that unexplained love through my best wishes on your birthday!
28. Actually, there is no limit how much I love you. Mom, just like how you have cared and loved every single one of us. Thank for everything. Wishing you the best birthday ever!
29. Your birthday is a celebration of life and to all the best things coming in your way. My best wishes to the most special lady in my life. Happy Birthday, Mama!
30. I don't need to tell you to have great fun. I learned everything about it from you. My dear mother, wonderful and spectacular B'day!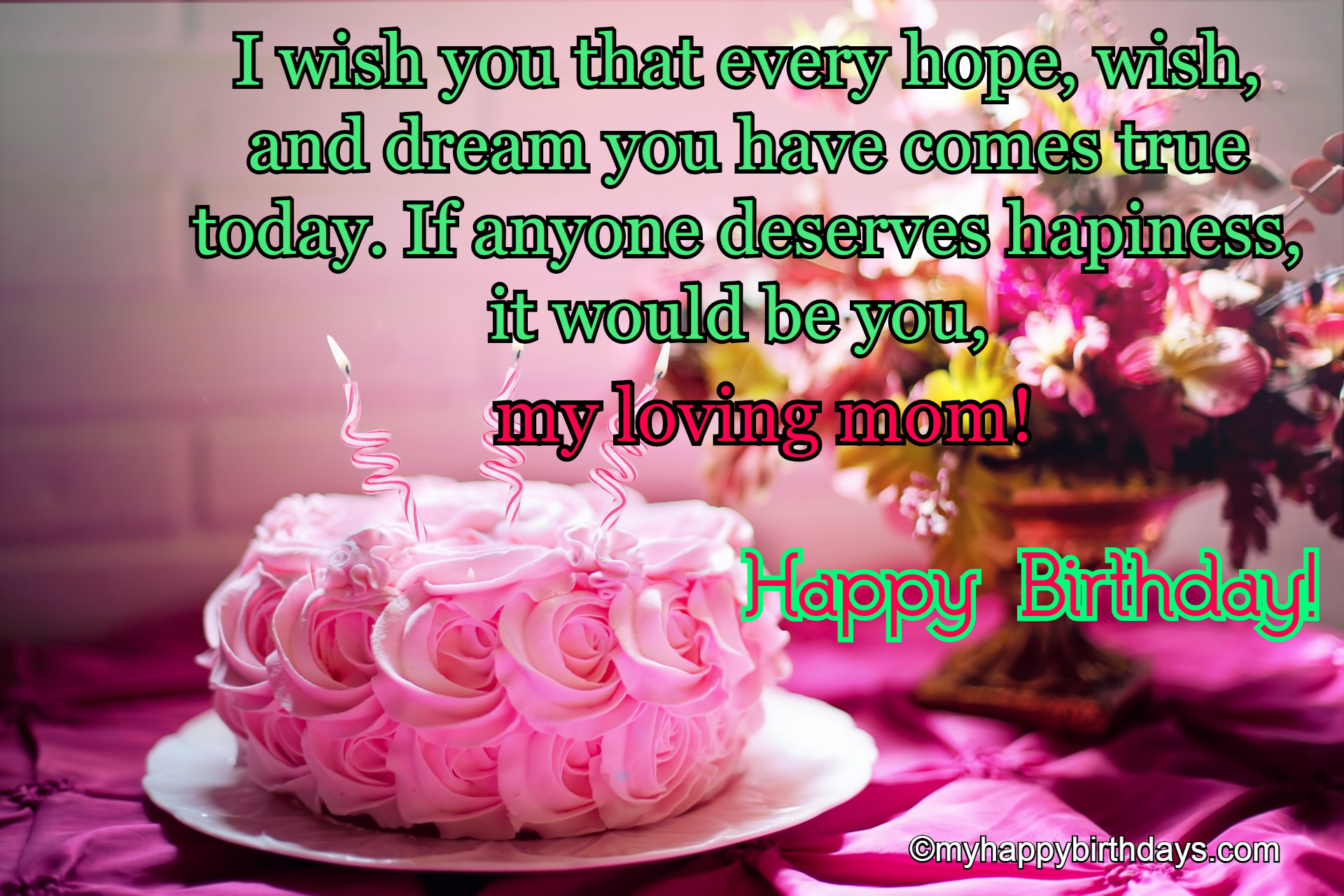 You may also like-
60+Birthday Wishes For Girlfriends
100+Birthday Wishes For Sister
60+Romantic Love Messages
Good Morning Wishes
Anniversary Wishes
31. We may have had a different opinion, but one thing was always common and is our love for each other. Love you Mumma, have an amazing birthday ahead! Keep smiling!😊🤗
32. You're not only my mother, but also my guider, philosopher, and best friend. Thanks for giving me everything and wish you a great birthday!
33. Wishing you a day of warm pots of tea and good books. Happy Birthday to my pretty Mom!
34. You are more than a fabulous friend. You are an amazing mother. Happiest of birthdays, Mummy. You deserve everything best only!
35. God cannot be everywhere that is why he has sent you in my to show me what's wrong or right, and protect me.
36. My hearts store is filled with your blessings and love. There is no such gift that can enough as a gift on your birthday. Happy Birthday, Mumma!
37. On your special day, I wish you a lovely and peaceful life ahead. May you always be happy and healthy. I wish you an amazing year and a warm happy birthday. Love you, Mom!💕🎂
38. You are superwoman, you are the heroine that always saves and make my day. Thanks for your love and support. Happy Happy Birthday!
39. Hey, Mom, your heart is as vast as the sky, your love as deep as the sea, your eyes twinkle like the stars. Happy Birthday to my beautiful Mom!
40. Mom, you have such a cheerful and amazing spirit. I hope that never changes as it is just one of the many things I appreciate about you. May your birthday be as full of a lot of cheer as you are.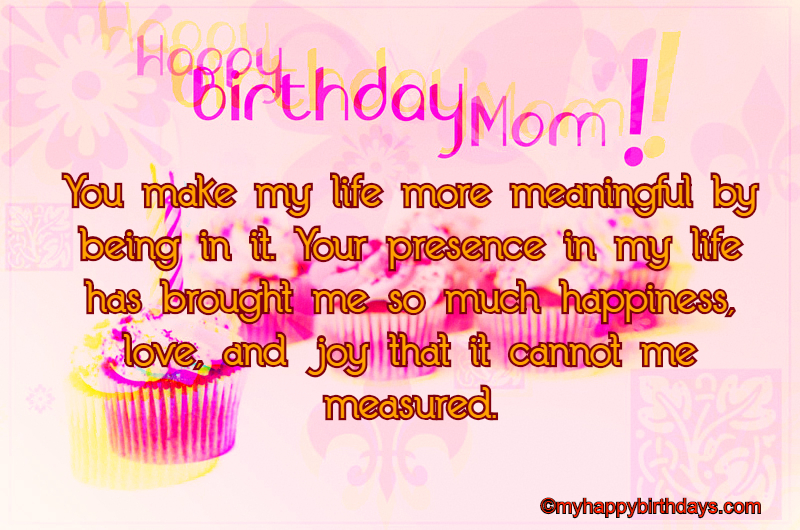 41. Your laughter and love fill my heart with millions of joy, Mom. You are the world's best Mom. Many Happy Birthdays!
42. Here is a big hug from your favorite child. My heartiest wishes you many years full of joys, laughter, presents, and surprises. Have a spectacular birthday!
43. My life would be incomplete without you. You have been with me through all the bad times and good. Happy Birthday, Mother! 🎂💕
44. Although I may be far away, I always feel your hugs and kisses. I hope you know that I got them and I am sending them right back!
45. Mom, you love has me my heart a warm place. I may be giving gifts you but they are nothing to the of joyful moments you gave me. Happiest birthday to the coolest, Mummy!
46. My entire life you've always been there for me. There will never be quite words to convey how I deeply grateful I am that I have a mom as beautiful as you. I love you so much, Mumma!
47. Your birthday is not complete without food made by you. So, make an awesome birthday celebration with your lovely cooking. Have a fantastic birthday today, tomorrow, and many years to come.
48. Mom, you are an inspiration, and revelation to all women everywhere and I am so fortunate you were born on this day. Best birthday wishes of love and kisses!
49. For my brave mother, who raised me through sacrifices and hardships. A special is not that enough but it is one way I can give you many thanks for all that. Best B'day always, Ma!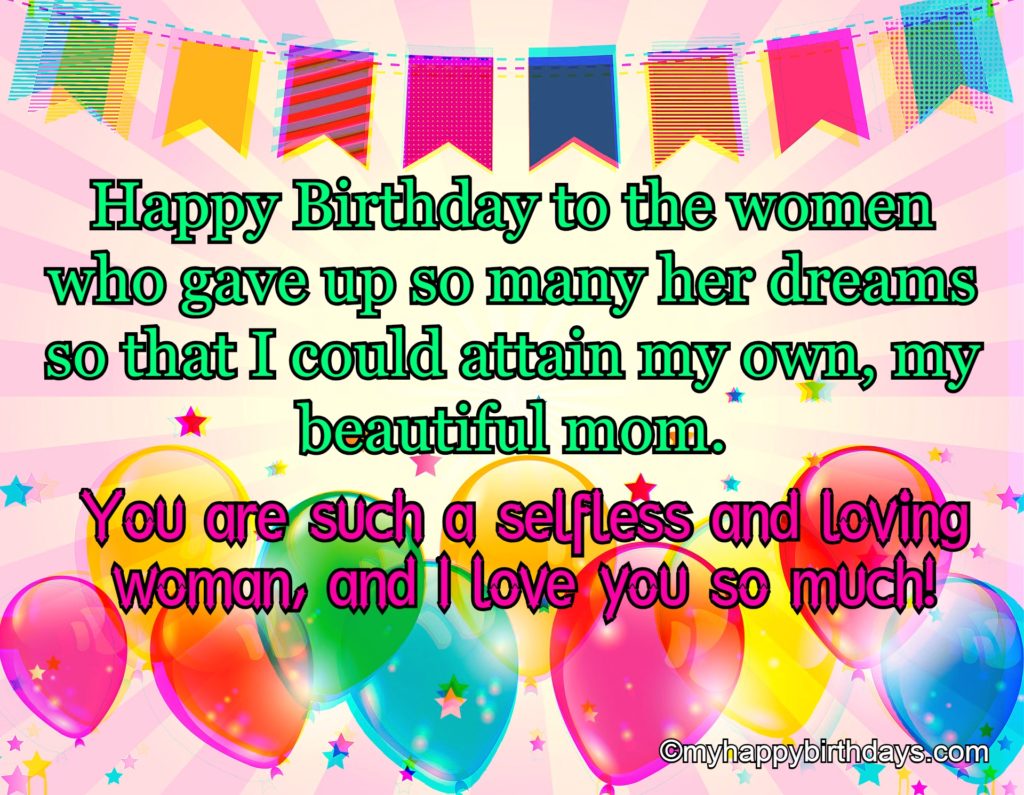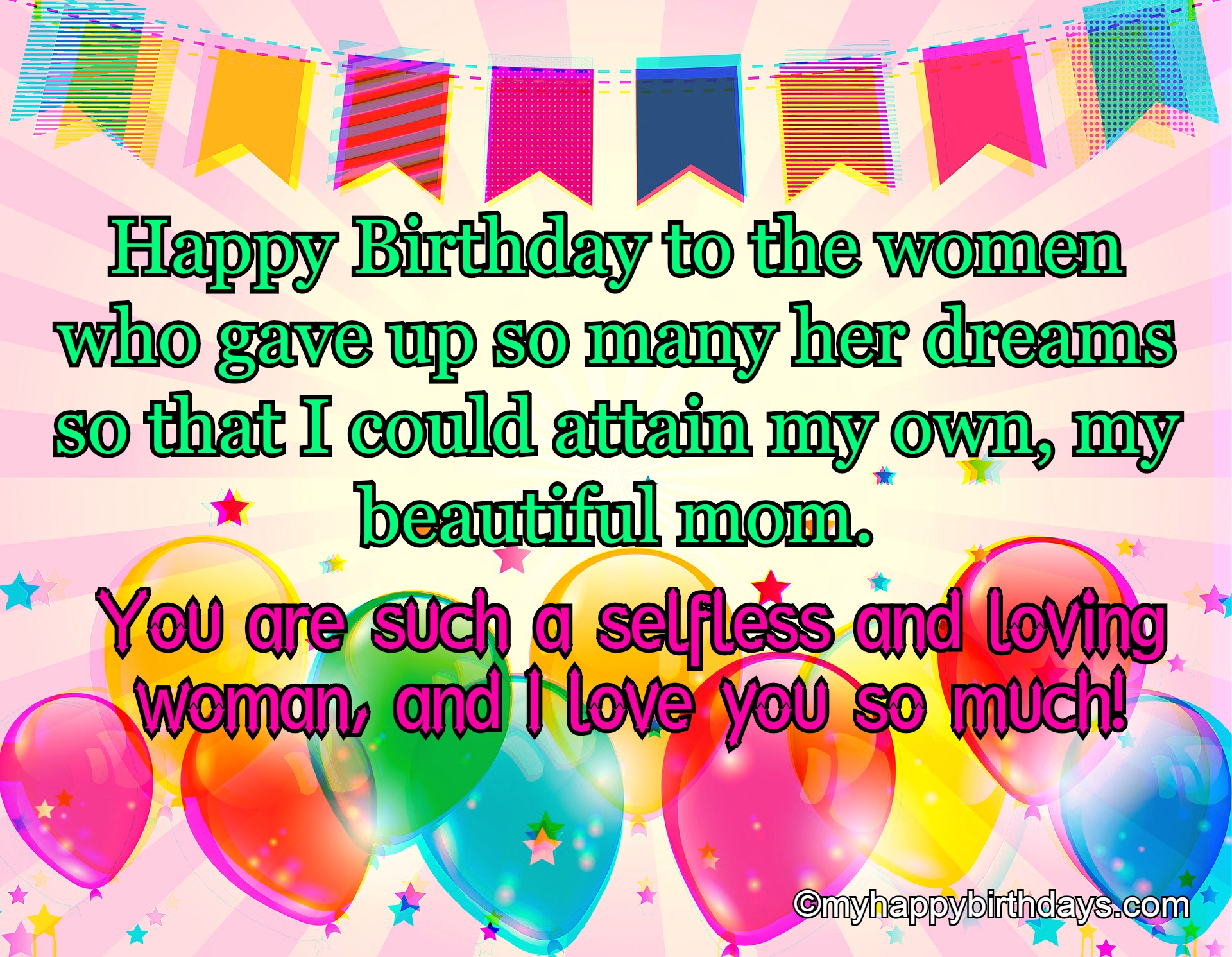 50. Many thanks for being the wind that helped me soar. You are a true element of nature. Mumma, Happy B'day!❤😘
51. Mom, I know you have everything in the world. So, if there is one thing I wanna wish for you that you have good health and more years to spend with your grandchildren and children. Happy Birthday, Mom!
52. Happy Birthday to the beautiful lady! You are a bright light in my life. A star that guides my way more than others I wish you a glorious birthday, full of love, laughter, and light!
53. Many Happy Birthdays to my cheerful Mom. I am sending you all my love! You've lit up my life for many years, and I want you to have the best birthday possible many more years to come.
54. Hey, beautiful, Mummy! You gave me the greatest gift an adult can have, a glorious and beautiful childhood. I wish there was some way I can ever pay you back. Have the best of the best birthday ever!
55. I never really admired how great you were in raising me, mom until I became an adult and saw through your eyes. I will always be thankful that you were born and became my mother. Have a glorious day!
56. No matter How I try, no matter what I do, I would never ever be able to show you how much I admire everything you've done for me. You are power, strength, heroine. Wishing you a very Happy Birthday Ma!
57. Life is very hard to bear but you make it bearable with all your warm hugs and encouragement. I cannot tell you enough how much I love you, Mumma! Happy Birthday!
58. I love you so much mom, more than you can even imagine! You've been such a real and strong support to me. I'll never be able to thank you enough to all of it. Happy Birthday to the prettiest and best mom in the world.
59. Yay! It is your big day, Mom. I bow before your greatness not just today but each and every day. You deserve to have a fantastic birthday! Love you, Ma!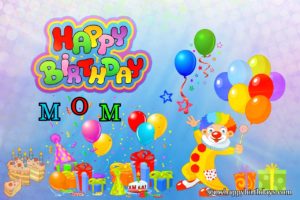 60. Hey, Mom, you have an inner light that lights up the world around you. May you always shine as brightly as you are shining now. Best Happy Birthday to my truly luminous Mumma!
61. You are my aspiration and inspiration. May God bless you with health, wealth, and long life. Have a fantastic birthday Mom!
62. Raising a kid is not an easy task, but you are expert, ma. I mean, look at how well I turned out! Thanks for your wisdom and guidance. Wishing you a glorious day of celebration and fun!
63. Happy Birthday, Mom! May God your day filled with wishes send your desires to the highest heights, and make them all come true.
64. Mumma, you have taught me very well, I hold your lessons close to my heart. On your special day, I wish you success, peace, and a day full of all you desire.
65. Happy Birthday to my magical, Mom! You are the most amazing woman I know. I hope you have a spectacular and amazing birthday, full of laughter, love, and surrounded by the best of friends.
66. You will forever be the only woman I will give my heart to. You are my beautiful mom and nothing will ever change that. Wishing you an unforgettable birthday my mom!
67. Wishing you many happy birthdays to a mother who is just everything at home and away from it. The best wife, the best cook, and the most efficient at work. All the love and respect in the world for you!
68. Happy Birthday to the sweetest mom! Mom, nobody can ever take your place in my heart. I will love you forever and ever. No matter where I go or whom I meet, but you will be the number one to me always.
69. Mom, you are the rose in the garden, a source of inspiration and beauty to us all. Have a wonderful and best B' day. Mumma!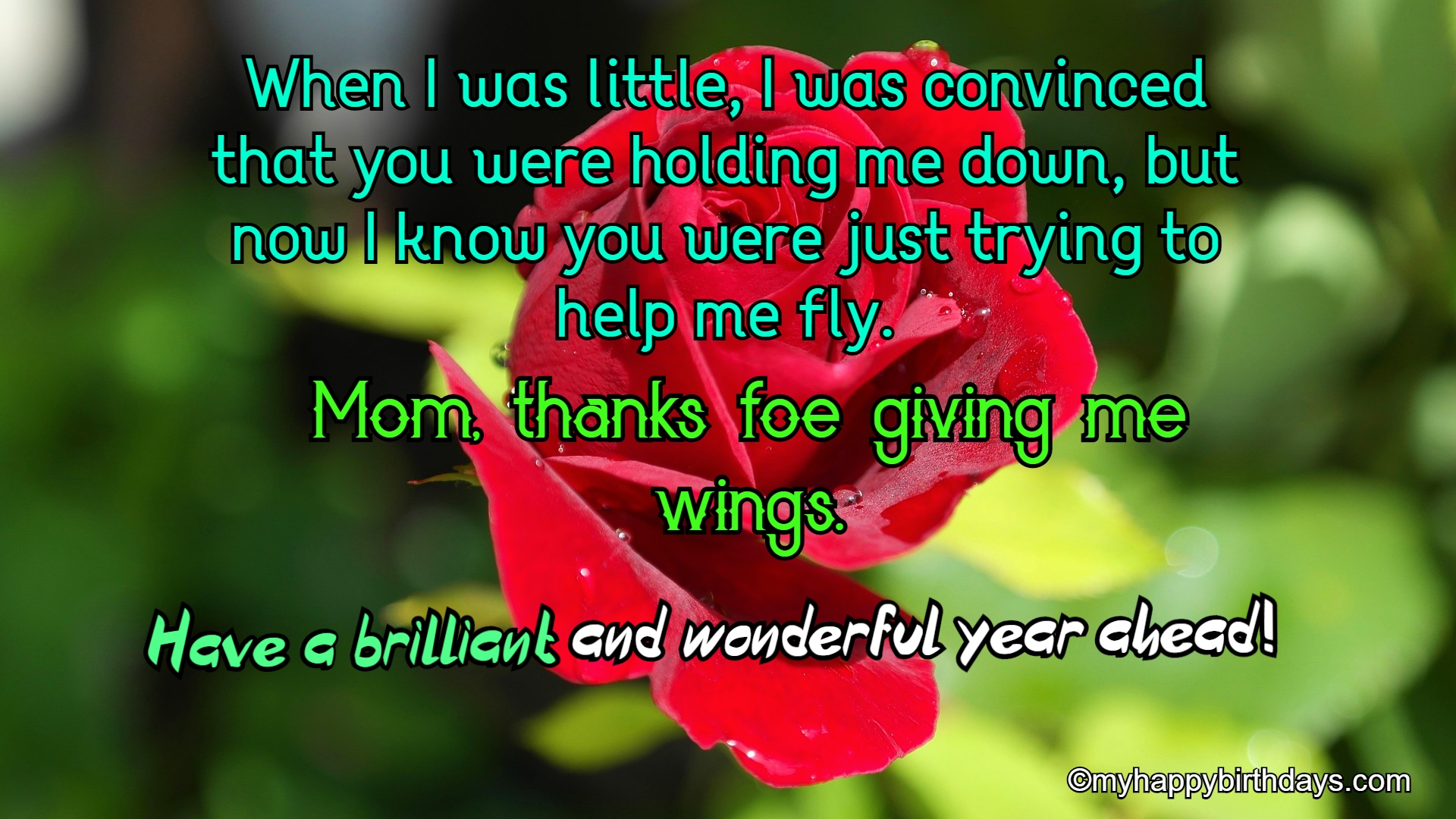 70. Mom, you are a superior and brave woman. Nobody has a heart as large or full as yours, Mother. You have given me so much love and happiness, today, I'm giving you all my love in return. Have an amazing birthday ever!
71. Happy Birthday to my dear Mom! No matter you put ten or sixty candles on your cake, I wish every single one is a birthday wish that comes true because you are amazing and deserve the world.
72. I never feel that you are getting old because I will never be too old to love you, support, and a lot of wisdom. May your day as incredible as you are.
73. Hey, Mom, there is so much to appreciate about you: your sincerity, kindness, conviction, and your intelligence. You are a phenomenal and amazing person mom. Happy Birthday, love you!
74. No matter where you are, no matter what you are doing, but home will always be where your mom is. I believe this. Best happy birthday wishes, Ma!
75. Dear mom, I want to say thank you for giving birth to me and supporting me throughout the years. You are truly the best mother a person can have. I love you infinite. Happy Birthday! Enjoy the day!
76. Nobody else is as lucky as me, as I've got a mom as awesome as you.
77. Many thanks for your forgiveness and patience over the years. Mom, you are an absolute saint for being able to iron out with me. May your birthday be filled bliss, quiet, and peace. Have a fantastic year ahead!
78. The word mom is not just your title, it is just your legacy, you have left such a vivid impression on the lives of our family, and we are so fortunate to have you. Happy Birthday to the dearest, Mom!
79. Wishing you a wonderful and memorable happy birthday, Mom! Your love is undeniable, your knowledge is indisputable. Know that today, no one is more stunning than you in both mind and body!
80. Happy Birthday my brave mom! I wish today is full of bright moments and tons of warmth. You've made my life truly amazing and I want today to be the start of your most fantastic and amazing year!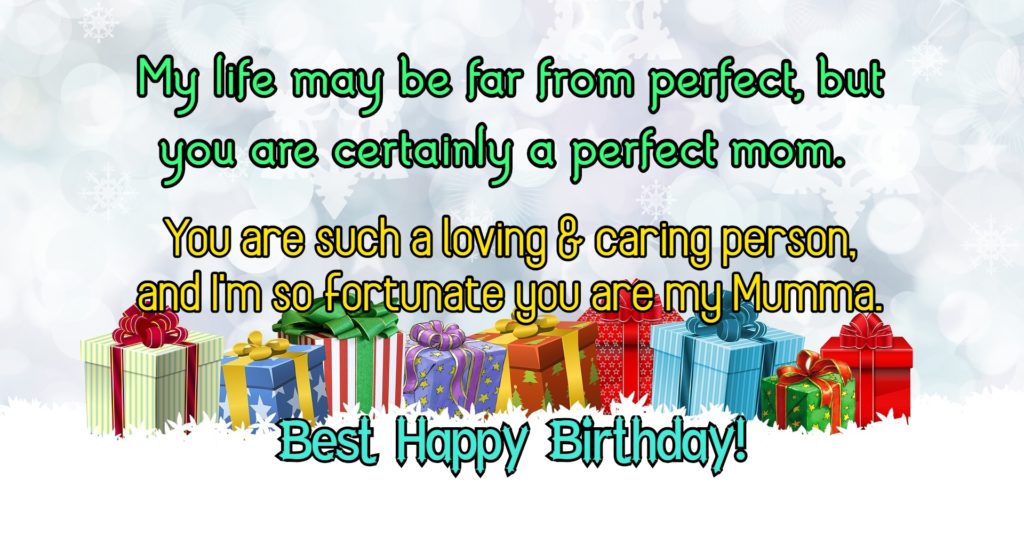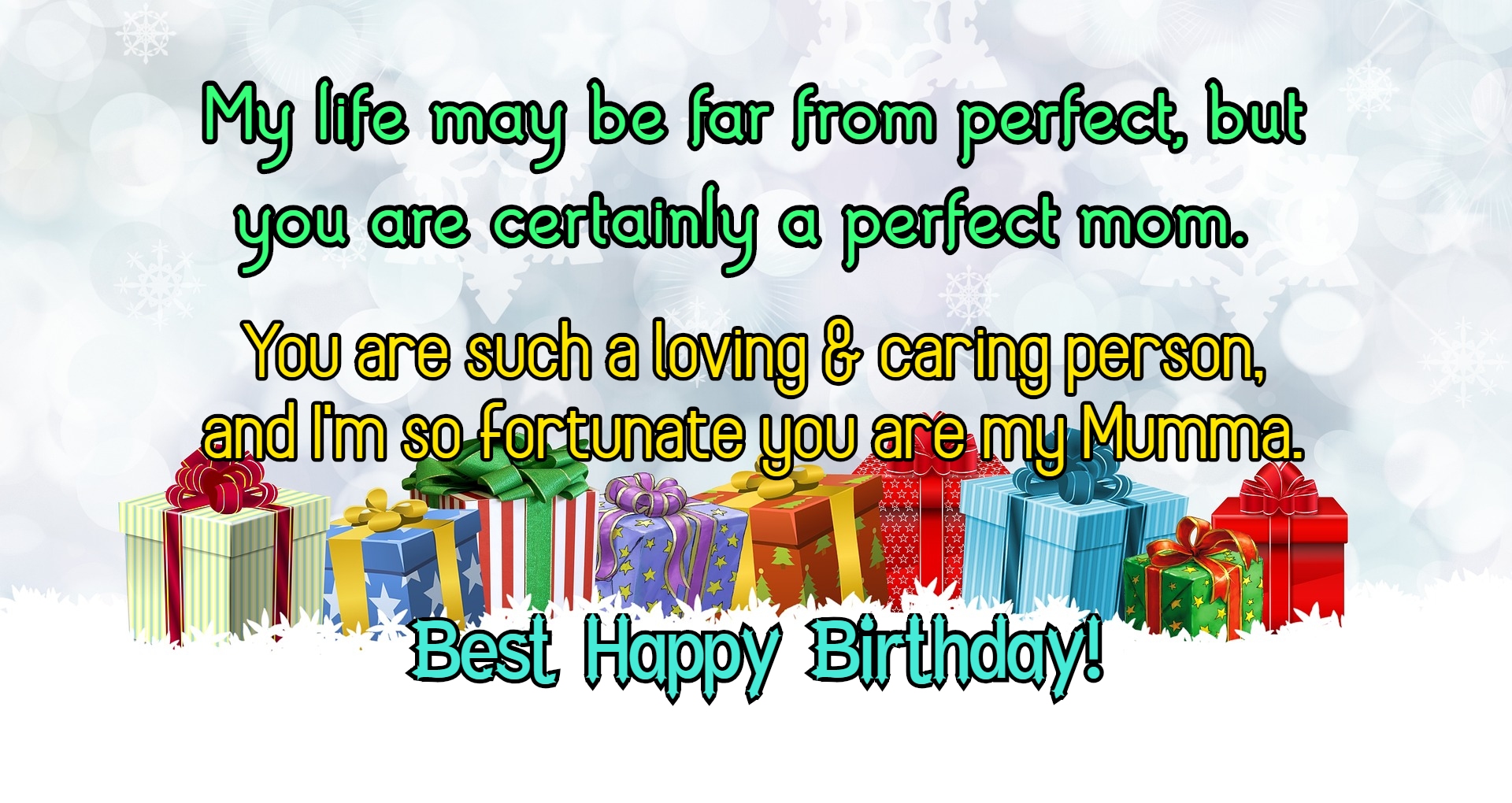 81. Mom, thanks for always providing me hope for my future, forgiveness for my past, and love for my present. I hope your birthday as remarkable as you are. Heartiest Birthday to lovely, Mumma!
82. My memories of you are like bright shining stars. They light up my life in times of darkness. Infinitely thank you for bringing SPARKLE into my life. Happy Birthday today, tomorrow and many more years to come!