Last updated on June 24th, 2020 at 12:37 pm
A Congratulation Message
Whether a dream job landed a race run, a big promotion, a new home, a little victory, an occasion, birth of a baby. It is one of the great times to send the best congratulation messages to make him/her feel good.
Also, receiving a congratulations message for achievement with the acknowledgment of your hard work is just only one way to be celebrated.
Sending a thoughtful congratulation message can certainly help express your warm regards, and increase the importance of your life by sending some cool congratulation messages.
If you are struggling to write a wonderful congratulation message or choose the perfect words, then you don't have to worry at all since my happy birthdays is here to help you compose the best congratulation messages collection.
Have a look at the various collection of congratulation messages. With the help of this, you choose any as per your choice and send/share on WhatsApp, Facebook, Twitter, etc.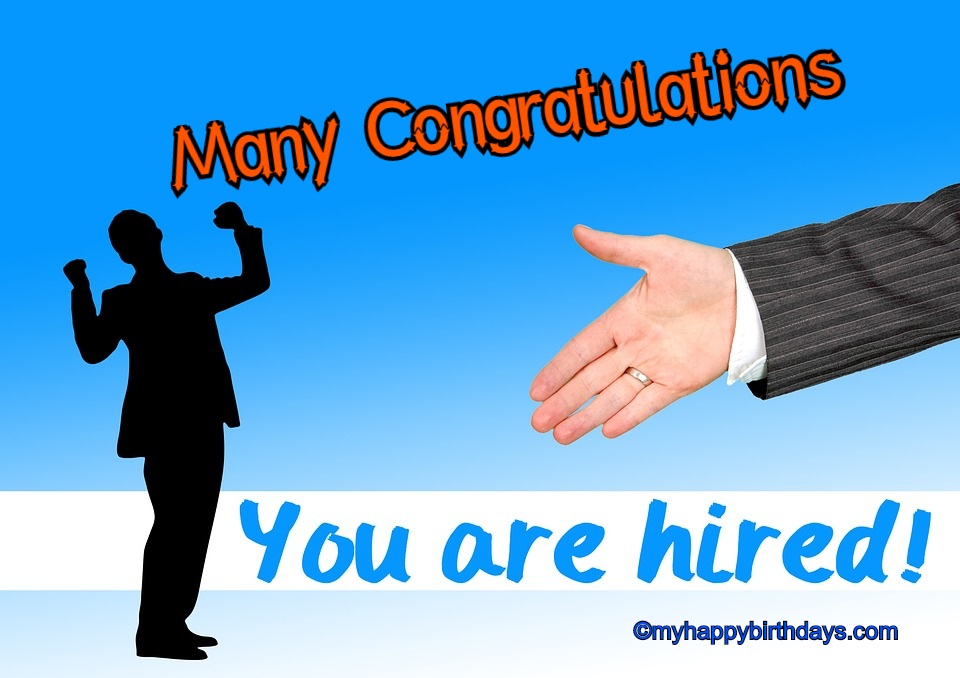 1. You've done outstandingly well at such a young age. Many congratulations!🎇
2. I am very proud of you. You have achieved a lot, and I look forward to seeing even more blessings come to you in the future. My best wishes to you!
3. I know you've worked so hard for the interview and finally, you cracked it with flying colors. Best Congratulations!🎉
4. Many congratulations on clearing such a tough exam. Hats off to you. May more new opportunities come to your way.
5. You very well deserve these congrats for your dedication and hard work. Many congratulations on your big success!👍
6. Congratulations on your huge success. You have made us all proud. Keep up the good work!👌
7. First, they used to ignore you, fight and laugh against you. Now, you won, and I knew you could do it. Congratulations on your brilliant victory!

8. It's my pleasure to work with someone who knows how to make a friendly and inspiring work environment. I am so happy that a position opened up for you that is a great and next step in your career.
9. Heartfelt congratulations, dear! No matter how huge a crowd maybe, a person like you always stands out. There is no one who has worked as hard as you have in the last years. Now your efforts have paid off. Best congrats!
10. Heartiest congratulations on your promotion. You truly deserve this position.👍🎉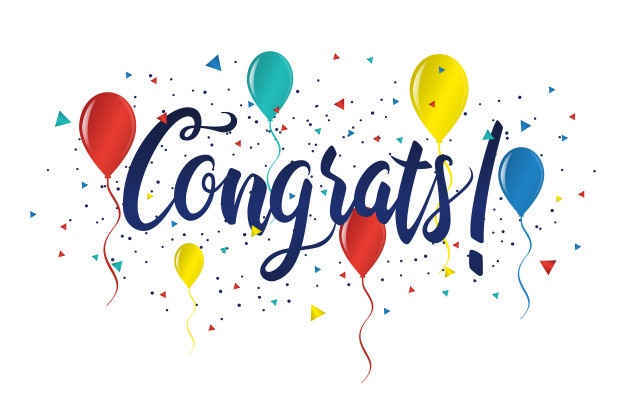 11. The extreme level of hard work that you put throughout the years has begun to pay off. A very very congrats!
12. You deserve all the great things that are coming on your way.
13. The key to happiness is having dreams. The key to success is making them come true. Hearty congratulations!👌👍
14. You always deserve to be congratulated for your honesty, hard work, and utmost dedication. Many congrats and best wishes for a promising future!
15. It's time to celebrate your success! Expecting for a huge party on the way! Continue breaking your own records. A fantastic congratulation on your big accomplishment!
16. Very proud to be your side when you rock achieving success in all the things you do. It's time to hear the success story. Heartiest congratulations!🎉🌹
17. Great congratulations on your phenomenal success. Keep up the good work always!
18. Many-many congratulations to the lovely couple on their 30th wedding anniversary. I wish you many more years of married life.
19. Very well done! on making us proud. Your achievements are indeed great. Congrats and happiest future ahead!
20. Hearty congratulation on having a baby boy and adding a new member in the family. May God bless you with a long life!
Read More Interesting
Best Birthday Wishes
Love Messages
Birthday Wishes For Sister
Wishes For Beautiful Wife
Birthday Wishes For Husband
Anniversary Wishes
Congratulations Messages For Winning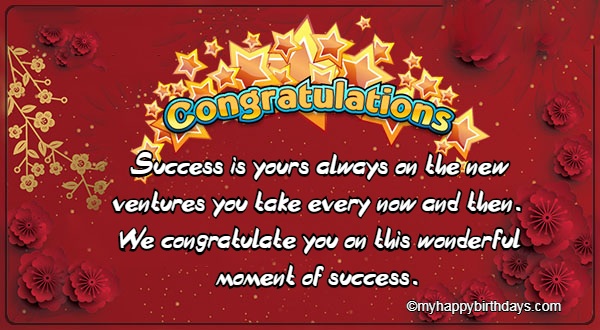 Your loved ones or friends or any family member has won a difficult debate or competition and you really want to congratulate him/her in a grand success.
Eventually, triumph is one of the biggest achievements and is a reward for one's dedication, determination, focus, and consistency. Now, Pick any wish and send it to your friends, family, and loved ones.
Also, you alter any paragraph as per your choice below–
21. Many congratulations on clearing such a difficult exam! May you get many more opportunities.👍
22. Congratulations on making us proud to clear one of the top universities in America! But the journey continues, there are many more milestones to achieve.
23. Heartiest congratulation for the winning the chess tournament! Your conquer will ring through the history of our school. We are very proud of you!
24. Now your phase of hard work is over. Now, it is time to relax and enjoy the fruits of your labor. Many congratulations!
25. Many congratulations on winning this year's election. We are so lucky to have an honest person like you. I hope more power to you and this city!
26. May you shine lifelong like a star. Congratulations on winning the race!🎉😊
27. Hearty congratulations on becoming farther. May you & your family have a fantastic time.
28. Congratulations on winning the grand prize! We hope you win many more prizes in your life.👏
29. Congratulations on winning the parent of the year! Your example will be remembered throughout the school, and you are an inspiration for us.
30. Your success has turned everything colorful around me. Finally, you got what you wanted. Congratulations!
Congratulation Messages For Passing Exam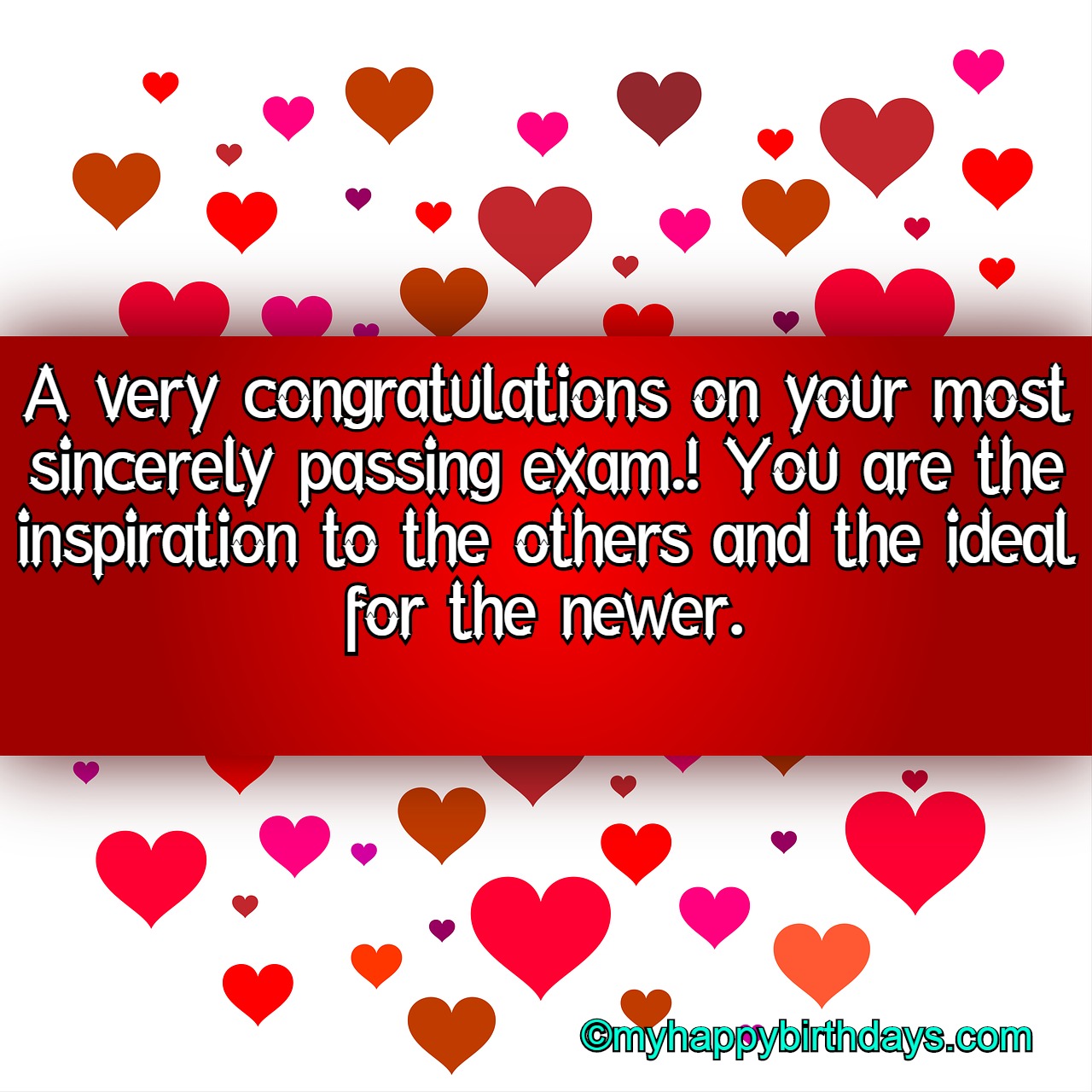 It is crucial to congratulate our friends who do best during their tests or exam. And, we should be miss this essential opportunity to motivate them to do more success in life.
Sending them some wonderful congratulations messages, greetings for passing the exam is one of the best ways to motivate them.
Here are some best greetings and messages to wish your friends, colleges, and family members who performed very well in their exam.
31. Congratulations my dear! I am very impressed with your result and hope you'll keep continued this serial of good marks.👍🤗
32. Many congratulations on your excellent success and achievement! Never run after success and gain. Success will run after you.
33. A very congratulations on your most sincerely passing exam! You are the inspiration to the others and the ideal for the newer.
34. Our best wishes for passing the exam and all the best for more excellent achievement in the future.🤗
35. Finally, you've proved that learning & dedication is an excellent way for any best outcome. Heartiest congratulation for attaining the best place and all the best for the upcoming future!
36. Congratulation for achieving the target of this year! I'm very proud of you. Let's celebrate your success.🎉🎆
37. Best wishes for your great victory on passing a very tough exam, and hope you will keep up the good work in the future too.
38. Very well done dear! you have made this day outstanding with your great academic achievement.
39. We all are very pleased to know your wonderful result that has raised our head with pride. Congratulations and well done!👍💥
40. Hearty congratulations for passing the exam! your conviction and patience have finally paid off. Now you are one step closer to your dream.🤗
Congratulation Messages For Promotion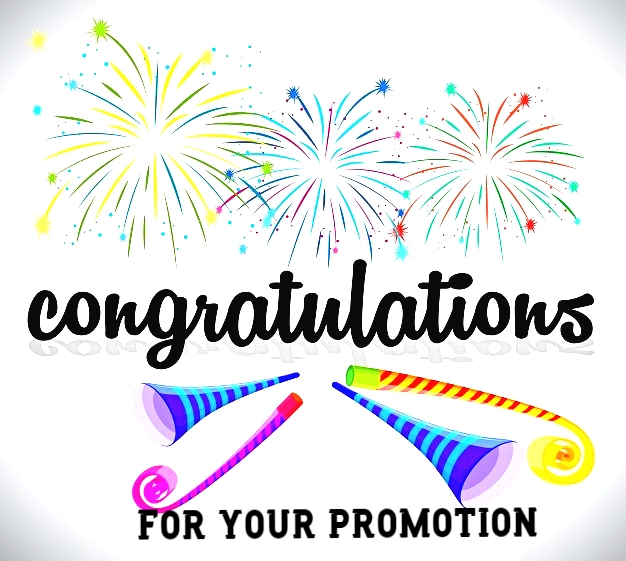 If you are looking for promotion messages for your friends or colleagues or family members, then your search ends here because we have already done this for you.
So, whether it is your sister, brother, friends, boss, or any other person close to you, these messages you can send as per your suit. Pick any and send to on their WhatsApp, Facebook, Twitter, or any other social media.
41. Hearty congratulation for the new position what you dreamt of. May God bless you with many more new position.
42. Many Many congratulations and all the best for your promotion. All we hope that you accomplish everything you want in your life.👍
43. Each and every achievement is proof of your quality. We are very pleased and proud to have an extra-talented co-worker among us. Best wishes for your next journey.
44. Heartiest congratulations my lovely friend for getting promoted. You literally deserve this.
45. We are very happy to hear about your promotion. We all miss a very supportive, nice professional colleague like you alway. Many congrats👌👏
46. Congrats on your new success! I hope the circle of your career keeps rolling on and create a more prosperous story in your life.
47. Have an amazing congrats and good luck with your next approach! We are so ecstatic to hear about your promotion. It is one more wing you added to your success ladder. Keep it up.
48. Many congratulations on your huge achievement! You are a hard and honest man. This promotion is a reward for your hard work. Keep up the good work.
49. Hey, congrats for achieving your dreams. I am very pleased for your success. All the best & congratulations!
50. You chased the promotion like a hungry tiger. Now, it is high time to sit back and relax the fruits of your hard work like a lazy bear. Hearty congratulations!
Congratulation Messages For Graduation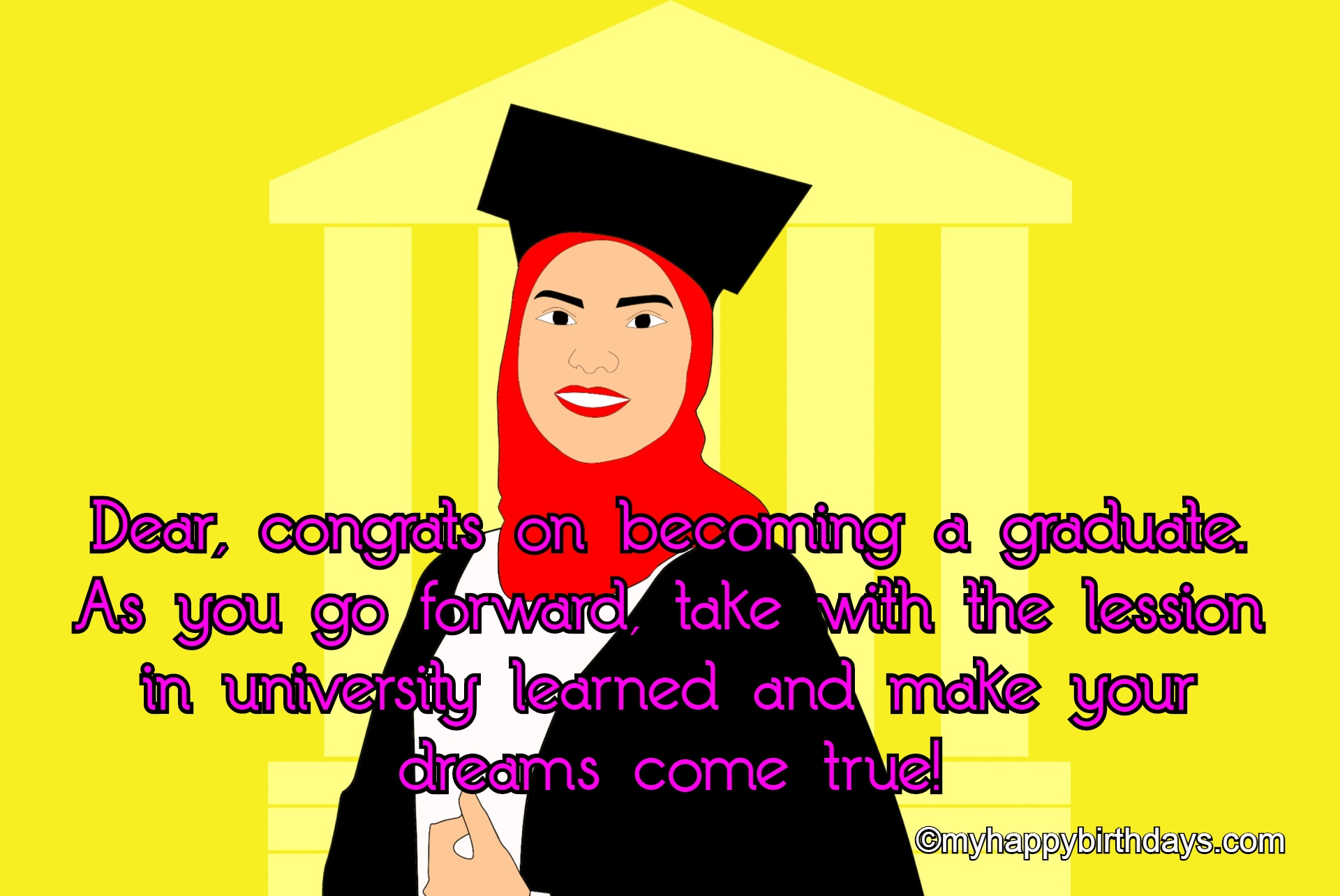 Graduation day is the best day in a student's life after working very hard but at the time, it shows that now the students have to be ready to start a new life with double hard work.
So, if want to congratulate your friends, family, and family members or competing for his/her graduation then you should congratulate by sending across some wonderful messages.
Here are some messages that you will find to share every person you know.
51. You are the best. Really, your grades have proved this. Congratulation for your bright future, dear!
52. Many congratulations on graduating! This is the beginning. you are like a start in the making. Keep on shining.👏
53. It must be a very proud moment for you. All of the hard work you've put in finally has paid off. Congrats!👍
54. You are really an achiever, you have made us all proud. Keep up the awesome work. Heartiest congratulation on your graduation!
55. Now, no one can stop you since you have created a milestone after completing graduation. Congratulations!
56. Very congratulations on this momentous day. You have worked so hard to achieve your goals and now you are on your way to seek new dreams. 👏
57. Warmest congratulations on completing your graduation. I wish you always touch the hight of success!
58. Hearty congratulations on your graduation! I know that this was one of your dreams. I wish all of your future dreams come true as well.
59. Finally, you've reached a major milestone in your life. I am so proud of you for all that you've achieved. Congratulations & best wishes for the future.
60. My feelings of happiness and pride at seeing your graduate has brought tears to my eyes. You've worked so hard and done so well. Hearty congratulations!🎉🤗
Congratulation Messages For A Job
It is very high time to share your friends, student or employees for getting a new job by sending your best wishes.
Also, just a few words of sentences will definitely boost their spirits and excitement to do much better than what they have already done.
So, what are you waiting for? Pick any wishes and send him/her to congratulate them for getting an outstanding job they've obtained.
61. It makes me really happy to watch you chase your dreams and catch them. Congratulations on your new job, dear!
62. Finally, all your hard work has paid off. Warmest congratulation on your new job!👏
63. You always did great things here, and you'll do great things there. Congratulations!
64. Wishing you the best congrats for getting a new job after working hard! It is just the beginning of your career. Your dedication to work will give you much more success!
65. You work ethic and positive attitude have been an asset to this team, & will take you far away in your venture. Heartiest congratulations.👍💥
66. A new job means a new goal, a new world, a new start. May you enjoy this segment of your life! Congrats & good luck for the future!
67. Warm congratulations. May God help you make much stronger enough to fit into your new job place! I believe you will surely prove yourself perfect for this position.
68. Hey, many congrats for the new job life! I utterly believe you will give excellent performance continuously and gain success.
69. May your new job brings new sunlight into your life! All the very best for the big success and future!
70. Very good luck with your employment. But don't stop there, with your resilience, persistence and hard work, you will achieve even more in your new position.
71. Warmest congratulation on achieving a great job! We are sure that all your hard work and dedication won't go waste.🤗