Are you struggling to find missing friends quotes and messages for your bestie? Don't worry, you have landed in the right place. Where we have collected the best collection of cute missing friends quotes for friends.
Friends are our best fellows and our lifeline. They are the true partner in crime to work together as a team. You must have such friends with whom you grew up and shared life experiences.
Along with that, life is not constant. Over time life brings changes as a distance between you and your best friends whether for a job, studies, or death. Sometimes, you wish to relive your old moments and rub off the distance of your true friendship.
For all the friends, who want to keep their friendship bond as strong as it was back in the day. We have come up with heartfelt missing friends quotes and miss-you messages for friends which you can send your friends and show him/her they're emoting even if they are far away from you.
We are sure that after reading these missing friends quotes and messages, you will undoubtedly remind them of how special a place they keep in your heart. Let's get started.
Missing Friends Quotes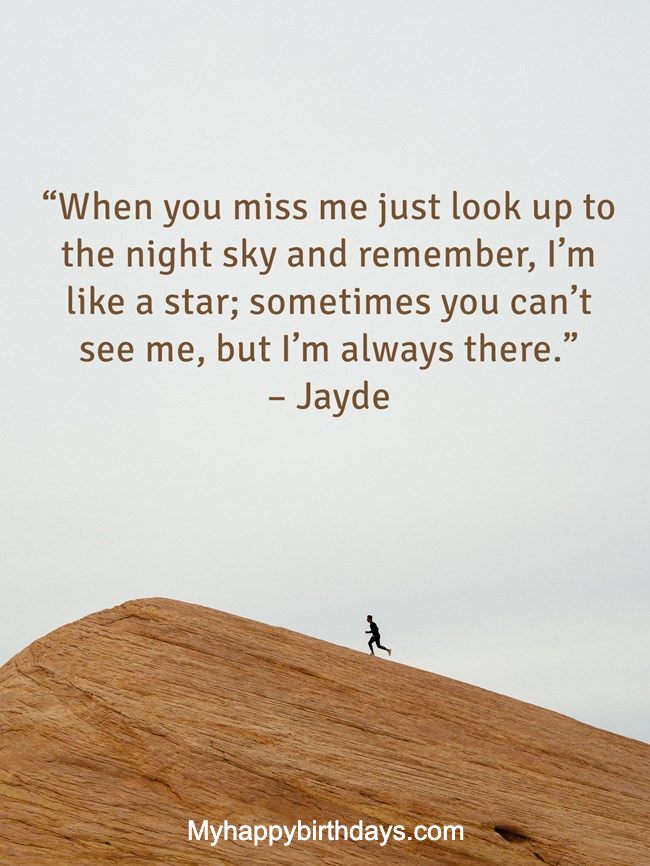 "There are friendships imprinted in our hearts that will never be diminished by time and distance." – Dodinsky
"Missing someone is a part of loving them. If you're never apart, you'll never really know how strong your love is." – Gustave Flaubert
"The worst thing you can do if you miss or need someone is let them know it." – Sarah Dessen
I don't know what they are called, the spaces between seconds – but I think of you always in those intervals." – Salvador Plascencia
"Missing someone and not being able to see them is the worst feeling ever." – Nathanael Richmond
"In times of separation, I affirm that our connection remains intact through spirit. Spirits lead our loving hearts and spirit knows no distance or separation." – Julia Cameron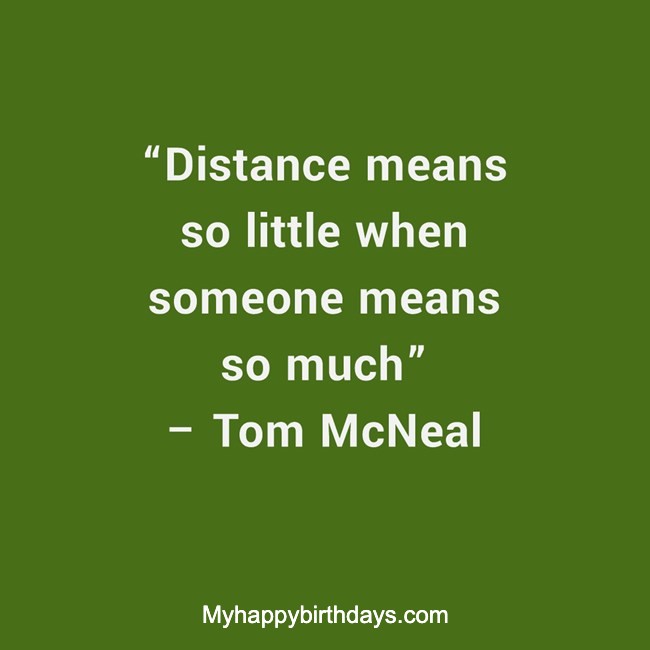 "When you miss me just look up to the night sky and remember, I'm like a star; sometimes you can't see me, but I'm always there." – Jayde
"A friend is someone who knows the song in your heart and can sing it back to you when you have forgotten the words." – C.S. Lewis
Advertisement
"If there ever comes a day when we can't be together, keep me in your heart. I'll stay there forever." – A. A. Milne
"If I had a single flower for every time I think of you, I could walk forever in my garden." – Claudia Grandi
"Distance means so little when someone means so much" – Tom McNeal
"No man is so perfect, so necessary to his friends, as to give them no cause to miss him less." – Jean De La Bruyere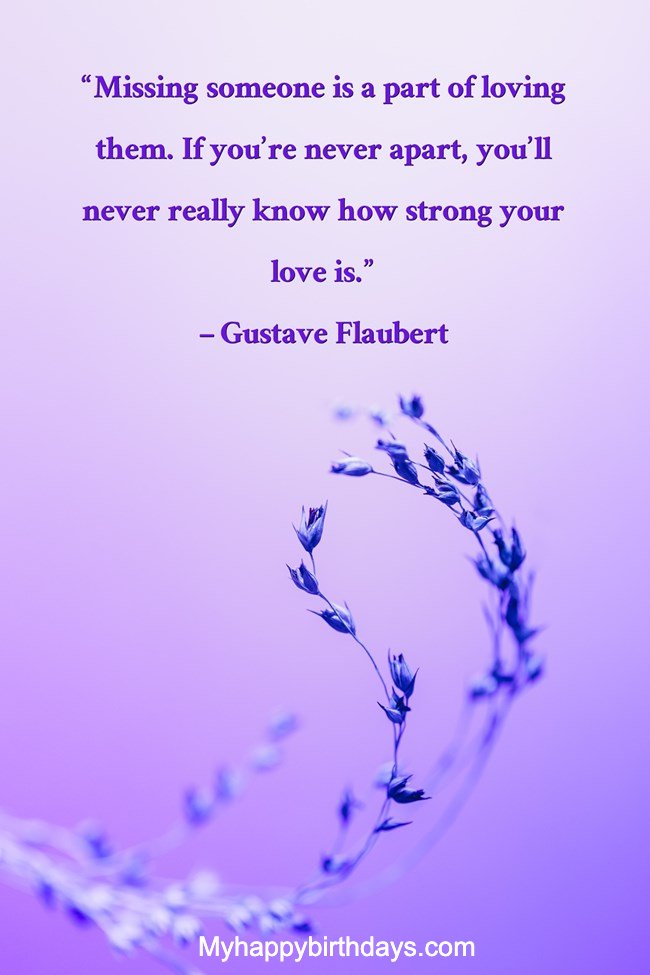 "As contraries are known by contraries, so is the delight of presence best known by the torments of absence." – Alcibiades
"My world is thinning and it's all because of one person I'm missing." – Sanober Khan
"The reason it hurts so much to separate is that our souls" – Nicholas Sparks
"I'm never sad when a friend goes far away because whichever city or country that friend goes to, they turn the place friendly. They turn a suspicious-looking name on the map into a place where a welcome can be found" – Helen Oyeyemi
"And they can't understand, what hurts more-missing the other person, or pretending not to." – Khadija Rupa
"Sometimes, only one person is missing, and the whole world seems depopulated." – Alphonse De Lamartine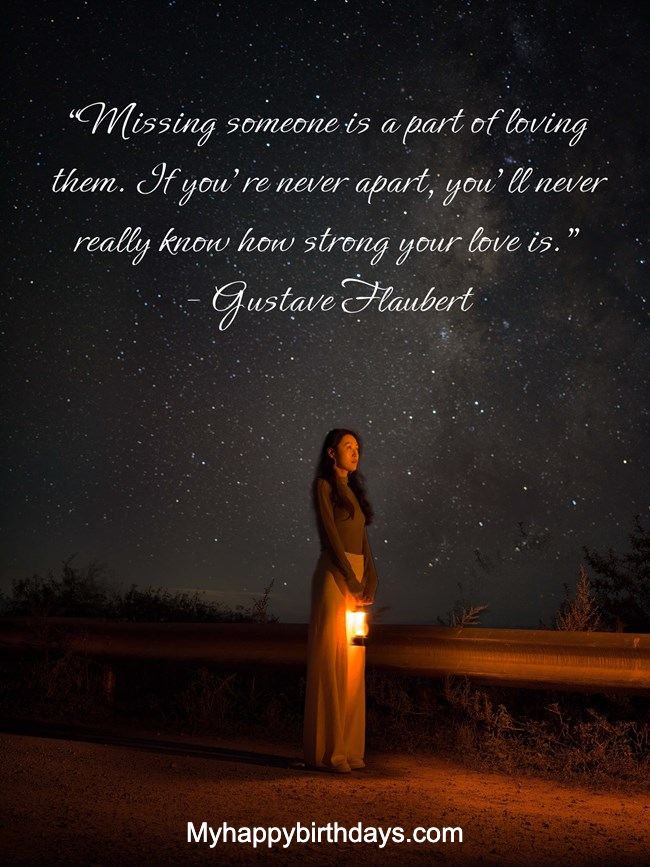 "Missing someone gets easier every day because even though it's one day further from the last time you saw each other, it's one day closer to the next time you will." – Peyton Sawyer
"Each friend represents a world in us, a world possibly not born until they arrive, and it is only by this meeting that a new world is born." – Anaïs Nin
"Missing someone is a part of loving them. If you're never apart, you'll never really know how strong your love is." – Helen Fielding
"Missing someone doesn't always mean you need to have them back in your life. Sometimes you just feel their absence in present." – Anurag Prakash Ray
"Your absence has gone through me like a thread through a needle. Everything I do is stitched with its color." – W.S. Merwin
"When I miss you, sometimes I listen to music or look at pictures of you, not to remind me of you but to make me feel as if I'm with you. It makes me forget the distance and capture you." – LeBron James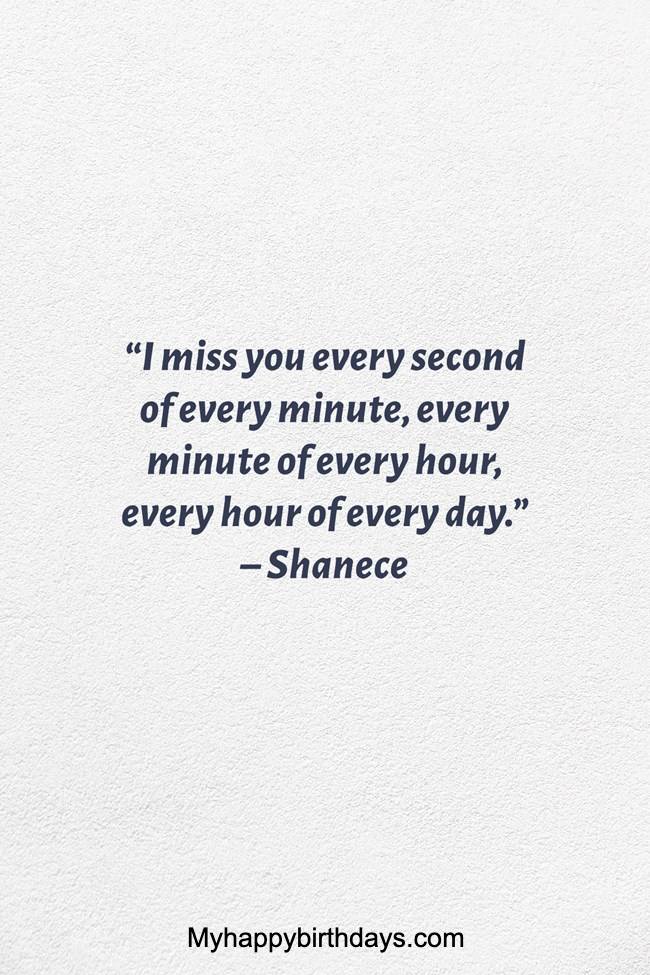 "I miss you deeply, unfathomably, senselessly, terribly." – Franz Kafka
"I don't cry because we've been separated by distance, and for a matter of years. Why? Because for as long as we share the same sky and breathe the same air, we're still together." – Donna Lynn Hope
"The distinction between PRICELESS and WORTHLESS… is the distinction between life with you and life without you. I miss you, homie."
"What is the opposite of two? A lonely me, a lonely you." – Richard Wilbur
"I miss you every second of every minute, every minute of every hour, every hour of every day." – Shanece
"I keep myself busy with the things I do, but every time I pause, I still think of you." – Cecelia Ahern
"When we miss someone, often, what we really miss is the part of us that this someone awakens." – Luigina Sgarro
"Can miles truly separate you from friends…If you want to be with someone you love, aren't you already there?" – Richard Bach
Miss You Messages For Friends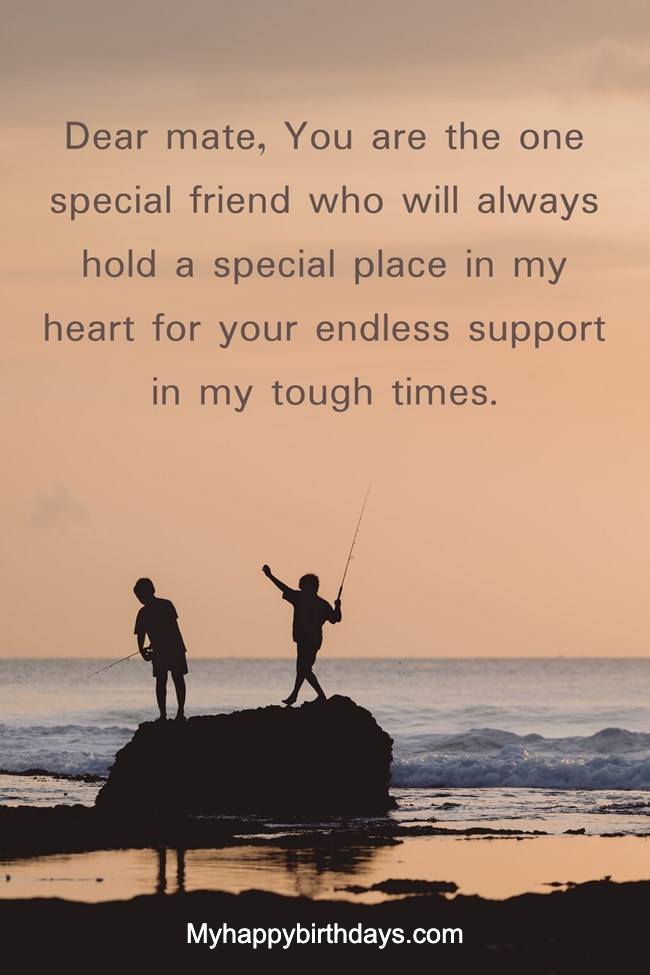 When you are not around me, I feel very low all the time. I miss you, dear friend.
Missing you all my friends. Life doesn't feel good without you all.
Distance and miles don't matter to me at all. All I wish to say is that from the bottom of my heart, I am missing you every minute of the day.
I am missing the old days I spent with you guys. Those moments were so amazing when we used to bunk the classes.
Dear mate, You are the one special friend who will always hold a special place in my heart for your endless support in my tough times.
There is nothing more painful than missing my friends whom I am not able to see physically
You made me a completely mature person as I was not initially and taught me the true nature of true friendship. Thank you for giving me so many fond memories to cherish for a lifetime. I miss you so much, dearest friend!
Dear buddy, when you are with me, time flies away in no time. When you are not here, every second seems like a day. I miss you, friend.
Since I met you have turned my monotonous life into happiness. I miss you.
I can't express the valuable memories I experienced. Whenever I scroll through my phone's gallery I miss you more than anything. Just be you.
Miss You Messages For Best Friend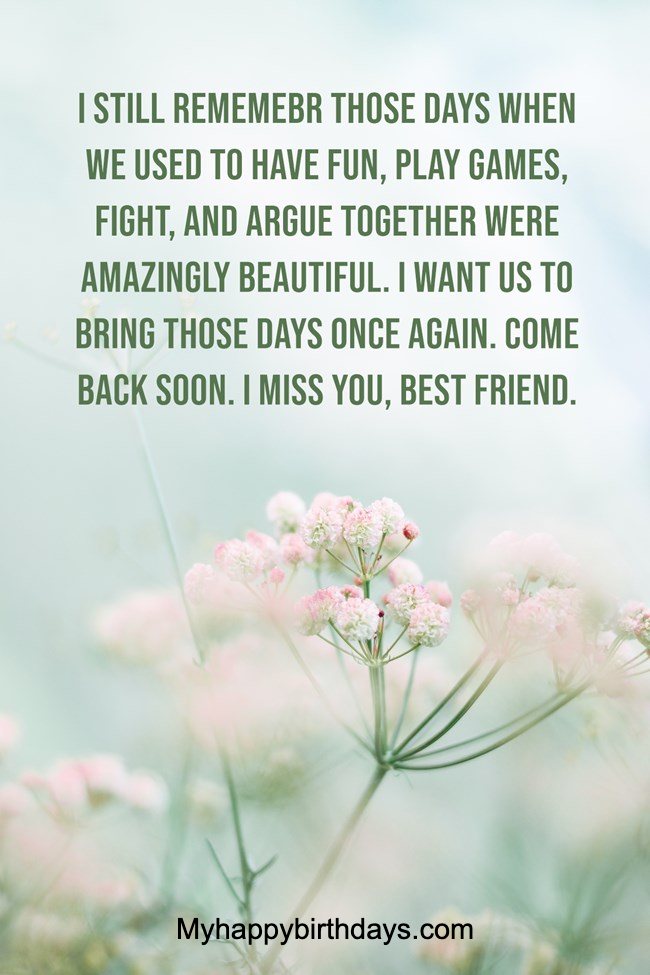 You have been a great partner in crime since nursery class. I wish to recreate that moment. Let's meet soon, bestie.
There are thousands of friends with whom I can enjoy, but you will be exceptional. Because you are my one and only bosom friend. I am missing you so much, friend.
The real test of our friendship is not how much we enjoy when we are together but how much we miss each other which is important when we are not together. I have surely passed this test as I miss you more than you. Please come back soon to have fun.
I still remember those days when we used to have fun, play games, fight, and argue together were amazingly beautiful. I want us to bring those days once again. Come back soon. I miss you, best friend.
I am missing you greatly, best buddy! The memories we have shared together, are irreplaceable.
Hey, besties, however, you are just one message away from Twitter, Facebook, and WhatsApp, but I wish you were just one hug away. I miss you desperately and wait to come back sooner.
Final Words
Sharing missing friends quotes and messages with your best friend is a great way to reminisce about those days when you were together in your school or college times. Your friends are the medicine to forget all the negativity and stress in this hassle and bustle of life. Your friends are the ones who can bear our boast about everything. Your friends are the ones with whom you have shared all the childhood secret memories that you don't share with your family till now. Your friends want how much you miss them after parting ways. For this, we have rounded up a great collection of missing friends' quotes and messages that you can share with them and highlight your old memories