You can feel a bit boring after a long week but at the same time, Thursday mornings are often considered a pleasant experience for many people who wait for the weekend to arrive.
Also, Thursdays are the best time to light up your mood, bring refreshing vibes, and peace to your mind as the week is over. Make the most of this day with a positive mindset so that you can look forward to an awesome weekend.
Send our best positive collection of Thursday quotes, wishes, messages, images, greetings to your loved ones to feel good about Thursday.
Here are some motivational and inspiring Thursday quotes and wishes that you can share with your dear ones.
Happy Thursday Wishes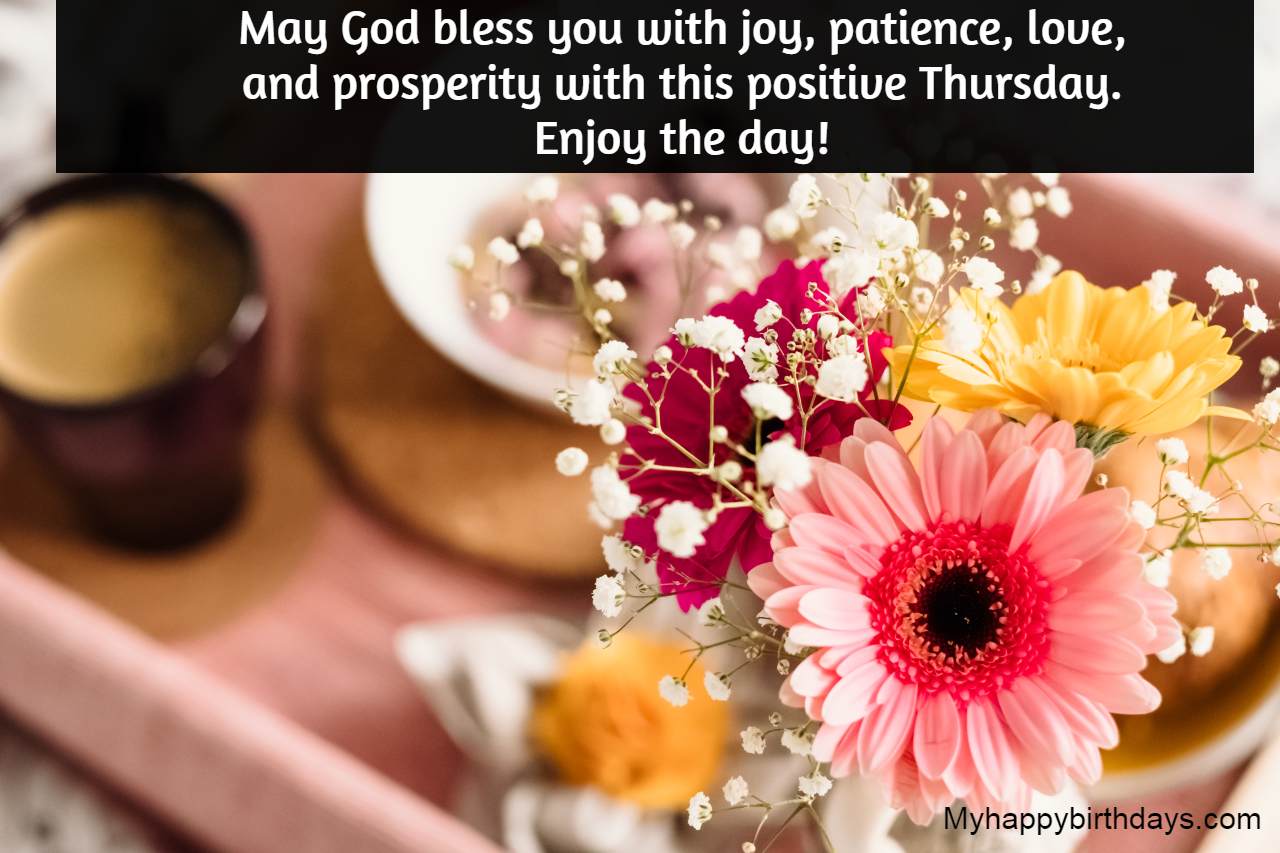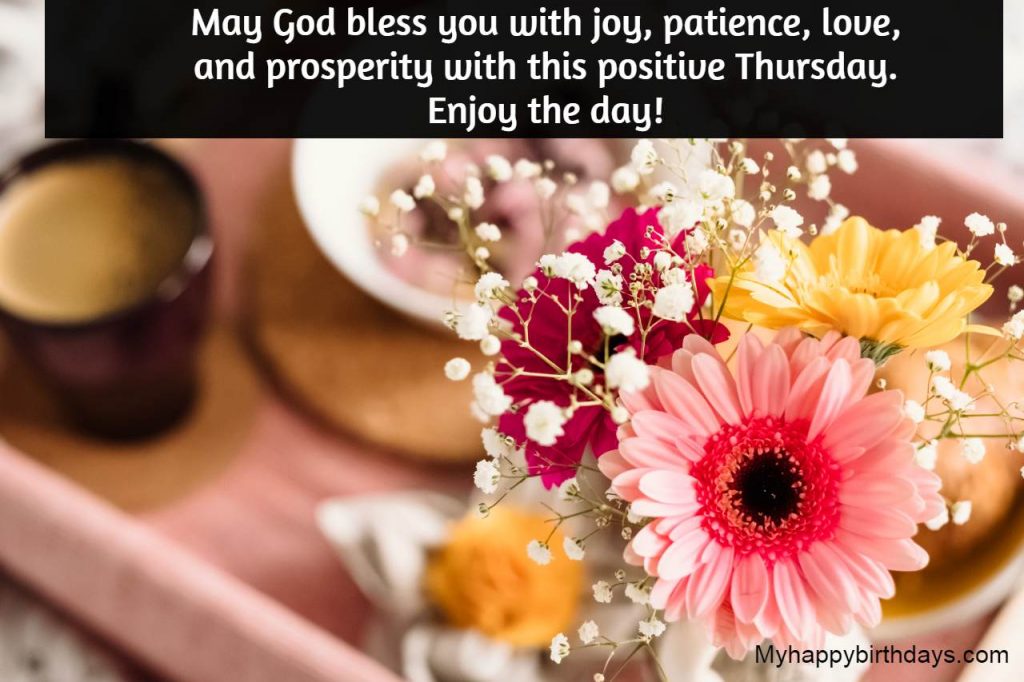 May this Thursday bring joy and happiness throughout the day and make your heart feel relaxed. Be positive, happy, and brave. Have a positive Thursday!
Bearing Thursdays are one of the most troublesome tasks. You keenly wait for the weekend to enjoy. May your Thursday go very well. Happy Thursday!
Have a great Thursday, dear friend! Embrace your problems and decisions with calm and peace. Use your inner intelligence to figure out and make a smart decision for yourself.
May God bless you with joy, patience, love, and prosperity with this positive Thursday. Enjoy the day!
A Thursday gives you energy and hope because you have survived this week and are almost ready to welcome the weekend. Have an amazing Thursday.
I hope your Thursday is as fantastic as you are. Sending you heartwarming good morning Thursday Wishes.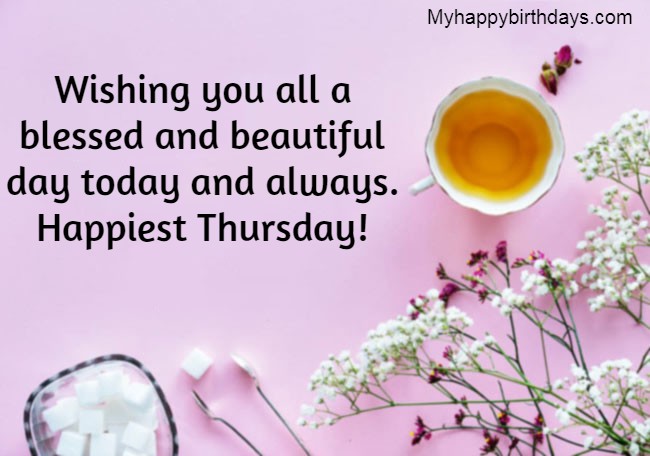 May your day be super, colorful, and filled with blessings from Almighty. May God bless you with everything. Happiest Thursday!
Be always grateful for everything you have and work for everything you wish for. Sending you warm happy Thursday wishes.
What a beautiful day. Get up and enjoy the best sunshine. Have an awesome Thursday!
Advertisement
Be in love with each moment of what life offers you, whether it is a Thursday or Friday. Wishing you a fantastic Thursday full of happiness!
Blessing for a beautiful day of peace and love, and the sweet presence of the lord. Have a blessed Thursday.
One small positive thinking in the morning can make a difference your entire day. Happy Thursday!
You May Also Like – Sunday Quotes
Happy Thursday Quotes | Thankful Thursday Quotes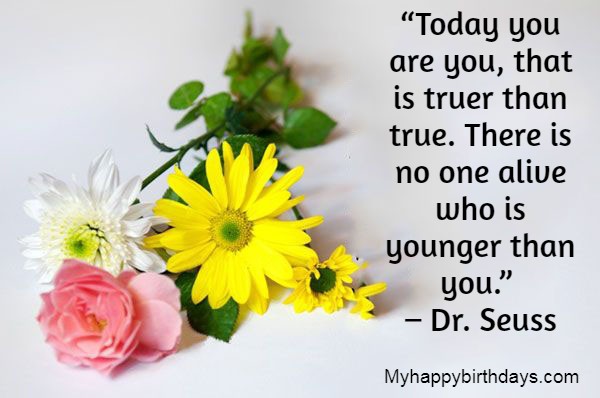 "Some people call it Thursday, I like to call it Friday Eve." – Unknown
"Happy Thursday! Greet your problems and decisions with peace and calm. Use your inner wisdom to evaluate and make smart decisions for yourself! You got this." – Tracey Edmonds
"I wish you a tolerable Thursday. That's all any of us can hope for." – April Winchell
"Thursday, I forecast as mostly sunny. It's a much-needed break." – John Farley
"Today you are you, that is truer than true. There is no one alive who is younger than you." – Dr. Seuss
"Today is a new day. Expect great things." – Unknown
"Happy Thursday! Life at work and at home is so much HAPPIER when you speak and act with kindness. Share a smile and make it a great day." – Tracey Edmonds
"Better days are just around the corner. They are called Friday, Saturday, and Sunday." – Unknown
"If 40 is the new 30 and 50 is the new 40, why can't Thursday be the new Friday?" – Unknown
"I'm from Canada, so Thanksgiving to me is just Thursday with more food. And I'm thankful for that." – Howie Mandel
"Thursday-Nothing is more pleasurable than opening our eyes and realizing that every day, God gives us a chance to try again. Of not looking back. To love, smile and live." – Unknown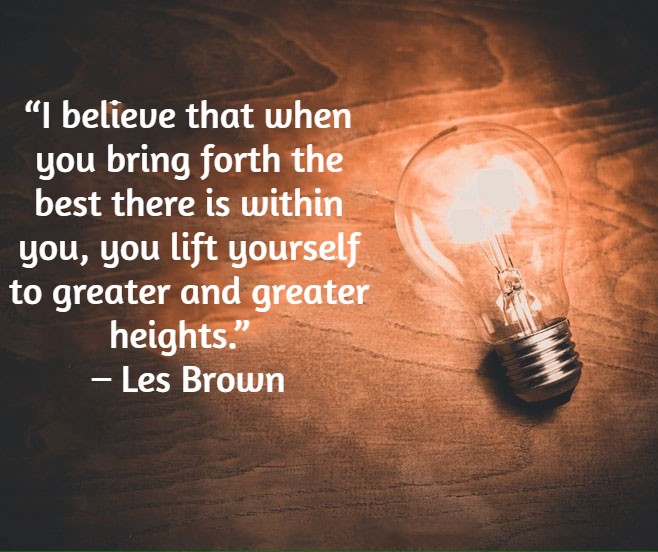 "We did what we are supposed to. We protected home. We have to try to do it again Thursday night." – LeBron James
"Lesson one in time travel, Thursday. First of all, we are all-time travelers. The vast majority of us manage only one day per day." – Jasper Fforde
If I love you Wednesday, What is that to you? I do not love you Thursday – so much is true. – Edna St. Vincent Millay
"Believe in yourself, push your limits, and do whatever it takes to conquer your goals." – Unknown
"The day is what you make it! so why not make it a great one." – Unknown
"Successful people keep moving. They make mistakes, but they don't quit." – Conrad Hilton
"Happy Thursday! Life at work and at home is so much happier when you speak and act with kindness! Share a smile and make it a great day." – Tracey Edmonds
"Don't count the days. Make the days count." – Muhammad Ali
"You are here to bring hope and enrichment for others so that they too are inspired to greater heights with your vision of a better world." – Ernie J Zelinski
"Thursday is the end day in the weekend. Today you are so tired, will think about how your week was, and how will go on Thursday. With everything that has happened to you, you can either feel sorry for yourself or treat what has happened as a gift. Everything." – Wayne Dyer
"Be patient with yourself. Self-growth is tender; it's holy ground. There's no greater investment."– Stephen Covey
"Dear Thursday are you sure you're not Friday? Because I could really go for it being Friday today!" – Unknown
"On Mondays, Wednesdays, and Fridays we use the wave theory; on Tuesdays, Thursdays, and Saturdays we think in streams of flying energy quanta or corpuscles." – William Henry Bragg
"And whether it is Thursday or the day is stormy, with thunder and rain, or the birds attack each other, We have rolled into another dream." – John Ashbery
"I wonder how to turn water into wine. Happy thirsty Thursday." – Unknown
"Thursday come, and the week's gone." – George Herbert
"Make each day your masterpiece." – John Wooden
"It's Thursday and it really feels like a Thursday. Sometimes things just work out." – Demetri Martin
"I believe that when you bring forth the best there is within you, you lift yourself to greater and greater heights." – Les Brown
"Successful people keep moving. They make mistakes, but they don't quit." – Conrad Hilton
"Be happy with what you have while working for what you want." – Helen Keller
"Dream is not that which you see while sleeping it is something that does not let you sleep." – APJ Abdul Kalam
"This must be Thursday. I never could get the hang of Thursdays." – Douglas Adams
"Thursday is perhaps the worst day of the week. It's nothing in itself; it just reminds you that the week has been going on too long." – Nicci French
Happy Thursday Morning Wishes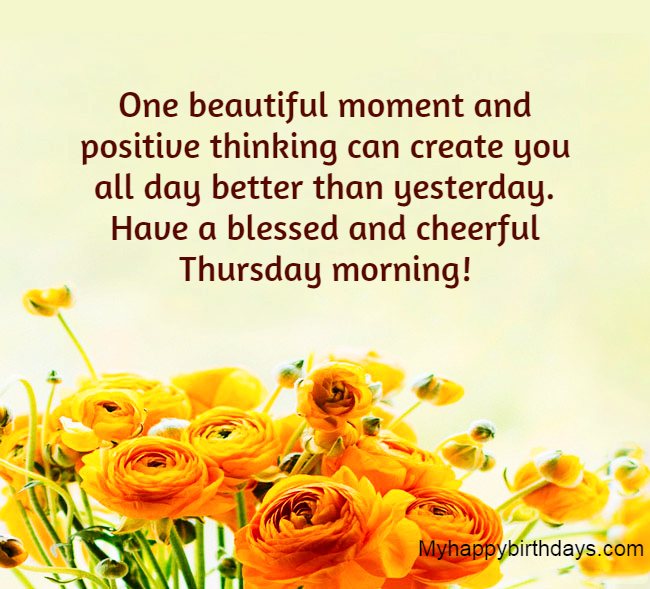 Have super grateful to God for giving you the opportunity to enjoy the beautiful day and waking you up. Have an awesome Thursday morning. May God bless you with good wealth and health.
What a blissful day you have got. So, get up and enjoy the best sunshine. May you have an amazing Thursday!
Life becomes much easier when you begin loving yourself and stop trying to make everyone happy. Always become the best version of yourself and everything will come along. Happiest Thursday morning!
Welcome the new day with your open arms. Allow the positive thoughts to flow and accomplish your target for the day. I wish you happy Thursday greetings!
One beautiful moment and positive thinking can create you all day better than yesterday. Have a blessed and cheerful Thursday morning!
May your day be blessed with joy and happiness as the sun shines its rays. Wishing you warm happy Thursday wishes!
Wishing you the best Thursday morning with lots of God's blessings. May all the positive thoughts stay in your mind and help you achieve all your goals in life. Happy morning and have a great Thursday ahead!
Funny Thursday Wishes
Give your inner soul some rest and occupy the moment with your charm. Have a happy Friday, oh, sorry, It's Thursday. Don't cry.
Dear friend, Thursday is a reminder that a weekend is yet to come, and you still have a lot of crap to cope up with.
No offense at all but the most useless day of the day week is Thursday because it is a continuous reminder that it has been a long week but still is away.
No one can make your Friday worst when you came to know it's still Thursday.
The day for what you make of it. So, now it's your choice whether you are going to cry out as It's not the weekend yet, or going work your best to get what you desire.
Final Words
Thursday is the day that helps you prepare for the upcoming weekend where you forget about all your workloads and enjoy your valuable time with your family, friends, and loved ones. I hope you love these motivational Happy Thursday quotes and wishes collection to send with your family, friends, and loved ones to make them feel good about themselves.