Lohri Wishes – The festival of Lohri is celebrated on 13th January every year before Makar Sankranti or Pongal Festival and is enjoyed by all people. This festival has some energy and whenever this fest comes closer, bring always love and happiness.
On this auspicious festival, people send best their best Lohri wishes and greet each other with gifts and sweets with great zeal. Lohri is a Punchabi festival that is celebrated by all people before Makar Sankranti in northern states like Delhi, Haryana, and Punjab by accumulating a few pieces of wood at a specific place and they fire this wood at midnight.
There are many people who celebrate this festive by playing DHOL in the evening, dance, and signing to it. The festival of Lohri is celebrated in the autumn season and is considered by many people that mark the end of the winter solstice.
On this festive day, all the children come forward to collect money and Lohri at their own local places by throwing and eating Popcorn, Sweets, and Moongfali around the bonfire.
If you are one of those who want to greet your elders, friends, relatives, and small ones with the best Happy Lohri Wishes, you are in the right place. We have brought you the Lohri messages, quotes images, and wishes where you can choose the best one and send it to your loved ones this Lohri.
Happy Lohri Wishes 2023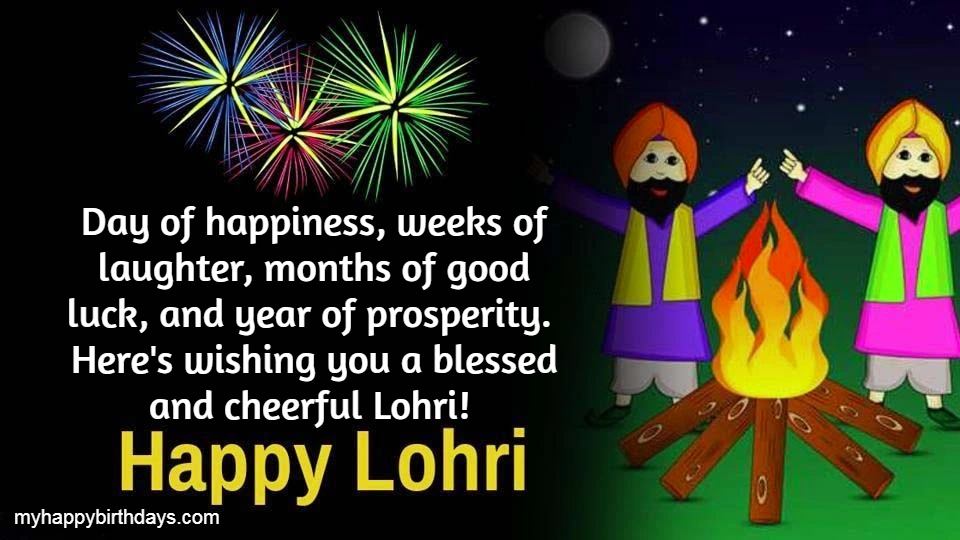 May the fire of Lohri burn away all the moments of grief and enlighten your world with the warmth of happiness, love, and joy.

At this Lohri Festival, I wish you all the prosperity and peace and bring endless happiness to you and your family. Wish you a blessed Lohri!

May this festival of enthusiasm and verve fill your life with gusto and energy and may it help you bring love, prosperity, happiness to you and your loved ones' life.

Let's celebrate this Lohri to the fullest and share the sweetness of love with moongfali, rewri, popcorn, and spread the happiness around. The Happiest Lohri!

We hope this Lohri festival, You get connected with your family and friends, and May God gives you a lot of opportunities for future endeavors. Happy Lohri!

Having a real and true friend in life is like a blessing. It's an assurance that whatever the challenges come, we will not face them alone Have an outstanding Lohri!

I hope this grand celebration Lohri completes your life with lots of joy and love. Wish you a very blessed Happy Lohri!

It's time to dance and play the Punjabi music on the tunes of the drum this Lohri, and share laughter and smile with all. Happy Lohri!

I wish and pray that this Lohri brings the best of best opportunities on your way to explore every joy of your life, turning all your efforts and dreams into reality with huge achievements.
Advertisement

My best wishes for a better life from my side to your dear friend, you are the only one greatest true friend who always motivates and supports me in every way of life. May this Lohri bring beautiful moments and everything. Have a splendid Lohri and lots of love!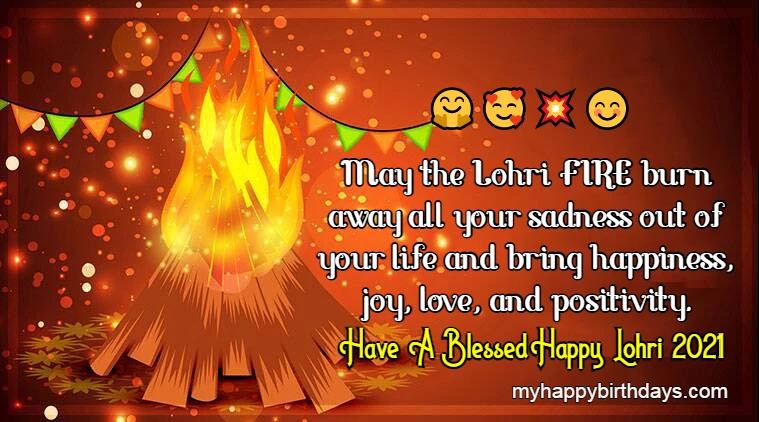 Spread the happiness and peace of Lohri all around. Hope your day is full of fun, excitement, and fond-moments. Happy Lohri to one and all!

Wishing you the happiest Lohri to all! We hope the holy bonfire gives you warmth and divine guidance this Lohri.

May this auspicious day bring lots of prosperity, success, laughter, and happiness to your home, and may you get everything you desired for. Happy Lohri to you and your family!

We hope the deliciousness of the taste of makke ki roti and Sarson ka saag brings you loads of happiness, success, and prosperity in this auspicious festival. Happy and blessed Lohri!

Wishing you the harvest season that brings Good health and lifelong fellowship. Happy Lohri!

Happy Lohri Wishes in Hindi and Punjabi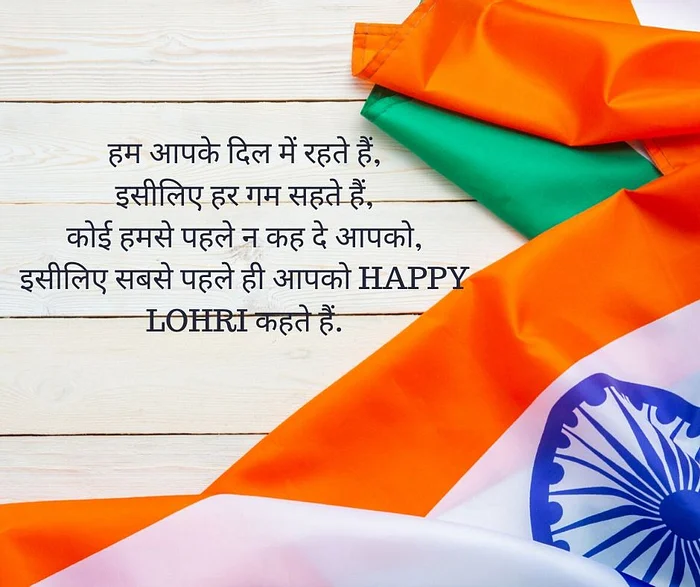 लोहड़ी की आग आपके दुखों को जला दे, और आग की रौशनी आपकी ज़िंदगी में उजाला भर दे। लोहड़ी की शुभकामनाएं।

याद रखा करो दिल में हमारी; चाहे रखा करो थोड़ी दोस्तों; हमने आपको पहले विश करना है; हमारी तरफ से हैप्पी लोहड़ी दोस्तों। हैप्पी लोहड़ी।

बोल तुझे इस लोहड़ी पर क्या इनाम दूँ, तुझको अपनी दोस्ती या फिर जान वार दूँ, मोटरसाइकिल, कार या फिर फरारी कार दूँ , इतना बहुत है या फिर 2-3 झूठ और बोल दूँ,

इससे पहले लोहड़ी की शाम न हो जाये, मेरा मैसेज आपके लिए कहीं आम न हो जाये, और मोबाइल के सारे टावर कहीं जाम न हो जाए, आओ चलो हम सब इस लोहड़ी पर कुछ अच्छा काम कर जाए।

इस लोहड़ी की थरथराहट में मूंगफली, रेवड़ी, और गुड़ की मिठास के साथ, आप सभी को मुबारक हो यह लोहड़ी का त्यौहार। लोहड़ी की हार्दिक शुभकामनाएं सभी को।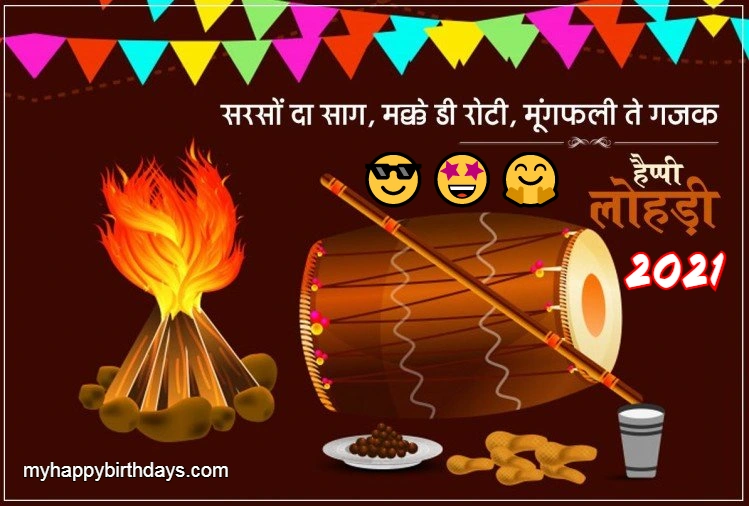 लोहड़ी आई, लोहड़ी आई, देखो अपने संग ये खुशियां लाई, हमने इस दिन गच्चक और रेवड़ी खाई, देखो आज लोहड़ी आई, लोहड़ी का तो अंदाज ही निराला है,आप सब को विश कर डाला है।

लोहड़ी की आग में दहन हो सरे गम, खुशियां आएं आपके के जीवन में हर दम, लोहड़ी की हार्दिक शुभकामनाएं।

हवाओं के साथ अरमान भेजा है, नेटवर्क के जरिए पैगाम भेजा है, फुर्सत मिले तो कबूल कर लेना, लोहड़ी का पैगाम भेजा है। हैप्पी लोहड़ी।

आया आया लोहड़ी दिन ये आया, सभी दोस्तो के लिए खुशियां लाया, सब नाचेंगे और मस्ती करेंगे, देखो सब ये लोहड़ी का त्यौहार है आया। Happy Lohri 2023

लोहड़ी आई, लोहड़ी आई, देखो अपने संग ये खुशियां लाई, हमने इस दिन गच्चक और रेवड़ी खाई, देखो आज लोहड़ी आई, लोहड़ी का तो अंदाज ही निराला है, आप सब को विश कर डाला है।

ट्विंकल ट्विंकल यररं दी कार,
खड़के ग्लॉसी इन द बार,
पंजाबी भांगरा ते चिकन फ्राई,
तुहानू लोहड़ी दी सब तो पहले वधाईयाँ।

हैप्पी लोहड़ी वेखेया साडी यारी,
सवेरे सवेरे ही विश मारी,
सवारे एननू कहंदे ने होशियारी,
हुन विश कारन दी तुहाडी है वारी।

Happy Lohri Images and Wallpaper