Last updated on June 24th, 2020 at 12:28 pm
Happy Holi Messages
Happy Holi Wishes 2020 – As we know that Holi is the festival of colors a feast of sweets, which is one of the best festivals celebrated in India. It is high time to meet our loved ones who care and close to our hearts with splashing colors.
It is a great opportunity to celebrate this vibrant festival with friends and family. Relish the savory taste of gujiya and sweet by adding love to it. I hope, these Happy Holi Wishes to make your life filled with immense love, humanity, and colors. Celebrate this colorful festival by sharing love, respect, happiness affection, sweets, and peace with your beloved.
When it comes to Holi's story, this is a religious festival celebrated by Hindus in most parts of India after the full moon in early March every year. It is also believed as the festival of colors and as a second biggest festival on the Hindu calendar after Diwali. Holi Wishes Festival comes once a year that is popular for ubiquitous color powder and fun.
Even Holi is one of the best occasions to enjoy and experience the dance of the best Bollywood songs with near and dear ones. Also, Holi is not only a festive to play with colors and throw but it's also a day to spend quality time with friends, family, and loved ones in order to get away the animosity and anger from your lives.
Send these colorful Happy Holi Wishes quotes, messages to your near and dear ones with some amazing Holi pictures from our great collection of Holi wishes.
Happy Holi Wishes To All 2020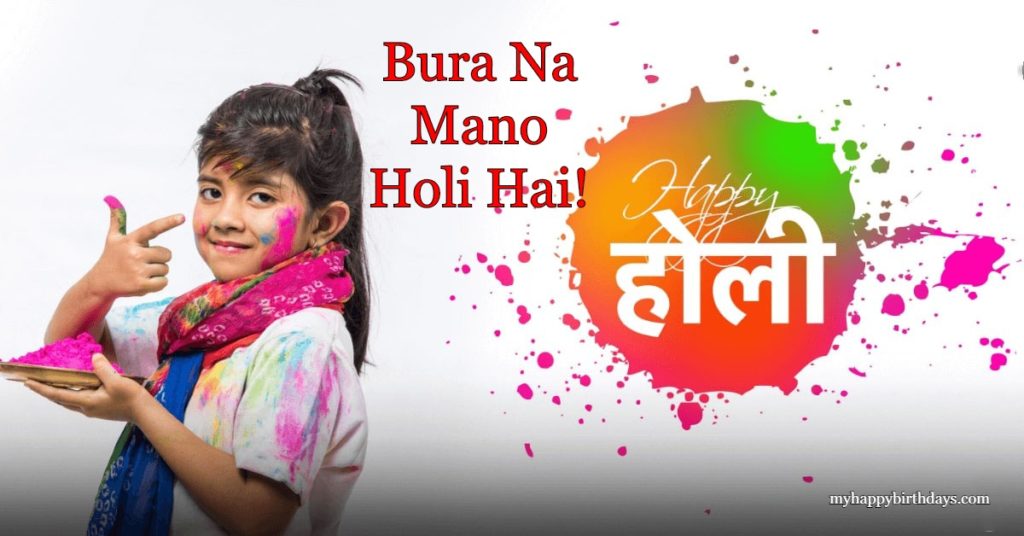 May the colors of Holi spread gaiety, peace, love, and happiness all around. We wish you a blessed Holi and year!
Wishing you the best Holi of the year! I hope you have a colorful life and colorful day with all kinds of right twists in the color.
May the Holi colors bring happiness and joy within your family. Have a colorful Holi!
My best Holi wishes to your family filled with sweet memories and moments to cherish for long. Happy Holi, dear!
Holi is an appropriate time to celebrate the colors of our wonderful relationship. Have a fantastic Happy Holi.
May this colorful festival brings the ultimate colors of joy in your life and makes you excited for the next adventure in your life. Happy Holi to all!
May God give you all the love and colors of life, colors of happiness, colors of joy, colors of friendship, colors of peace, and all other colors you want to paint your life in. Happy Holi!
I am sending you wisdom with yellow, friendship with pink, love with red, and new beginnings with green. Have a joyful and colorful Holi!
Holi is the festival of togetherness and love. Enjoy the day to the fullest, Wishing you a very Happy Holi!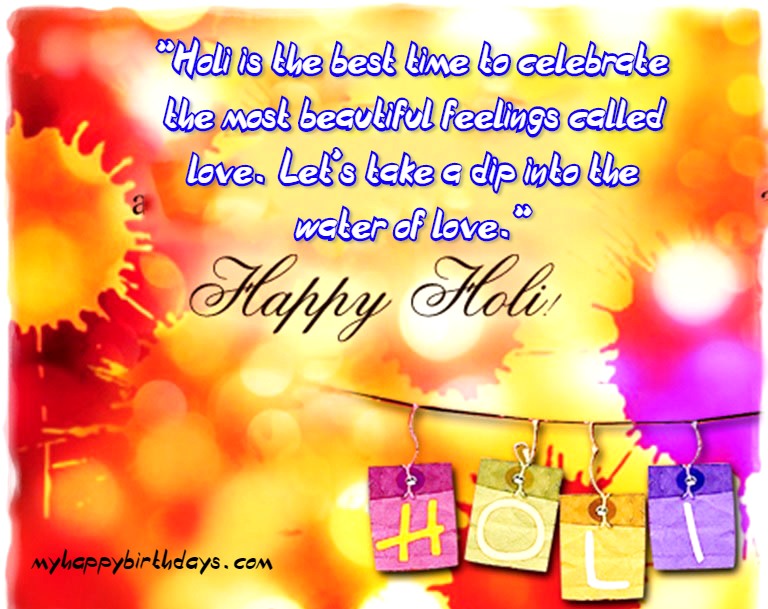 May this festival of colors fill all the colors in your life. I wish you a colorful and Happy Holi!
Let's throw the colors out in the air and renew our love with a little bit of romantic color. Happy Holi!
Wishing you prosperity and good health. May God shower on you so many blessings on the auspicious occasion of Holi. Have the best Holi, sweetheart !
This is the best time of the year finally has arrived. It's Holi time, dear, let me color you with all the wonderful and unique colors and ensure that you enjoy it to the best. Happy & safe Holi!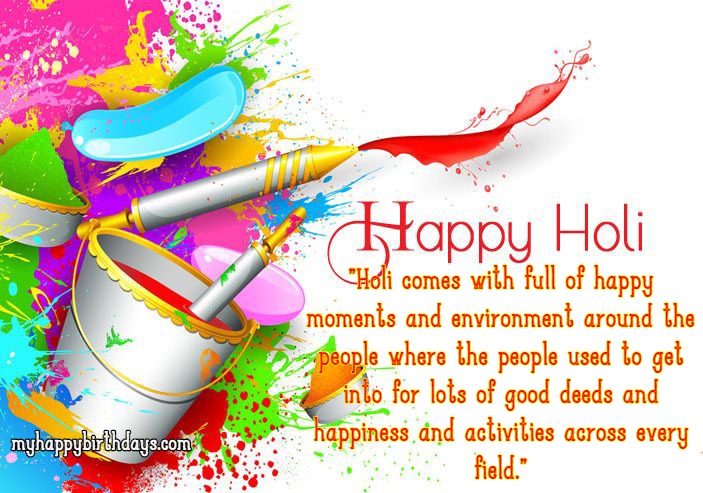 May God keep your life colored with colors of fun, laughter, and immense happiness. Happy Holi!
Water pistols, amazing songs, water, beautiful songs, and delicious gujiyas are one of the main ingredients for a perfect Holi. Happy Holi!
I/we wish you immeasurable moments of happiness, love, and peace this festival season. Have a wonderful happy Holi, dear friend!
Express your deep love with the colors of Holi and make you love with colors of love. Happy Holi to all!
May all the 7 colors of the rainbow bring together this Holi & bless your life with fun and joy. Have a great Happy Holi!
May this colorful Holi be the beginning of peace, happiness, and prosperity. Wishing you a very and safe Holi!
This 2020 Holi may bring loads of colorful seasons and days in your life filled with lots of love and happiness. Wishing you the best Happy Holi of the year!
May you get drenched in the lovely colors of Holi. Wishing you a very best and colorful Holi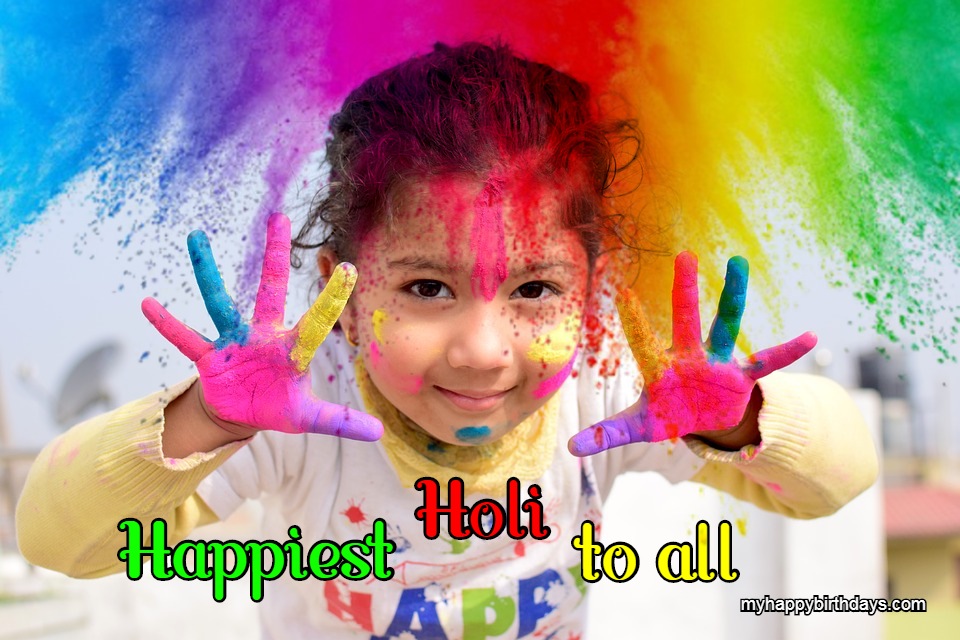 Spread the colors of happiness, gaiety, and love around you. Happy Holi!
With the best hope that your life is framed with all the lovely colors of the rainbow, making your life happy. I am wishing you the happiest Holi.
It's the time to alleviate the stress and to make a bond with thandai, sweets. and colors. Have a blast! Happy Holi!
Wishing you this colorful festival full of frolic and fun. Do dance like crazy and eat gujiyas. Happy Holi!
May this Holi bring us best wishes and our friendship continue to grow.
We hope your life filled with fragrant colors of friendship, happiness, and love. Happiest Holi and the best year ahead!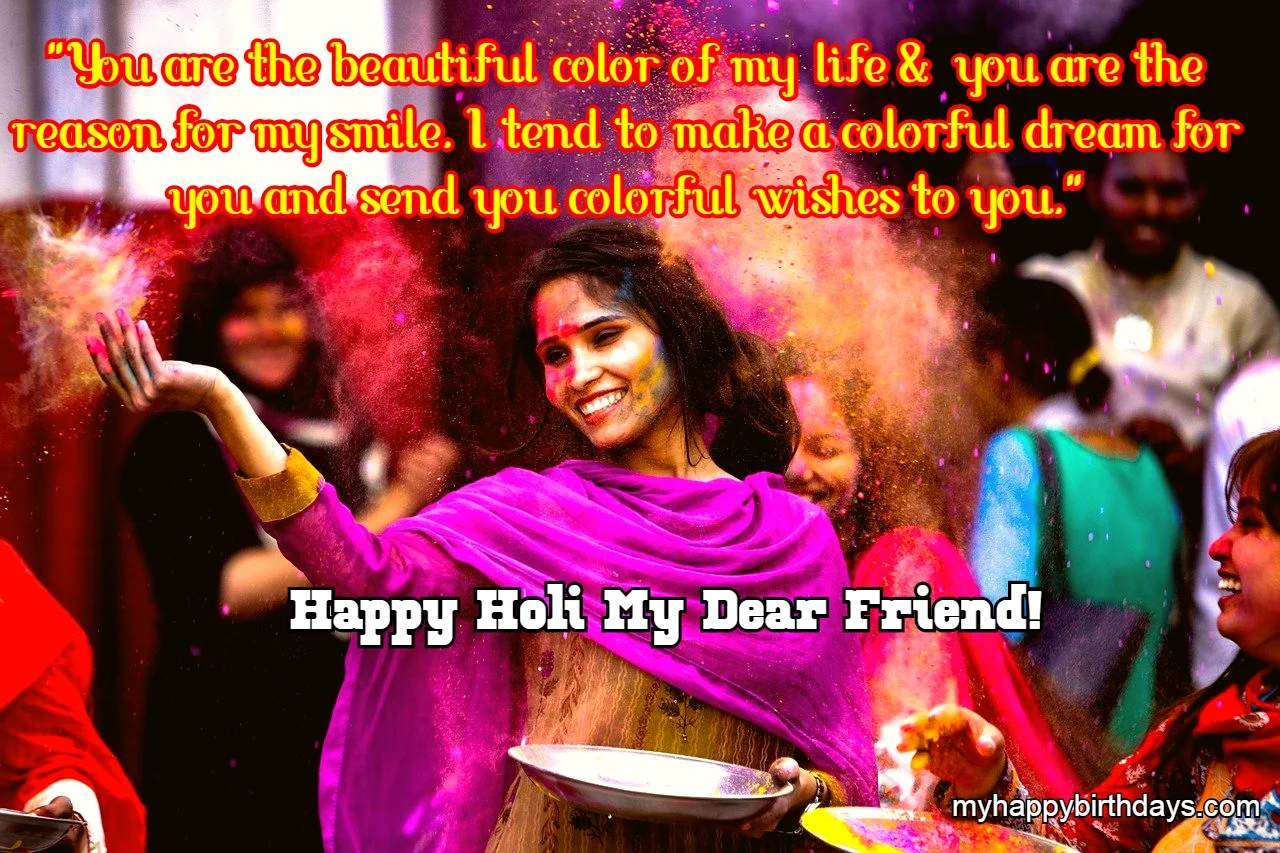 May God fulfill all your dreams come and guide you in your journey towards success. Wishing you an awesome and safe Holi!
Enjoy colors on Holi and the rest of the day with colors of love and peace. Happiest Holi to you and your family.
May the colors of Holi festival make your life as happy and colorful as they are. I/we wish you a very happy Holi, dear!
New-Wishing you and your family happy Holi. We wish you good luck with the business, health, wealth, love, peace, and achievements ar this prismatic color.
Professional Holi Wishes (Boss)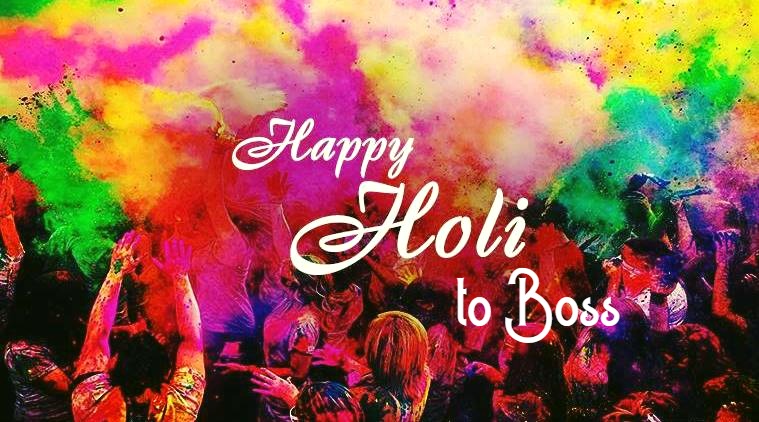 Holi wishes are not only words but also carry the deepest emotions within you. The Holi set up an emotional connection with your lovely boss by sending him/her the happy Holi wishes. Make your relationship much stronger with your boss by sending the best wishes collection below!.
It's time to strengthen our ties with new bonds & initiatives. Happy Holi to a dear boss!
Dear boss, may the splash of Holi color light up your life with health, wealth, and prosperity. Happy Holi!
I always feel very happy whenever Holi comes as Holi gives me wings to fly in the air with all the lovely colors of the festival. Happy Holi, boos!
You are so talented boss, I wish to apply some colors on you for making you a more beautiful person on this Holi. Happy Holi, sir!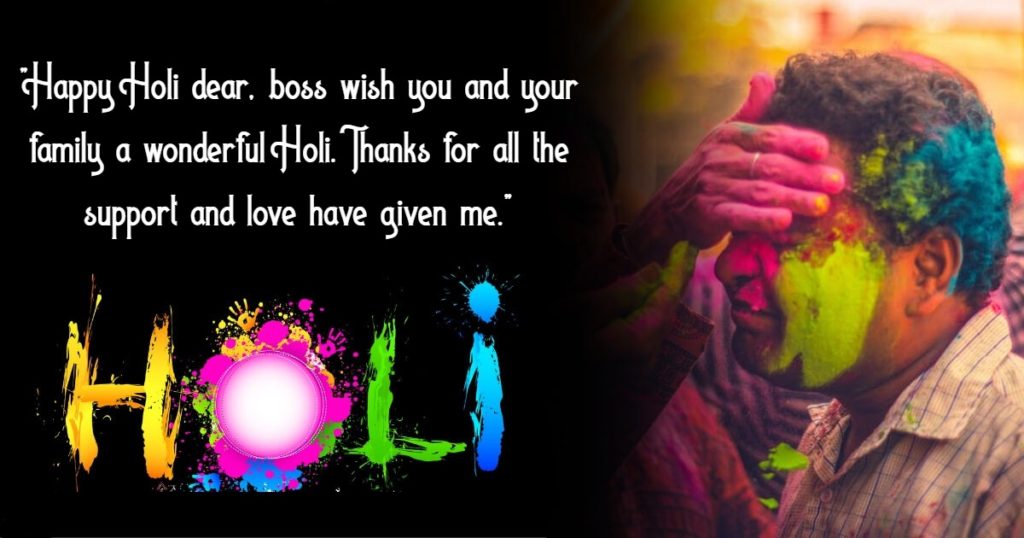 Holi is the best time to develop a better understanding with each other. Here is a platform for you all to renew your professional bonding and express your views. Happy Holi!
Dear boss, it's time to play Holi with natural colors. I wish you and your family a fantastic and wonderful Holi!
I hope you get all the success and happiness in your coming up life. Happy Holi to my loveliest boss!
I hope you keep on smiling, progressing, and your friends paint you with every color of happiness.
May the gleam of this Holi light up your path towards progress & continued success.
Burn all the negativity and bring positivity to your life. Boss, enjoy this Holi festival with vibrant and natural colors. Happy Holi!
May God paint your life with all the wonderful and beautiful colors of a rainbow, and you become as colorful as a blossoming flower. Happy Holi to my talented boss!
Inspirational Holi Messages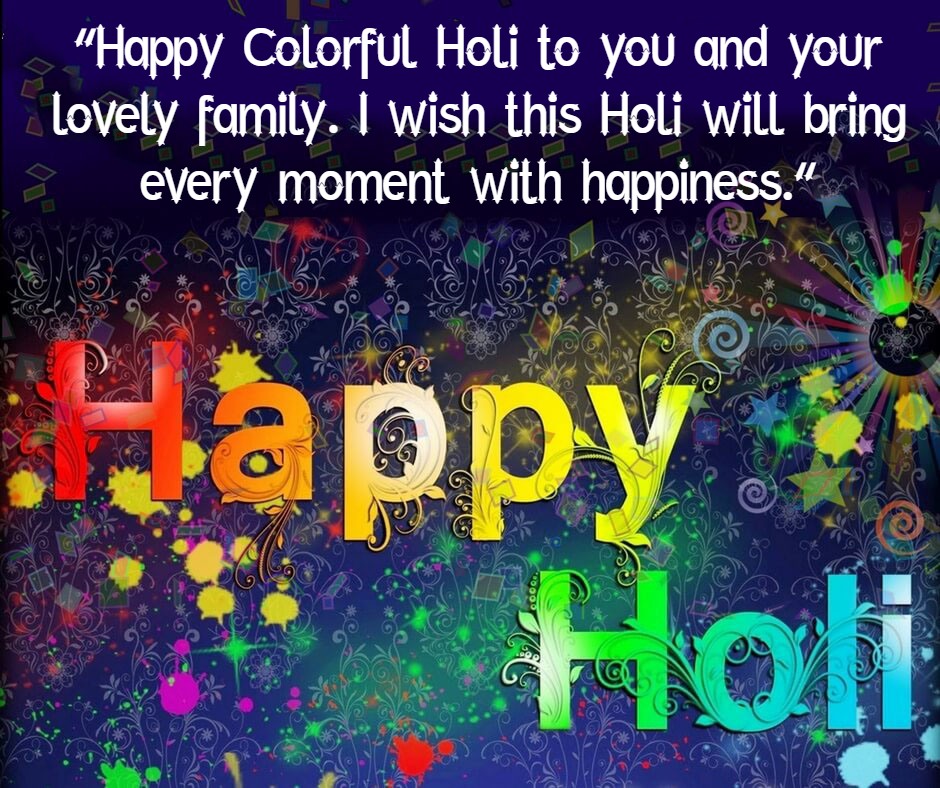 Wishing you the best Holi ever! May God fill all the life's color in your life except boredom.
May you have the most amazing Holi festival than ever had. May it be full of love, joy, and jubilation. May you this Holi as colorful as you are. Happy Holi!
Every day is not going to be equally colorful and cheerful so store the brightest colors in your heart each and every day.
May the good always emerge victory over evil and may you always get happiness and desires. Happy Holi to you and your family!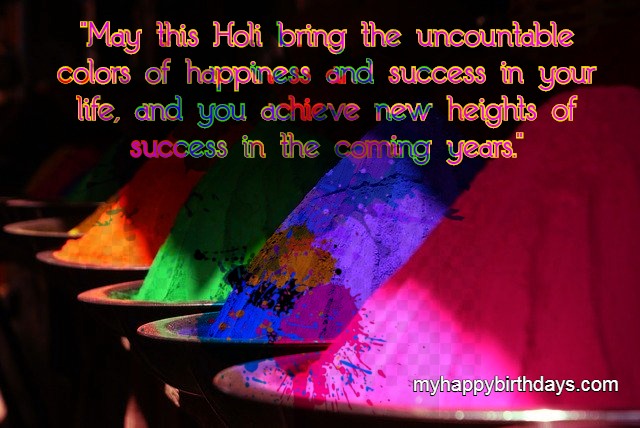 Wishing you an outstanding Holi! Reach out to others with the beautiful colors of happiness and spread happiness wherever you go this Holi.
May God paint the canvas of your life with wonderful colors of prosperity, good health, joy, and success. Wishing you a colorful Holi to you and your lovely family!
Your life is priceless, the most beautiful colorful festival. Enjoy all the days full of fun and happiness all around. Have the happiest Holi!
Finally, the season of colors has arrived and it's time for the "pichkari". Wishing you a very happy and safe Holi in 2020.
Color up your beautiful life with this colorful festival. Happy Holi!
Never give up in life! Enjoy each and every color of Holi and you will get every happiness you desire. God is always with you. Enjoy each moment with zeal.