Last updated on January 12th, 2020 at 02:20 pm
Happy Diwali Message
Happy Diwali Wishes – Diwali is alow popular known as Deepavali and this marks the victory of good over evil. In India, Diwali is the festival of happiness, prosperity, hope, and light.
Also, the Diwali is the main festival in the Indian subcontinent and celebrated mostly by the Hindus. People wait for this day to come eagerly & then start preparations accordingly for the same. Well, it'a major festival in India, and you will find almost everyone celebrating the same and wishing everyone a very Happy Diwali 2019.
In fact, this festival comes with a 5 days special celebration that starts from Dhateras also know as Dhanvantari Triodos, and the next day Narak Chaturdasi also know as Choti Diwali is celebrated. The very next day of Choti Diwali, the most awaited day comes " Big Diwali" the festival lights and happiness.
Not only that, after big Diwali there comes Govardhan Puja is famous knows as Vishwakarma Day, and in the end, the fifth day of Diwali is celebrated as Bhai Dooj.
Here are some heartfelt beautiful wishes, messages, and quotes that you can easily share with your family, friends, and loved ones. Let's get started.
Happy Diwali Wishes
"On this special occasion, may the joy and light of this beautiful holiday brighten your life with zeal, today, and always. Happy Diwali and New Year!" 💥☺
"On this Diwali, I sending you my best wishes for a year filled with love, wealth, health, prosperity, and lots of fun! Have the best and peaceful Diwali!"
"May the happiness, joy, and warmth of Diwali fill your home and your heart at this holy time. Happy Diwali to all!"
"I hope you have a memorable Deepawali and let the celebration bring joys that never end in your life. Blessed Happy Deepawali 2019!"
Wishing you and your family happiness, health, and immense prosperity for the coming year. Have a great Diwali!" 💥😎
"May this festival of lights, full your life with happiness, love, glow, and the sparkle of joy"
"On this big day, my warmest wishes to you and your family! Enjoy the countless pleasure of Diwali, the warmth of home and the company of dear ones. Have an amazing Diwali ever"
"May goddess Laxmi full fill your dreams and entire expectations on this auspicious day of Diwali. Happy Diwali to all 2019!"
"As you walk ahead on the path of life, I wish the Deepawali lights dance like fireflies on your way and guide you home and remove all the darkness from your life. Have a prosperous and blessed Diwali!"
May the shining lights of Diwali guide you throughout every step of your life. May God bless you now and forever. The happiest Diwali to all always! 💥🎆
On the occasion of Diwali, I pray that our friendship is blessed with loads of love and a better understanding. I wish you that divine light of millions of Diyas on this auspicious festival night bless you with love, glory, health, and happiness. Have a blessed Diwali!
Just look at the bright side of life and forget about the dark anguish surrounding it. Have a safe and happy Diwali you and your loved family!
May the festival of joy become extra beautiful for you and your family. All your new efforts get progress and success.
Let this Deepawali burn all your bad times and you enter in good times. Happy Diwali!
May the exquisite gleaming diyas of Diwali brighten up your life making it a better place to live forever. Have a spectacular and amazing Diwali 2019!
Let's celebrate the festival in the true sense by spreading happiness, joys, and light up the world of others. Have a peaceful & blessed Diwali!
"On this auspicious day, illuminate your life, surroundings, home with colors and lights. Have a safe and gree Diwali!
"Let's light a lamp of love, Blast a chain of grief, shoot a rocket of prosperity, Fire a flowerpot of joy. I wish you and your family sparkling Diwali!" 🎁💥
"A festival full of firework, full of sweet childhood memories, full of sweets, full of diyas, and full of happiness. Have an awesome and safe Diwali. Stay blessed!"
"We wish the lights of Diwali diyas fill your home with health, wealth, prosperity, happiness, and everything that brings joy! We Wish you and your entire family a splendid Diwali!"
Read More Interesting
Best Birthday Wishes
Belated Birthday Wishes
Anniversary Wishes
Birthday Wishes For Daughter
Birthday Wishes For Boss
Best Farewell Messages
18th Birthday Wishes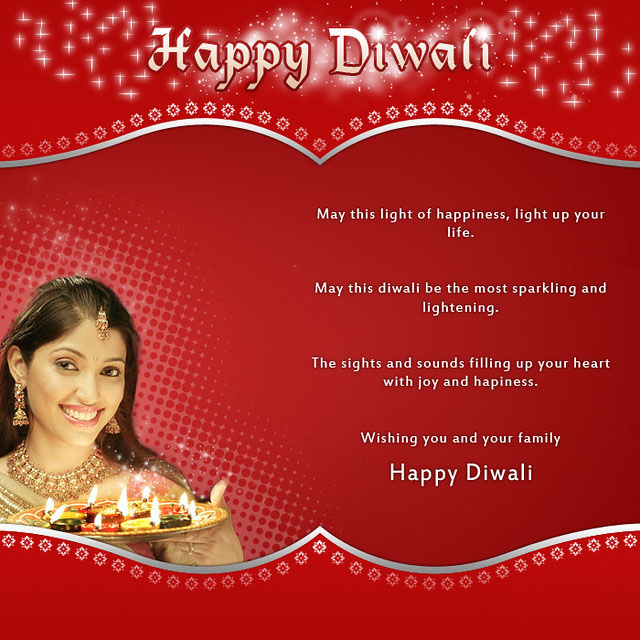 "May every candle of Diwali burn all your sorry and bring joy and peace in your entire life. Happy Diwali!"
"I/we wish you a very happy Diwali to you and your family! May you get fortune and prosperity on this pious and auspicious occasion of Diwali. Have an outstanding Diwali! Be safe!"
"May the warmth and splendor of gleaming diyas add more special grandness to your life, and may the aura of Lord Ganesha add more success and take the confliction out. Happy Diwali!"
'I/we wish a wonderful happy Diwali! This Diwali is full of wonderful surprises and moments. May God bless you with strength and wealth"
"I am sending you the brightest wishes for you and your family on this Diwali! I hope you all have a great day and year ahead!"
"It is hight time to open your main entrance door and welcome Goddess Lakshmi with heart. I wish and pray may Goddess Lakshmi will fulfill all your dreams. The best Deepavali ever!"
"We wish that you get parachutes of prosperity, rockets of smiles, sparkles of joy, and fountain of peace, may the environment around you remain filled with the spirit of love. Have a fantastic Diwali!"
"Let's rejoice in this blessed occasion by spreading joy and happiness with your loved ones and friends. Have an amazing happy Diwali!' 💥🎁
"May this Diwali light up new dreams, fresh hopes, different perspectives, undiscovered avenues, and a bright future. Happy Diwali lovely friends!"
"Wishing you a spectacular Diwali! You get the perfect moments of the year, enjoy the festivities and stay safe. Have a blessed and happy Diwali!"
"Wish you all an awesome Deepavali and hope that every person transforms from darkness to happiness!"
"May this Diwali bring to you countless moments of joy and merriment. May Lord Ganesha and Goddess Lakshmi give you choicest wishes on this pious day! Happy Diwali"
"I hope and wish millions of lamps illuminate your life with endless health, wealth, and prosperity. I wish you and your family a very stupendous Diwali!"
"Happy Diwali to all! I wish you success & bless with every light that is lit on Diwali. Have a prosperous and safe Diwali 2019!"
"On this auspicious and pious day, may this festival of lights be a festival of joy, love, respect, and good health for you. Happy Diwali!"
Diwali Wishes In Hindi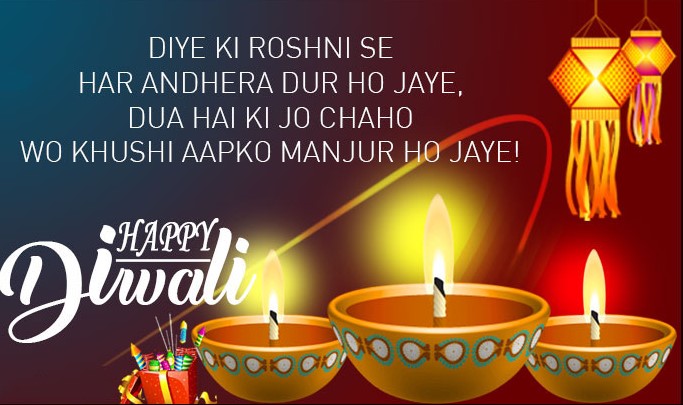 "Har ghar me Diwali ho, har ghar me diya jale jb tak ye rahe duniya jb tak sanshar chale, dukh dard, udaasi se har dil mehroom rhe, pag pag ujiyalo me jivan ki jyoti jale! Diwali ki hardik shubhkamnayein!" 💥🎁
"Sukh aur smridhi aapke angna jhilmilayein, deepak aman ke charo dishao mein jagmagayein, khusiyan aapke dwar par aakar khusi manayein. Deepavali parve ki apko aur apke parivar ko dhero sari shubhkamnayein!"
"Prem ki phuljadi va anaar apke ghar ko roshan kare, roshni ke diye apki jinsagi mein khusiyan laayein. Subh aur safe Diwali!"
"Diwali hai roshni ka tyohaar, laya hai har chehre par apke muskaan, sukh aur smirdhi ki bahaar samet lo sari khusiyan, apno ka sath aur pyar is pavan avsar par aap sbi ko Diwali ka pyar. Diwali ki shubhkamnayein!"
"Sukh smridhi apkp mile is Diwali par, dukh se mukti mule, maa lakshmi ka aashirwad ho apke sath aur lakho khusiyan mile iss Diwali par. Subh Diwali!"
"Ye Diwali apke jivan me khusiyon ki barshat laye, dhan aur shoharat ki bochaar kre, Diwali ki dil se hardiki shubhkamnayein!" 😊🤗
"Tu jagmagayein, tera deep jagmagayin, sare jahan ki khusiyan tere bhi ghar ko aaye, ganga aur yamuna sa nirmal ho tera man, ambar aur dhara sa swach ho tera tan, is nagar me teri jyoti chamchamayein, tu jagmagaye tere deep jagmagaye. Sabhi ko Diwali ki hardik shubhkamnayein!"
"Deep jalte rahe jagmagate rahe, hum apko aur app hume yad aate rahe, jab tak jindagi hai duwa hai hamri, aap phoolo ki trha muskurate rahe! Bahut bahaut shubh Diwali!"
"Jag mag jag mag deep jale, roshan ghar ka ho har kona, prakash ke jaise ujjawal tan ho, jan jan nirmal manan ho, tum waha ho hum wha ho, dur tak na andhakar ho, shubhkamnayein yahi hai hmari satrangi har diwali ho!"
"Iss Diwali mein yahi kamna hai ki safalta apke kadam chume aur khusi aapke aaspas ho. Mata Lakshmi ki kripa aap par bani rhe! Shandaar Diwali ho!"
"Kuber ka khajana, lakshmi maa ki kripa aur Ganesh ji ke aashiward se mangalmay ho aapka aane wala saal! Prashanta aur ullash se Diwali ki hardik subhkamnayein!"
"Sukh aaye shanti aaye apke jivan me, smridhi aye khushiyan aye apke jivan me, raho aap har presani se door aur is Diwali Lakshmi aaye apke jivan me. Subh Diwali!"
Diwali Images