Happy Dussehra Message
Happy Dussehra Wishes: Dussehra is symbolic of the victory of good over evil. After the nine-day celebration of Navratri, here comes the festival of Dussehra or Vijayadashami. The word Vijayadashami is simply made up of two words–Vijaya meaning victory and Dashami meaning the tenth.
In the meantime, the word Dussehra is also made of two Sanskrit words–Dasha meaning ten & Hara meaning defeat.
Also, Dussehra is celebrated in almost all parts of India. On this day, people remember Lord Rama's victory over Ravana & burn the Mannequins of Ravana, Kumbhakaran, and Meghnath.
Celebrate this Dussehra by sending some inspirational happy Dussehra wishes & messages to your family, friends, and dear ones on Whats App, Facebook, Twitter, and other social platforms to make this day great.
Happy Dussehra Wishes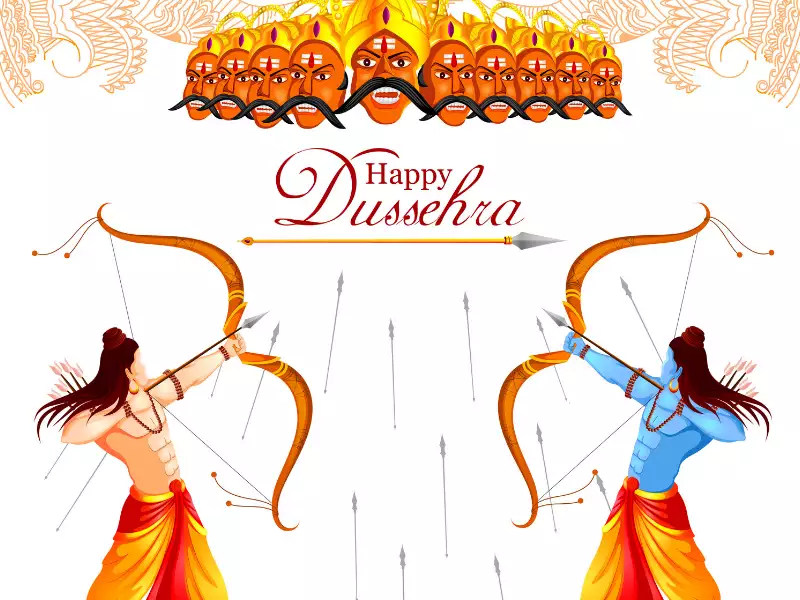 "May this day your troubles go up in smoke with the fireworks. May your joy and happiness be multiplied ten times. Happy Dussehra to all"💥
"May your life take a new turn and height. Let only happy and positive thoughts around you and all negative thoughts burn along with the effigy of Ravan. Happy Vijayadashami"
"Wishing you the best Dussehra to all of you. I wish and hope this festive season brings lots of joy and peace in your life"
"Let us come together to celebrate the conquering of good over evil on this auspicious and pious day. Have an outstanding Dussehra to you and your family. God bless all"
"May God burn your all negativity on this Dussehra and shower the choicest blessing on you and you win over every barrier in life. Happy Dussehra to you and your family"👏💥
"On this pious day, all problems, worries, and obstacles in the path of success get burned with the effigy of Ravana. Have a great and blessed Dusshera"
"May your life be prosperous, respected, peaceful, trouble-free throughout life. Happy Dussehra"
"Wishing you the best of best Dussehra! I wish and pray Lord Rama fills your life with success, prosperity, and happiness. Have an awesome happy Dussehra to all"
You May Also Like
Happy Diwali Wishes and Messages
Happy New Year Wishes
Advertisement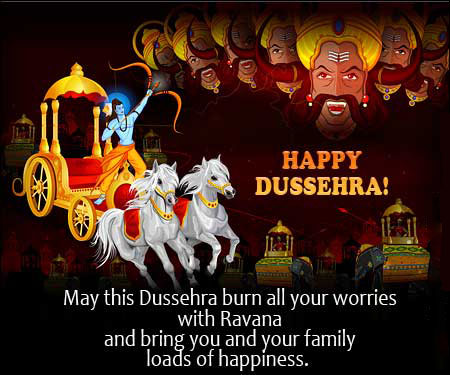 "May the angel in you always control your thoughts and demon get defeated? Have a blessed Vijayadashami"
"It is time for the celebration of the triumph of the good over evil has arrived. Let's continue the same spirit. Happiest Dusshera"
"Sunrise gives us a message every day that darkness will always be defeated by light. Let's follow the same natural rule and celebrate the festival of Good defeats Evil. Happy Dusshera"
"I wish and pray may all your problems and hurdles burst away like the fireworks and your joy be multiple 100 times. Happy Dussehra (2022)"
"May Lord Ram always keep showering his immense blessings upon you and your family, and may your life be carefree and hurdles free entire life. Have a great Vijayadashami!"
Meaning Of Dussera Word
D – Devil in
U – Your life by giving you
S – Super
S – Sparkling
E – Energy which brings
H – Happiness
R – Riches and
A – Abundance!
Happy Dusshera (2022)💥
"May Lord Rama keep showering blessings and lighting your way of success and may you attain victory in every step of your life. Jay Shree Ram! Happy Dussehra to all"
"On this auspicious day of Dussehra, wishing you good wealth, health, and happiness to you and your family. Have a blessed Dussehra"
"May this Dussehra bring new hopes of good moments to come and dreams for a year full of smiles! I wish you a happy Dussehra"
"On this special day, I pray that Lord Ram fills your life with loads of success, happiness, and prosperity. Happy Dussehra to you and your family"
"An auspicious day to begin with any good work. It was today good won victory over bad. May this day clear up all your barriers in life and start a new era of well-being. Happy Vijayadashami" 🎆
"As the candlelight flame, your life may always be thrilled, as the mountain high, as sunshine creates a morning glory scent, and all darkness is far away as light. Wishing you all the best Dussehra ever"
"Wishing you a happy Dussehra to all. May Shree Ram bless you and your family. A prosperous and joyful Dussehra to you and your family"
"Just like Lord Ram uproots all evil from the earth by destroying Ravan, I pray and wish you all negative thoughts vanish from your mind. Have an outstanding and prosperous Dussehra"
"It is time to spread goodness to conquer with Dussehra. I wish you and your family a blessed Dussehra!"
Happy Dussehra Wishes In Hindi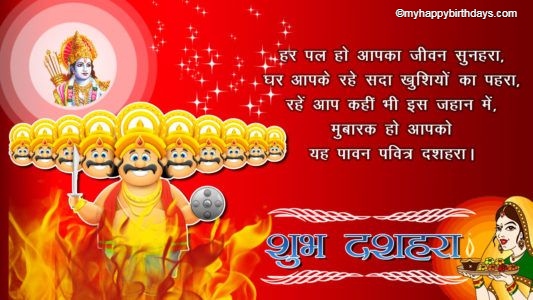 "Adharm par Dharam ki jeet, annaye par neyaye ki Vijaya, burai par achhai ki jai jai kaar, yahi hai Dussehra ka tyohaar. Dussehra ki hardik shubhkamnayei"💥
"Burai ka hota hai vinash, Dussehra lata hai umeed ki aash, Ravan ki trha aapke dukho ka ho nash, Vijayadashami ki hardik shubhkamnayein"
Dusshera par appko aur appke pure parivar ko bhahut-bahut shumbkamnayein and "badhao. Dussehra astaya par satya ki jeet hai, aap bhi har path par vijayee ho, yhi bhagwan se hamari mangal kamna hai"
"Chandan ki khusboo, resham ki haar, sawan ki sugandh barish ki fuhar, radha ki umeed, kanahiya ka pyar, mubarak apko ye Dussehra ka tyohar"😎
"Is Vijaya dashmi ke subh avsar par apke parivar ke jivan mein sukh, shanti aue samradhi aur bharde. Happy Dussehra 2022!"
"Khusiyon ka tyohaar, pyaar ki bochaar, is Dussehra ke shubh din aapko mile khusiyan hazaar baar. Vijayadashami ki hardik shubhkamnayein"
"Phool khile, khusi apke kadam chume, kabhi na ho dukho ka samna, dhan hi dhan aaye apke angana, yahi hai dussehra ke avsar par hamari manokamna. Happy Dussehra to all"😀
Tumhara har pal sunehra ho, duniya mein naam ho roshan tumhara, duniya ko dikhao tum kinara, yahi sapna hamara. Dussehra ki bhut bhut shubhkamnayein!
"Satya Ki hoti hai sadaa hi jeet, buraai ka hota hai sadaa vinaash, Vijayadashmi ka tyohaar laata hai yahi ass. Happy Dussehra"
"Vijaydashmi ke is subh avsar par apne andar buraai ke ravan ko mitayein aur achaai ke Ram ko jagayein. Jai Shree Ram"
Happy Dussehra Images