If you are looking for the best brother quotes to express your feeling toward your brother. You've landed in the right place.
We have collected some of the best and heart-touching collection of quotes on brothers that you can share with your sibling.
Your brother is your best friend, your painkiller, and your first love. You are very lucky to have a brother in your life. There is not any bond like a brother in this world your share. However, every family might be a bit different when it comes to brother bonds.
These best quotes about brothers are a great way to express the love they share with brothers.
A brother who brings the cutest bond unlike any other and someone with whom you fight, laugh with, grow up, and share special memories of your life.
Whether it's your little brother or big brother, you are going to love these brother quotes with your lovely brother.
Best Brother Quotes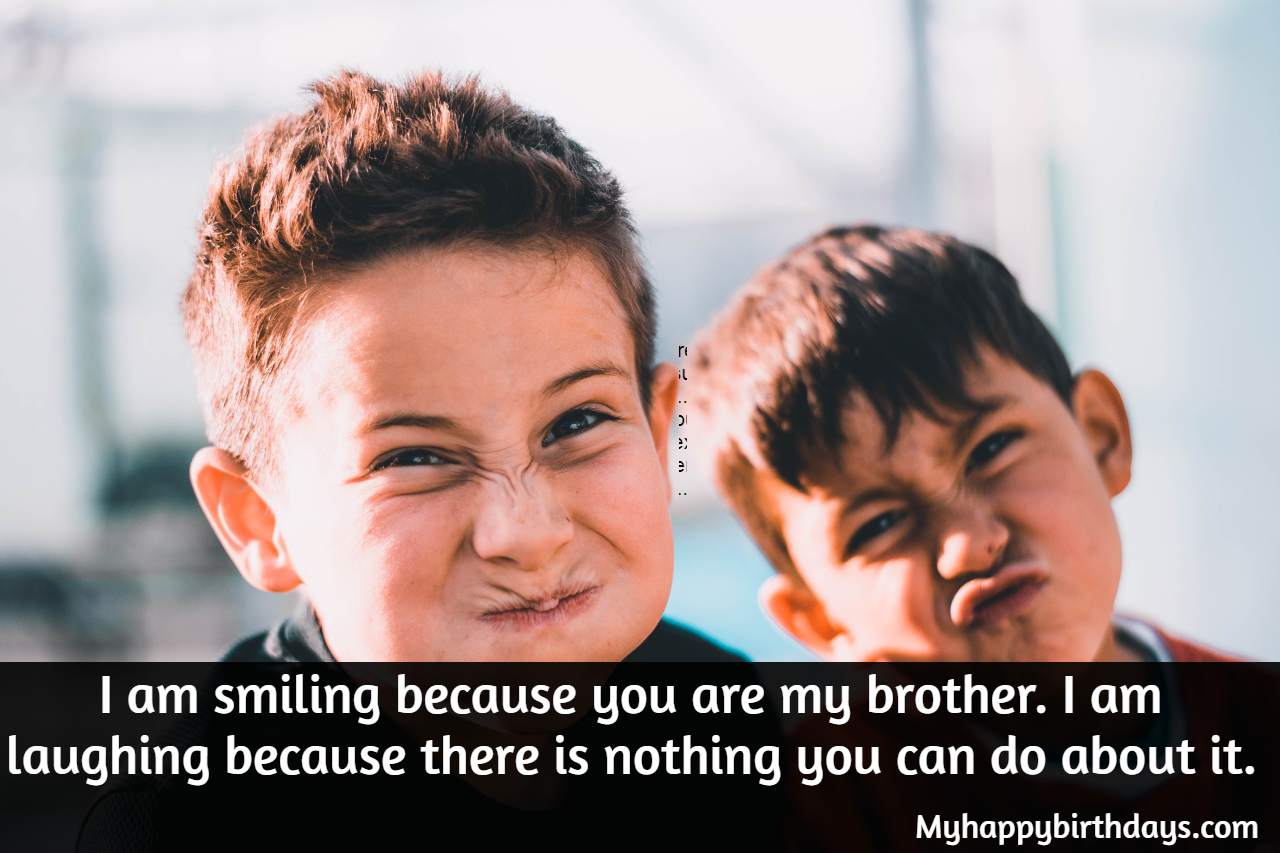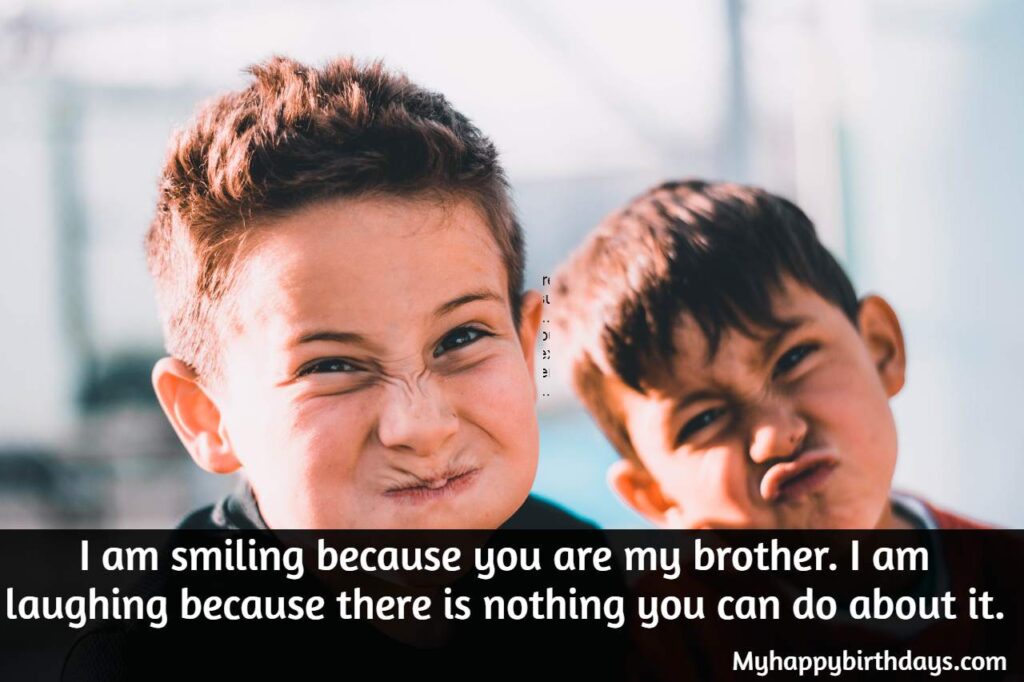 "The younger brother must help to pay for the pleasures of the elder." – Jane Austen
"My brother may not always be at my side, but he is always in my heart." – Unknown
"We have flown the air like birds and swum the sea like fishes, but have yet to learn the simple act of walking the earth like brothers." – Martin Luther King
"I had a brother who was my savior, made my childhood bearable." – Maurice Sendak
"Brotherhood means I will always come for you no matter the cost." – Unknown
"Because brothers don't let each other wander in the dark alone." – Jolene Perry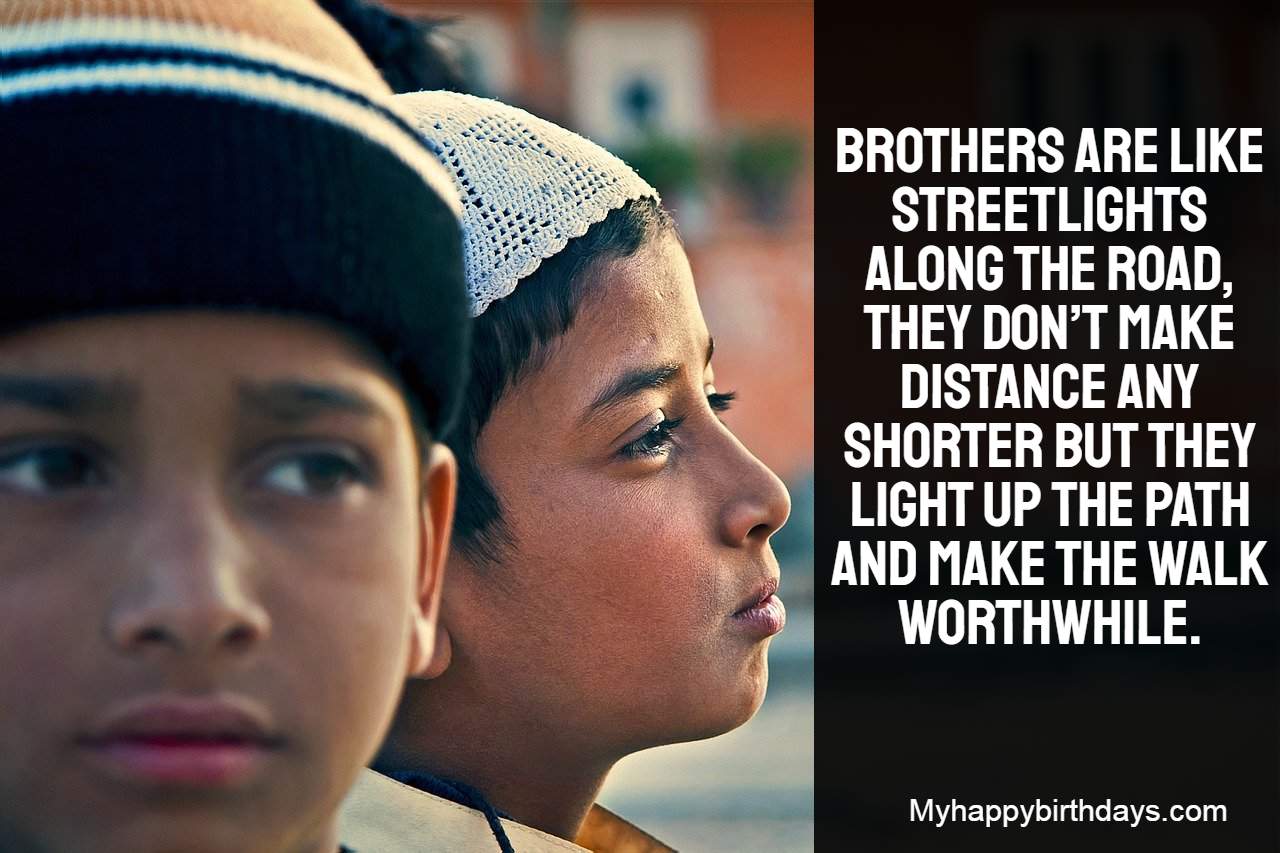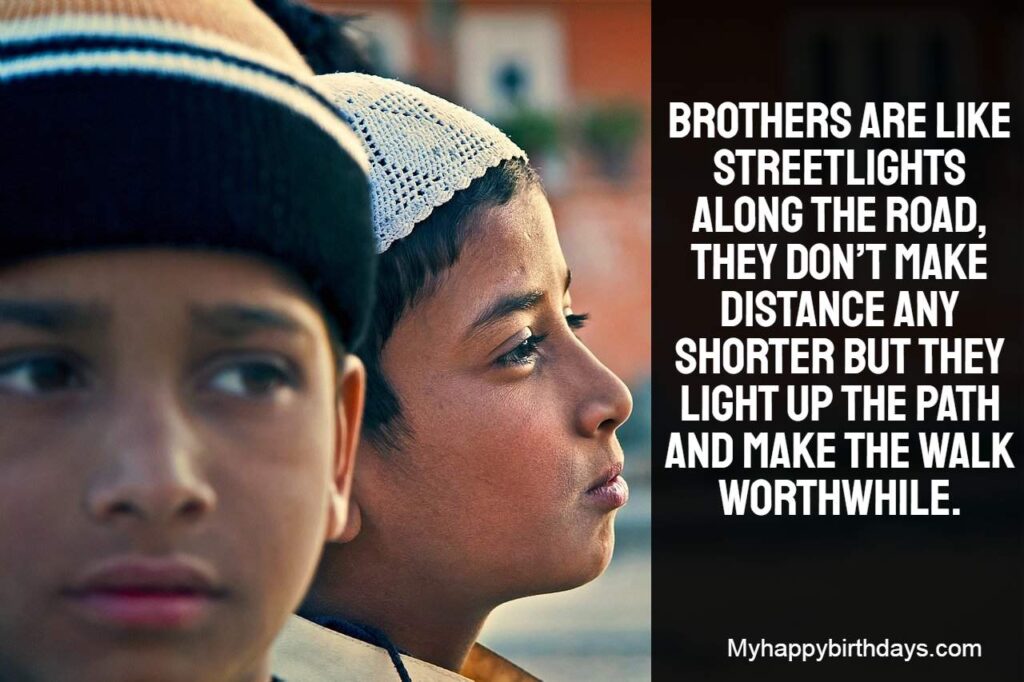 " I don't believe an accident of birth makes people sisters or brothers. It makes them siblings, and gives them mutuality of parentage. Sisterhood and brotherhood is a condition people have to work at. " – Maya Angelou
Advertisement
"A brother is someone who knows there's something wrong even when you have the biggest smile on your face." – Unknown
" Sometimes being a brother is even better than being a superhero." – Marc Brown
Also, See – Baby Smile Quotes
"We have flown the air like birds and swum the sea like fishes, but have yet to learn the simple act of walking the earth like brothers." – Martin Luther King
"There is a destiny which makes us brothers; none goes his way alone. All that we send into the lives of others comes back into our own." – Edwin Markham
"Some people don't believe in heroes. But they haven't met my brother." – Unknown
When brothers agree, no fortress is so strong as their common life." – Unknown
Brothers are like streetlights along the road, they don't make distance any shorter but they light up the path and make the walk worthwhile. – Unknown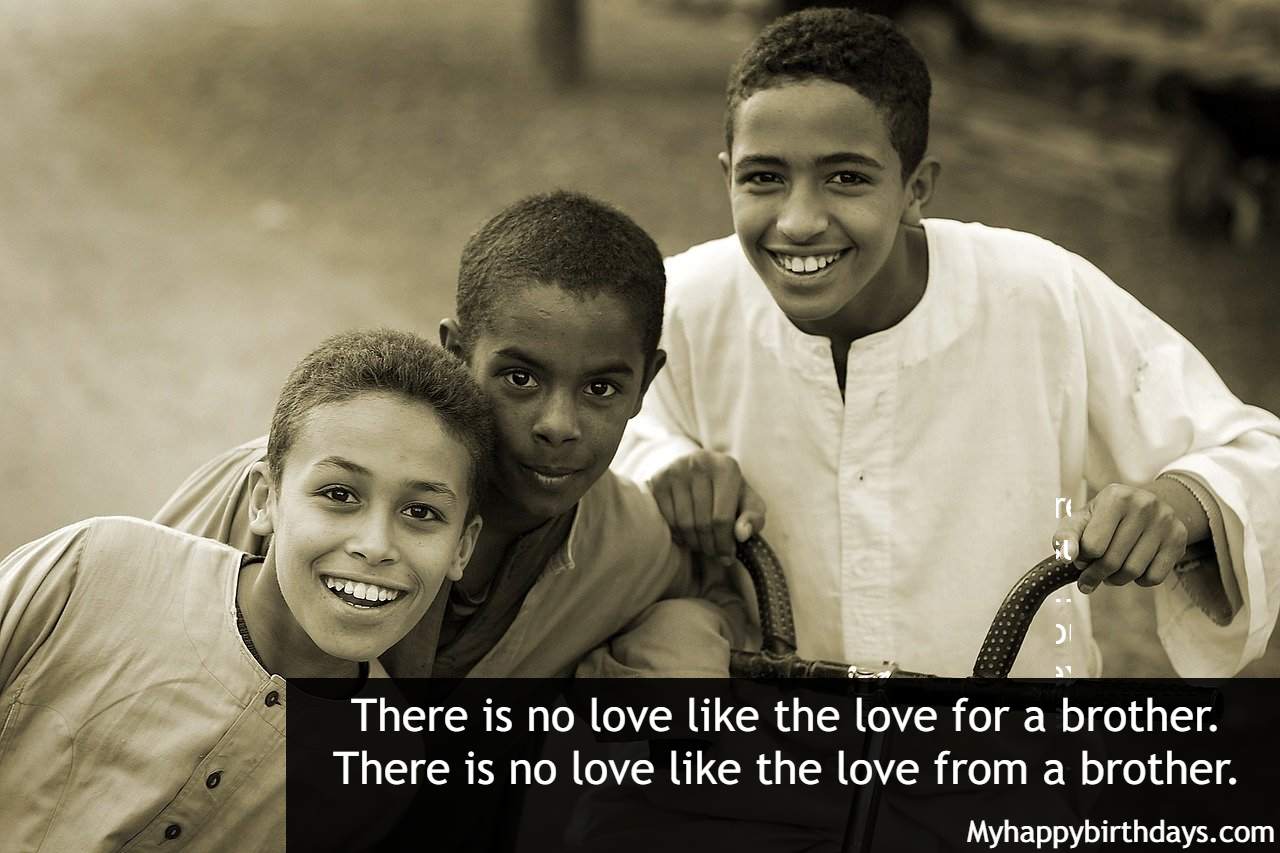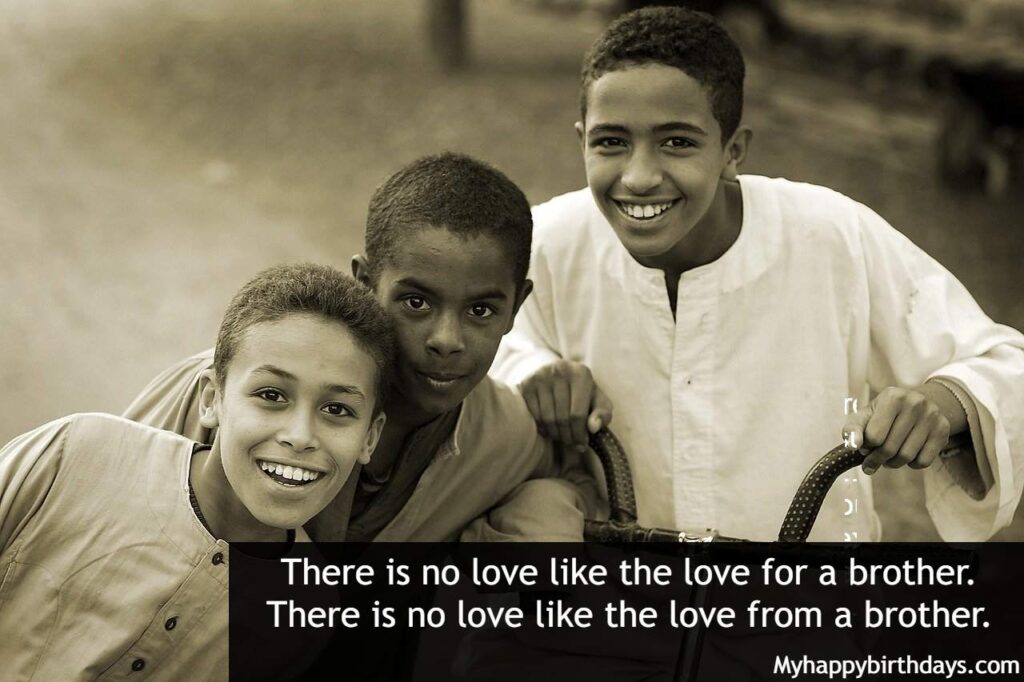 "There is no love like the love for a brother. There is no love like the love from a brother." –Astrid Alauda
"A brother is a friend god gave you; a friend is a brother your heart chose for you." – Unknown
"The highlight of my childhood was making my brother laugh so hard that food came out his nose." – Garrison Keillor
"If I could pick the best brother, I would pick you." – Unknown
"A brother shares childhood memories and grown-up dreams." – Unknown
You May Also Like – Birthday For Brother
"A brother is a gift to the heart, a friend to the spirit." – Unknown
"Being his real brother I could feel I live in his shadows, but I never have and I do not now. I live in his glow." – Michael Morpurgo
"Brothers don't necessarily have to say anything to each other – they can sit in a room and be together and just be completely comfortable with each other." – Leonardo DiCaprio
"Half the time when brothers wrestle, it's just an excuse to hug each other." – James Patterson
"I wish I could say I see my little brother more. We used to fight all the time but now that I don't see him very often I cherish the time I have with him." – Zac Efron
" It takes two men to make one brother." – Israel Zangwill
"My brother is my only best friend. No one can replace him." – Unknown
" A brother is a friend given by nature." – Ernest Legouvé
"I've been blessed to have a brother like you, You're my pal, my buddy, and my best friend too. And it means a lot having a brother like you." – Unknown
Best Quotes About Brother And Sister Relationship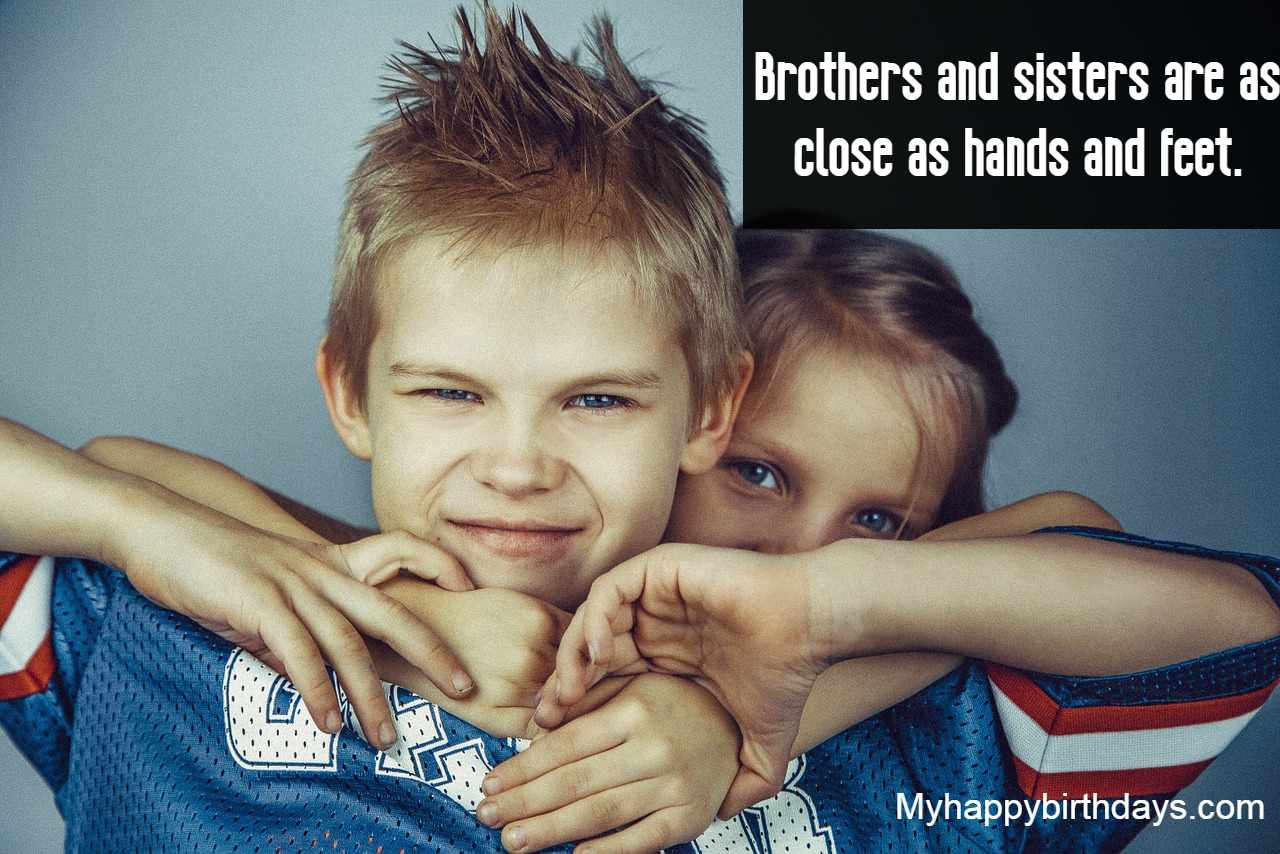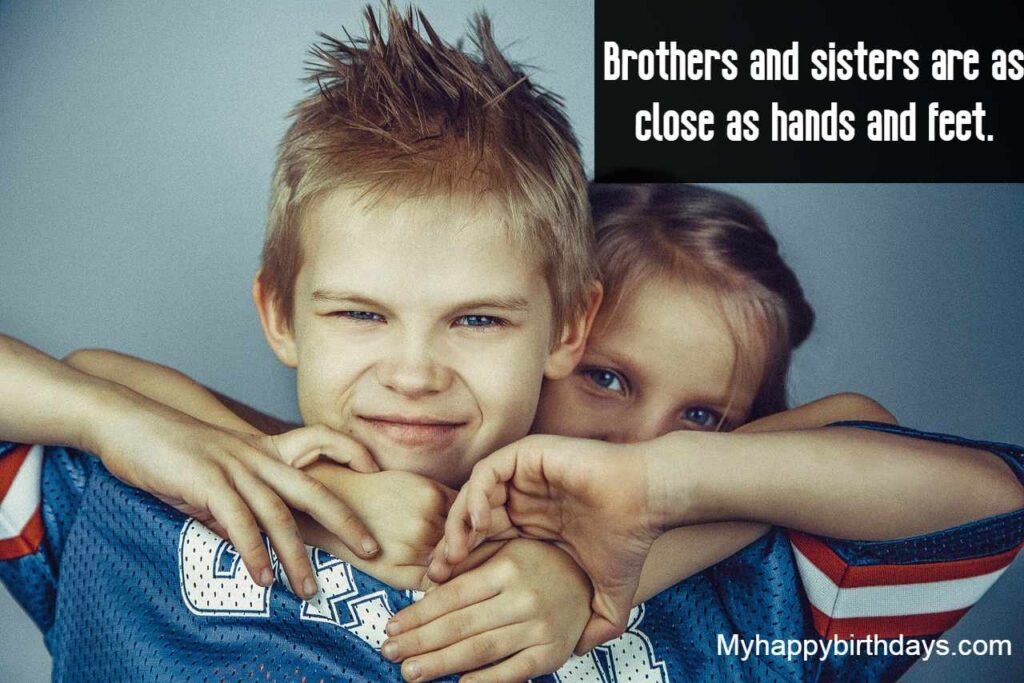 "Some relationships are like Tom and Jerry: They tease each other, knock down each other, irritate each other, but can't live without each other." – Unknown
"A sibling may be the keeper of one's identity, the only person with the keys to one's unfettered, more fundamental self. " – Marian Sandmaier
"My brother has the best sister in the world." – Unknown
"Sibling is the lens through which you see your childhood." – Ann Hood
"Brothers and sisters are as close as hands and feet." – Vietnamese Proverb
"I always fight with my brother. This is our way of saying "I love you" – Unknown
"We shared parents, home, pets, celebrations, catastrophes, secrets. And the threads of our experience became so interwoven that we are linked. I can never be utterly lonely, knowing you share the planet." – Pam Brown
"The family. We are a strange little band of characters trudging through life sharing diseases and toothpaste, coveting one another's desserts, hiding shampoo, borrowing money, locking each other out of our rooms, and trying to figure out the common thread that bound us all together." – Erma Bombeck
"What brothers say to tease their sisters has nothing to do with what they really think of them." – Esther M. Friesner
"Your parents leave you too soon and your kids and spouse come along late, but your siblings know you when you are in your most inchoate form." – Jeffrey Kluger
"Not always eye to eye, but always heart to heart" – Unknown
Your brother and sister, if you have them, are the brother and sister you know best. They may not be the ones you like the best. They may not be the most interesting, but they are the closest and probably the clearest to you." – James Salter
"Our brothers and sisters are there with us from the dawn of our personal stories to the inevitable dusk." – Susan Scarf Merrell
"Mum used to say we were the same soul split in two and walking around on four legs. It seems unnatural being born together and then dying apart." – Melodie Ramone
Best Funny Brother And Sister Quotes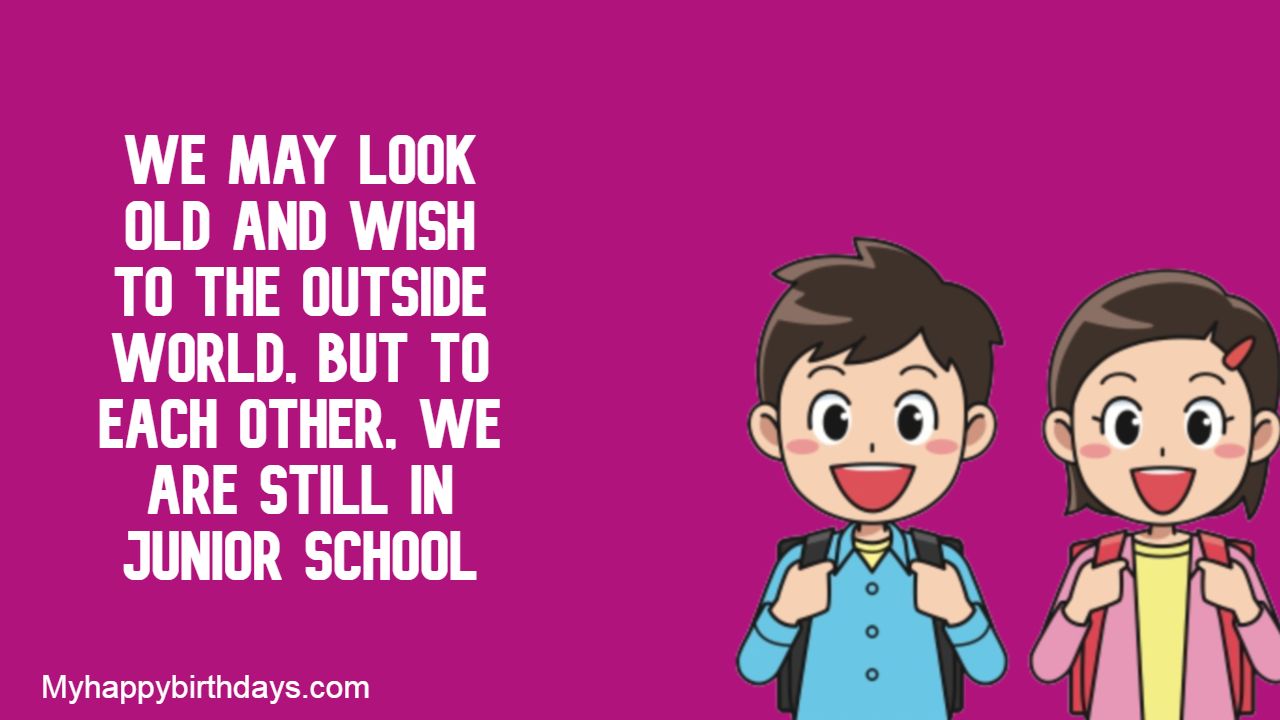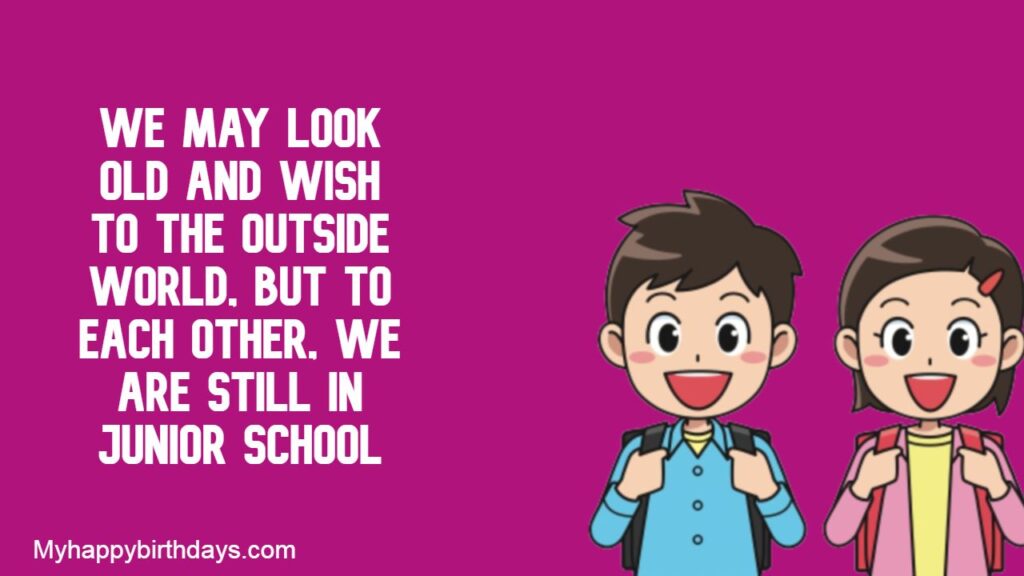 There is a little boy inside the man who is my brother… Oh, how I hated that little boy. And how I love him too. – Anna Quindlen
"I know it's a cliché, but the whole family is just whacked. I mean, we're all out of our minds. They're the funniest, most eccentric bizarre people I've ever met, my siblings." – Dana Carvey
"You don't choose your family. They are God's gift to you, as you are to them." – Desmond Tutu
"Admit it: we always eat and drink slower than our brother or sister so that we can tease them at the end when we're the only one with any left." – Unknown
"You and I are brother and sister forever. Always remember that if you fall I will pick you up. As soon as I finish laughing." – Unknown
"More than Santa Claus, your sister knows when you've been bad and good." – Linda Sunshine
"Brothers are just born to bother sisters." – Unknown
"Lord Help the Mister that comes between Me and My Sister." – Irving Berlin
"We may look old and wish to the outside world, but to each other, we are still in junior school." – Charlotte Gray
"I think I'm funny because my family, my siblings were funny." – Martin Short
"If your sister is in a tearing hurry to go out and cannot catch your eye, she's wearing your best sweater." – Pam Brown
Brother And Sister Love Quotes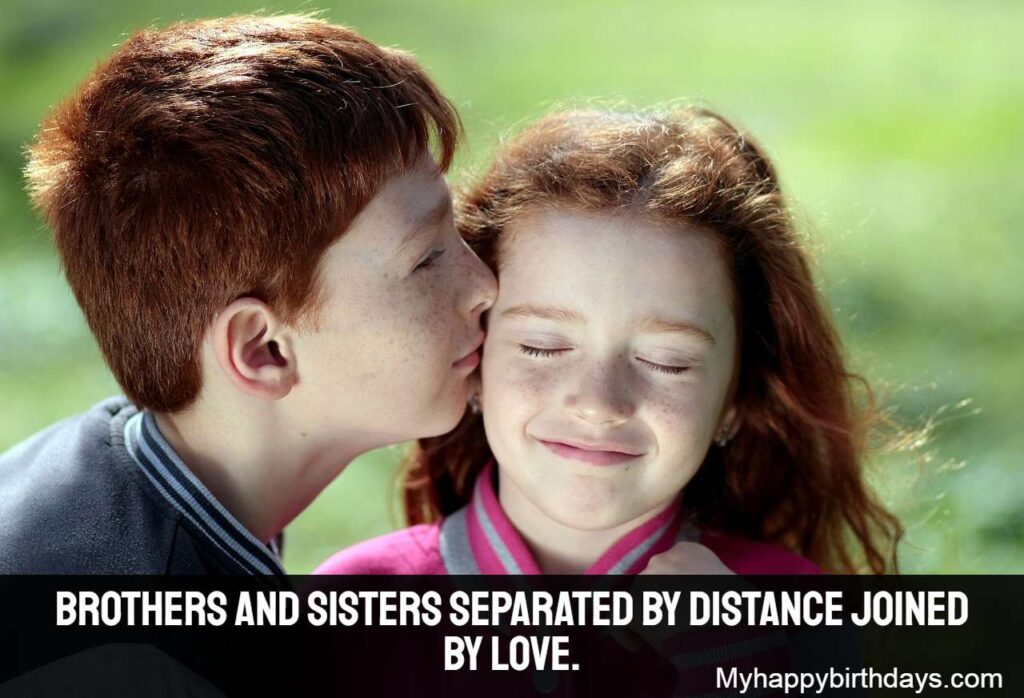 "It leaves a smile on my face when I think of those trifling fights we used to have and then suddenly made up. The memories may fade away with passing time but the love we share will only grow." – Unknown
"I think people that have a brother or sister don't realize how lucky they are. Sure, they fight a lot, but to know that there's always somebody there, somebody that's family." – Trey Parker & Matt Stone
"Brothers and sisters separated by distance joined by love." – Chuck Danes
"As you baby brother I will make-believe with you, play dress-up with you, let you be a princess, tell stories in the dark, and always be your friend. As your little sister I will build forts with you, shoot hoops with you, let you teach me to skip rocks, tell stories in the dark, and always be your friend." – Unknown
"The greatest gift our parents gave us was each other." – Unknown
"Sisters and brothers just happen, we don't get to choose them, but they become one of our most cherished relationships." – Wes Adamson
"What sets sisters apart from brothers and also from friends is very intimate mashing of heart, soul and the mystical cords of memory." – Carol Saline
"If you have a brother or sister, tell them you love them every day – that's the most beautiful thing. I told my sister how much I loved her every day. That's the only reason I'm OK right now." – Amaury Nolasco
Cute, Sweet Brother And Sister Quotes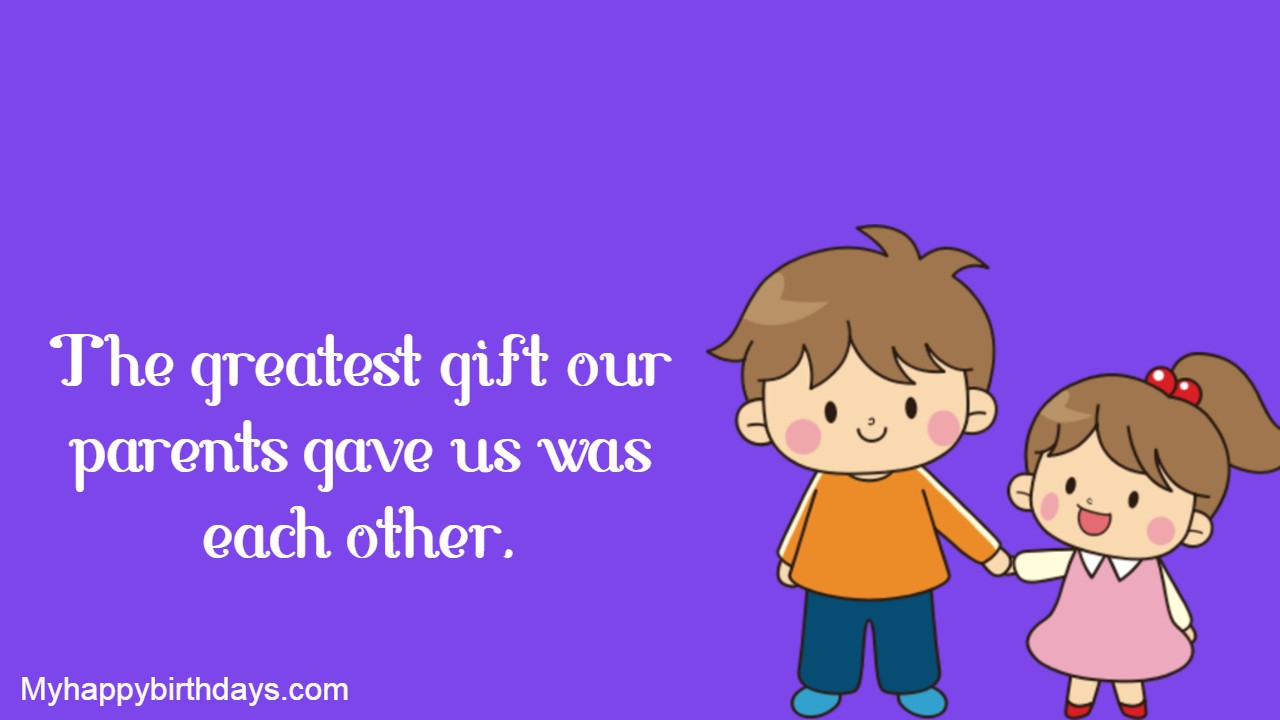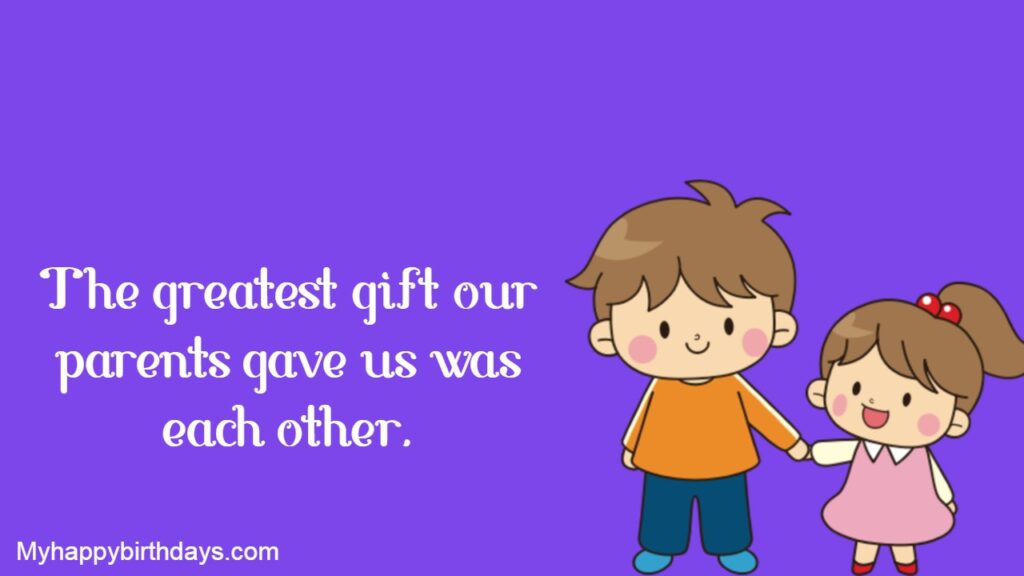 "We didn't even realize we were making memories, we just knew we were having fun." – Winnie the Pooh
Brother and sister, together as friends, ready to face whatever life sends. Joy and laughter or tears and strife, holding hands tightly as we dance through life." – Suzie Huitt
Brothers are playmates in the beginning and best friends for life." – Unknown
"I have a wonderful shelter, which is my family. I have a wonderful relationship with my brother and sister; this makes me feel that I know always where I belong." – Jose Carreras
"Being brother and sister means being there for each other." – Unknown
"Growing up, I had a very normal relationship with my brother and sister. But, over time, they became my best friends, and now I hang out with them all the time. I'm very close with them." – Logan Lerman
"Ohana means family and family means nobody gets left behind or forgotten." – Lilo and Stitch
"The best thing about having four big brothers is you always have someone to do something for you." — Chloe Moretz
Final Words
Brother and sister are those exceptional people who know you like no other. I hope this sister and brother quotes collection will motivate you to appreciate those people who have known you since you would have crawled. If you love these quotes on brother, share them around.