The new year is just around the corner, everybody is planing, and waiting to start a new journey with more power. Also, the new year is believed one of the most romantic times of the year, especially for married couples.
A new beginning of a brand new year needs to be celebrated with love, fun, and laughter. May this new year bring so much fun, joy, and warmth to the relationship. It helps your bond strengthen between the husband and wife.
This is the best time to make your bond much stronger by sending romantic new year wishes for wife and husband so that will help you express your respect, love, and gratitude, and make your relationship even stronger.
So, send these romantic new year wishes for wife and husband, and thank your better half for being always there for you through thick and thin. Enjoy this beautiful day to the fullest with your wife or husband!❤️
Happy New Year Wishes For Wife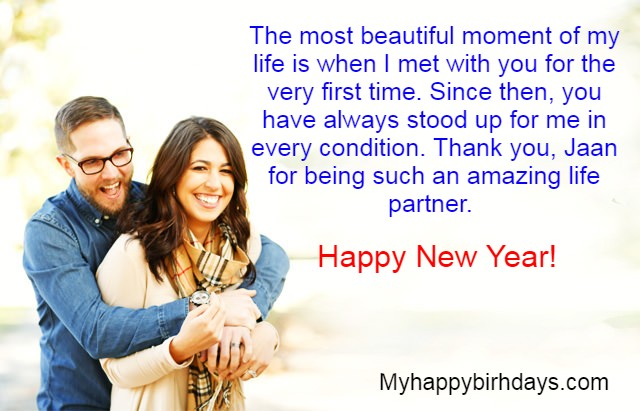 Darling, may this new year bring the best of everything for you. May it be one of the best years of your life. Wishing you a wonderful new year full of happiness and love!
I would like to thank you so much baby for all the love, respect, special moments, and happiness you gave me the previous year. It means a lot to me. Now, it's my time to do the same for you in all coming years. Happy new year, sweetheart!
Wishing you an amazing new year to my gorgeous wife! Today and always, I want to wish that our love grows stronger with time. Let's celebrate and welcome the new year with full enthusiasm and mirth. I love you so much!
Ever since you came into my life, it has completely changed. You are so special that you brought all the joy and happiness moments in my life. I will always be grateful for that. Happy new year 2022, lovely wife!
You have always been my greatest support and strength in my life. I may have thousands of problems, but when I see you smile, I forget all the worries and problems. Have the greatest new year ahead, love!
You are the only reason for my strength and existence. You are the only reason to take my life on the path. Thank you, Jan for always being there in every circumstance. Happiest new year ever!
I wish that you love the life you want and may God bless you with health, wealth, and prosperity. May your life be filled with everything you want. Wishing you my beautiful wife a blessed happy new year 2022!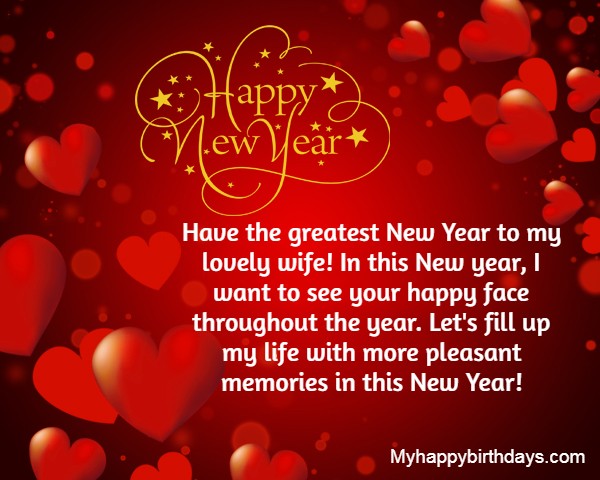 Dearest, wife you have the best quality that is you hold me when I am lost, you support me when there is no one, and you love me more than my expectation. Today, I want to embrace you and adore you. Happy new year to my lifeline!
Have the greatest New Year to my lovely wife! In this New year, I want to see your happy face throughout the year. Let's fill up my life with more pleasant memories in this New Year.
As we are going to enter another New Year, I want you to know that you are the best thing that ever happened to my life. You are so cute, wife. Happy New Year and stay blessed always, baby Jaan!
My love for you is infinite and beyond your words and expectations. You are my nectar of immortality. I love you so much my dearest wife and happy New Year 2022!
The most beautiful moment of my life is when I met with you for the very first time. Since then, you have always stood up for me in every condition. Thank you, Jaan for being such an amazing life partner. Happy New Year!
My New Year has become much happier and brighter since you hold the key to my heart, and I know you would handle your stuff with more care. Happy New Year, love!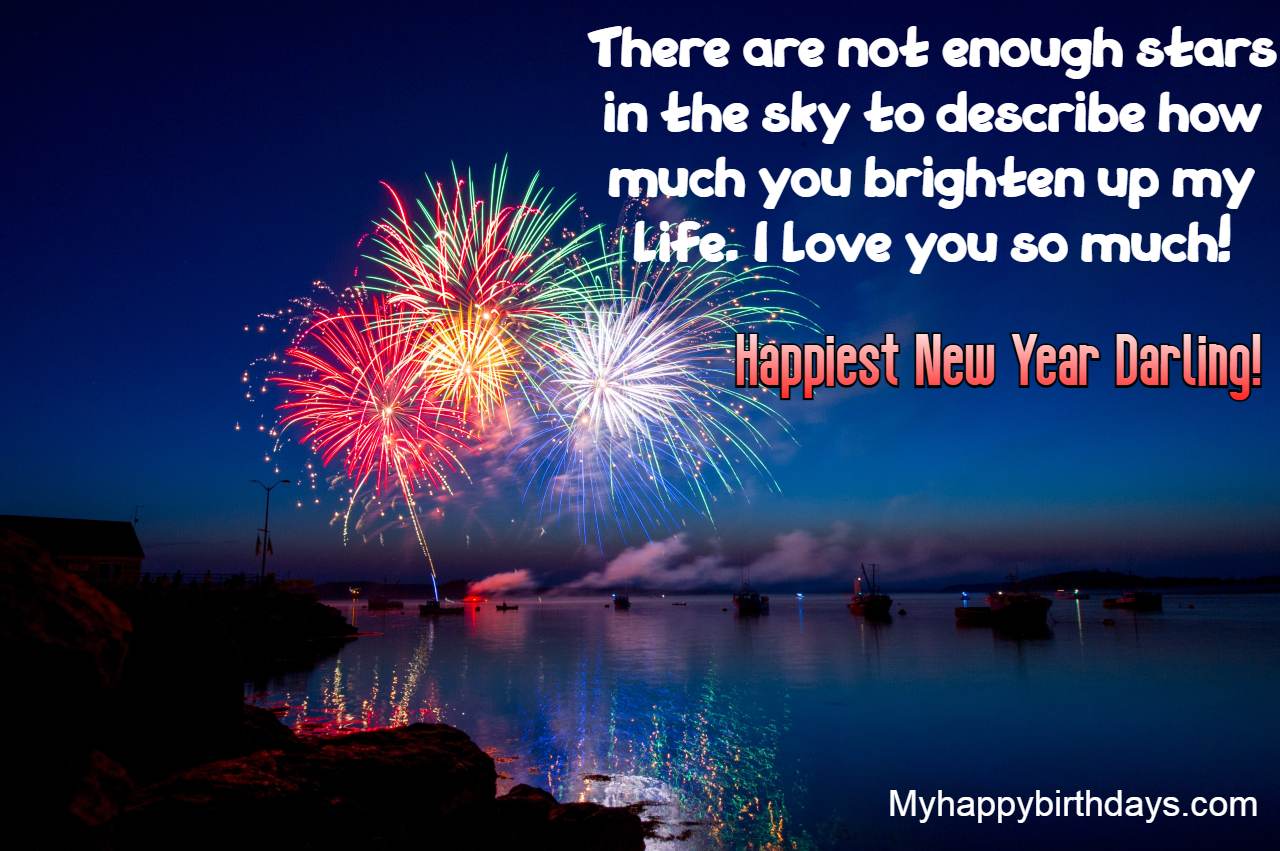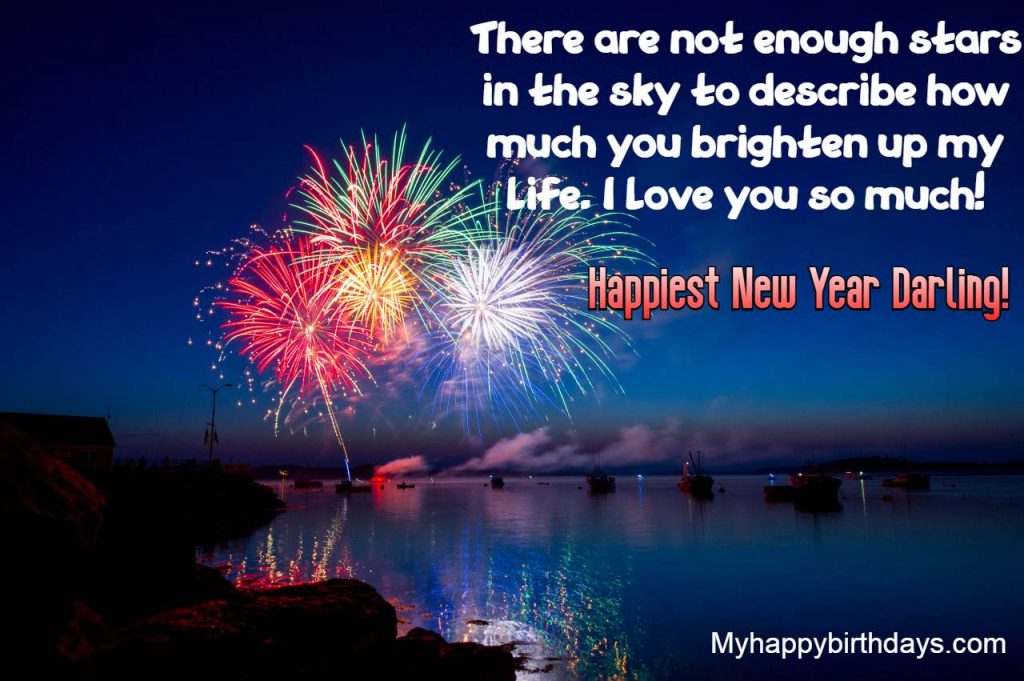 Dear, sweetheart, It's time to cheer the New Year with full of energy and fun. May it be a memorable one. Have a blast on this New Year 2022
Wishing you the best New Year full of faith and hope to my partner! All the words in the world will fall short to describe what we've shared between us. All I want to say is, keep supporting and loving me forever.
To my charming wife, who gives me the strength and courage to put up with all the challenges of life. I pray and wish this gives you more power and courage to hold my hands tight till the last breath of your life. Have a spectacular New Year with so many kisses, hugs, and love!
My darling, you are the true answer to my every prayer and the destination of my long journey. We are meant to be each other forever. Hold it firmly in your heart. Happy New Year wife
I wish you a warm Happy New Year wishes to my princess! You deserve all the best things in the world and may the coming year offer you all the opportunity to reach your dreams.
All the luxuries and treasures in the world would not mean if you are not there. So, you are the real jewel of my life, and I want to keep it in my heart always. Happiest New Year 2022, and I love you to the moon and back!
May your name be on my lips forever. May in your heart I rule. May our love continue to grow and be never-ending. May we be remembered eternal. Wishing to my adorable wife a beautiful 2022 New Year!
New Year Wishes For Husband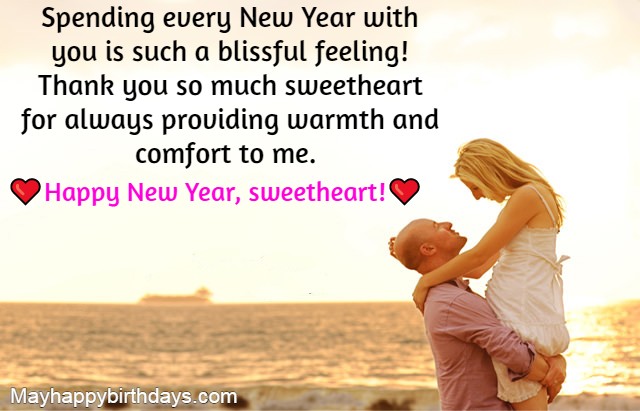 Happy New Year to my handsome hunk! I hope you have a great New Year filled with success, joy, fun. May God bless you with everything.
Thank you darling for being such a caring lover and responsible husband. Also, you are always the first best friend and No.1 supporter. Happy New Year 2022, baby!
Spending every New Year with you is such a blissful feeling! Thank you so much sweetheart for always providing warmth and comfort to me. Happy New Year!
Dear hubby, you are the real hero of my life. Your love, care, and respect are beyond my expectations. I love you so much Jaanu not because of anything you have but because of something I feel in your arms. Happy New Year, Jaanu!
When I look into your smile, you fill my heart with innumerable excitement every time. As long as we are together, there can never be the worst year ahead of us. Happiest New Year Love,
Darling, may the trust in God be with you all this year. May the serenity of God surround you, and may you be blessed with every passing day. Happy New Year 2022, handsome!
Wishing you the New Year full of good health, wealth, and success, lovely hubby! May God fulfill your all dreams and reach you at a new height of success. I love you infinitely, love!
Today is the last day of 2021 and I want to thank you for always providing me warmth and comfort. May God bless you keep smiling in every walks of life. Have an exceptional New Year!
Let the coming new year bring more beautiful memories, exciting moments, and surprises than the previous year. Wishing you the greatest New Year to my life partner. Have a blessed journey ahead!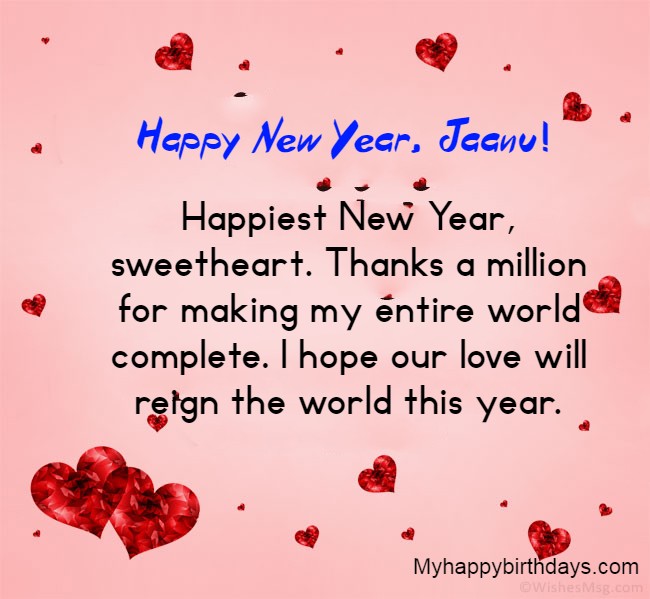 Firstly, you are my best friend and wife later. These both great combinations in you are outstanding that have made my life mirthful. Happy New Year, Janeman!
It is high time to unfold new pages and begin a new chapter in your life as it's another New Year knocking at your door. Stay blessed, baby! Happy New Year!
I wish this wonderful New Year, our love multiplied, our discordance alleviated, and our lives were filled with coordination and peace. Happy New Year, Jaan!
Dear, baby! I can do everything for my lovely husband. May you get success in every place. Sending you lots of love and kisses. Happy New Year!
As long as I am here with you, no anxiety can touch you. I will ensure that your world is full of beautiful moments and love all the year. Have an awesome new year to my prince!
You are not just a husband to me, you are my best buddy. I can trust you for everything because nobody else understands me the way you do. Thank you baby for making my life precious. Happy New Year!
We have shared every moment together and want to continue till the last breath of my life. Darling, I promise you I will never let you go. Happy New Year 2022!
Dear Husband, You brought to my life eternal happiness and peace. I love you so much for everything you have done for me all this year. Happy New Year, handsome!
I can't imagine my life without your presence. You are a hero of my life who protects me from every foe. Happy New Year hubby!
I am very thankful to God for sending you to my life. My life would have been incomplete with you. I hope you get all the luxuries and happiness in the world. Happy New Year, Janeman!
I am fortunate that God has blessed me with a husband like you, and I am very proud of you myself I got you. I love you so much, darling! Happy New Year!
New Year Love Messages For Husband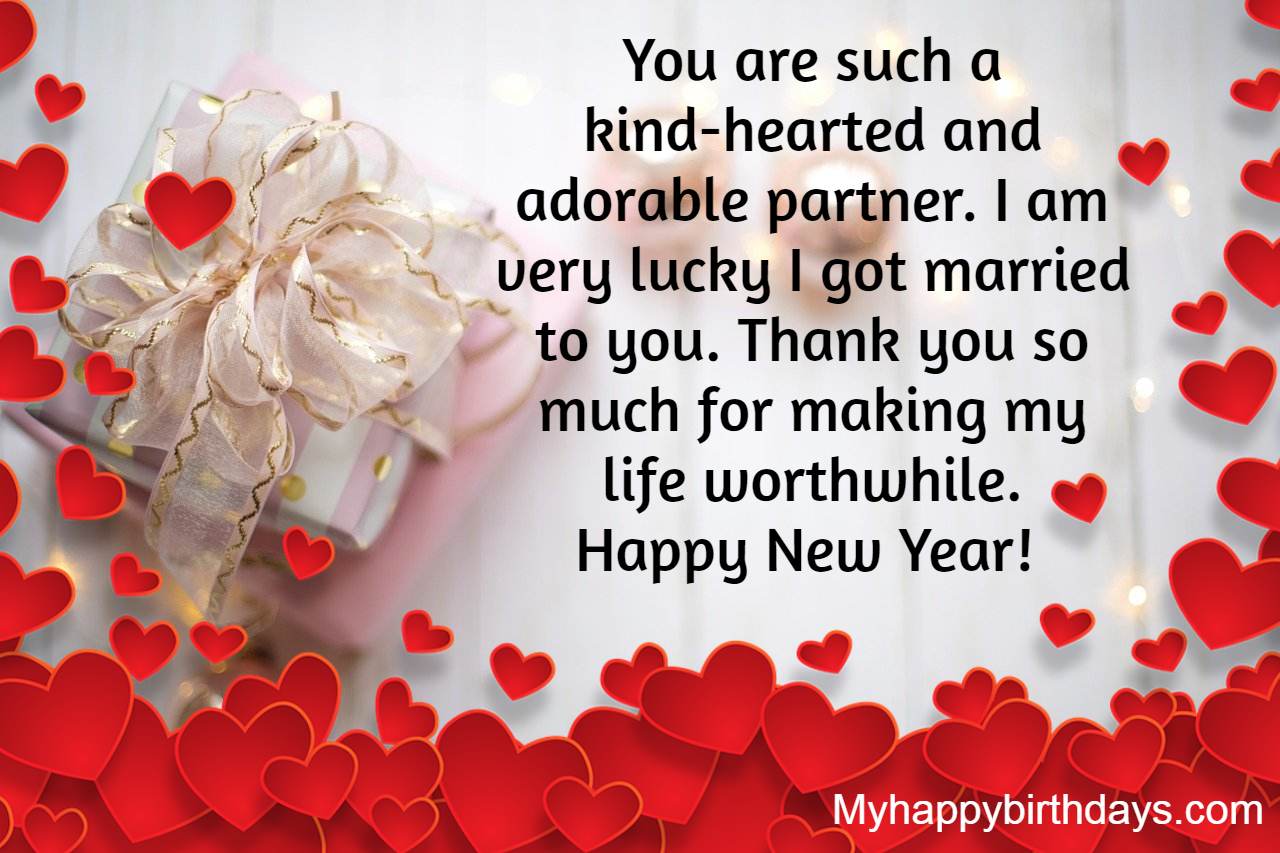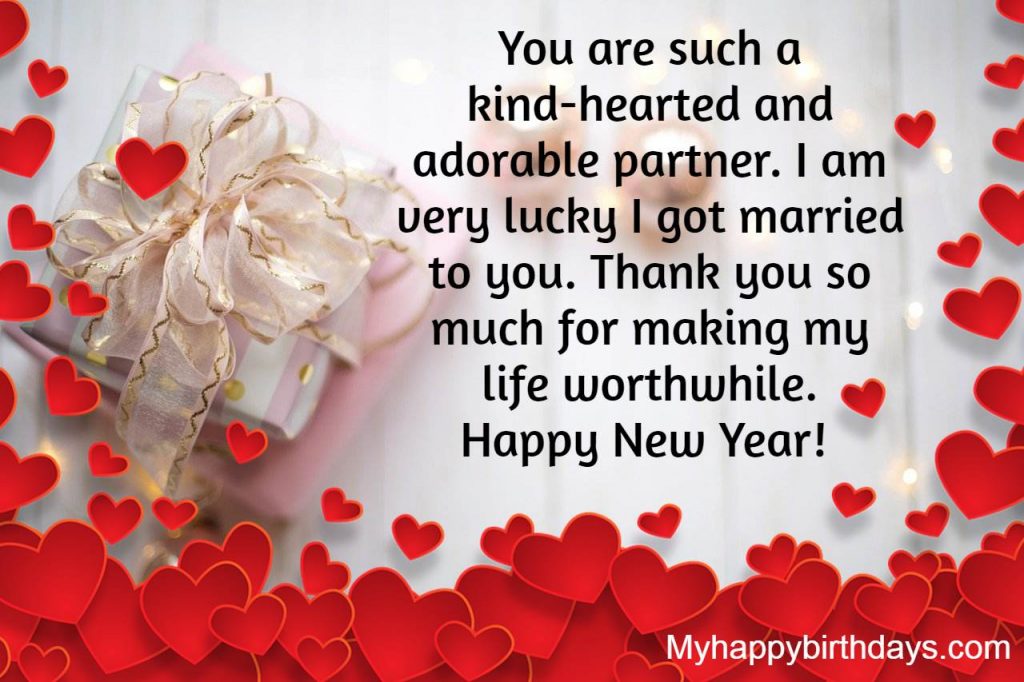 Dear Hubby, I don't have enough words to describe what I feel for you. I fall in love every time with each passing and the moment I spend with you feels like a dream. I love you infinitely. Happy New Year!
You came into my life like a cool breeze. I thrived like a flower in your company. Happy New Year dearest husband for making my life more entertaining and full of love. Sending you romantic New Year wishes with all my heart!
May this coming New Year bring more success in your way. I hope and pray you to achieve better at everything. Happy New Year 2022, Shona!
Dear hubby, our love is like a flower. It is amazing, divine, radiant, pure, and affectionate. I am so blessed to have you as my life partner. Have a blast this New Year!
You have always shared our pain and joy together. Even if this year, we are far from each other, but I am sending you my hugs, kisses, and lots of love to keep so that you don't feel the sorrow of our distance. Happy New Year, baby Jaan!
Life is not worth living without your presence in my life. You make me complete from every side. I love you so much baby, I thank God for blessing me with your love. Happy New Year!
You are such a kind-hearted and adorable partner. I am very lucky I got married to you. Thank you so much for making my life worthwhile. Happy New Year!
Happiest New Year, sweetheart. Thanks a million for making my entire world complete. I hope our love will reign the world this year!
No one makes me happier than the thought of spending the new year with you. Baby, I look forward to spending more new year of my life with you. Happy New Year!
My love, as we are almost ready to begin another together, it's my hope that we will start a new chapter of life, and I want to thank you for having been there for me in every condition.
Finally, 2021 has come to an end, and you are still there for me. Even if the years come and go but your love is eternal. Thank you sweetheart for that. Happy New Year!
Whenever I think about you makes me miss a heartbeat. You've always been an exceptional person in my life. Happy New Year, love!
New Year Love Messages For Wife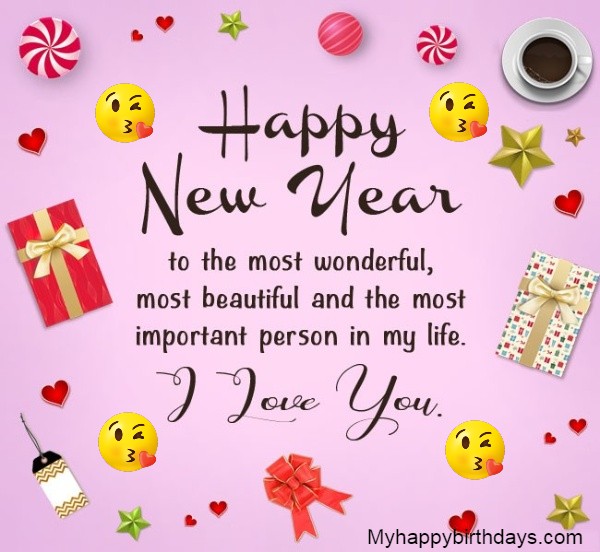 Dear wife, everything is beyond your comparison. Thank you wide for spending every single moment. Happy New Year!
Before the clock rings reach the final time of the New Year, I want you to know that you are one of the best things which happened to me last year. Have a phenomenal New Year ahead!
My darling, may this new year bring an amazing future for you and fill your life with beautiful moments. love, and joy! Happiest New Year 2022.
Let's dine, dance together, and make everything happier and exciting while welcoming another great new year. Wishing you a lovely and wonderful New Year 2022!
Dear baby, everything is matchless to you. Thank you for giving every single moment we have spent together with zeal and mirth. Happy New Year, my life!
I am not going to wish for any gift for this year as I already have the most precious gift and that is you, darling. You are the most valuable gift of my life I have ever received. Happy New Year!
We fought so hard to be together to be with each other for life. Today, we find every moment so rewarding and peace-loving. Happy New Year!
Today, let's take an oath to never let each other go no matter where life takes us. May our love win over all the obstacles in life. Happy New Year!
To my adorable wife, I pray this new year that our relationship blossoms up into a much deeper and more beneficial one with a new morning of the new year! I am sending all my heartfelt love and new year wishes for an endowed new year ahead!
With your presence in my life, I have got great confidence. Thank you for giving me so much confidence whenever you are around and thank you for making every year the best. Have a fantastic New Year, Jaan!
Final Words
A New Year is the time when you celebrate with your family, friends, and loved ones and a new year gives the wife and husband a new reason to get close and remind the days they spent together with each other.
If you are married and looking for the perfect happy New Year wishes for wife and husband, we have compiled wonderfully new year wishes for your husband and wife to share the bond of love. Choose the best one you like the most and send it right away to bring a lovely smile to his/her face.