Happy Fathers Day Quotes – When it comes to father's day, this is the perfect time of the year to celebrate the caring and loving men in your life. However, it is hard to put into words just how much your father holds a special bond in your life.
It could be anyone whether it's your uncle, brother, grandpa, or dad who has been a father figure to you and motivated you to follow your dreams. With our collection of the best and heart touching Father's day quotes, wishes, and messages, you can express your feelings and let him know how much you appreciate all of his unconditional support and valuable advice.
In order to make your dad feel extra special, we have listed 100 sweet, best, and heart-touching Father's day quotes, wishes, and messages to celebrate all the happiness of fatherhood and share with your amazing dad.
Happy Father's Day Wishes Video
Happy Father's Day Wishes & Messages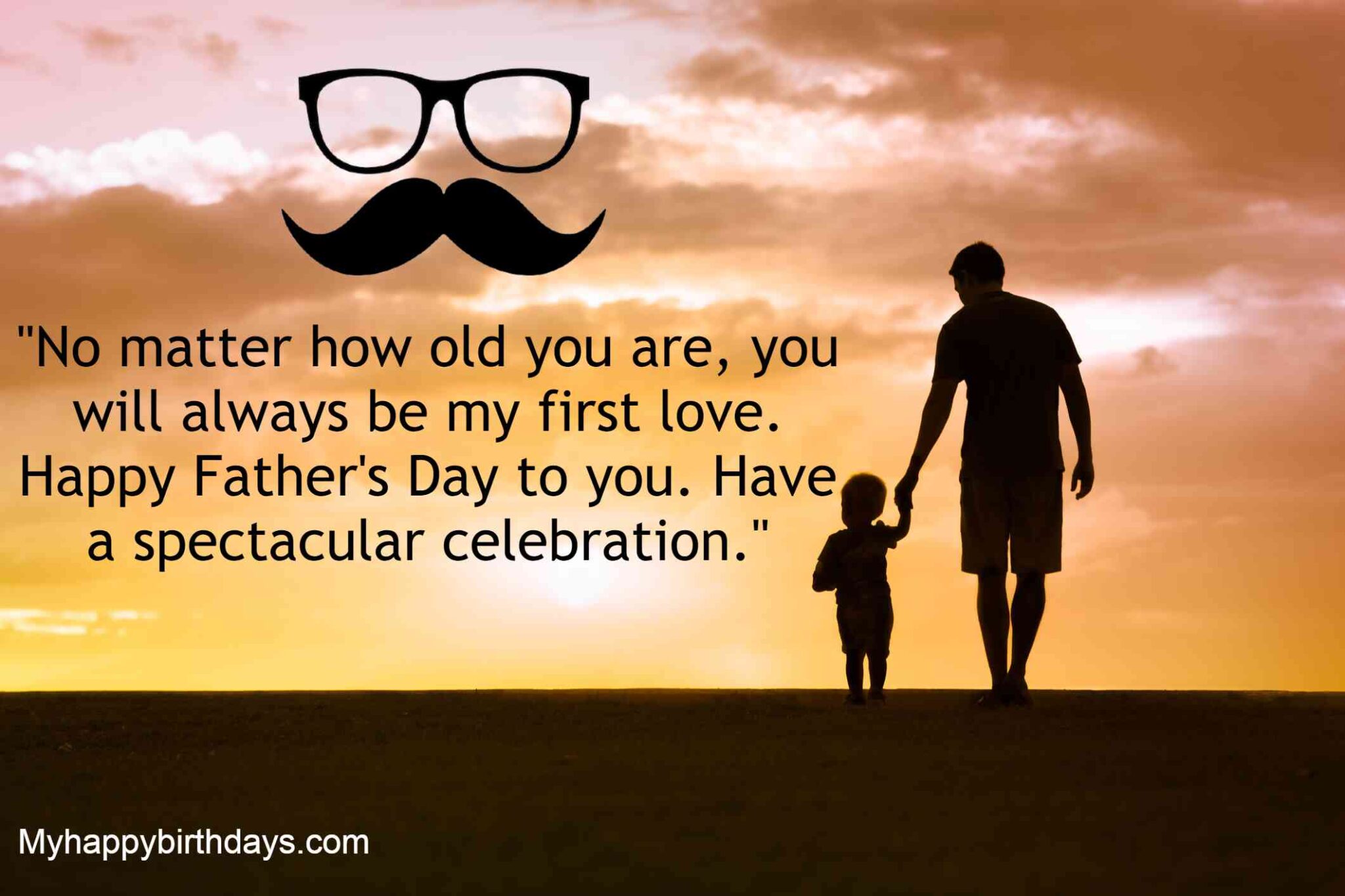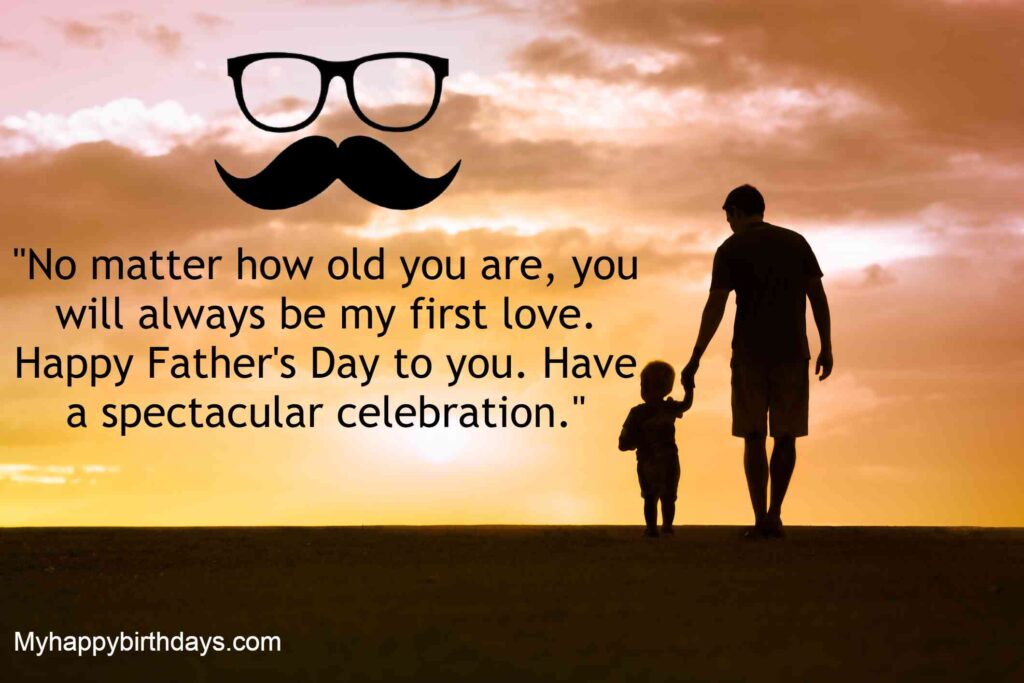 I am fortunate to have you in my life. You are the best father in the world. I love and Happy Father's Day 2023!
Your protection, guidance, and responsibility kept us united, made us strong, and taught us how to stand tall above all. Happiest Father's Day to you!
No one can stop me from loving you as I love you today and always. Happy Father's Day to the coolest dad!
Happy Father's Day! I will never ever stop looking up to you. I am very proud to call you my friend and dad. I love you dad so much!
Honestly, daddy, you have done everything for me I wanted. Now, it's my time to do everything for you. Have a wonderful Father's Day!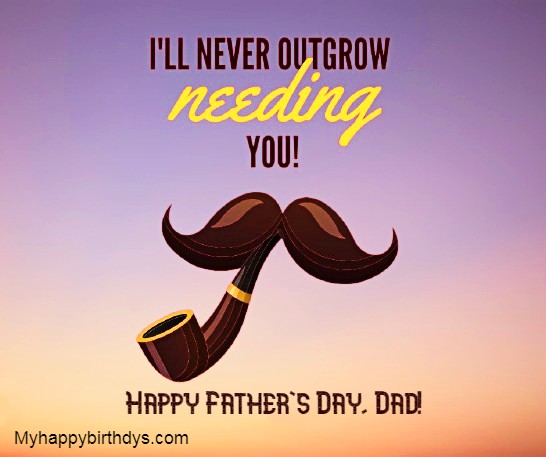 Happiest Father's Day. dear dad! You are very cool, pure, and gentle from the heart and I just want to be like you. I pray to God I want a father like you in every birth.
My father is funny and amazing and I am the lucky one because I got daddy-like you and became his favorite child. Have a great Father's Day to the best daddy!
No matter how old you are, you will always be my first love. Happy Father's Day to you. Have a spectacular celebration!
My father is my hero and you will always be top-dog in my eyes. Thank you so much for taking care of me and standing up. I wish you a Happy Father's Day!
Sending you lots of hugs, love, and years of happiness, you are my superhero dad. Happy Father's Day to you from your son. I love you a lot!
I am the luckiest daughter as I have found a sweet Dad that all my friends wish they had a dad like you. Happiest Father's Day, dear Papa!
Advertisement
Related – Funny Mother's Day Quotes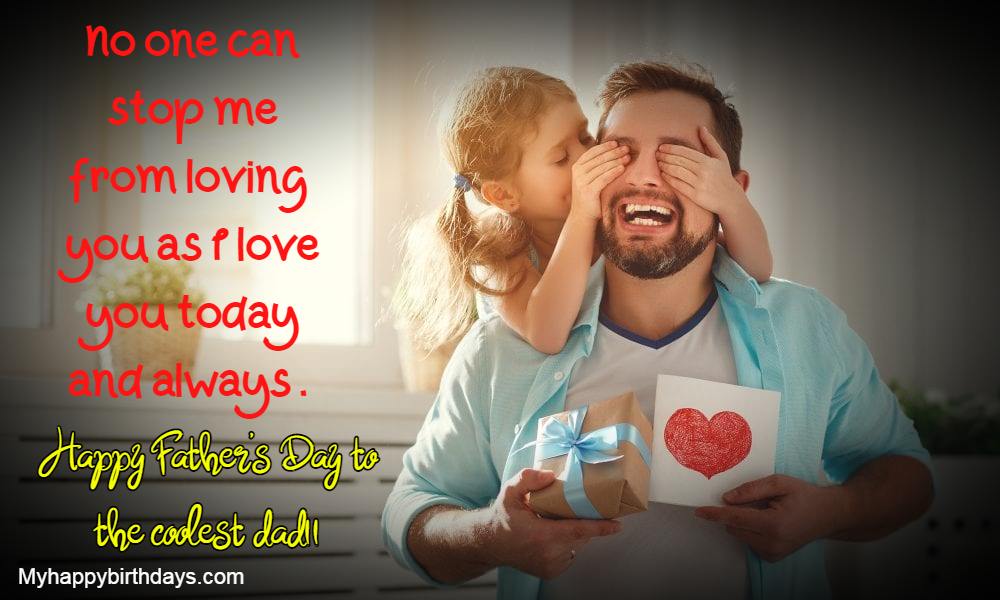 Thanks a million for making all the sacrifices and working hard all day and night just to provide us with a better life. I love you infinitely, dad. Happy Father's Day!
Happy Father's Day! I am fortunate enough to have you in my life and thank you for your love and endless patience. Your steady intelligence and guidance continue to be the foundation upon which we build our lives. May God bless you with everything.
Thank you for always protecting our family from disappointment. sorrow. Our kids must be feeling so fortunate for having an amazing father. Happy Father's Day to you!
Happy Father's Day Quotes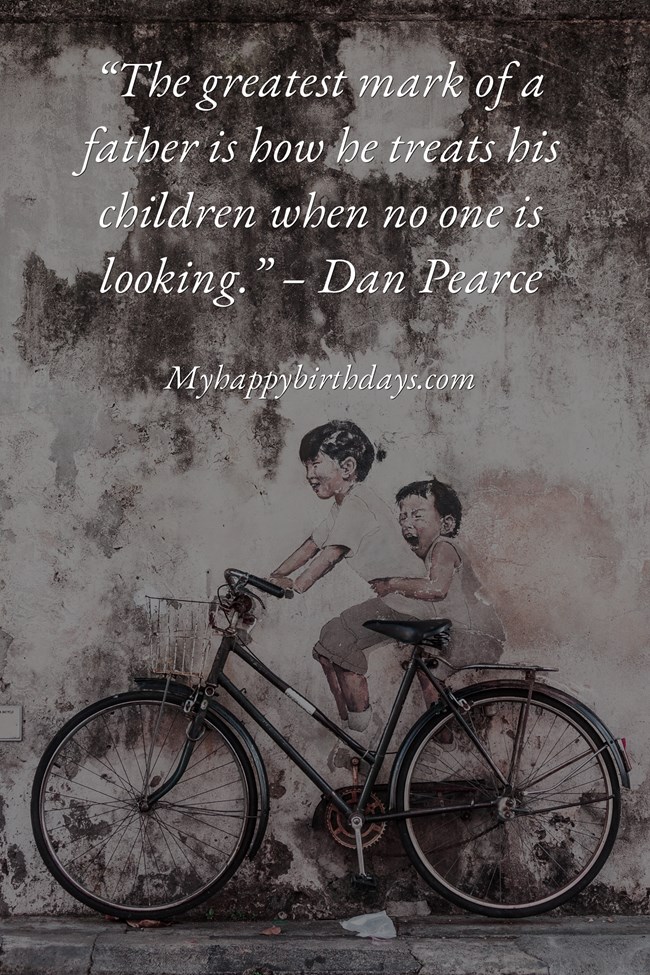 "The greatest mark of a father is how he treats his children when no one is looking." – Dan Pearce
"(My father) always provided me a safe place to land and a hard place from which to launch." – Chelsea Clinton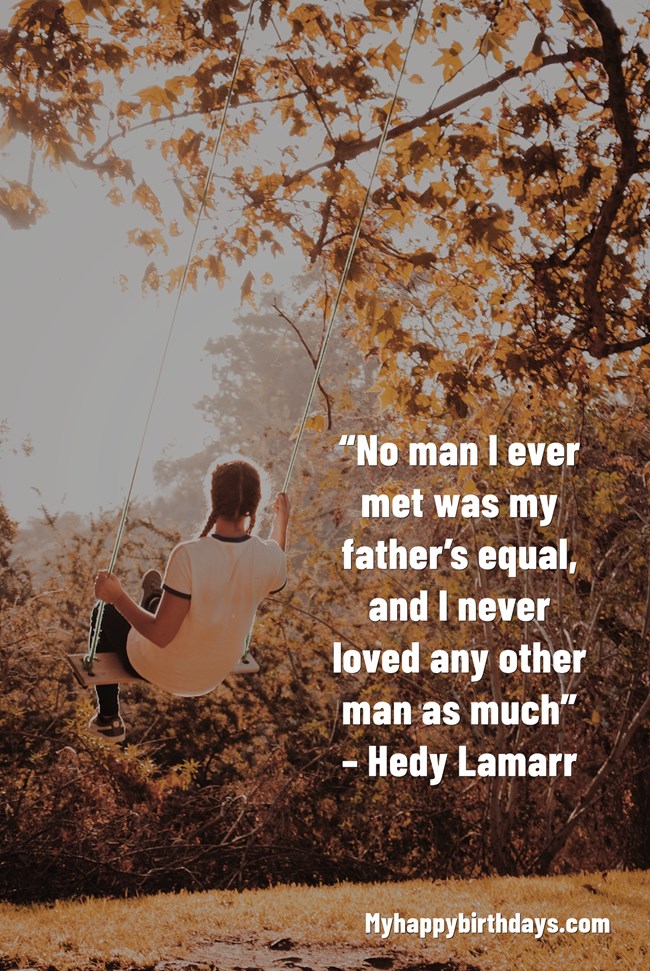 "No man I ever met was my father's equal, and I never loved any other man as much" – Hedy Lamarr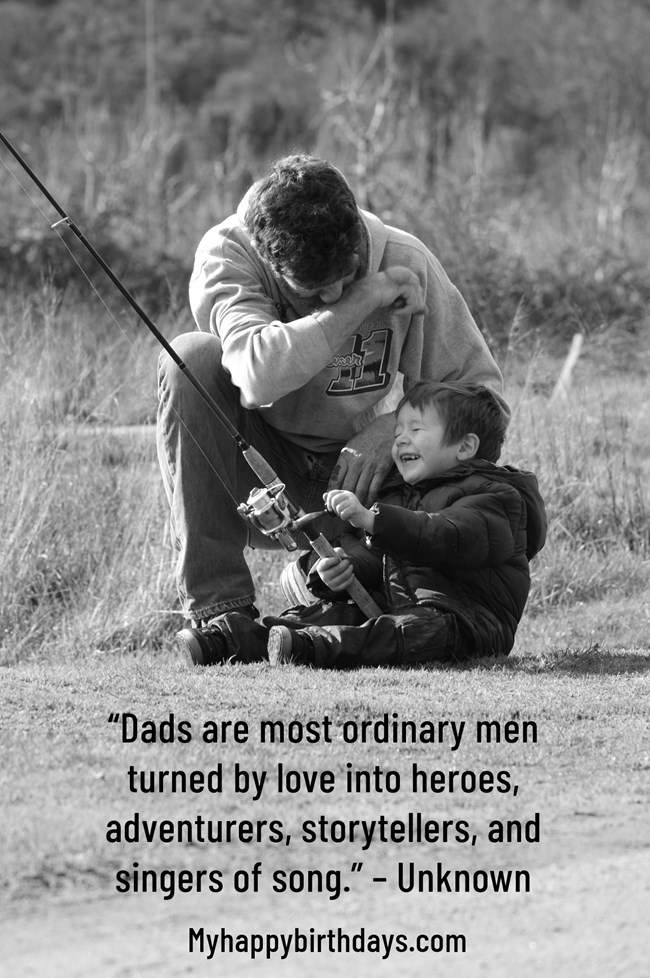 "Dads are most ordinary men turned by love into heroes, adventurers, storytellers, and singers of song." – Unknown
"A father's smile has been known to light up a child's entire day." – Susan Gale
"Behind every great daughter is a truly amazing father." – Unknown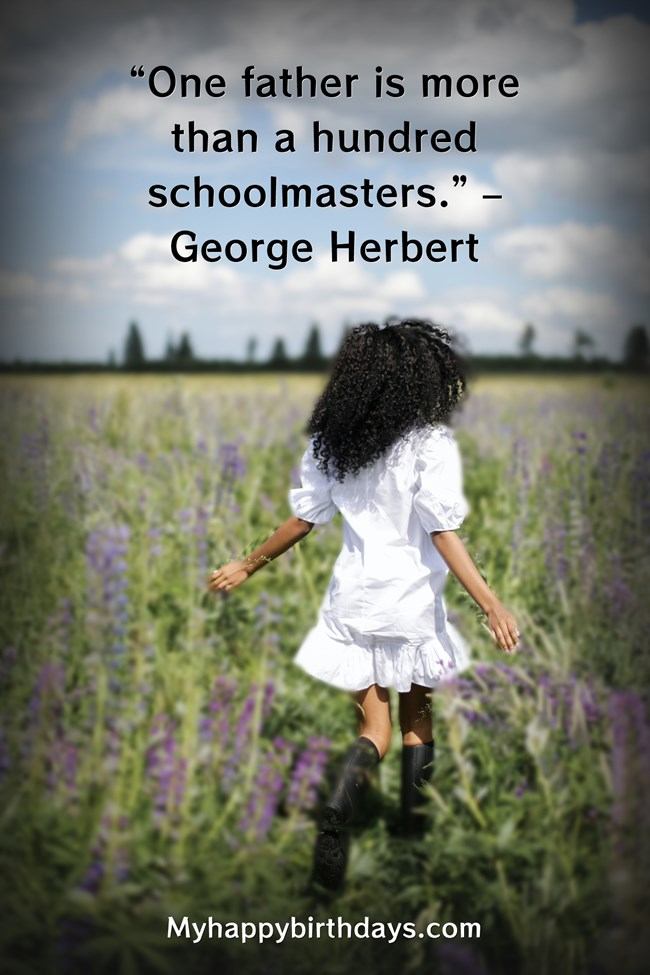 "One father is more than a hundred schoolmasters." – George Herbert
"A father is someone you look up to no matter how tall you grow." – Unknown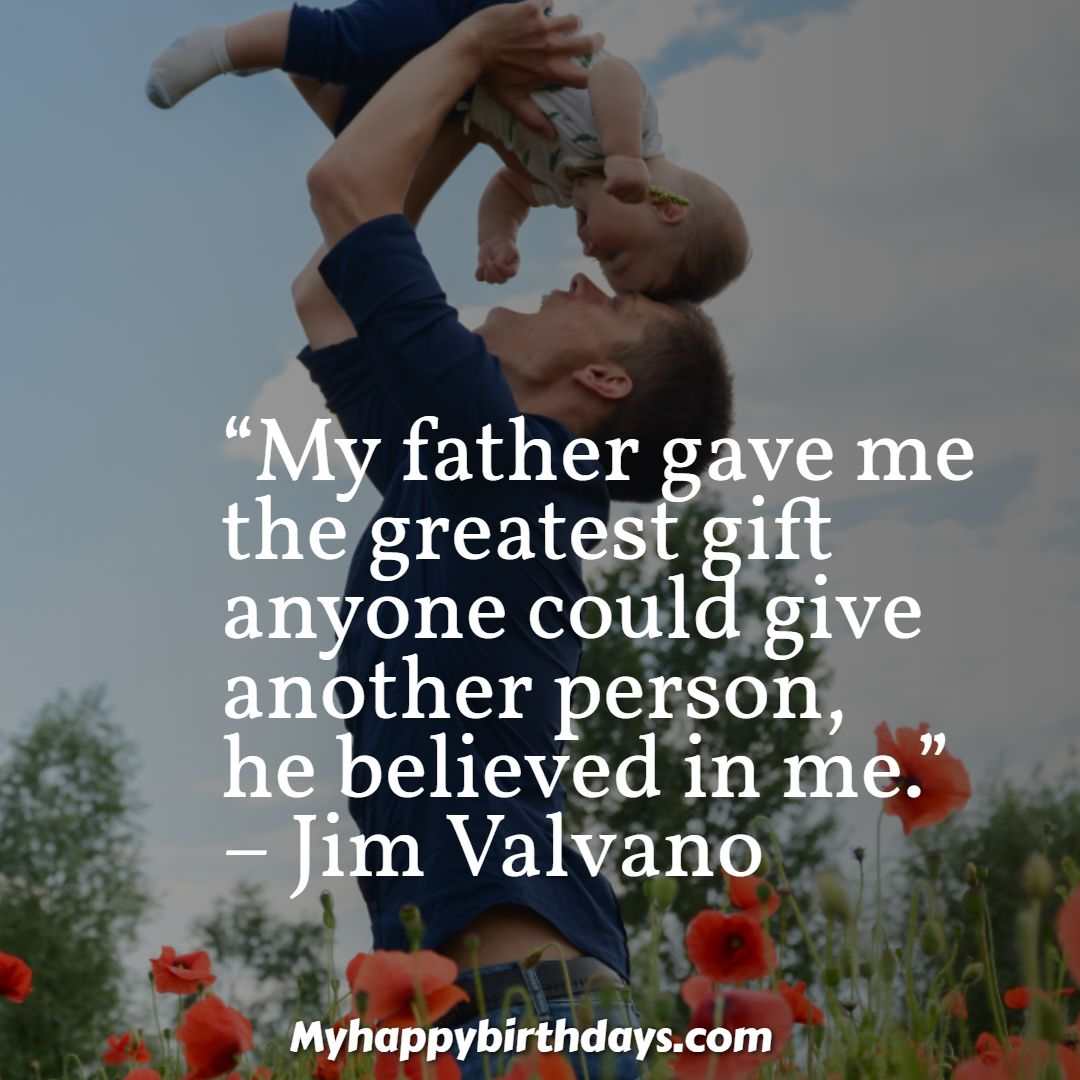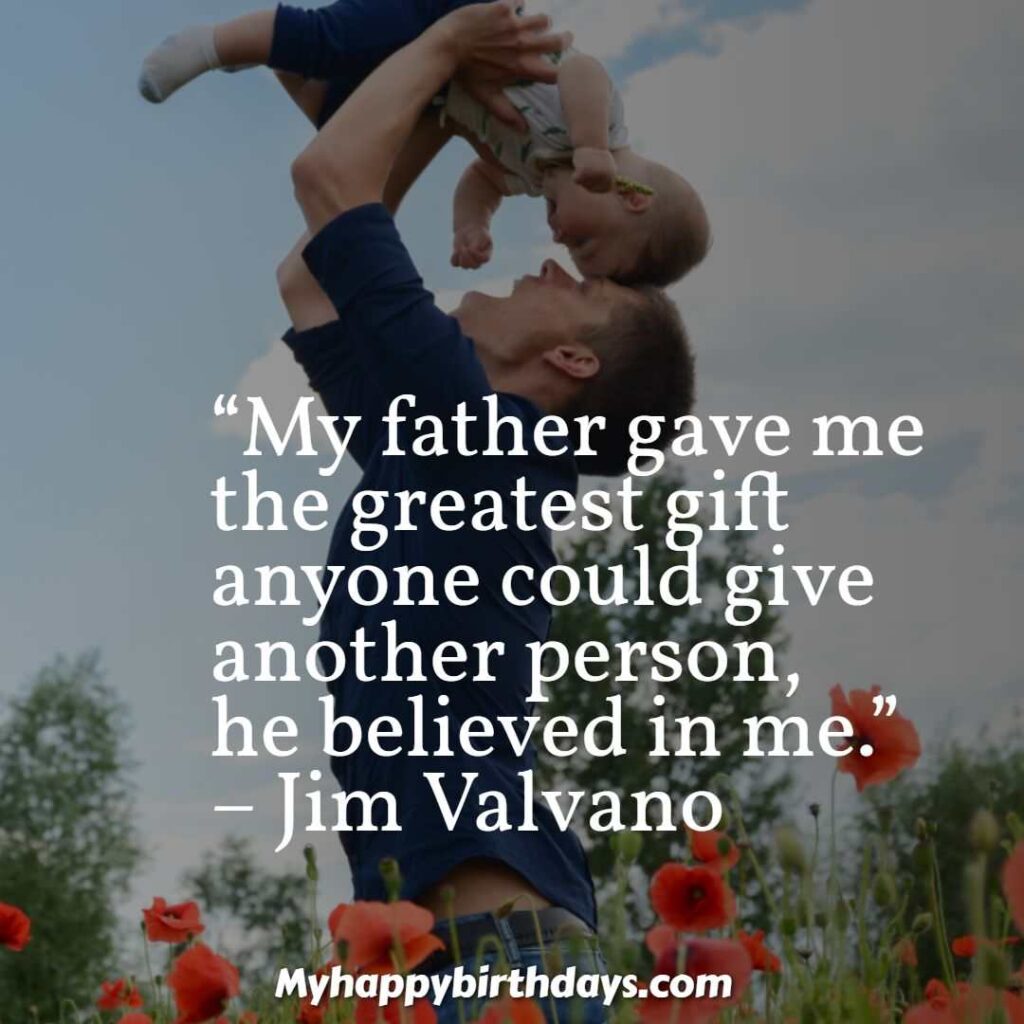 "My father gave me the greatest gift anyone could give another person, he believed in me." – Jim Valvano
"To be the father of a nation is a great honor, but to be the father of a family is a greater joy." – Nelson Mandela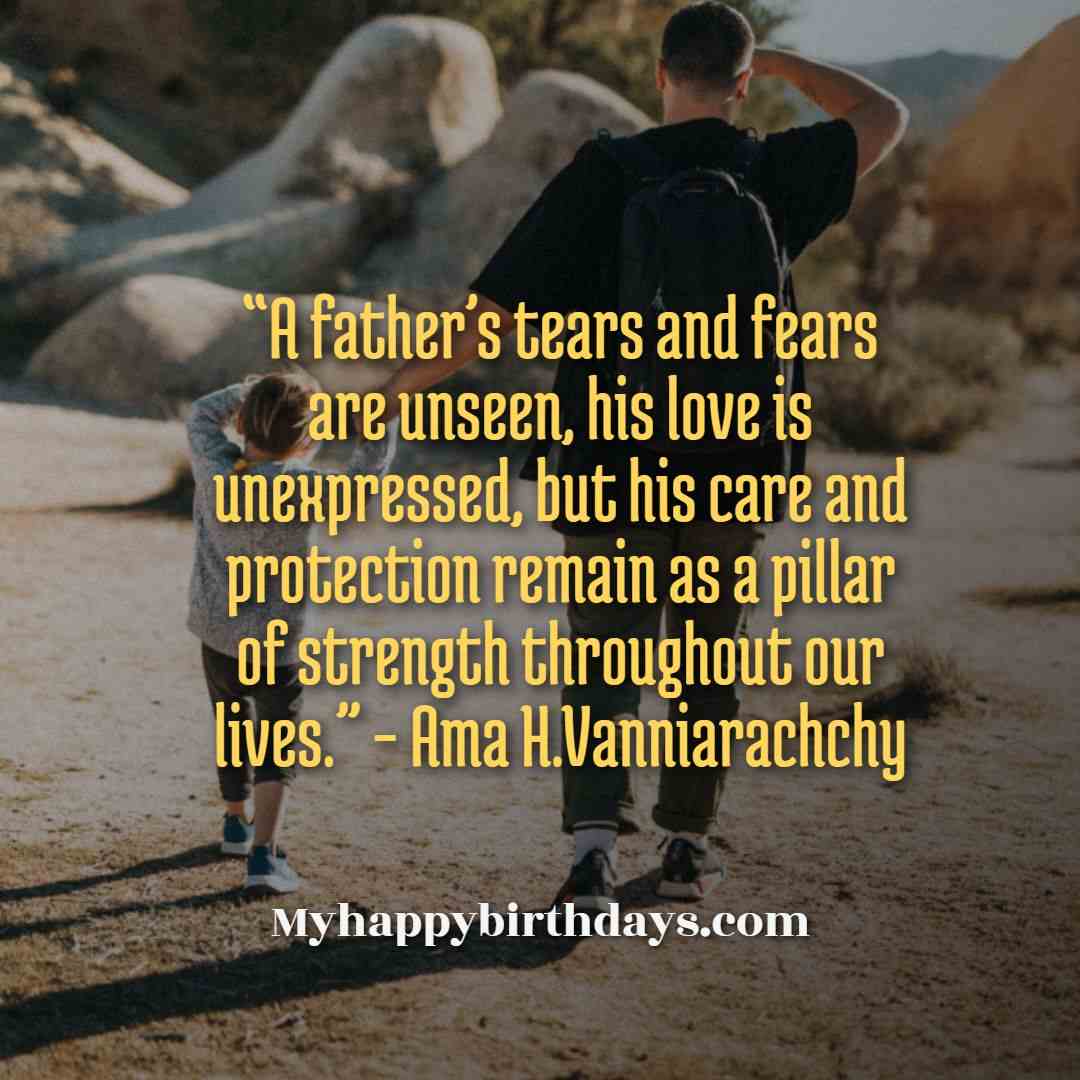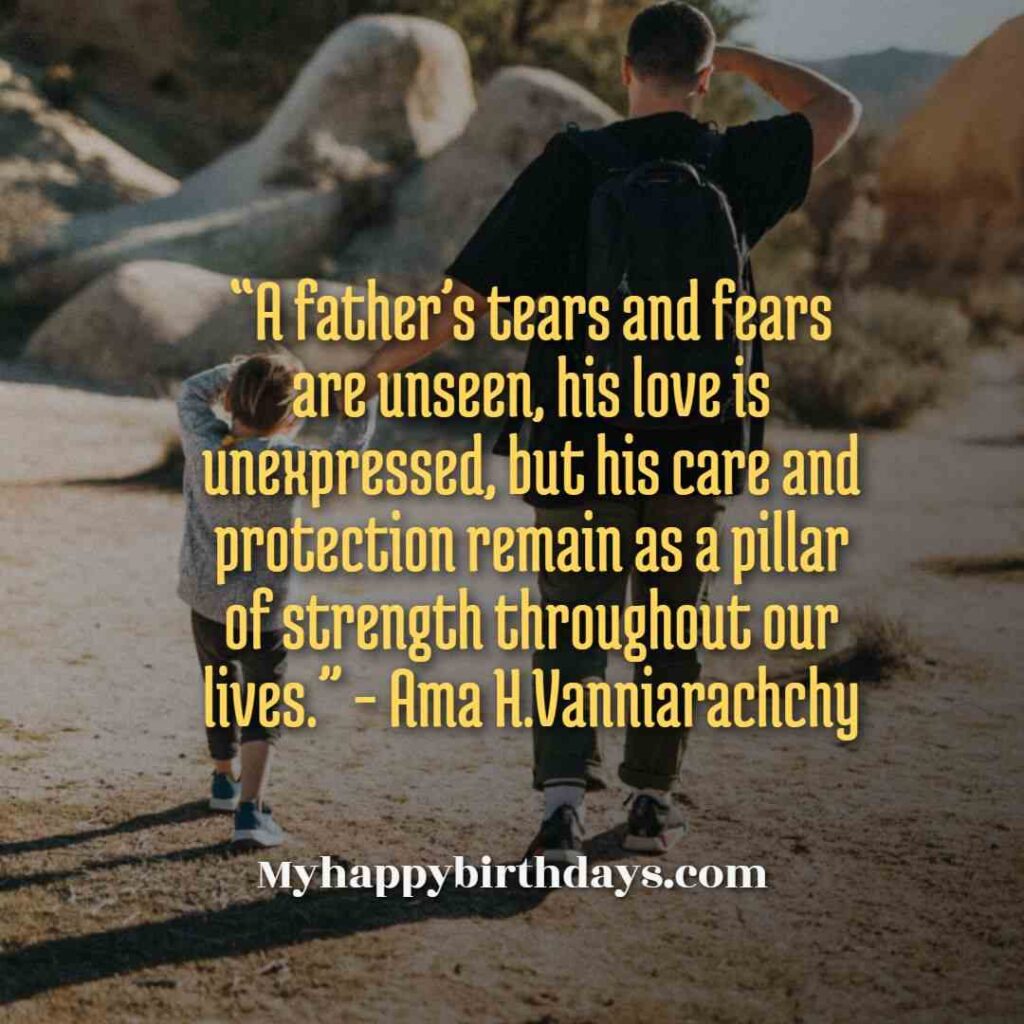 "A father's tears and fears are unseen, his love is unexpressed, but his care and protection remain as a pillar of strength throughout our lives." – Ama H.Vanniarachchy
The power of a dad in a child's life is unmatched." – Justin Ricklefs
"To her, the name of father was another name for love." – Fanny Fern
"Fathers, be good to your daughters. You are the god and the weight of her world." –John Mayer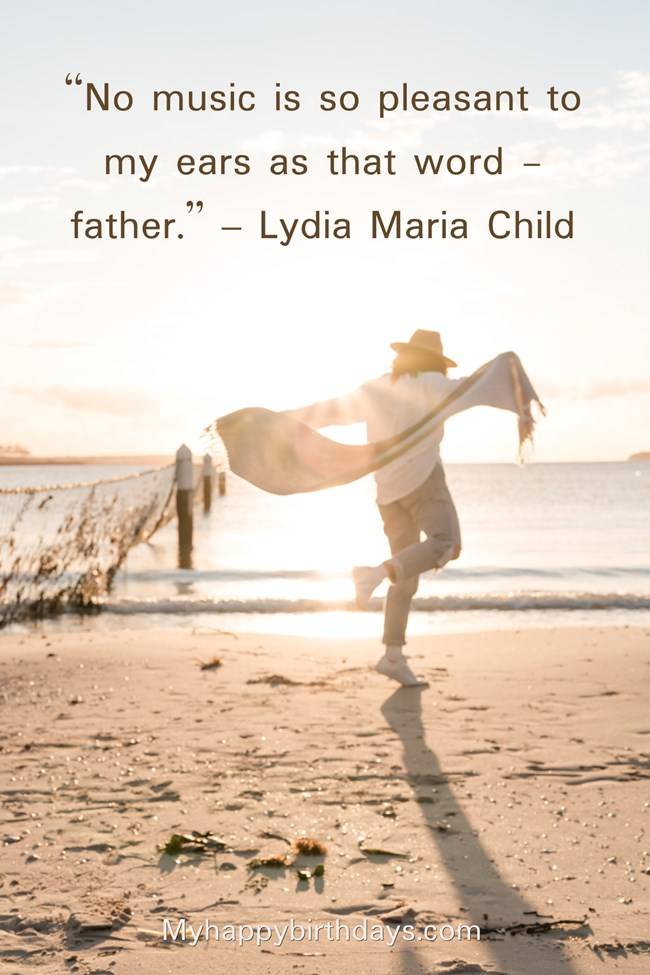 "No music is so pleasant to my ears as that word – father." – Lydia Maria Child
"My father taught me to work hard, laugh often, and keep my word." – Michelle Obama
"A good father is one of the most unsung, unpraised, unnoticed, and yet one of the most valuable assets in our society." – Billy Graham
"I've said it before, but it's absolutely true: My mother gave me my drive, but my father gave me my dreams. Thanks to him, I could see a future." – Liza Minnelli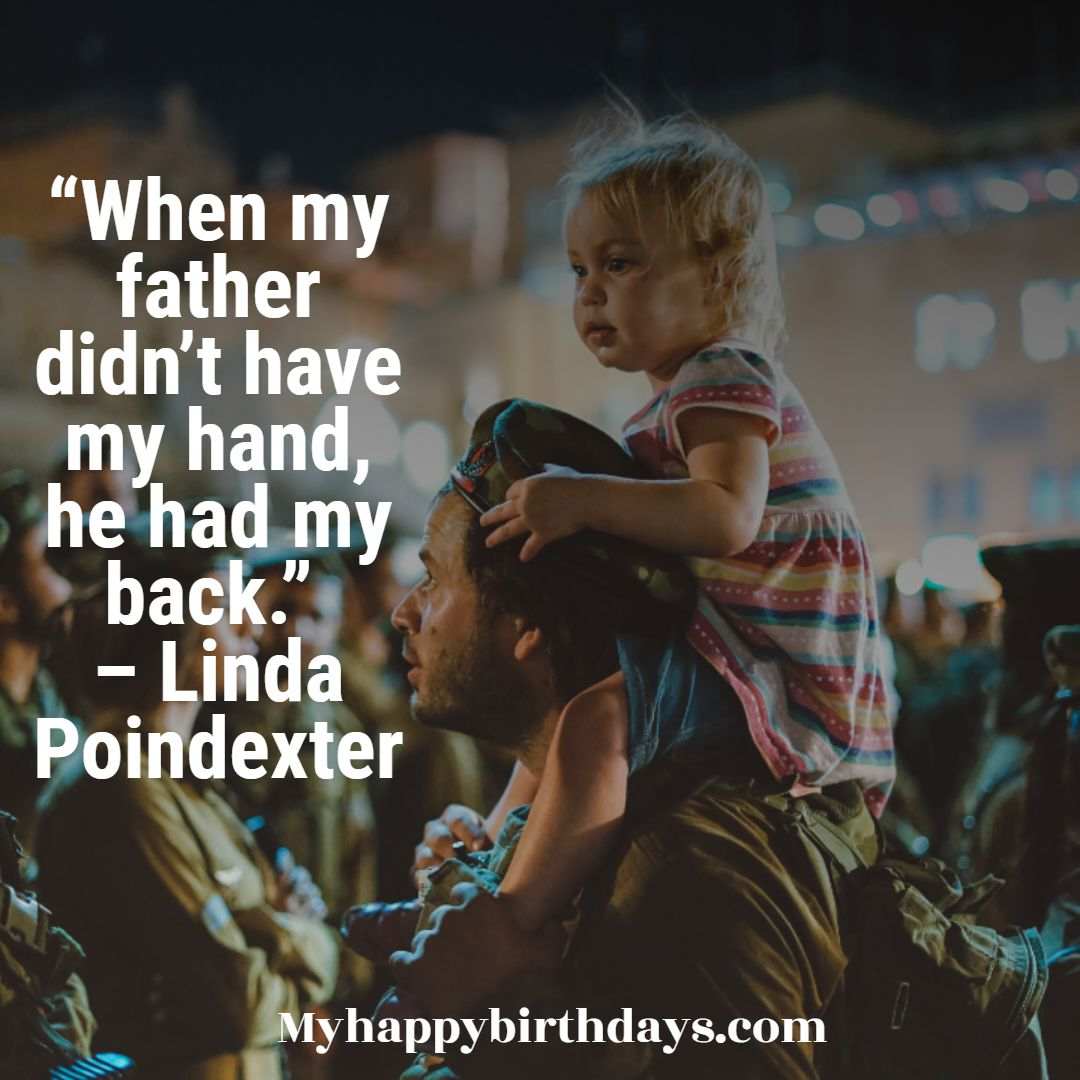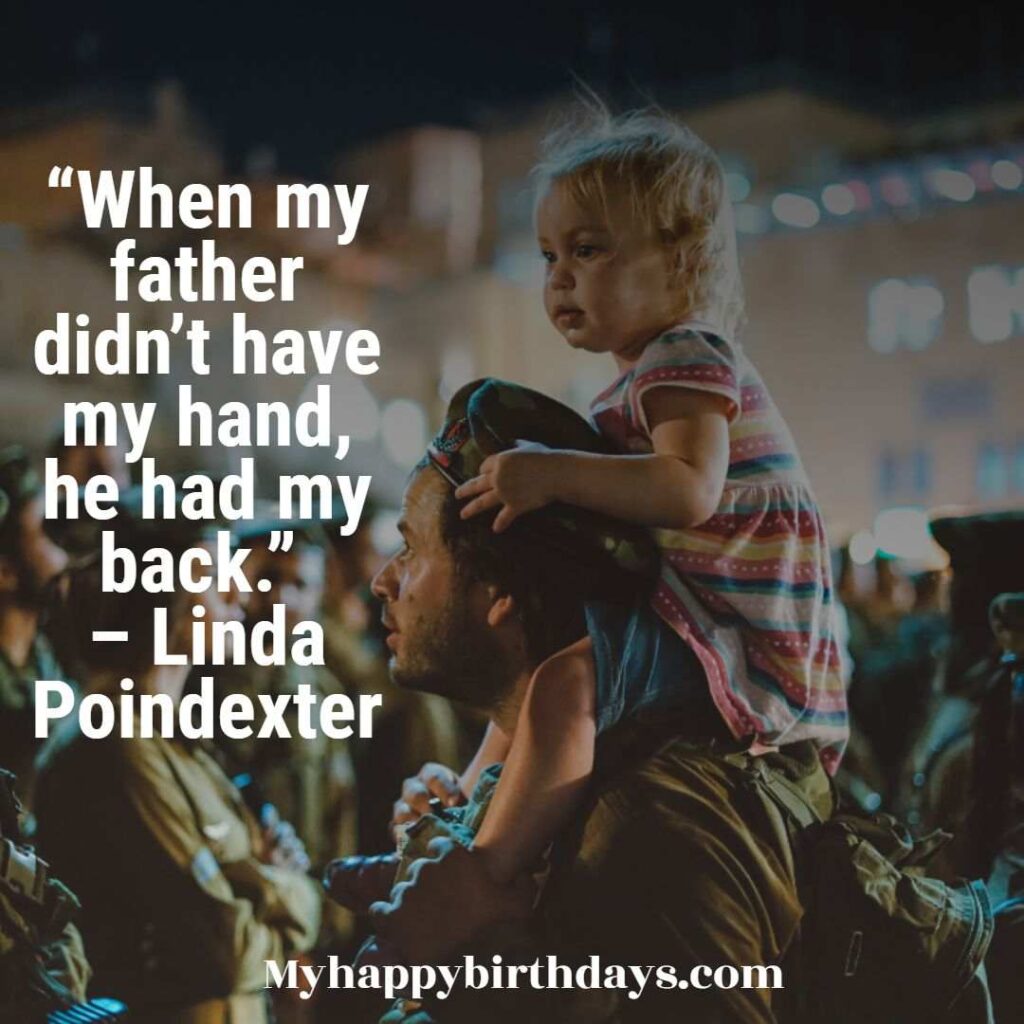 "When my father didn't have my hand, he had my back." – Linda Poindexter
"A father doesn't tell you that he loves you. He shows you." – Dimitri the Stoneheart
"Anyone can be a father, but it takes someone special to be a dad, and that's why I call you dad because you are so special to me. You taught me the game and you taught me how to play it right." – Wade Boggs
"I realized being a father is the greatest job I have ever had and the greatest job I will ever have." – Dwayne "The Rock" Johnson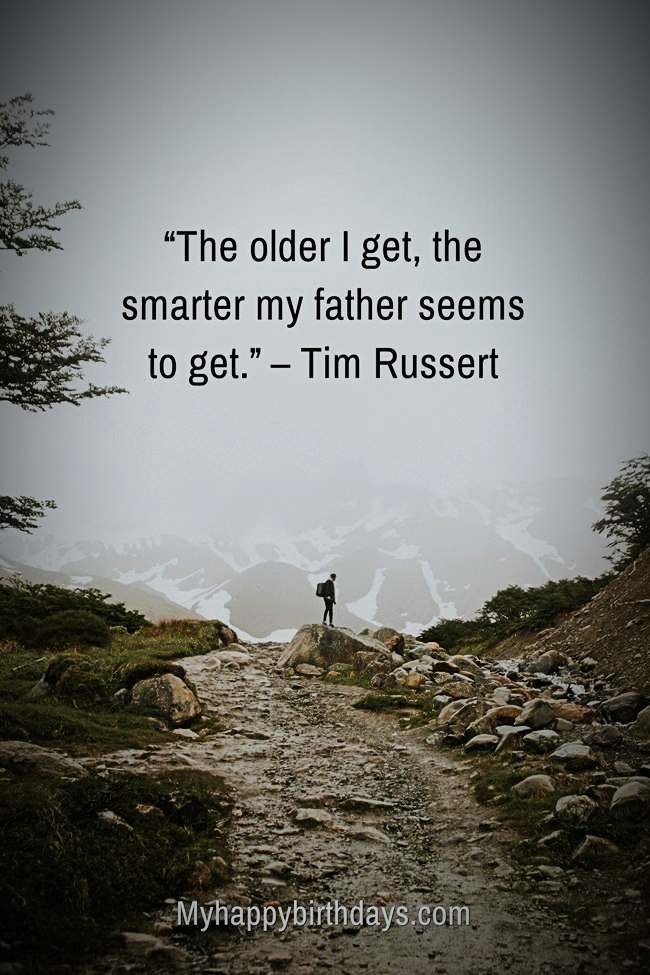 "The older I get, the smarter my father seems to get." – Tim Russert
"It is easier to build strong children than to repair broken men." – Frederick Douglass
"Daddies don't just love their children every now and then, it's a love without end" –George Strait
"An almost perfect relationship with his father was the earthly root of all his wisdom." – C.S. Lewis
"Having a kid is like falling in love for the first time when you're 12, but every single day." – Mike Myers
"The quality of a father can be seen in the goals, dreams, and aspirations he sets not only for himself but for his family." – Reed Markham
"By profession, I am a soldier and take great pride in that fact, but I am also prouder, infinitely prouder, to be a father. A soldier destroys in order to build; the father only builds, never destroys." – General Douglas MacArthur
"Sometimes I think my papa is an accordion. When he looks at me and smiles and breathes, I hear the notes." – Markus Zusak, The Book Thief
"I talk and talk and talk, and I haven't taught people in 50 years what my father taught by example in one week." – Mario Cuomo
"A father is neither an anchor to hold us back nor a sail to take us there, but a guiding light whose love shows us the way." – Unknown
"A father is a man who expects his son to be as good a man as he meant to be." – Unknown
.