Easter Message
Happy Easter Wishes – After passing away winter, people start anticipating the arrival of spring with enthusiasm. We can't wait to feel the warmth of early morning sunbeams that are tickling our skin, breathe in the refreshing odor of green grass, and enjoy the beauty of colorful flowerbeds.
However, there are many reasons to love spring, but one of the most curial for all Christians is the great enjoyment of the spring holiday of Easter.
Easter Sunday is all about sending best Easter wishes, messages, and greetings, so remember to go to the sidewalk to church on Easter morning with the family. Some hunt Easter eggs, watch parades, search for candy, and eat easter foods.
This is the sacred occasion that spreads the positives among us. It is high time to reach the positive vibes and love of Easter to each and every one of your relatives, friends, and family through Happy Easter wishes messages, and greetings.
Christians will give you thanks for the resurrection of Christ, whereas others look forward to the daffodils & crocus appearing. Whatever the memories you have, Easter is the best time for awakening and renewal.
Here are the best of Easter wishes, greetings, and messages that epitomize joyful moments and are full of fun. Share these Easter messages and wishes with your loved ones and celebrate the Easter festival and the arrival of Spring.
Warm Happy Easter Wishes and Greetings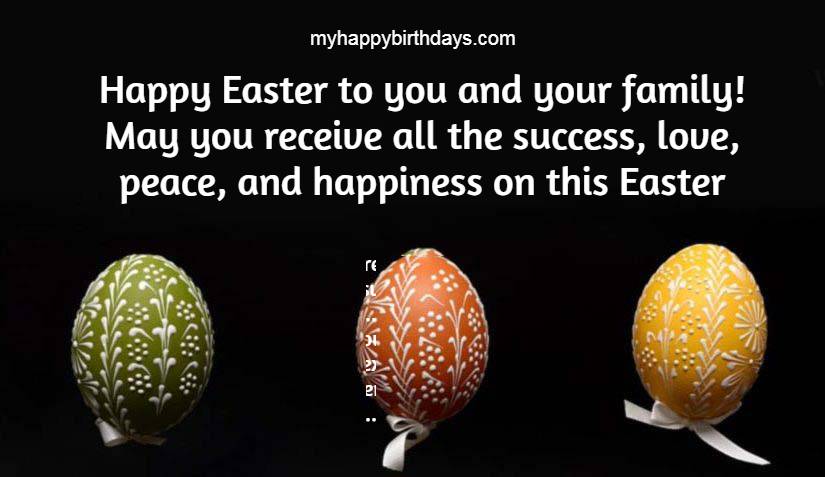 I am sending you the heartiest wishes to you and your family. May you have the happiest Easter holiday filled with peace, love, happiness, and so many Easter eggs. Happy Easter!

My Easter blessing to you! Hope this holiday season brings you joyful moments and love. May Jesus' great deed remembered and cherished.

Have the best of best Easter to you and your adorable family as we celebrate our father's greatest sacrifice through his Son, Jesus Christ. Have a great and blessed Easter ahead!

May the meaning of Easter reflect your life and you with your family experience the renewal of happiness & love. Happy Easter!

Wishing you a wonderful Easter, dear! May the light of God shine in every way of your life and his wisdom helps you in your way.

May your heart be full of gratefulness for the sacrifice of Jesus. May Jesus bring the greatest feelings of joy and recovery in your life. Have a great Easter to you, honey!

May this Easter Sunday inspire you to bring prosperity, new hope, happiness, and abundance of love towards your loved ones.
Advertisement

Wishing you a joyful Easter full of great moments and memories! May the miracle of Easter brighten your life with immense love, joy, and happiness.

I hope this Easter Sunday fills your heart with love, a basket with candies, and Easter eggs. May God bless you and your adorable family. Have a fantastic Easter Sunday!

Sending you the immense happiness and warmth in your hearts to everyone this Easter. Hope this Easter brings success and promotion in your coming life. Wishing you a very blessed and happy Easter! Have a great day!

Let's join us in admiring Jesus for his deep love for humanity and selflessness. May the beauty of Easter warm your heart and bring joy and peace throughout your life. Happy Easter to all!

May the soul of Easter thrives in your heart and make everything better and wise over time. Happy Easter, have an awesome and safe holiday with your friend, family, and loved ones.

Be grateful as Jesus gave us another chance to become the better version of ourselves. His death cleansed us from our sins. Happiest Easter you and your family!

Easter is the best and perfect time to remember the sacrifice made by his unconditional love and Lord Christ. Let's follow the right passage shown by the God of Son. Wishing you a wonderful Easter full of joy, love, and peace!

Easter brings God's countless blessings, Easter brings Happiness, Easter brings fun, Easter brings love and the freshness of spring. Happiest Easter!

Admire and thank the Lord for his loving blessings! May this wonderful springtime bring you the greatest feelings of faith, love, compassion, and gratitude. Happy Easter you and your adorable family!

Sending you the best wishes for a Happy Easter weekend. May God bless you with unwavering determination, happiness, and happiness on this auspicious day of Easter.

May your soul and heart be blessed with the holy spirit of the best Easter time. Celebrate and rejoice in the miracle and victory of Christ's resurrection. May God fill your home with love, peace, and new hopes. Happy Easter!

Easter is a high time to spread the happiness & joy that Christ has brought about into our lives. Wishing you and your family a meaningful Easter.

Happy Easter Wishes For Family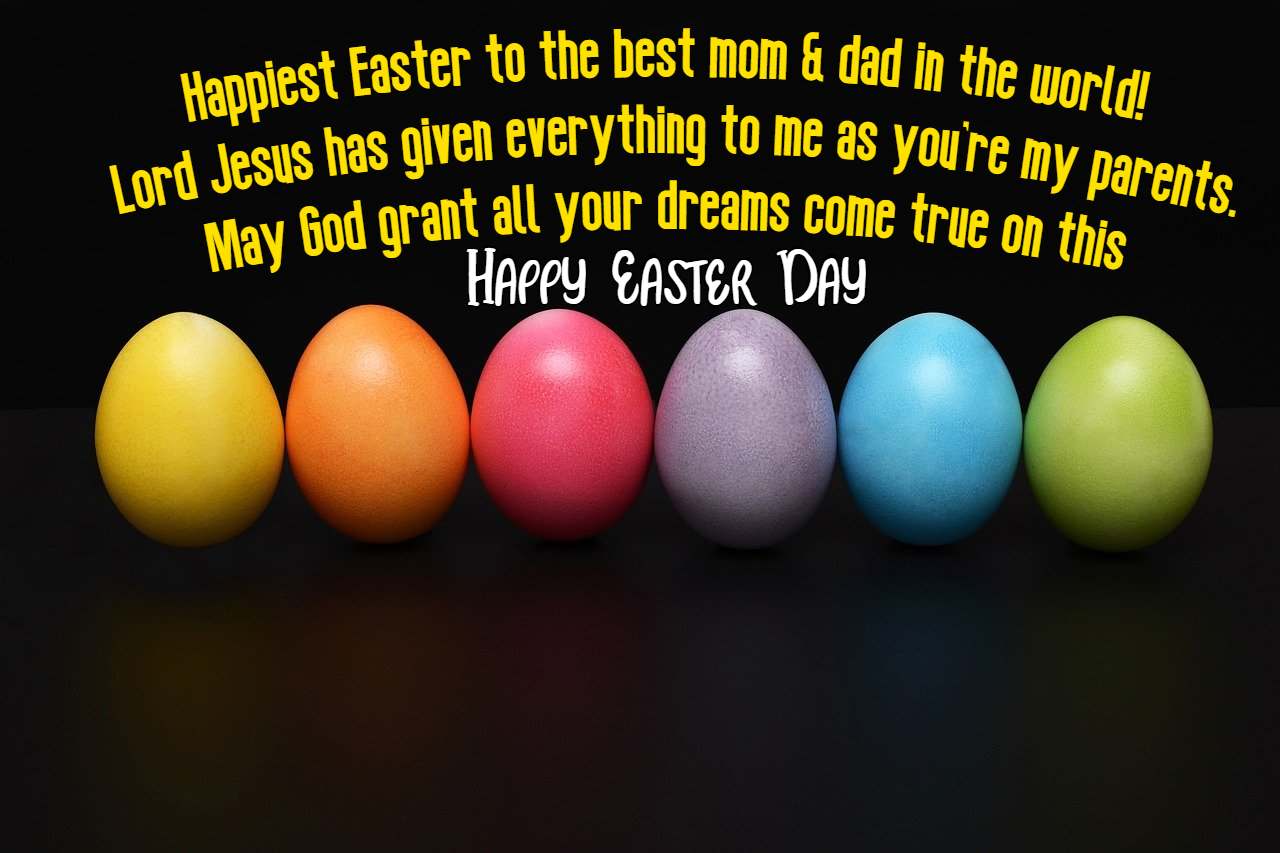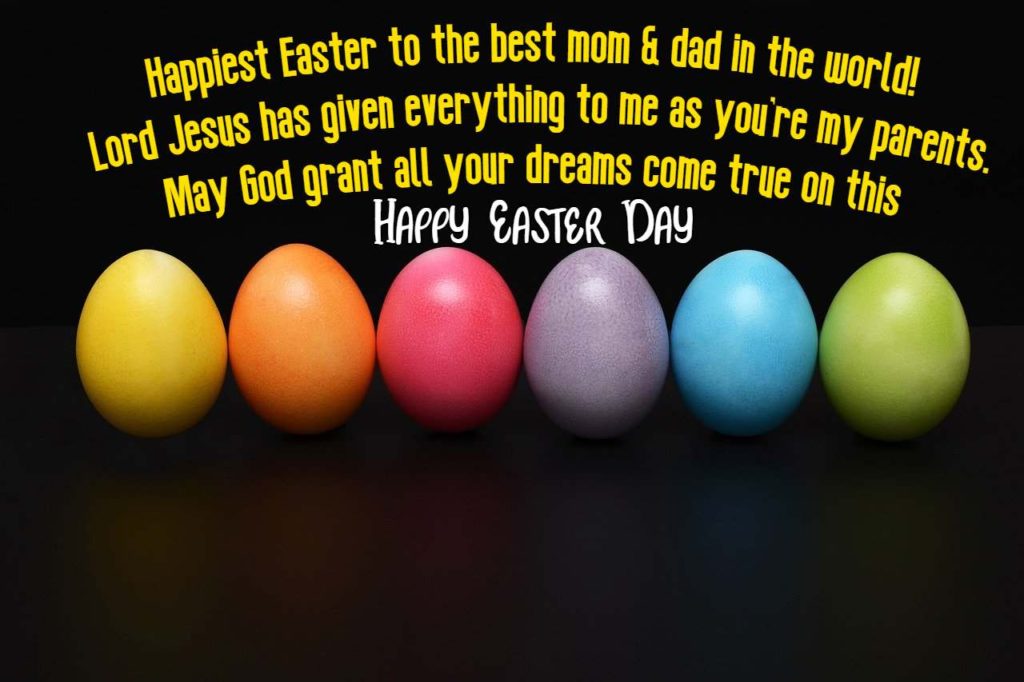 May this Easter holiday bring you new hopes, success, and guarantees of love and happiness in your home. Wishing you a wonderful Happy Easter!

I wish that this Holy Easter morning bells and prayer bring peace, good luck, hope, to our home. Let's open our souls for kindness, love, and joy. Happy Easter!

May you and your family feel the Lord near you and may all your prayers be answered on this auspicious day but always. Happiest Easter!

Wishing you plenty of success and happiness in your life. Wishing you and your loved ones the happiest and meaningful Easter!

Let this Easter be a joyful one. Let's prepare ourselves to be competent of the risen Christ.

May the delightful excitement of spring bring the warmth of the sunbeams tickling into your entire life. Have the best and enjoyable Easter to you and your family!

Through fields, meadows, and forests Easter will come to our home and whatever died in autumn will revive, bloom, and grow. Happy Easter, dear loveable family!

Easter gives us one more reason to be grateful to God. Have the happiness of the coming of Christ that will fill in your heart and bring prosperity, peace into your life. Have a blessed Easter!

Easter is a wonderful time to have fun with all of your meaningful blessings – friends, family, Jesus. Happiest Easter!

My warm wishes to you and your loved ones for the renewal of happiness, love, peace, and life. Have a splendid Easter to all of you!

Easter always reminds us of God's never-ending love for was. It is a great time for us to bring together and worship and appreciate God his endless support and blessings. Have a blessed Easter, dear family!

Happy Easter Wishes For Friends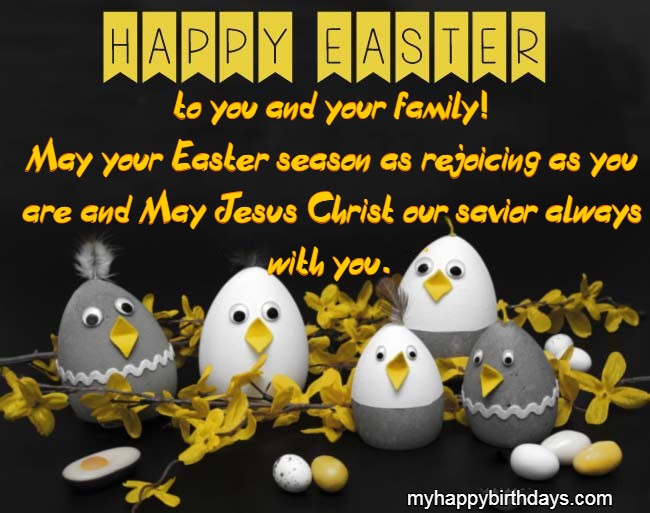 We hope this Easter brings a flood of wonderful trips and cash in our life and make your life even better than ever. Hope something unique may hatch from the eggs on this beautiful day. Happy Easter, mate!

May this outstanding holiday of Easter be as peaceful and delighted as your loving heart is. Happy Easter, dear friend!

May this Easter bring a lot of opportunities, love, success, and happiness throughout your life and you achieve all your dreams that in your heart. Happy and blessed Easter!

Happy Easter, my lovely friend! I am blessed to have a wonderful friend like you, each and every day is a beautiful beginning!

Gold blesses you and your family who believe in him. May the light of trust in God grow with every passing day. May you have a delightful Easter ahead!

I hope you have colorful grass, candy & chocolate bunnies in your Easter basket this year. Happiest Easter to you!

Have a great Easter with a great friend! May you receive heights of success and a new light to walk in today and always.

May your true joy be printed in your heart with the beautiful colors of springtime. Hope the Easter event greets you with prosperity and happiness. Happy Easter, buddy!

May the Easter bunny bring you lots of presents. Enjoy this holiday season of Easter bonnet hats and Easter eggs. Have a blissful Easter, pal!

Religious Easter Messages & Greetings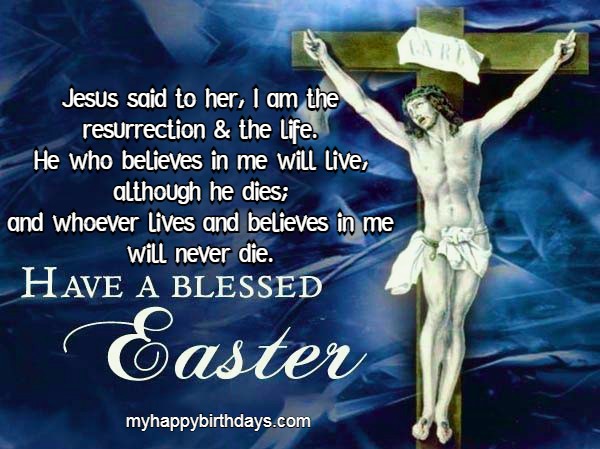 It s a great time, whether you celebrate Easter with your family, friends, or not, wishing Easter to your friend and relatives a happy Easter can always be counted as a nice gesture. here are some Religious Easter Messages that will help you to be grateful to Jesus Christ.

May Jesus blesses you with every little thing you desire for and that is the best for you. Celebrate life and its blessings with your lovely family on this auspicious day of Easter!

May Jesus Christ blesses you with new hopes and this holiday season brings you sheer love and happiness in your life. Happy Easter!

Have a splendid Easer to you! No time of mourning. Rejoice in Christ's Easter season with great enthusiasm.

It is the best time to admire the lord for the opportunity he gave us to be better people. May his love fill us with eternal love and renewed hope. Wishing you a Happy Easter!

Wishing you a renewed confidence, faith in life to work harder for your ambitions and goals. Happiest Easter Day!

Happy Easter For Kids, Daughter, Son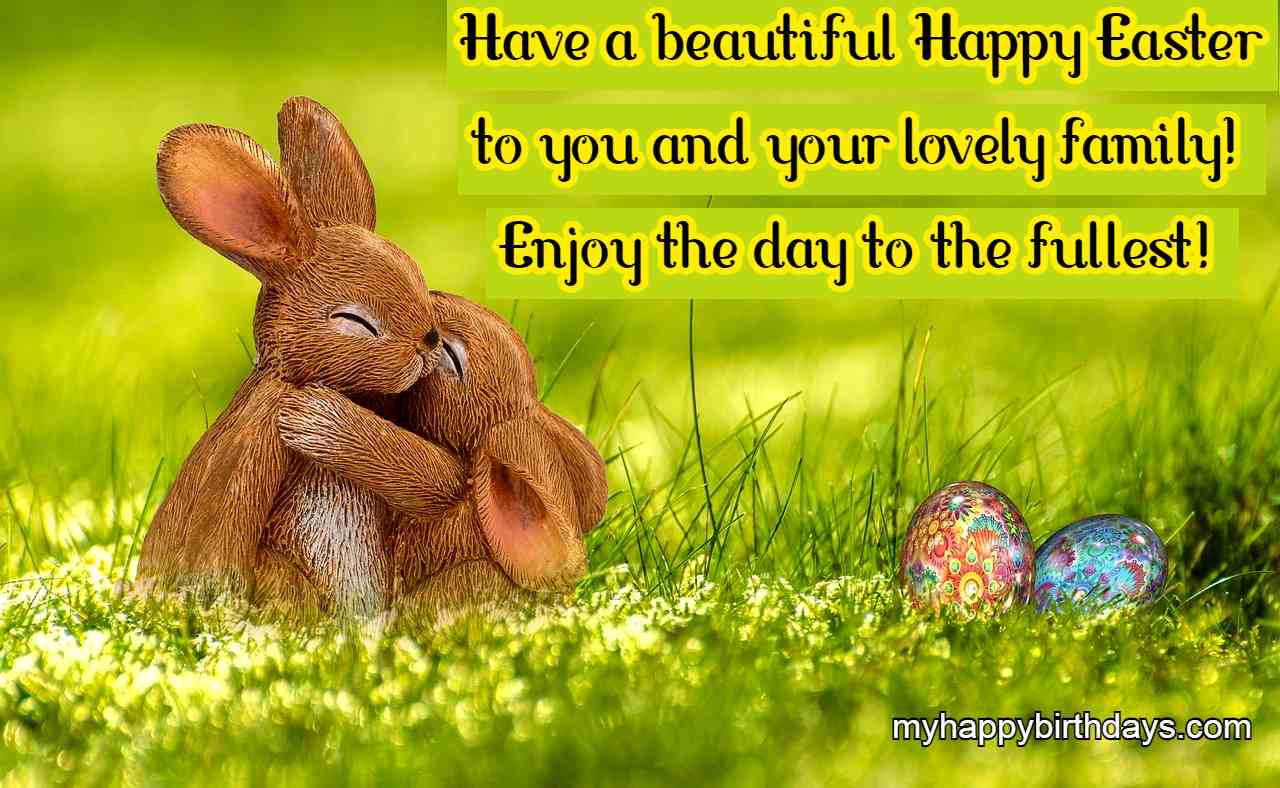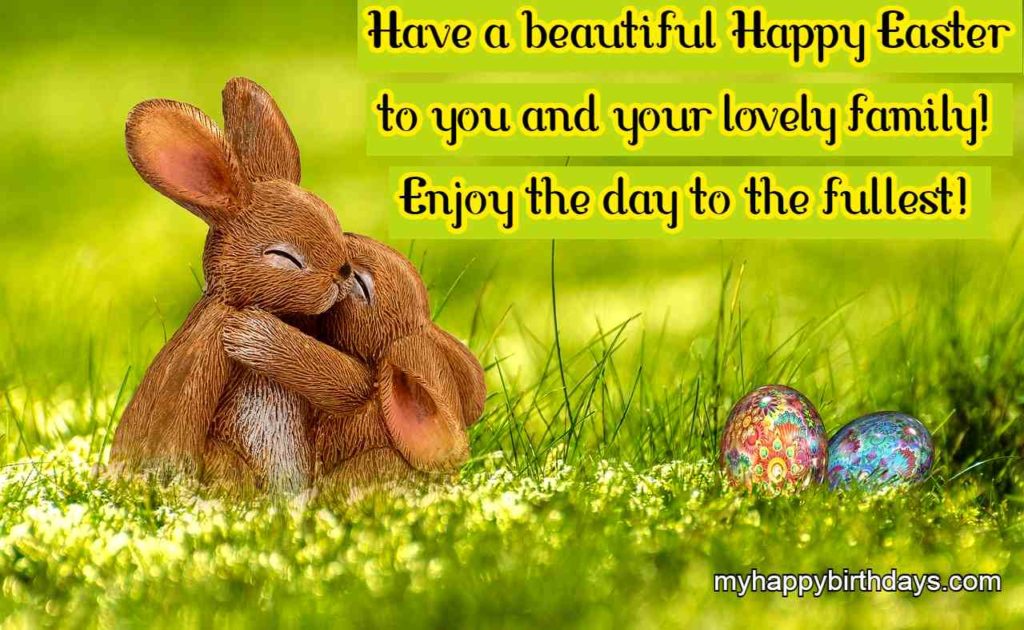 Happiest Easter to the most and handsome daughter. May you touch the sky limit and be joyous at every part of life.

So many kisses and hugs to you this Easter. I love you so much and let this love multiply again and again on this day. Happy Easter!

May this holiday remind us of the beautiful things God has blessed our lives with. Have a great, prosperous, safe, and luck-filled Easter Sunday, dear son!

Thank you for being the greatest son we could have asked for. You are really a true blessing from God himself. Happy Easter to you and lots of loads of love for you!

May you be blessed today and always! Mon and dad, thank you for raising me with the sacred spirit of Easter. I am fortunate for all your teachings. It is a true benchmark of my life. Happy Easter and thank you for everything!

Have a fantastic Easter to the amazing kiddo! God has sent a lot of joy in our life as in your shape. May all the happiness of this beautiful day be yours.

Happy Easter to my little daughter who is always warm with kisses and hugs. May you bless you with everything.

I hope the wonderful and amazing light of risen Lord shines on you always, make it effortless on your tough days and help you accomplish your dreams. Happy Easter, dearest son!

Many thanks for being our child and coming into our life. You are a loving guide. Happiest and outstanding Easter and many blessings to you!

Wishing you an amazing Easter, my lovely daughter! May you bless with everything and keep smiling forever Always get ready to embrace whatever comes to your way of life. I love you so much. Happy Easter!

Happy Easter Quotes
"If you believe in the Easter Bunny, it means you believe in a fat, purple bunny, which is pooping multi-color eggs in your garden." – Alex Antunes

"Easter was when Hope in person surprised the whole world by coming forward from the future into the present." – N.T. Wright

"The resurrection gives my life meaning and direction and the opportunity to start over no matter what my circumstances." – Robert Flatt

"Passover and Easter are the only Jewish and Christian holidays that move in sync, like the ice skating pairs we saw during the winter Olympics." – Marvin Olasky


"Dawn and resurrection are synonymous. The reappearance of the light is the same as the survival of the soul." – Victor Hugo

"Happy Easter everyone! Jesus dies, comes back from the dead — and we get chocolate eggs. It's like turn-down service from God." – Dennis Leary

"When Good Friday comes, these are the moments in life when we feel there's no hope. But then, Easter comes." – Coretta Scott King

"Do not abandon yourselves to despair. We are the Easter people and hallelujah is our song." – Pope John Paul II

"Let every man and woman count himself immortal. Let him catch the revelation of Jesus in his resurrection. Let him say not merely, Christ is risen, but I shall rise." – Phillips Brooks

"A rebirth out of spiritual adversity causes us to become new creatures." – James E. Faust

"Let the resurrection joy lift us from weakness and loneliness despair to strength and beauty and happiness." – Floyd W. Tomkins

"Our Lord has written the promise of the resurrection, not in books alone but in every leaf in springtime." – Martin Luther

Happy Easter Wishes For Parents
Sending you the best and happiest Easter Sunday to my adorable mom who gives me everything in life. I owe you the one always. Thanks a million for all your efforts. Happy Easter and Happy Holidays!

I love so much mom and dad. I have don't enough words to express my affection and love for you. I will send this Easter with both to make this day a memorable one. Happiest Easter dear parents!

Wishing and sending happy Easter wishes to the amazing parents in the world. Nothing in this world can be as precious as you two mean to me. All my life and love to you.

On the auspicious day of Easter, I pray that you both must be blessed with love, happiness, peace, and good health. Happy Easter to my sweetest parents!

Thanks a million! You have always there to take care of me from the very first step until now. Both of you are true blessings of God in my life. Happy Easter!

On this occasion of Easter, I thank the almighty for giving me such amazing and supporting parents. May Jesus bless you with longevity. Have a wonderful day!

I wish you the greatest day in your life ever on this Easter season! May Easter brings beams of joy and happiness into your life, dad. Sending you the warmest happy Easter greetings!

My love for both of you will continue till the last breath of my life. I am very lucky to have such wonderful parents, in my life.

On this beautiful Easter Sunday, wishing that God always bless you with his warmest blessings. May you be as joyful as a king on this Easter!

Funny Easter Wishes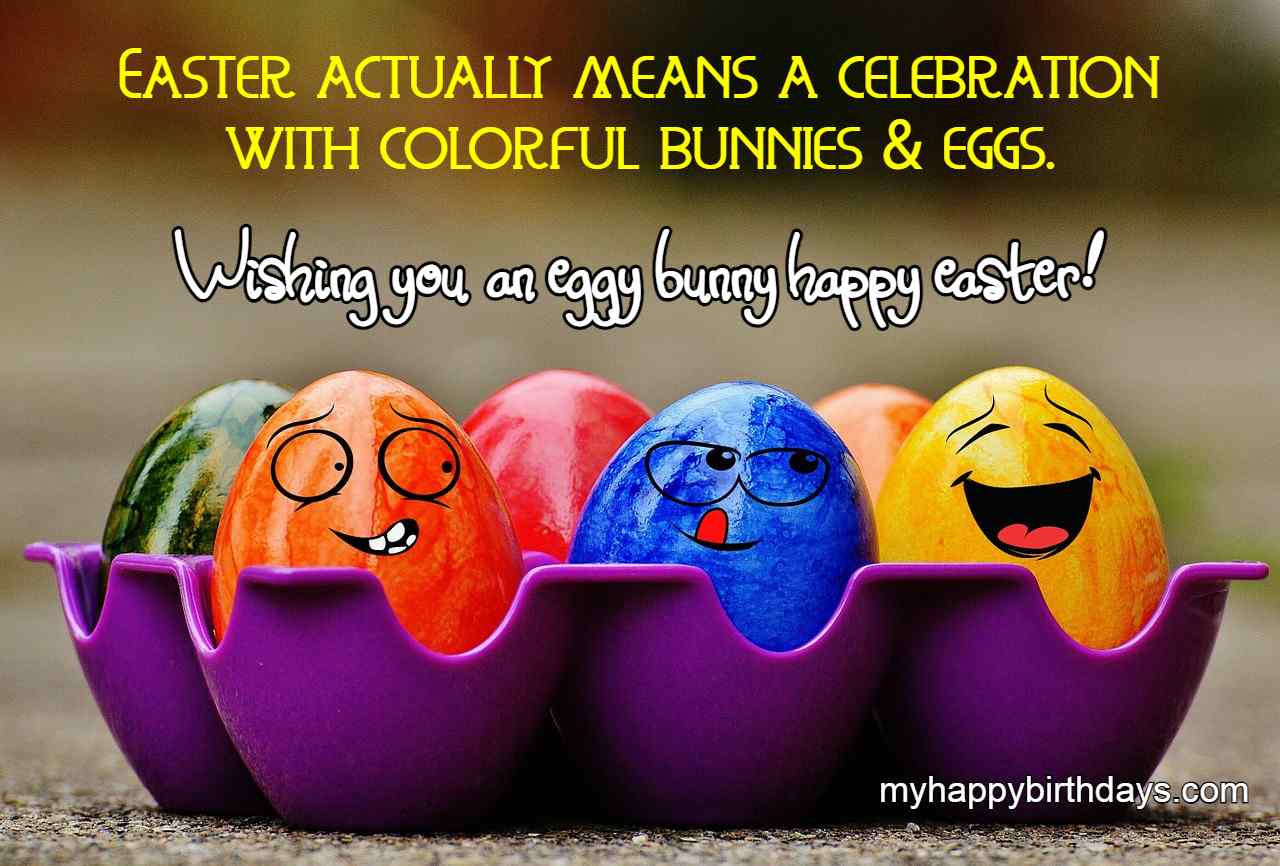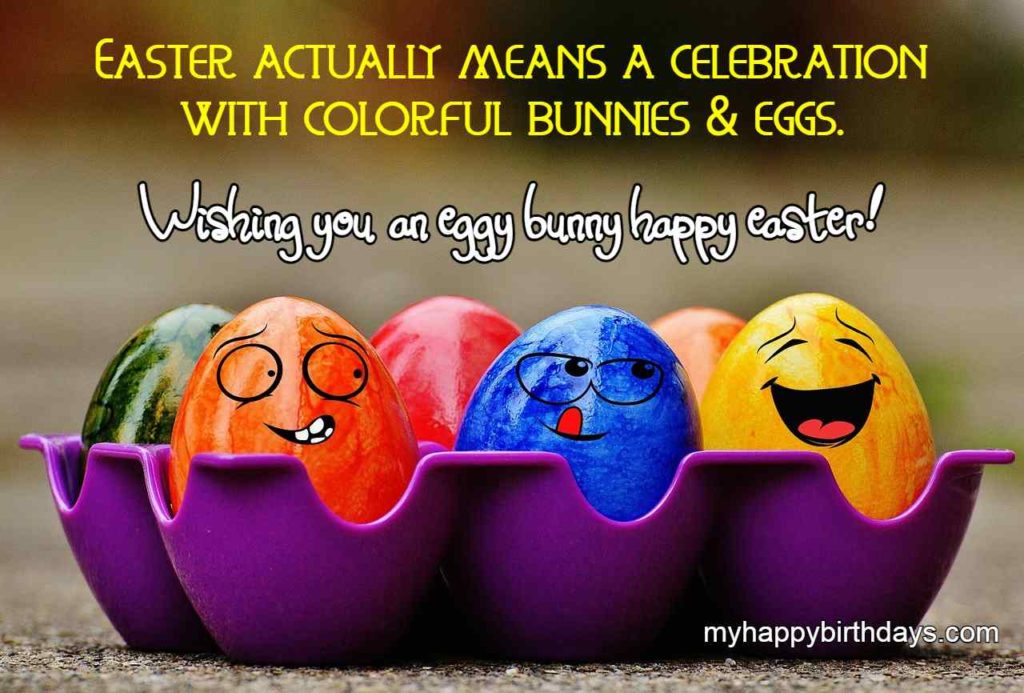 One of the most interesting parts of the Easter celebration is that a bunny lays an egg. Enjoy Easter Sunday to the fullest. Happiest Easter Sunday!

You know, my chocolate is bigger than your chocolate bunny. Wishing you a wonderful Easter!

Sending you testy chocolates and colorful eggs on this Easter. Don't eat them all alone rather share these with others too. Happy Easter!

Can an Easter bunny have a foot in spite of an ear? Absolutely, it can. Just make it twelve inches long. Happy Easter wishes to you!

What goes up must come down. Let your kids celebrate and enjoy all the candy they want today. Wishing you a fun-filled Easter!

For a change, we may celebrate with chicken rather than eggs this Easter. This would taster much better. Have a magnificent Easter ahead!

Let's celebrate this sacred occasion with Easter eggs but don't eat them up all alone. Happy Easter!

Happy Easter Wishes For Boss & Coworker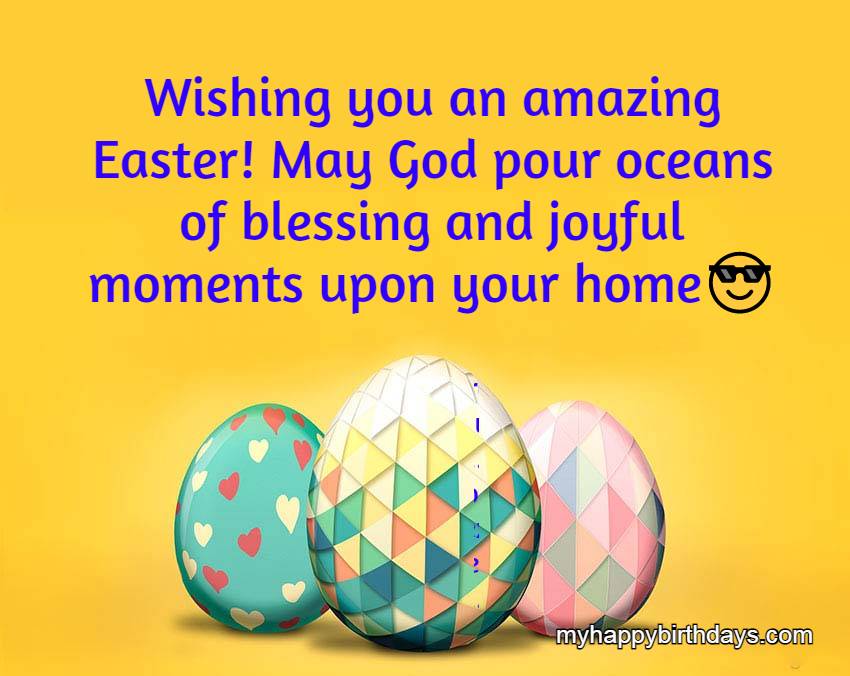 May Jesus Christ our Savior be with you on this Easter season and may his blessings guide you throughout all the days of the year. Happy Easter to you!

Dear boss, I hope God will use this Easter to approve your peace and true happiness. Have a wonderful and blessed Easter!

May the true spirit of Easter help you find happiness and touch your heart. Have a great Easter Sunday!

May these Easter holidays motivate you to new joy, hope, prosperity and you receive God's blessings throughout life. Happy Easter, boss!

Dear, Sir/Madam. may this holy bring more joy, happiness, progress in your beautiful life. Happy Easter!

I am very lucky to have an amazing colleague like you and every day at the workplace is exceptional. Thank you for your best efforts. Happy Easter to you!

May the risen Jesus Christ give you, your family, and your loved ones immense blessing to encounter any challenges in life. Happy and peaceful Easter!

I hope the true spirit of Easter makes its own way to your heart and puts you in comfort. Happiest easter, Boss. Have a sound and safer Easter Sunday!

Just as chocolate eggs are always with Easter. May success and happiness always with both your professional and private lives. Happy Easter, Coworker!

The revived nature comes with the most amazing spring holiday – holy Easter. Let it fill our minds with kindness, our houses with light, and our work with beauty. Happy Easter dear, boss!

Inspirational Easter Messages
Wishing you a joyous Easter celebration! May the deep meaning of this holy occasion continue to remind you that God is with you forever.

Sending you heartfelt Easter wishes on this beautiful occasion. May God allow you a new beginning with great joy, success, and prosperity. Happiest Easter!

I wish you an Easter that touches your lives and heart in your thoughts as a beautiful reminder of just how important you are. Have an amazing happy Easter wishes to you and your family!

Happy Easter, dear! Wish you an outstanding happy Easter and hope you receive an overflowed basket with goodies and blessings.

May this Easter bring lots of happiness, your family together, and fills with great joy, peace, chocolates, and celebration. Happy Easter!

Easter Formal Wishes For Business Partner
I pray that God blesses us with our business and provides it with a flood of money for our mutual projects. Best of best Easter to you and your staff. Have a great Easter session!

Thank you so much sir for all your success and kindness that you provide your all employees on daily basis. We are very thankful and may Jesus Christ fulfill your dreams on this Easter and coming years! Happy Easter!

Happiest Easter to a beautiful man/woman who is not only a great business partner but also a true friend. I pray and hope this Easter will your heart with countless peace and happiness. Enjoy and celebrate this holy day with your loved ones.

Thank you for all your hard work to make our team much stronger! We are ecstatic to have you on our team. Have a blessed and wonderful Easter!

This is just to let you know that our business will be closed for Easter. Have a safe and pleasant time with your families this Easter Sunday!

As we begin to observe this very beautiful occasion in the Christian calendar, it's my deep prayer that our partnership will continue to transform from strength to strength and bloom like flowers in summer. Happiest Easter!

Final Thoughts
We hope you like these happy Easter messages and wishes and inspire your loved ones and bring a broad smile to their faces. This Easter wishes you can send through text messages, e-mail, and on WhatsApp, Twitter, and Facebook. In this collection, you will find easter messages for your son, daughter, parents, friends, family, religion, etc that make it a huge collection of happy easter wishes. These beautiful and amazing easter wishes, messages, greetings, and quotes are the best to inform your loved ones know how much they important are to you. Let's spread the happiness and magic of easter messages and messages to the fullest.