Good Night Message
Sending good night wishes is the best time for restful sleep and to be at peace. This is also the best time of the day when you want all your troubles and worries to take away so that you can restfully drift into dreamland.
In fact, some beautiful and sweet words can be a treat for someone like good night wishes and messages. Getting good night wishes, and texts from the dearest one can bring a big smile and fill joy to anyone's moment. Also, a calm composed person will have a peaceful night's sleep. Even if you go far from your dearest ones or family, it is true you will miss family members and your family will also miss you.
In these missing situations, these beautiful good night messages and wishes are going to support you to show how much you care about them. You can send the sweetest good night wishes to your family, friends, colleagues, girlfriend, and loved ones for a dreamy night with the help of our huge collection of night messages.
Good Night Messages Video
Heart Touching

Good Night Messages | Good Night Wishes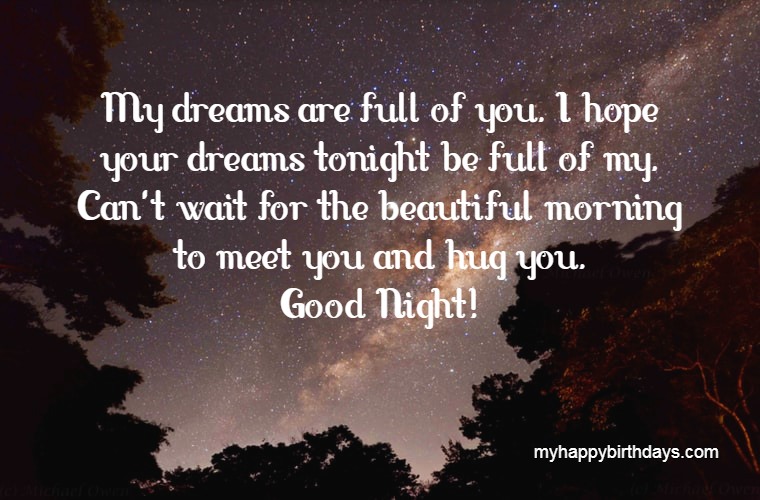 1. Go to bed and prepare yourself for the most wonderful sleep ever because you will never have a quieter and warmer night than this one. Good night!
2. Have a great good night dear! Tomorrow, you are going to have a spectacular day. Just ensure that your body is prepared to take on all the challenges of tomorrow. Sweet dreams, sleep tight!
3. The sound of your breathing is beautiful in the world. May you have a lovely sleep with a lot of romantic dreams of us. Good night!
4. Beautiful dreams come to those who sleep well. So, close your eyes and go to sleep. Your dreams cannot come when you're wide awake. Shut up all the other things and get some sleep. Good night, sleep tight!
5. Put all your worries and troubles aside and let your body feel the warmth of your blanket and bed. May you have a restful sleep tonight!
6. Wishing you a sweet good night to all! May your night be as beautiful as you are always. May your tomorrow be as bright as the Sun.
7. May you have a peaceful sleep and wake up tomorrow with new positive energy, opportunities, and a lot of hope.
8. A new morning is desperately waiting for you. Sleep tight and sleep well as the new day wishes you to be fit and all charged up. Good night, sweet dreams, dear!
9. You have lots of reasons to thank God for such a peaceful night like this. What an amazing and blissful night for a good sleep. Good night wishes from my side to yours!
10. May you gleam brighter than any star in the sky. May you be more talented than your competitors. You are loving, caring, intelligent, and funny. I hope your dreams are filled with joy, fun, and happiness. Good night!
Advertisement
Read More Interesting
Good Morning Wishes
Good Morning Messages Friends
Sweet Good Night Messages For Her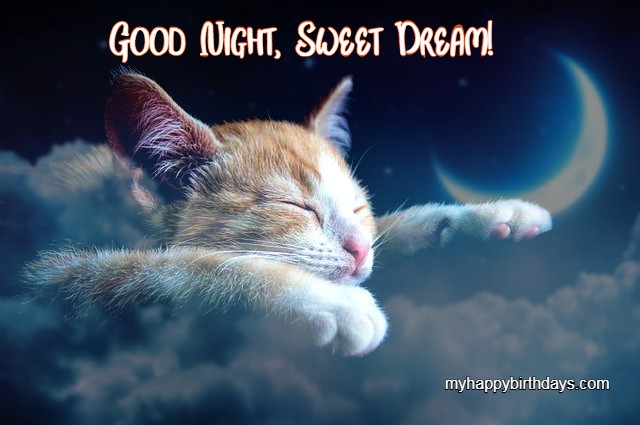 11. May your blank be warm, your pillow is soft, and your mind is filled with thoughts of how much I love you. Good night my baby!
12. Dear, Jaanu! every moment of these long nights is the best moment to be grateful to God for having you. I'm missing you and thinking of you a lot. Good night, sweet dreams!
13. May all your dreams come true. I wish your dreams tonight be full of me. I can't wait for the lovely morning to high and meet you. Good night, my love! I love you so much!
14. My words cannot describe how much I adore you and love you. We had one of the best days of our lives and it is my wish we will have such days for the rest of our life. Good night, my angel!
Related – Good Night Love Quotes
15. Hey, sweetheart! I just wanted to inform you that I have been thinking about you all day long. Have pleasant dreams and a beautiful night. I love you infinitely!
16. Kissing your forehead before going to sleep and in the morning has become my daily dose of happiness. Good night, darling!
17. There is something that is fuzzy, warm, and big. Prior to getting so many ideas, you must know that it is a sweet good night hug sent from me to you!
18. To my sweet lady luck, I imagine your day has been as beautiful as you are. Take rest and sleep soundly, so you can get up energetic and younger for the big day tomorrow. Have a lovely night and sweet dreams!
19. Good night, my love! I hope you have the best dreams and sleep well tonight. I love you to the moon and back.
Related – Inspirational Good Night Messages
20. The shining moon is lighting up over my head and reminding me of a charming face. A face that can efface every painful memory in my life. Wishing you a splendid good night and tight sleep.
21. Have a dreamy night, sweetheart! Tonight, as you sleep with the silence in the world, just remember that I will come to your dream to give you a big hug.
22. I wish I was your pillow and that pillow underneath your head tonight. I would make sure you have a great sleep tonight. Good night, my love!
23. Good night, darling! Rest well and sleep well may all your dreams be wonderful. Remember how much I love you. I looking forward to seeing you tomorrow.
24. The cold of the night cannot touch you since the warmth of our love will keep you warm for the whole night. Have the best night, baby!
25. Nothing gives me more happiness than holding you tightly in my arms. I wish I was right next to you tonight to give you a kiss and hug. Good night, love!
26. You are the lady of my dreams. I hope your dreams are as beautiful as mine. I love you so much Jaanu! Good night, sweet dreams!
27. I spend all my days thinking of you and nights dreaming of you. You are everything in my life. I wish nothing more and nothing less. Good night!
28. Good night honey! It took me years to look for my soulmate, and now that I have you, I am so grateful. Sending you my kisses and love and I can't wait to hold you in my arms forever.
29. I thank God for creating a rare gem like you. Your love has lighted me up over the years and given me a great sense of its perfection. I really can't wait to spend the rest of my life in your arms. Good night, my cutie-pie!
30. Tonight, I'll be the sweetest and most colorful dream sleep in my life. Just let me in when I'm going to knock on the door of your heart. Good night, princess!
Good Night Messages For Him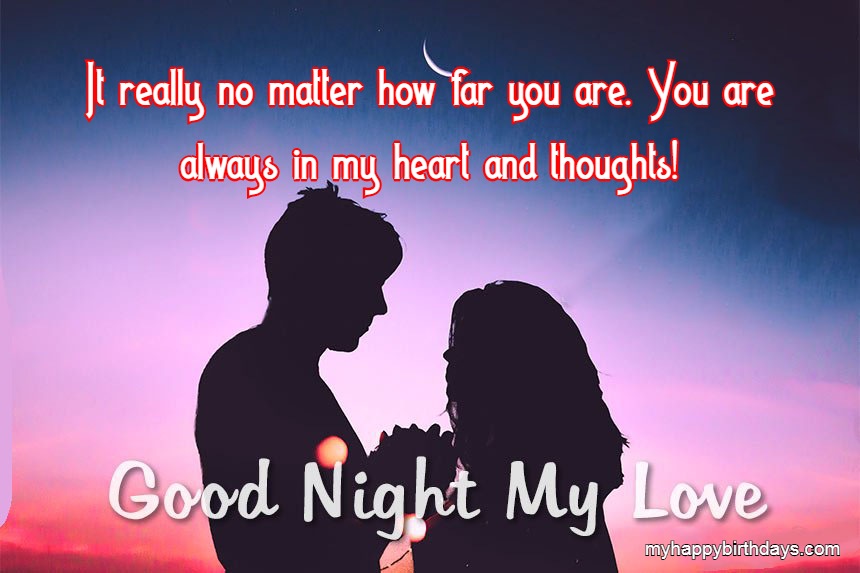 31. Good night my, Shona baby! You are the reason I fall asleep with love, a smile, and happiness on my face.
32. I know that was awesome, but I'm sure that tonight, my dreams about you are going to turn into reality. Good night, love!
33. Each and every night before I go to sleep, I remind myself that I will have to more love you tomorrow than I've loved you today. Good night, sweet dream, darling!
34. Whenever I see you lying beside me in the bed, I feel like the luckiest and happiest girl I am. I forget all the problems and worries in the world when you're right next to me. Have a stupendous good night baby for coming into my life! I love you so much!
35. When every night passes by, you give me considerable reasons to love you more. When every night passes by away from you, you give me even more reasons to miss you. Good night, my sweetheart.
36. I tried many times to count the stars to help me sleep well this night, but all the lights seem din without your own star's light.
37. Without you, there is no shine in my life. You are my life, my love, and my redemption. Good night darling! I hope you have a lot of lovely and sweet dreams tonight!
38. Each and every night is like going out for Chinese. I am left with a sour taste from leaving, but it turns into a sweet after appearing with you in my dreams. Good night, my lifeline!
39. As I'm lying on the bed, looking at the moon, I can imagine how much I would like for you to be here with me in order to keep the company as I fall asleep under the beautiful moonlight. Good night!
40. May your sleep be sweet and sound and you feel my love envelop you in your dreams. Have a lovely and amazing night, my Janeman!
Good Night Messages For Friends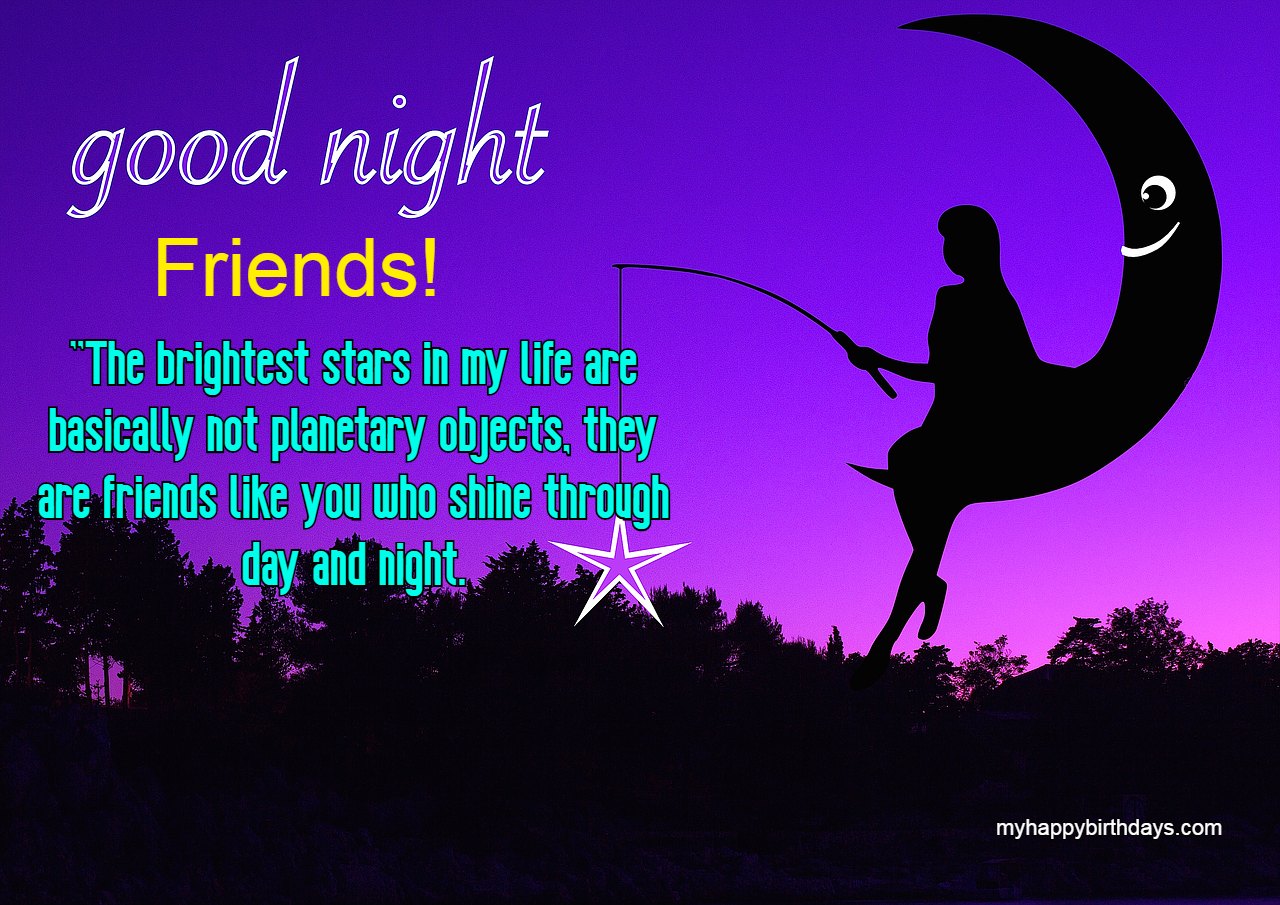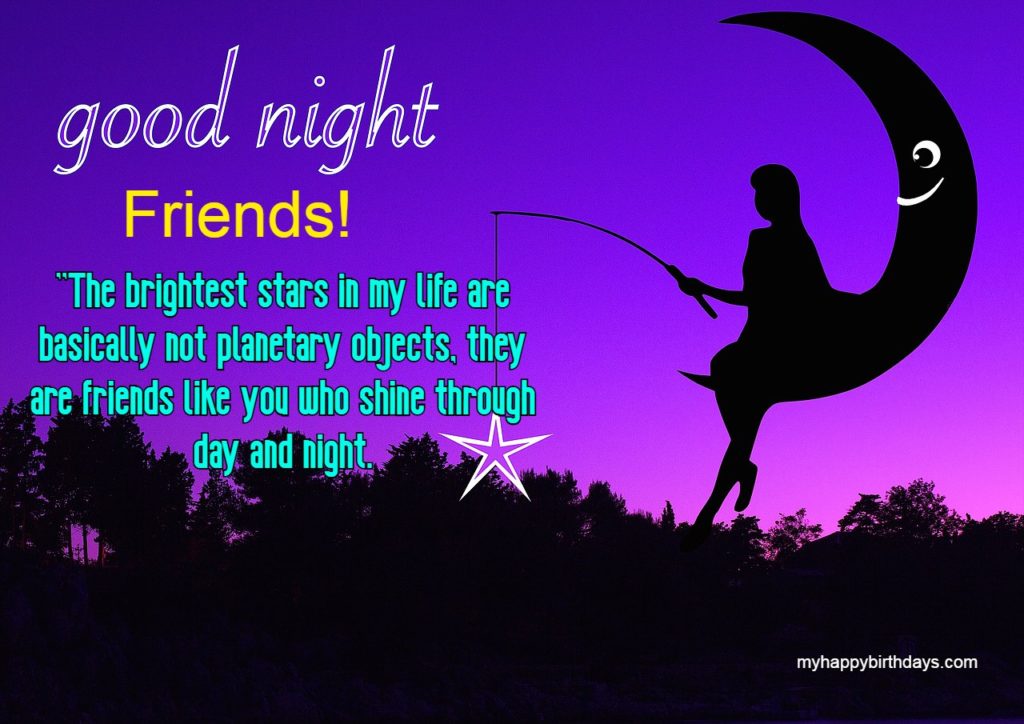 41. May your night be filled with stars for you and all of your dreams come true. Good night, dear friend!
42. Girlfriends and boyfriends will come and go, but our friendship will always remain as it is forever. Good night!
43. May the beautiful dreams guide you through this night and your morning be the happiest of all. I miss you and love you, buddy. Have a very lovely night and sweet dreams!
44. Tonight, there are so many stars in the sky and I was thinking about which one is you because you are a true star, my friend!
45. Hey, my lovely friend, I'm texting you to wish you sweet dreams. Sleep well and may great harmony find your mind and heart. Have a good night!
46. Cries, smiles, laughs, pranks, and fights I would have missed all of these best moments of life if it weren't for a bestie like you. Good night.
47. It is another outstanding day with you. Now recharge yourself as tomorrow we're going to have a bigger one. Happy night with tight sleep!
48. As the day comes to an end, throw all your all troubles and worries away. Have a blessed night full of wonderful dreams!
49. Welcome friend abroad Sweet Dreams Airlines Flight. You are the pilot of the Airlines to any destination in the world. Enjoy this flight and good night!
50. No sleepless night can disturb my friend! I will fight each and every nightmare so you could sleep in silence. I miss you like crazy. Good night to the best buddy!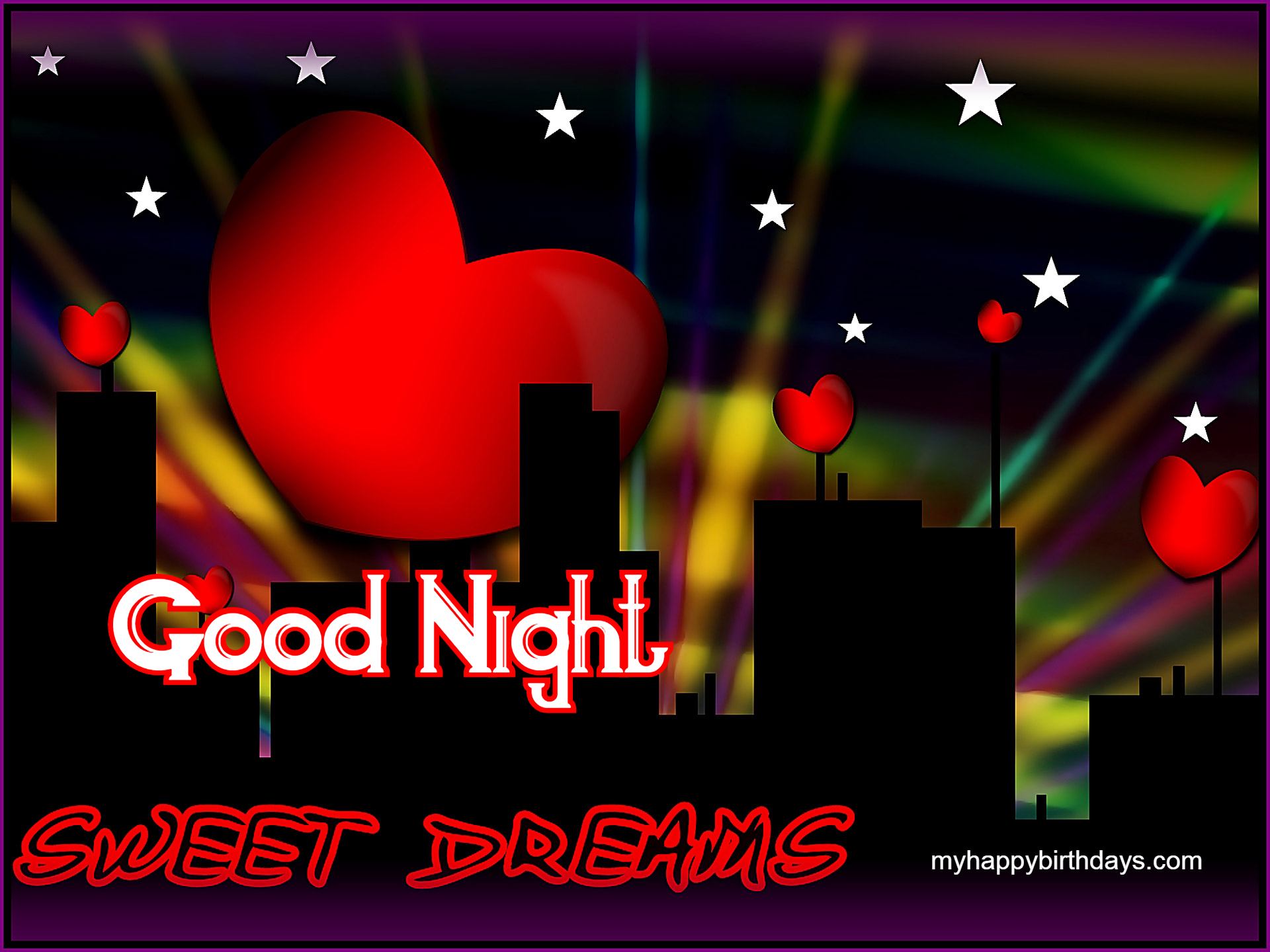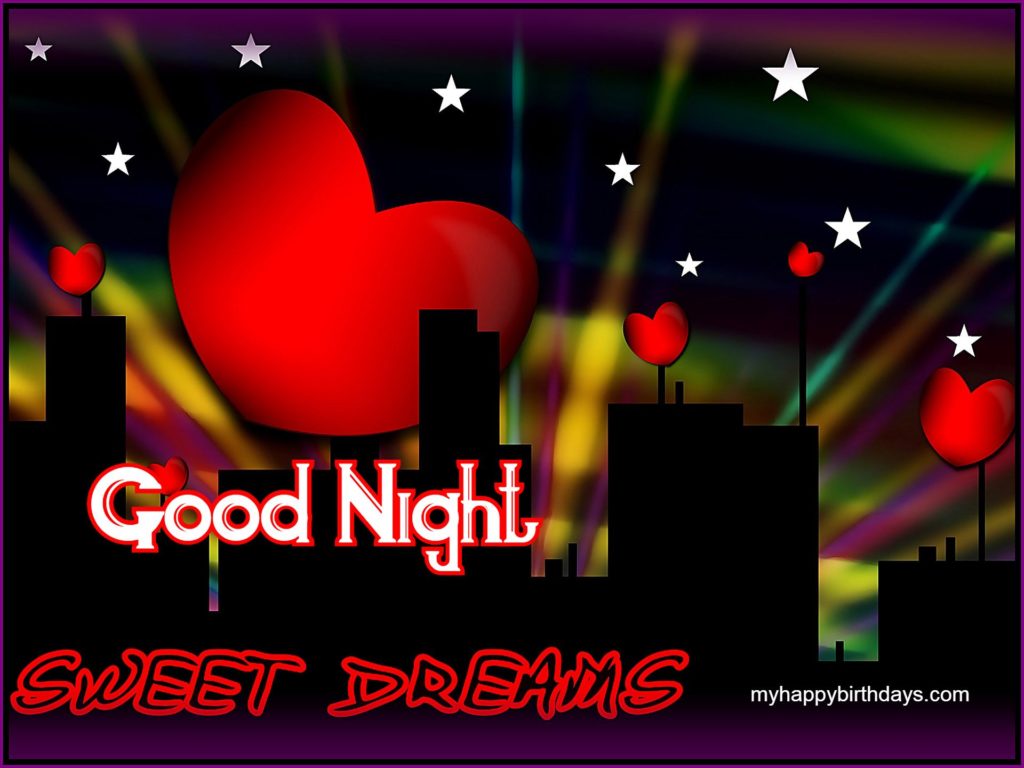 51. I know I take you for granted again and again. Although you are my bestie but being alone every night reminds me of how valuable you are to me.
52. Many times I miss you so much that I go through our old pics to make this boredom take away but at the same time, it makes me even boredom. Life with you is so much fun and better. Good night, my best friend!
53. I don't want to disturb your much-needed sleep, but I indeed can't close my eyes before saying goodnight. So good night, lovely friend!
54. Like the bright stars brighten up a dark night sky, similarly, the memories of friendship brighten up my life. Good night, buddy!
55. In life, success is not always gauged by how big you can dream. Real success is often gauged by the number of friends with whom you can share your dreams. Good night, my lovely friend!
56. Have a sweet good night, friend, I hope your dreams are colorful and fantastic.
57. Even the lonely night transforms into a sweet harmony whenever I think about the memories of our wonderful friendship. Good night!
58. When you are going to close your eyes, may you have the only true dreams and when you open your eyes in the morning, may your dreams turn into reality. Have a dreamy night full of true dreams!
59. You are one of the sweetest friends I've ever found in my life! May you feel at ease, tonight, knowing how beautiful you are!
60. Our true friendship is worth more than all the prosperity in the world. I wish we are never apart. Good night, my sweetest friend ever!
Inspirational Good Night Quotes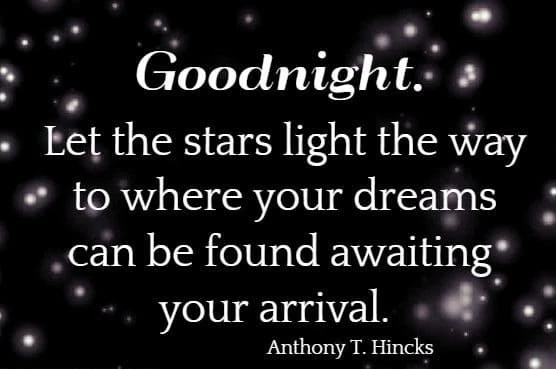 61. It's time to pack all of your sadness. It's time to say goodbye to them. Have a break from all the negative things in life and get yourself a warm, soft bed to sleep on. Good night!
62. Wishing you a sparkling night! Place your head on my shoulder & close your eyes. It's time to say goodnight to the world. Wake up in dreamland and smile so brightly in the morning.
63. We wish that the dark clouds of the night shadow all your troubles and worries. We wish that the shining stars shine on your dreams, and the soft moon be a soothing balm to all the tensions in your life. Good night, sweet dreams!
64. It's time to avoid all the bad things and think good things you did today. Learn lessons from your mistakes and hope for a better tomorrow. Wishing you a very good night!
65. Dream big and dare to fail. What a beautiful day we had today. Let's end this amazing day with amazing dreams for you and me. Goodnight, my love. My best wishes to you as you sleep.
66. The moon and stars arrive just to wish you a good night. Let the brightness of the moon channel your dreams as you pass the night away. Good night!
67. The night is the best time to boost up your strength for the battle of the next day and save your energy. So, don't be wide awake till late at night. Sleep early and sleep tight. Good night!
68. Goodnight dear! May your dreams be nothing short of outstanding. You are my life's wish and one true love. My love for you.
69. Stop thinking about all the negative people who hurt your feelings. Just hold on tightly to the sweet memories of all times someone made you smile. Good night!
70. You know, dreams are what make our days wonderful, magical, and beautiful. Let's go to sleep and dream of magical places. Have a spending night!
71. It's my wish that you enjoy your sound sleep as much as the fish enjoys being in the water. Good night, sleep tight!
72. Please always walk in front of your mirror and tell the person you see in there that it's time to go to bed. Good night, dear!
73. Never forget to send me good night wishes because I won't sleep unless and until I receive them. Have a peaceful sleep!
74. Leave behind all your frustrations and worries. As the sun rises in the morning once again, wake up with new dreams, determination, and hopes.
75. I will not advise you to dream big tonight as you may not be able to carry all of it with you when you get up. Good night, dear!
76. No one can take your place in my life except for a good night's sleep. Have an amazing and wonderful sleep tonight!
77. I am sending you the best thoughts and prayers as you fall fast asleep and rest your head on your pillow. May your tomorrow bring beautiful dreams to come true. Good night!
78. The moon is overhead and the sun has gone to bed. I believe it's time for bed. Let's go upstairs and place your head on a pillow and meet somewhere fun in our dreams. Good night, guys!
79. Sometimes in life, you just have to wait for the right time to begin again. Just like at night you wait till the light up your way and sunrise.
80. No one can shatter your aspirations if you're truly determined to bring them into reality. Wishing you a good night's sleep.
Funny Good Night Messages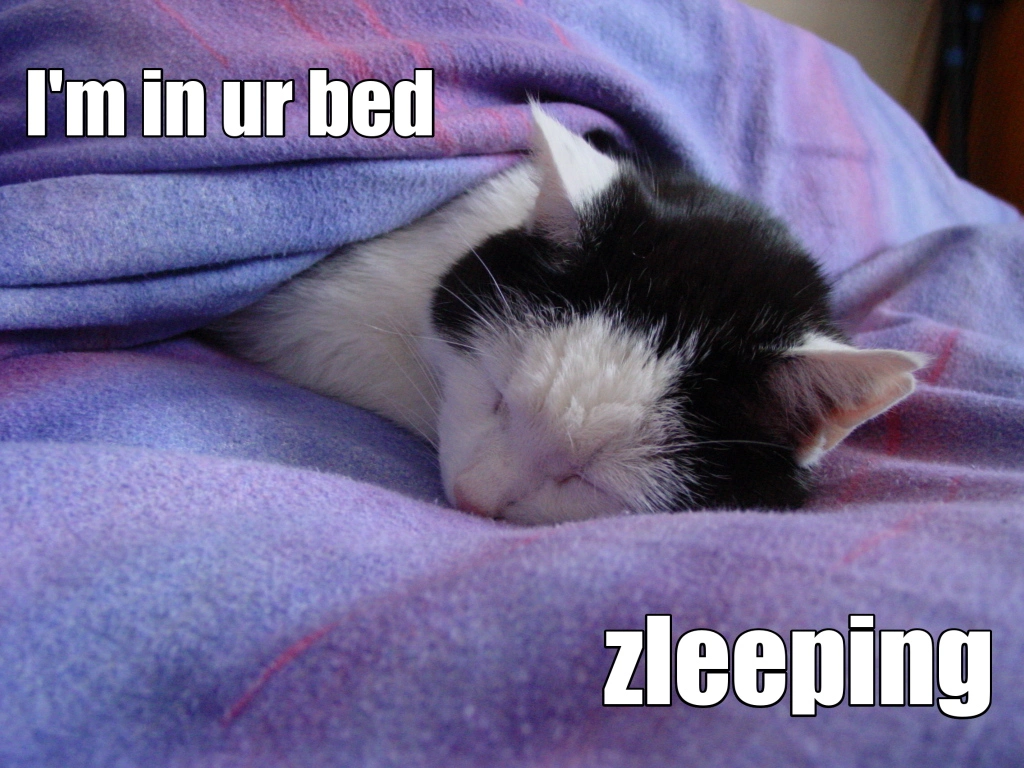 81. I hope your lovely nights are full of wonderful dreams and your dreams are full of witches and ghosts and add this to your habit of sleep-waking. Happy good night!
82. The sun has gone, and the moon and stars are finally out. It's time to have all your worries, troubles, and cares melt away. Good night, naughty!
83. The peacefulness of this lovely night reminds me of you. How can I sleep restfully on this night without disturbing you?
84. Even a very bad person like you can also do a favor to the rest of the world. Now, you have to do is have a sound sleep tonight and not wake up in the morning. Good night!
85. Goodnight guys! don't let the bed bugs bite because I think I saw one while was staying at your house earlier. Good night, sleep tight!
86. If you can't sleep send me a text and call me if you get nightmares. I kick all of your bad dreams out. Good night!
87. I wish I could be on the moon. I would give everything to watch you sleep. Your beauty is unmatched and makes the North star seem dim. May your dreams be as beautiful as you are.
88. Dreams are one of the best parts of life. If you miss sleep, you miss the best part of life. So, go to your bed and catch sweet dreams. Good night!
89. Let the most wonderful and beautiful dreams come your way tonight, Let the sweetest person come in your dreams but do not make it a habit as I am not free each and every night. Good night!
90. Go to the washroom and wash your feet and your face. Now, it's high time to fall asleep. Good night my, dearest friend. Have a sound sleep!
91. Hold your phone tightly as this text message is big in disguise from me. Wishing you a very lovely night and sleep tight!
92. You are the only reason I sleep every night well, I love you so much, and also your scary faces scare my dreams. Good night dear ghost! Stop hunting me.
93. Nights are the best time to watch a haunted movie, then go to bed knowing ghosts are unreal and getting up at midnight with sweat and fear. I hope and wish you a night full of all these experiences!
94. I've invented a new phase of life and it goes like this – early to bed, early to rise, and early to meet my best friends like me. Good night, sweet dreams!
95. Don't waste your time while planning about your future as the future is indefinite, and don't waste your time thinking about your past as you cannot change it, better kill some mosquitoes with that time you've right now. So that you can sleep much better. Good night!
96. Do you know the difference between a beautiful night and a horror night? A wonderful night is when you hug a teddy bear and sleep but horror is when it hugs you back. Have a beautiful sleep!
97. Even if the size of your bed is not too big as you, don't stop yourself from dreaming of king size. Good night, sleep tight!
98. I am going to take any selfies for the next 12 hours not because it will be dark but because they will be without friends like you. Wishing you a spectacular night. Sweet dreams, sleep tight!
99. I am sending you an authenticated and original goodnight wish only for you. Please be careful with duplicates as I am the only authorized dealer for good night wishes. Have an awesome and sparking night ever!
100. Wishing you the prettiest good night funny boy/girl. I will always be there to set things up in the right way. Have a tight sleep!
Good Night SMS | Good Night Text
101. The moon starts shining in absolute darkness simply refers to one thing, tomorrow will come and it could be a beautiful day for you. Good night, dear!
102. May your desires, and dreams come your way and become reality. Good night, love!
103. You will be the last thing I think of you before I go to sleep and the first thing I think of when I wake up. Good night!
104. On this lovely night, I will make sure you stay on my mind all throughout my life so that you cannot escape my dreams. Good night, angel!
105. Get up with full determination and go to bed with satisfaction.
Good Night Quotes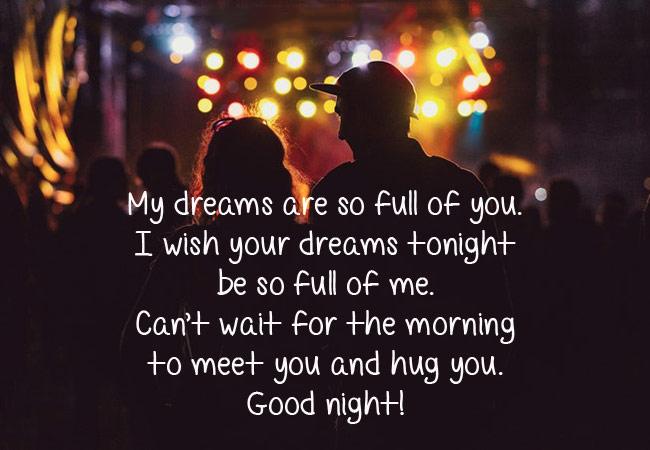 106. "As the night gets dark, let your worries fade. sleep peacefully knowing you've done all you can do for today." – Roald Dahl
107. "Good night, good night! Parting is such sweet sorrow, that I shall say good night till it is morrow." – William Shakespeare
108. "I have loved the stars too fondly to be fearful of the night." – Galileo Galilei
109. "The darker the night, the brighter the stars, The deeper the grief, the closer is God!" – Fyodor Dostoyevsky
110. "The best bridge between despair and hope is a good night's sleep." – E. Joseph Cossman
111. "May I kiss you then? On this miserable paper? I might as well open the window and kiss the night air." – Franz Kafka
112. "Day is over, night has come. Today is gone, what's done is done. Embrace your dreams, through the night. Tomorrow comes with a whole new light." – George Orwell
113. "Night is always darker before the dawn and life is the same, the hard times will pass, everything will get better and the sun will shine brighter than ever." – Ernest Hemingway
114. "I love the silent hour of the night, for blissful dreams may then arise, Revealing to my charmed sight – What may not bless my waking eyes." – Anne Brontë
115. "Night is the wonderful opportunity to take rest, to forgive, to smile, to get ready for all the battles that you have to fight tomorrow." – Allen Ginsberg
116. "Life is full of new beginnings, and a new day tomorrow brings, sleep well." – Catherine Pulsifer
117. "Goodnight dear friend! I say goodnight to thee. Across the moonbeams, tremulous and white, bridging all space between us!" – Hester A. Benedict
118. "Early to bed, early to rise; makes a man healthy, wealthy and wise." – Benjamin Franklin
Final Words
These are the best good night wishes, messages, and quotes that you can feel free to share with your friends, family, and loved ones so that they have a great and blessed night ahead. Sending beautiful good night messages and wishes to your beloved ones is a great way to express your inner feeling towards them without speaking any words. Along with that, it's a good small gesture to appreciate your loved ones through your words. Your valuable words can definitely help someone to leave aside all the negative thoughts, worries, and stress of the day and encourage him/her to have positive thoughts with a sound sleep. So, make the most of this collection and make your loved ones feel happy and warm.